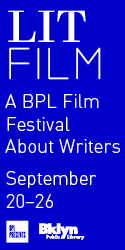 IV.
(musiklexicon)
Vous cherchez trop à comprendre ce qui se passe, cher Monsieur.
C'est un grave défaut.
—Jean Cocteau
 
into certain kisses
as winter arises
      better not enter
you see too much
      or too little

      do you know who I am?
      yes     an idea a leafy prison
      a big black wolf

      what kind of wolf?
      my little sun of that place
      those fogs

that's how it is
everything has its shadow
its half-finished
body

once upon a time a time
a time

      anybody there?

      a little girl
from here to there
      from there to here
              never beyond

between what doesn't happen and what you can't
even hope for
everything       and       nothing
the absolute demand
of life

into certain chills
certain loose shadowed kisses
      better not enter

there's nothing to say
no way not to mention
what's missing

once upon a time
there was a here

      there was a here
      there
 
              do you know who I am?
              yes        the history        of the word never
              spark of one night     rubbing against another
 
              what kind of night?
              a betrayal of childhood

that's how it is
everything has its basket
       of red signifiers

those fogs
where grief embroiders
the poem's motionless trek
and Desire sings
      far away
      so far
the unfinished body
of existence
 

V
(accidentien)
Buenos Aires is not
the city of lovers
on their way
arrows grow absent-minded
autumn
arrives at the wrong place
or doesn't arrive

the ships
like little flotillas
between one word and another
drink wind hatred
the sad sexual rose

hard to match
the riddle of self

naturally
the perplexity of living in a body
never emigrates

at worst
Buenos Aires dies
like a sloping city

the ships are afraid
they won't be able to leave
won't want to leave
the obscene cage of language

actually
nothing has begun yet
nothing can ever begin
           while we search for the absolute
and find only absent-minded
arrows

it's like this
not so temporary (jail)
not so temporary the cadaver
of the sexual rose

to get out you have to go in
not from the left
but from the left

the ships lie when they write
           lie when they don't write
decisions take on an air
slightly
tragic

besides that
little birds sing

there are worse things in the world
than the word death
Anna Karenina for instance

Oh Socrates
           make music

a riot
in the home of fear
           doesn't solve the riddle
of fear of home

at worst
like those arrows that arrive
and never existed
words
die as they should

light blocked out
city I will fail to write
Anne Twitty has translated the work of the Cuban poet Magali Alabau and other Latin American writers. Her translations of María Negroni's poetry include Night Journey (Princeton University Press, 2002) and Islandia (Station Hill Press, 2001), which received the PEN Prize for Poetry in Translation.
 
—María Negroni was born in Argentina. Her work as a poet includes six collections of poems, including Islandia (Monte Avila Editores, Caracas 1994), El viaje de la noche (Editorial Lumen, Barcelona 1994; Argentine National Book Award, 1997), Camera delle Meraviglie (Quaderni della Valle, Italy 2002), and La ineptitud (Editorial Alción, Córdoba 2002). She has also written two books of essays (Ciudad Gótica, Ediciones Bajo la Luna Nueva, Buenos Aires 1994; Argentine National Book Award, 1996, and Museo Negro, Grupo Editorial Norma, Buenos Aires 1999), and a novel, El sueño de Ursula (Seix-Barral Biblioteca Breve, Buenos Aires 1998; first runner-up, Planeta Prize, 1997). Her poems, essays, and translations have been widely published in literary magazines internationally. Negroni received a Guggenheim fellowship for poetry in 1994 and the Fundación Octavio Paz fellowship for poetry (Mexico 2001–2002). She codirects Abyssinia: A Review on Poetry and Poetics, published by University of Buenos Aires Press. She presently teaches Latin American poetry at Sarah Lawrence College.
Originally published in
Featuring interviews with Sol Lewitt, Vera Lutter and Peter Wollen, Rikki Ducornet and Laura Mullen, Edward St. Aubyn and Patrick McGrath & Maria Aitken, Jon Robin Baitz and Stephen Gaghan, Gina Gershon and Dave Stewart, EL-P and Matthew Shipp, and Suzanne Farrell.