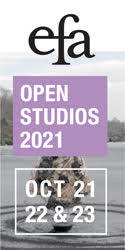 Sleep Piling Up, Sleep Coming On
Even the foxhound bellies down in mud,
            his locomotive tongue, his regal stance
as blackbirds gather into one swooping bird.
 
Death's like that, a sodden blanket
             too heavy for the line in my yard.
I am an owl, eyes, all eyes,
 
spooked into motion by the red hammer
              hammering red pegs, the sky itself,
a red hawk that glides across the tongue
 
but will not light. From my perch, the oaks,
              the maples with their giddy schoolboy
shiverings, their stranglehold on light.
 
The upward way they churn their oars in fire:
               together now, row boys, row.
The creak and pitch of this ship,
 
houses along a deck that rocks then rights
                itself, the red fruit blazing
in their windows at night. I'm underneath
 
this canopy, this hickory with its roots
                that break the concrete, crack it
into charts and maps I cannot read.
 
Pin me to this floating wall, the foxhound
                 like some fleshy anchor,
the canvas flapping this way and that,
 
and in my great unknowing what signs
                 are these and how do I name them:
the hawk through my mouth, the featherless
 
houses, a hand like a branch shadow in an
                 open window, the sky blown about
and parted with light and dark.
I Straddle the Earth
I straddle the earth reaching far-flung ends of the compass,
tugging red and yellow and orange thread out of living things,
weaving them about my love's wrists. I can see her shadowy
limbs through the light-colored skirt, the sun tossing down beams
in collusion with the eyes, igniting those timepiece legs swinging.
Then the subtle tick-tock as she walks away. She's making these
walls my hiding place, tearing bread from under her blouse until
there is no flesh and I disappear behind her shirt, which she pins
on the line in our yard. Tumors galore in my love's neck and what
with her tapered-down haircut, I see them all. The things I say
holding her while the oaks let fly in leaf spray their alphabets,
wind whipping upon that larger page. That wind brawl outside
our hut, my breath blown from my third lung which whisk-
brooms across everything.
 
I snap my hands at invisible things: angels swooping close
with their gold knuckle rings that flare so keenly for children;
and all those leftover particles from that first explosion when
God so loved His own body He blew it up and gave us boxes
to haul around kissing the germs inside: photos so still we
don't see our flesh for what it is: atoms, molten dancer feet
vibrating over our muscle and bone, so when I roll over near
my love under the covers the taste is singular in wave crash
that is body heat. I want to bake my love solid in this casket,
or mandate two bone boxes with holes bored through their sides
so close our hands are touching. Out into clay they clasp and
melt around each other. I'd even wish our bones in one box,
but who on top of whom? My weight on top of hers?
 
To have her bear that weight through all eternity? Yes,
I'd do it. Or my weight under her? I'd like that better.
Her face on my chest peaceful as in life. Even our skeletons
are in love, she says, my old world dame who was not born:
she sensed I needed her, slipped down from some
seventeenth-century painting, and started off across the earth
to find me. At night the bees inside my love finally quiet,
though they trickle into my mouth when we kiss and kiss.
The ricochet of those beautiful bullets in my caverns and caves.
The boys inside me with their buckets filled with bees instead of fish.
All afternoon I'm a storm on two feet preaching to empty pews.
When I'm done I buzz in my metal wagon back to our cave,
find her on a knoll of burnt to yellow prairie grass, our foxhound
suddenly keen snout inside my car window and all her face an ache.
 
I missed it. The first minutia of her butterfly arms spread
upon that hill. My God, we both know it: she's already dead.
So we eat each other alive. We lift each spoonful of broth
into our mouths and hold our mouths still around it. Before
we tilt our spoons back, our bodies mummify, then the broth
pours across the tin in our throats to warm the blood again.
Mornings, we haul out bees in boxes with red ribbon little bows,
and chase the paperboy door to door leaving them on porches.
My love's paintbrush hands in yellows, flutter the air around me.
I am the rattle she shakes back at heaven, and when we kiss
she holds my mouth hostage, the queen bee buzzing
under her tongue.
—John Rybicki's poems and stories have appeared in the North American Review, Field, Ohio Review, Poetry East, Alaska Quarterly, and other publications. His chapbook, Yellow-Haired Girl with Spider, was published by March Street Press in May 2002, and his first book of poems, Traveling at High Speeds (New Issues Press, 1996), is going in a second edition next fall. Rybicki teaches creative writing to inner-city children in Detroit, where he lives with his wife, the poet Julie Moulds. He is currently seeking a publisher for his second book of poems, Fire Psalms.
Originally published in
Featuring interviews with Marina Abramovic and Laurie Anderson, Paul McCarthy, Christian Marclay and Ben Neill, Jesse Reiser & Nanako Umemoto and Andrew Benjamin, Jimmy Santiago Baca and Adam Fuss, Aryeh Lev Stollman, Shari Springer Berman & Robert Pulciniby and Bette Gordon, and Elliott Sharp.