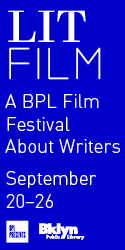 Till Death Do Us Part
A tooth-torn hunk of pear rind sinking
to the bottom of my grappa. Silence
I chose but did not choose—your lips
the site of an old catastrophe. Brazen
as Federigo de Montefeltro demanding
for ransom a Hebrew Bible—unholy
vocalise erupting throughout the city's
festive bustle inside that dark cathedral
cooler than a cellar floor. A confession
in lieu of conversation. How you put on
such mighty airs that blot out sunlight
threaded-through the tapestry's tangled
underside. More than ready, you said,
for adoration, verbal frottage suffused
with hostile glamour rubbing off on me
like gold leaf. Touch me not, I cried
with eyes wide-open glued to a swivel
monitor angling in on wedding cake
more than decades old thawed for this
occasion mirrored hundredfold beneath
the glare of a chandelier, the dog-eared
corners of connubial vows now pooling
at those margins not meant to be read—
such private remonstrations trumping up
fidelity to cruel remarks, signs of age
stumbling into sundry joints where cold
dirurnal machinations forecast tirades
backboned by a hoarse anonymous toast.
Habeas Corpus
Wreathed in fair is fair, my mother's corpse traded in
for an iced Manhattan more steady than a dumptruck's
beep while backing up uphill—a single body playing host
to haywire cells in that swelter of mink coats run amok
on every fire escape charbroiling steaks hung out to dry
for the Bronx's die-hard fans—ecstatic nothings scribbled
on the horizon line, the interstate but an asphalt ribbon
lacing up the tresses of a Jersey princess—baby's breath
sweeter than car exhaust choking her greasy diner locks
while sugar packets waterfall into a coffee mug the color
of sewer sludge oh Paterson with nails done up defying
trailer trash and anthrax-coated cactus needles lodged
inside a Zippo lighter aimed at the president or the pope
while a mile-long-hysterical-stolen-handbag-squeal snakes
around City Hall for ransacked blocks where ghetto girls
wrapped up in moth-chewed scarves imported from Peru
kneel down hoi polloi on amber shards to pay obeisance
to patrol cars beckoning downtown precinct ride right on
past Hermana Iglesia decked out in Passaic Falls spilling
over that sea of votive candles the sacristan snuffs out.
—Timothy Liu is the editor of Word of Mouth: An Anthology of Gay American Poetry, forthcoming from Talisman House.
Originally published in
Featuring interviews with Vik Muniz, Shirin Neshat, Madison Smartt Bell, Javier Marias, Misia, Michael Frayn, Karyn Kusama, and Michael Roth.