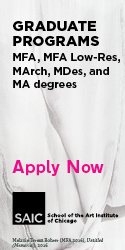 Elegy for the Harris Theatre
At Forty Second Street before the changing of the light
and bus station at Eighth there was a movie house: a pit
of roaches, piss and spunk they called Harris.
Red walls, the marquee white and broken, velvet chains
inside the stainless steel turnstile that bars
the yellow corridor, walls that were bright
with new brushstrokes smoked yellow like an addict's fingertips,
then blue lined stairs; the popcorn mountain in the lobby smells
of vestal oil from the first Temple; Coke
dispensers from the fifties with decrepit pulls;
lino streaked and creaked spirals of shoe shines and tracks
of trash carts squeak streaks; inside—wide screen,
round the corner out of black walls—space:
the cavern opens like a woman's hole
if Black Death age priests told the truth
and Hell were there – a huge cavern filled with blue light
smoke hangs like blankets over the sleeping:
ganja, marijuana, pot, crack—I never seen it—
make your way through the red-base-
mixed-with-blue aisles, find a seat: not broken, not upsprung,
not fallen in in the middle, not bubble gummed
solid; it takes a while. Sit:
the mother behind you (he's childless—just has a bad
haircut and attitude) kicks
the seat and exchanges private words with Rocky
in between every new blow or (in the sex scenes) kiss;
he's not alone- smoke and conversation welter
as if this place were hell and everybody gripped
in the same dream: heaven—a constant stream of magnified action
sequence in sudden spurts of flame and crocodile jaw moral ending;
people pass joints like a living room across the aisles—
snap of Zippo lights open, rasp of thumb, twist flint, strike,
puff, flap of lid smacking back down; lights wink and go out
throughout the film strings of eyes, red, brighten cigarette ends;
glows swell and dull again and the smoke is frame to every frame.
 
Now the screen is less than twenty
feet across—it's more like ten
at the new Multiplex they built on
its bones when they closed the Harris down.
Small dark cabins—walls like office
velcro rugs of grey—the floor hollow
board creaks, you hear yourself echo
as you shuffle with say fifty others to a seat:
silence, no-one smokes, nobody whistles—
God forbid drugs, you're searched of booze, amphetamines,
and guns when you cross threshold ("for your protection")
—Shakespeare's pit paid for a beer and shouting rights
when Hamlet opened at Thameside; security
wave walkie talkie strapped antennaes
in your face if you put feet against the seats backs,
(new, sweeter than those old broke leaning down chairs);
lip and you're busted: "outside mister, out
this is new – we gonna treat it right!"
 
One screen inside the new place is still decent
bright—lit, large walled, it seats three-hundred maybe more:
grey carpet, black ceiling, still open fields hit you
when you walk in—you can see screen a mile away:
one yellow bulb in mid ceiling when show-staff
clear folk and trash and the candy wrappers under seats
away so that everything looks right for next paying
customers—nothing is red, nothing black, nothing alive.
And in the bowels of the Harris, under foyer
under stairs, the men's pissoir after a show
reeked to heaven a translucent beer-pot choir
tinged with sweat from all the standing worshippers
and every step up from that place
reminded you of what man was
and they no longer have those steps to take.
And outside, when they spill onto the freeway
hoping God will give them sights and lovers too
the Harris does not hold their dreams as Heaven tried to
only Hell divides them into screens, small lonely dreams.
Tulip
On the table between us she squeezed the tulip
softly, her finger going inside
as if the skin of it were precious
and I said "Is it real?" and felt
the petal and the leaf and she said "Can't you tell?"
And we discussed the colors
the purple, the confined red
"not orange and not vermillion"
I looked in her eyes. "Sometimes you define things,"
she said, "by what they are not."
And we discussed the lovers who get together
after fifty years at last
and she says "she keeps her back turned away
so he won't see how her backside's slipped … "
and I smile and she says "Maybe we should leave.
    It's nearly twelve."
And outside, by the taxi, I say "Maybe it was worse
if getting out of bed they say
'That's great! Why didn't we do this thirty years ago?'"
"Yeah," she says, "but it's too late, it's too late now"
and opens up the taxi door and opens up her arms
"Come on," she says, and I kiss her neck
and say "Take care of yourself," "You too," she says
and does not offer me a ride. And I walk back
through the streets shining with wet lanterns,
through the puddles rippling with snow
and over her head in the tower lights
above the city I see clouds white limbed and slow
moving to where the moon's face open
between the towers shines like a yesterday
come back to tell you tomorrow
is the way you'll finally be gone.
Atar Hadari's plays have appeared at the Mark Taper Forum in Los Angeles, Derek Wolcott's Boston Playwrights Theatre, the Nat Home Studio Theatre in New York and Canal Cafe Theatre, London. His poems have appeared in the Times Literary Supplement, American Poetry Review, Partisan Review, Poetry East, BOMB, and the UK's Poetry Review. His volume of translations from the Hebrew poet Bialik, Songs from Bialik, is forthcoming from Syracuse University Press. He is under commission from Damned Poets Theatre Company to write them a verse on the life of John Donne to be produced in London next spring.
Originally published in
Featuring interviews with Gregory Crewdson, Lorna Simpson, Allan Gurganus, Louis Auchincloss, Marie Howe, Rilla Askew, Rupert Graves, Andrew Blanco, and Paula Vogel.