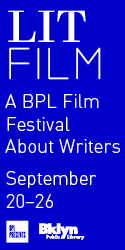 Madeline Steps:Four Colors
1.
Madeline steps plum prelude,
predawn vineyard dreams,
her feet fluid fermentation.
 2.
Bleached blonde beachcomber,
Madeline steps a daisy shimmer,
like grapefruit slice mirage.
 
3.
An opening orchid, Madeline
steps in wet cement, a lipstick
fossil for impending night.
 
4.
Powdered granite and sesame seeds,
pale Madeline sleeps in Aladdin's lamp,
a wineskin of footsteps in the sand.
A constant hum in apocryphal Tuscaloosa—
I'm fixing to perchance fish sober with Ned,
the good liar's life
unreeled, or else a felony. Firearms beckon
my short-trousered gloom. I ring a li'l belle
sweet and lo—tempting
the gods of the heroic, gin-soaked South, way
auntie bellum. I make it most all up, a true
artiste. Them others ain't
like bored you and I, being elsewhere cozy than this
chipboard tavern witness to a goldtooth'd black man
eating lit matches for drinks.
On ragged clause the tide scuttles in, strong boys
mind & lawyer; the rolling houndstooth circus
spectates its perennial
Defeat? Amusement? Madonna studies meanwhile,
my dead white ass—prurience, boy, the U's vested
interest in who's rung whose.
—Christopher Chambers lives in Tuscaloosa, Alabama where he works as a carpenter and edits the Black Warrior Review. His fiction and poetry are forthcoming in Mid-American Review, Hayden's Ferry Review, and Confrontation.
Originally published in
Featuring interviews with James Hyde, Mary Heilmann, Alan Warner, Scott Spencer, Catherine Gund-Saalfield, Cassandra Wilson, Revenge Effect, Elevator Repair Service, Zoe Wanamaker, and A Day in Brasilia.