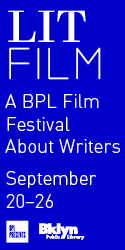 Relation (East 47th Street)
One sleeps,
The other walks back and forth.
 
One sleeps—
On the steps of the shut
Church at night, in early fall—
The other walks back and forth.
 
Beside the river an earlier
Storm made of the street.
 
One prone in a pink blanket;
The other standing, jittery; dark
Clothes make a dark shape moving
Tree shadows torn by a breeze
Shift. Keen edge of the cold
 
Front. One sleeps.
The steps are cold and damp,
The steps are concrete.
The other pacing just beyond
The light: possibly
A guardian, possibly
A threat.
 
One—
In a sodden blanket (part
Of history—the harshly-lit
Threshold—a city at night),
September 12, 1996—
Sleeps.
 
The other wanders
(barefoot)—describes
A rough, erratic, halting
Arc around the still
Figure: haunting the edge
Of the light as though the light
Was a cage or there was a cage
The illuminated
Image made in the mind …
 
(Though there were others—
Somewhere else to be—
Who hurried in and out, apparently
Unseeing.)
 
One sleeps or tries to sleep.
 
Gold leaves slipping past
In the gutter's gleaming black
Among reflected, broken
Lights.
 
One moves away but not far—
As though on a leash.
 
Rose-colored the dirt-dulled
Shroud around a quiet
Form lying to face the locked
Doors—eyes shut—and face
Away from the glaring light.
 
One sleeps or tries to sleep
Or pretends to be sleeping.
 
The other measures out
An invisible limit: hands
At the throat of the air
As though the body
Had trapped within it
A speech or another kind
Of silence, demanding
Audience.
One More for the Road
I. I Find a Resemblance
 
I don't know what compels me to speak at all,
Much less to talk about my wife. If I had my way
I'd be completely silent, yes "as the grave," even
Like that. At worst I'd make a little sound that was
Utterly private, a sort of quiet bbbbrrrrr like a boy
Trundling lightly over the sleeping body
Of his mother a miniature dump truck, like that:
Bbbrrrrbbrrr, my lips vibrating but my mouth
Shut. I wouldn't babble like this. I wouldn't expect
Comprehension. I wouldn't need an audience.
In a perfect world I wouldn't even have to clear
My throat, much less cough up these chunks
Of self-pitying bitterness: "She won't touch
My cock," stuff like that. (But why won't she
Touch it?!?) It seems 'close enough to imagine'
Isn't really that close: in a perfect world
I'd be silent, here I talk. Here I talk dirt. Here
I find myself gagging on clods like, "She doesn't
Understand me," searching—as if for air-brushed
Tits and ass in the glossy crawl of light across
An advertisement's ice—the rocks of the real
Drink: she doesn't. And even though it's by now
No more than a tired joke, it's my life. It's still
My life. She doesn't. She won't. In a perfect
World there wouldn't be all these deflections:
I'd be speaking directly to her if it turned out I had
To speak: "Speech opens a door in me," I'd say,
"I feel you shut." Dirt. She doesn't understand
Herself. In the apparently endless memoranda
Made up every day out of what it is or was I'll never
Be able to tell her 'once and for all' that looks like
The worst, but I'm not above those who mistake
A failure of imagination for 'innocence,' I'm not
Above anybody a black history's driven
West to the flattest light.
 
I. I Make a Resemblance
 
My wife has a smile painted on her face.
It's a "willing smile," yes, but if I want something
Done it's always me that's got to manipulate
Her flaccid limbs. If I want it done right. I'm already
Tired of this, and we've only been married,
What? A couple of lifetimes? She says the honey-
Moon isn't over, crying a little, revealing the wistful
Smile I invented, and I see she's lost some teeth.
I don't know why I have to do this; I'm tired. At night
She insists we think again about the future, as if
It existed; she insists we look all over again for what
She lost, our fingers tangled stupid in the dust,
In the dark. She makes me tell her everything
I think, I make her make an abstract, her tiny hand
Almost buried in drifts of greasy fluff, ick
(We're under the bed, anyway I can't sleep):
I make her say "ick." I say if she can't get over
The ceremony soon I'll give her something
To really cry about. Oh, the daubed-on tears;
The damp heaps of rouge she calls the "roses"
In her cheeks—when I let her talk; when I make
Her talk, when she talks in my sleep. It's a show
Of teeth. I'm tired of this: of disappearing
In the distance in my black, of carrying her in,
Of carrying her out, of speaking the words
She leaves out or "forgets" through the rigid
Smile on my own face, of being eclipsed
Completely by what wouldn't even exist without …
But I'm getting a little ahead of myself. Okay,
White bandages trail from her delicate wrists.
I should have said something before. Stains
Like rust. My wife has only two gestures: Goodbye
(A circumspect wave like a queen's: the hand
In the air gently tilting and righting itself) and
Goodbye (a desperate clutch at the emptiness).
I should have said something before but I was
Tired and it's always too late and the words aren't
Ever the right words: tears and a meaningless
Smile and dirty white gauze swaying like Spanish
Moss when I lift her and hope, she says
She has "hope." In my voice. When I began this
I was tired. My wife says she only wishes her teeth
Were as white as her dress, were whiter, were even
More white than … Okay, okay, okay, I say. Stop.

Laura Mullen is the author of The Surface (University of Illinois Press) and The Tales of Horror (forthcoming from Kelsey St. Press in the fall of 1998). She teaches at Colorado State University.
Originally published in
Featuring interviews with Elizabeth Murray, Kerry James Marshall, Anthony Hecht, Michael Winterbottom, Liza Bear, Wong Kar-Wai, Olu Dara, Martin Sherman, and Philip Kan Gotanda.