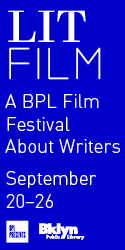 Prayer for the Eighth Station of the Cross
The cough like oysters in the throat, the light from
the lamp oyster white
"my business is to discover what makes for the in-
tellectual impulse"
dear God and all that time with me here thinking
you were an ordinary guy
She had eaten lunch with the fourth unsung hero
of our generation this week
an understandable fatigue was the result
when the water is brown the only civilized thing is
to make tea
Since the biographer will be here any minute you'd
better tidy up
things said with the ring of truth rarely have it
get all the best people and mistrust them
The meaning of consecutive and sustained had
made a sustained disappearance
every office has a trap door slightly to one side of
where you're standing
the hand on the throat like a fever, like an airgun,
like a fork
Systems flash their way to metal lips
in a parody of language, the absence
of curiosity or will.
Small projects to avoid action: lose five
pounds by Thanksgiving. Buy a leather jacket.
Read the Apocrypha.
You must be joking.
The necrophiliac's wife sat in the porcelain tub
while the maid added ice cubes to the water.
Now she's in a coma, "doing" death;
action is when the body rolls from the sheets
and falls like tears do, from gravity.
Originally published in
Edouard Roditi by Bradford Morrow, Taylor Meadeby Alf Young, art by Elizabeth Murray, Ellen Phelan, Pat Steir, and more.