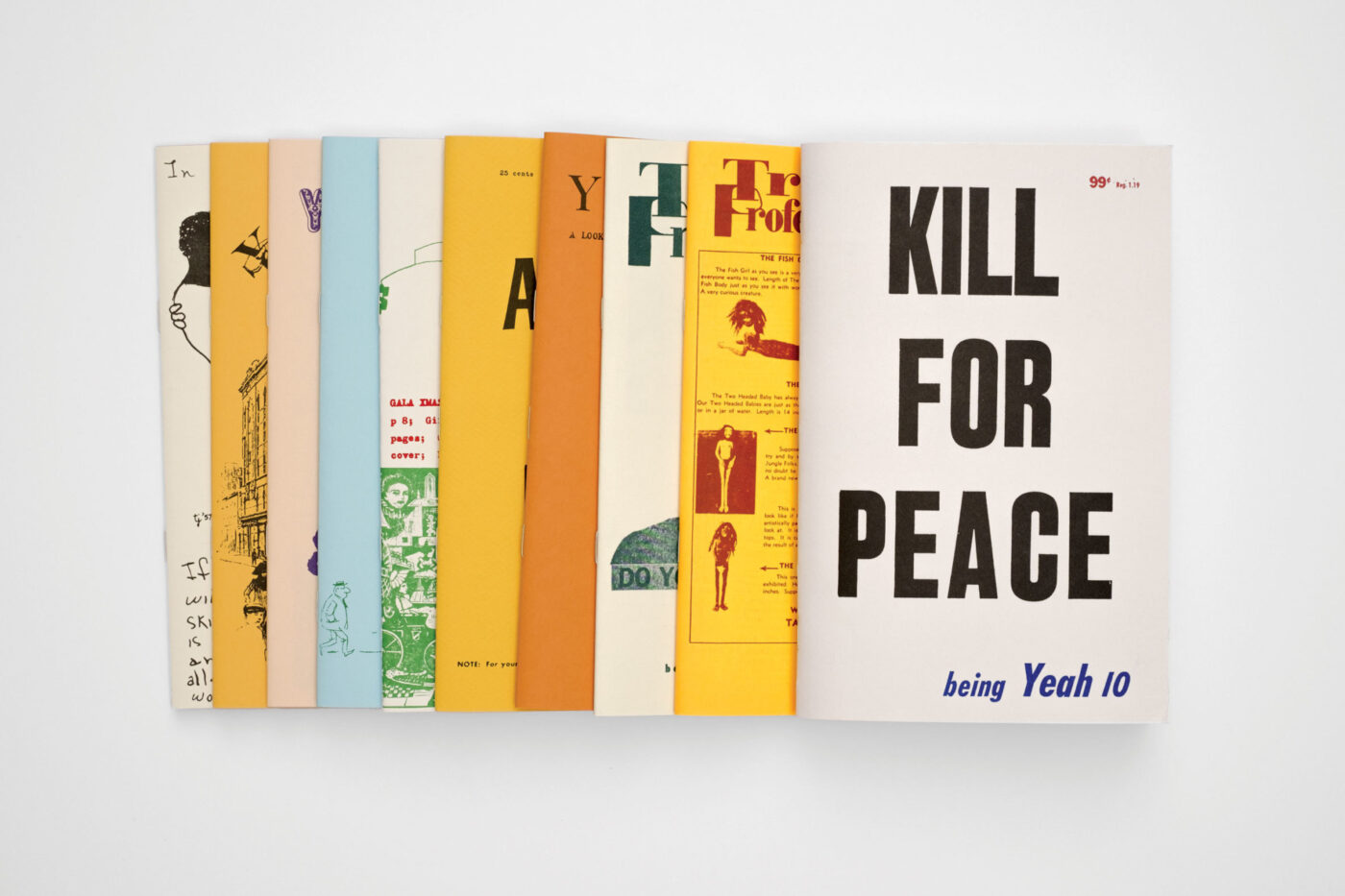 (Primary Information, 2017)

Yep, here I am to tell y'all about YEAH—YEAH being YEAH the magazine, that turpentine "tonic in type for young and old," mimeographed between 1961 and 1965 by Fugs founder, poet, and anarcho-sociologist of the Lower East Side Tuli Kupferberg. And whoa, what joys await you inside each and any of these ten issues! Whether you're soaking in tomes by the finest pacifist poets east of Avenue A, in pursuit of spiritual misdirection through the "Proverbs According to Tuli," or merely browsing for a couple "large heavy duty hot dog scalding tanks" and a pair of canine underpants, YEAH just might be the "satyric excursion" you've been praying for! 
Before we go any further, though, and I'm so sorry I have to ask, but, "Are you normal? If so, [this] big 100% HUMAN MAGAZINE is just what you need!" See, YEAH is at least partly a magazine made up of other magazines, slinging news clippings, mail-order ads, classifieds, consumer instruction manuals, crackpot medical journals, mortuary trade publications, US and USSR military guidebooks, and comics into collages that function as both punchline and protest. In Tuli's hands, these cut-ups are scissored and scattered across the page to all manner of effect, crowding the margins with loosely related tidbits about "chair swinging and dish hurling" nuns and payphone priests who can bless you at a special discount, or stacking material in a kind of a filmstrip montage—like in YEAH 10, where an ad boasting "the wonderful expansion of Sierra Bullets" sits atop a medical drawing of rifle wounds tearing through a small intestine, perched above a propaganda flyer reminding us, "It takes GUTS to win a war." 
On other occasions, Tuli doesn't meddle with his sources at all, preferring to publish them wholesale as YEAH Extras, like the stapled-in reproduction of "KILL! Magazine" which is "Dedicated to the Annihilation of the Enemies of the White People." In some ways, parking KILL's hopped-up Nazi rhetoric next to ads for "Kosher tours to Mexico" and instructional LPs for your wedding night deflates its power by ejecting it right back into the toilet bowl from whence it came. But the opposite is also true: since Tuli can't offer you a rebate of reprobation, the fascist shit-speak lands so baldly banal, so American as to make your belly flip over a few times before chuckling so easily at any of the seemingly goofier, harmless consumer ads that surround it. That YEAH is a magazine that houses within its own pages what it hates most gives some sense of just how deep Tuli wades into the floodwaters of the times.
While you might find a few mimeo-larities to fellow Fug-mate Ed Sanders's Fuck You / A Magazine of the Arts, that tasteful journal's "total assault on the culture" tagline might be more aptly twisted into a "total saturation of the culture" when picking at the pages of YEAH. After years of sifting through the dregs of advertised sloganeering, YEAH has perfected its own brand identity and corporate taxonomy, publishing themed issues around "the White problem," "True Professions," and the war machine, as well as grouping collages into "21 Gun (Atomic Powered) Salutes" that lambast societal institutions like the police, the housing industry, the art market, the military, and even dentistry. All in all, YEAH's got so much of everything that there's got to be something for everybody (or everything for somebody?), as the collages allow the perverted threads of sexual, spiritual, economic, and political repression to slowly unspool themselves into tangled up yarn balls on the hardwood floor. 
So what are you waiting for? Buckle up your bootstraps for this one-time-only all-expenses-money-laundered commando brigade from Moscow to Havana to Montgomery to Dallas to Hanoi and finally right back again to the tenement apartment above the Lifschutz Wholesale Egg Store on East Tenth Street, just one door down from Ed Sanders's Peace Eye Bookstore. Send your checks there, too, made out to Tuli and Sylvia Topp's Birth Press—it's just "$1 for the next four issues or until the end of the world (whichever comes faster)." But hell, don't take my word for it, let old Sarge Tuli "Kill for Peace" K speak for himself, this time as a comic strip pasted in the bottom right corner of the final page of the last issue of YEAH:
Sorry we have to end our tale at this particular point, but, after all, it's a war mag and not a romance book! Next ish will find the Howlers back battling the Nazis again! We wrote it 'specially for you…so don't disappoint us…Be here! That's an order!!
Michael Blair is BOMB's A. W. Mellon Performing Arts Fellow and the coauthor of a 33 1/3 book on Young Marble Giants' Colossal Youth.  
Originally published in
Featuring interviews with Milford Graves, Celeste Dupuy-Spencer, Meredith Monk, Jim Hodges, Lucy Dodd, Branden Jacobs-Jenkins, Jlin, Cate Giordano, Don Mee Choi, Christian Hawkey, and Friederike Mayröcker.