Trompe l'oeil: Sam Gordon by Eve Fowler
Eve Fowler catches up with Sam Gordon on his latest body of work.

Home of the Bill T. Jones / Arnie Zane Company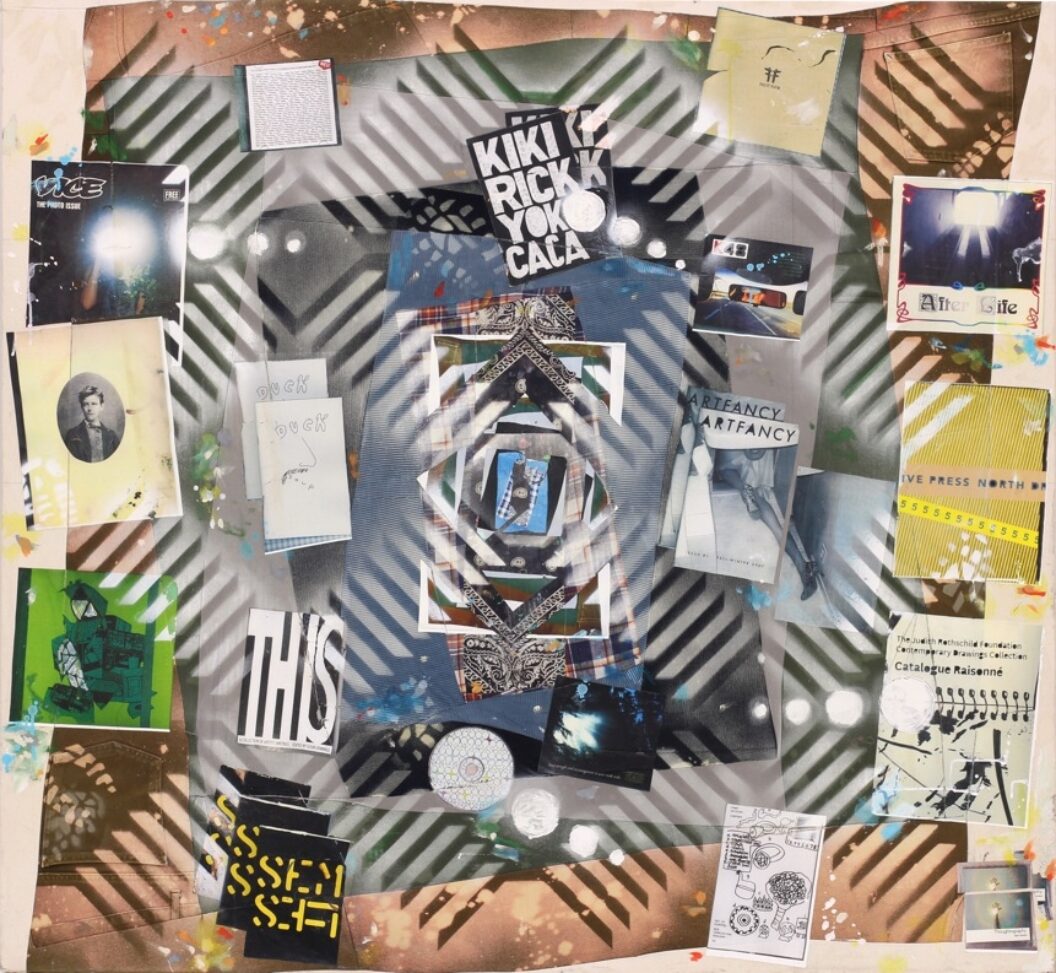 The first time I saw Sam Gordon's work must have been at a 1999 show at Feature Inc., a group of small intensely worked paintings that were rendered as raw, sanded and scraped, refined, and highly detailed. I have followed his work ever since. The thing that struck me initially about Sam's work are the symbols he uses in his paintings: the peacock feather, disco ball, and swastika—symbols that describe who he is and underscore who he is not, marking what he wants viewers to know about him. I think I read his work the same way I read Gertrude Stein's text and subtext.
Since his show in 2001 at Marc Foxx, Sam has consistently shown in LA, in 2005 and 2006 for shows curated by Malik Gaines and Drew Heitzler respectively, and most recently in 2010 when he curated an exhibition for Artist Curated Projects (a project I organize with Lucas Michael). This past March, Sam screened 24 Hours in Los Angeles: The Lost Kinetic World, Volumes 1–12, at The Mandrake, and invited Jacob Robichaux and Amy Yao to collaborate on a performance/installation to punctuate the event. Sam and I had the opportunity to work collaboratively during his last visit, under the name Two Serious Guys, which Sam derived from Two Serious Ladies, a title taken from the 1943 novel by Jane Bowles. Sam's current solo show Trompe l'oeil includes new paintings and a video slideshow at Feature Inc.
Sam Gordon When did we first meet? Was it the late '90s at Lot 61 for a dinner after a show you were in with A. L. Steiner?
Eve Fowler I think we met at the lesbian art club.
SG You had that studio in the Starrett Lehigh building before Martha took it over. I worked for you once as a photo assistant, we drove to some crazy place in Brooklyn where you were shooting some Eastern Bloc revolutionary?
EF Oh that's right we photographed a Bosnian guy then had an expensive lunch in Chelsea which the New York Times wouldn't pay for. I don't blame them!
SG It was steak frites at The Odeon …
EF You have a photographic memory, for God's sake!
SG It's my blessing and my curse. (laughter)
EF Ok. question: when I watched the first part of your video I noticed—or I thought I noticed—that you were documenting performance art, galleries, commercial art, and also art on the street, and street musicians. It occurred to me when I was watching that you were making a comparison between these high and low art forms and that you were framing them in a context that allowed the viewer to see that these things have equal value. It's something I have noticed about your gaze. You give the same weight or reverence to undiscovered and known artists as you do to the people we all know. For example, when you curated the ACP show you included Wesley Willis, as well as some other really interesting people who aren't so recognized, mixed with some better known artists.
SG Yes, equal value. Wesley Willis, much like Daniel Johnston, was a musician and outsider artist embraced by a cult following, especially within the alternative music scene of the 1990s—I had been a fan of his for a few years, though never seen him live. He was performing solo in the CBGB gallery, singing, talking. His favorite thing to do was to headbutt fans. He also had his artwork hung—these wildly intricate colored ink-pen-on-board drawings of the Chicago area. I asked him how much and he said 100 bucks which started a torrent of sales. Though back to your question, or rather proposition. My first concern was to capture anything moving on video. So why not a breakdancer or subway busker? They would make for as good a short clip as a performance in a gallery, or modern dance. So for me there never was a high and low separation—all are art moments. Though I guess as I began to edit, it is something that I became aware of, and yes, the low moments are just as precious to me, maybe more so because they are less valued. It relates to my collection of art ephemera, or rather as I have dubbed it artphemera which includes artist's posters and miniature art, all the small multiples and things that pass through our lives. I hoard them, though I am even more of a digital hoarder, as The Lost Kinetic World is 100 hours and counting, but can fit on a couple of hard drives, whereas a painting or paintings to have that kind of enormity would take up so much actual space.
EF During the first night of the Mandrake screening, I mentioned that your video allows people to see ephemeral performances—art, music, street musicians. I was watching people watch performances that they had missed. It was interesting watching them experience things that have been recorded by you. You have always been great at disseminating information, because of your photographic memory. You spread a lot of information around with your video project.
SG Thanks. Everyone's response to the video is from their own internal version of their movie. I really liked that first night how Tara Jane O'Neil, Tom Watson, and Dean Spunt all found themselves sitting at the same picnic table bench in the garden—three musicians who all knew each other from various shows and other connections. Their relationship to the art world is close, intimate—though they themselves are not visual artists. Also the project is so focused on music—The Red Krayola appear in an early volume, No Age in a later one. The best email response to my Mandrake invitation, which invited viewers for the full duration of the screening for which I was also present, was K8 Hardy's reply: "So awesome." Most of the artists included have been very enthusiastic though some—and I respect their preference it's their prerogative—would request to not have their image disseminated. It is very much about that stealing the soul with the camera, I believe in that voodoo! You took my portrait in the midst of the series you did on hustlers and then artists, and I fit right in-between.
EF I was thinking of Tara and Tom watching musicians they know performing in your video. That was interesting to me because the art world can seem so insular or limited but your video really speaks to a lot of different kinds of artists. It feels inclusive rather than exclusive. And you did fit right into that hustler series.
Rounding back to the painting, can you tell me about this current series? How do you think making video has affected your other work, such as your painting?
SG Going back to the still image after video was interesting, though they both share the desire to capture something while it's happening—the painting when everything comes together without killing it, and the video catching the perfect moment.
EF It seems from what I recall your work is always shifting, from those canvases you sanded through layers of paint to the stenciled chains spray painted on reflective Plexiglas.
SG This group of new paintings follows my interest in exploring new processes and ways to make paintings. Instead of taking the canvas for granted, I wanted to construct the canvas—old clothes of mine, canvas remnants, and paint rags sewn together to form the actual ground on which to work. Using bleach as paint, the mark-making is one of erasure and suggests a photographic quality. What is painted and what is removed becomes as confused as what is printed or sewn. How the paintings are made is left for the viewer to decipher.
EF I do feel like I'm often reading your paintings.
SG The paintings sometimes include thumbnail versions of themselves as well as pages from my sketchbooks as inkjet transfers—these serve as footnotes. And then there is the sketchbook slide show, which sets in motion a personal set of hieroglyphics. The sketchbooks were included in a show Shannon Ebner organized, actually we have both been included in shows she curated.
EF One of the things that really interests me about artists is what happens when they curate a show, because in a way it's an extension of their own work usually—or decisions are made based on their aesthetic. I have organized many shows curated by artists through ACP, so it was really interesting to me to be included in one—Blow Both of Us which Shannon Ebner co-curated with Adam Putnam. They included Jimmy De Sana, Allen Frame, Mark Morrisroe, Alice O'Malley, Luther Price, Michael Queenland, Emily Roysdon, Dean Sameshima, Gail Thacker, and me at Participant in 2007.
SG Wow great list of artists and some of my favorite legends, Jimmy De Sana and Mark Morrisroe!
EF The works of mine in the show were black and white pages from my Xerox books—11 x 14 Xeroxes on newsprint. All of my other work at that time was color but black and white worked best in that show. Adam and Shannon work primarily in black and white when they use photography, so their aestheic was an important part of the curation of the show, which is what makes artist curated shows so great. That's what happened when you curated the ACP show—the aesthetic of your work was reiterated through the artists' work in some ways. I mentioned this earlier in terms of the things you choose to include in your videos.
SG Curating does become a self-portrait, a collection of other things you notice. Mine was titled They Knew What They Wanted, it was a collaborative exhibition between four galleries: John Berggruen Gallery, Fraenkel Gallery, Ratio 3, and Altman Siegel in San Francisco where I grew up. Each gallery selected an artist from their program to curate a show using the programs of the participating galleries as inspiration. Shannon Ebner's exhibition at Altman Siegel Gallery focused around "the idea that reality is comprised of basic units, and works that express their existence outside the locality of time and place," including Lutz Bacher, Bernd and Hilla Becher, Fletcher Benton, Iran Do Espirito Santo, Lee Friedlander, Jordan Kantor, Sol LeWitt, Agnes Martin, Tom Otterness, Will Rogan, Ed Ruscha, Steve Wolfe, and me in 2010. Shannon chose to show my actual sketchbooks—there are around 30 of them, denim three-ring binders, filled with all kinds of pages, junk mail, printouts, drafts, ideas, et cetera.
EF Your sketchbooks have so many different iterations, they have been printed as books, wheat pasted as black and white Xeroxes to make faux wallpaper, printed as color banners on indoor/outdoor vinyl, at Kinkos right?
SG Yes.
EF And now as a video slide show?
SG That is my latest solution to exhibit them. The sketchbooks are still a work in progress, as the video is too. They are not finite in that I keep making them, though if I'm looking through an old binder, I might doodle or draw on a page from the past. I have always thought of that as a kind of retro-active progess, bringing a sketch or idea further, years later. In terms of editing them into a video or wallpaper, no edit is final, different edits have been pulled, i.e. all the swastikas for one wheatpasting in 2010. Though for exhibitions or events there is a version, or rather an edit, of the progress to date. The sketchbook slide show runs from 1995–2012 and is currently an edit of 1,000 pages (from 3,000 pages scanned) in chronological order running 16 minutes which will screen at Feature Inc., roughly actual size. The paintings have always emerged from the sketchbooks which serve as a site of experimentation and a place to gather possibilities. Here, the sketch book, traditionally presented as raw material for paintings or larger works, is presented as a distinct work itself. The process of labor is depicted as subject.
EF Everything feeds back into the work.
SG Yeah, everything is raw material for making work, even other artwork, like a new folding screen I've made from nine earlier small square paintings, and of course the sweepings from the studio floor, a kind of mojo, gris-gris, used on the surface of the paintings, and now on your posters. We had fooled around in the darkroom once before, using the sweepings to make photograms, though I really like the sweepings covering the bright pop colors of the posters, something old and something new.
EF Yes, I was excited when you first suggested that, not something I would have thought of, but when they were made, it's like they were always supposed to be like that. These text-based works inspired by Gertrude Stein's experimental Tender Buttons quote from the novel in alternative forms and contexts, broadening the typical method of delivery, from the bound book read in private and onto the common silkscreen poster, the type that typically advertise concerts, boxing matches, and other events. I have been putting them up at busy intersections, telephone poles, and fences surrounding empty lots. Back in the gallery context, they wear the sweepings well.
SG The sweepings connect back to the video, the same aggregation of all these fleeting, tiny things, moments. A shift happened in my work from a focus on the still image, painting, drawing, photography, to an obsession with the moving image, which led me back to trying to capture the ephemeral, like the studio sweepings.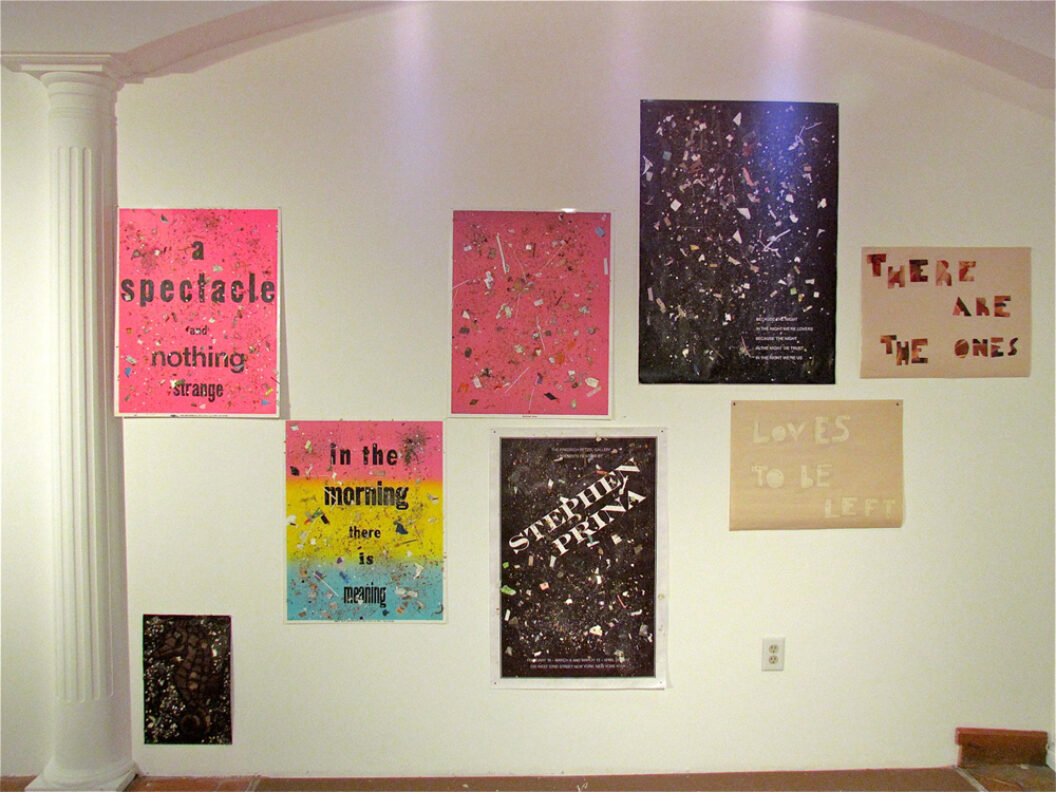 EF You have curated a few shows, is that something you are interested in doing more of?
SG I enjoy doing it, and in a way the video is a way to curate too, in a very large generous way, easier than organizing objects which is more limiting. The show I did for ACP was about performance revolving around the binaries of action painting verus performance relic and artifact versus document—in turn engendering oppositions and hierarchies. It drew connections between the work of nine artists and their seemingly disparate works in a wide range of media. It destabilized the notion of clearly defined categories by displaying artists' work not confined to any singular form of media, including Jibz Cameron, Jake Ewert, Daniel Feinberg, Keltie Ferris, Daphne Fitzpatrick, Jacob Robichaux, Rebecca Schiffman, A. L. Steiner, and Wesley Willis.
EF We had a great reception for that show, I think a lot of people really enjoyed it, the row of monitors screening all the videos with the t-shirt collection hanging above was a funny touch.
Tell me about the title of this interview and your show?
SG Trompe l'oeil came from the paintings, such as Studio Floor and Street Vendor which literally do attempt to trick the eye, or works like Pop Ups and Blue Space which flirt with optical illusions. Also, it's French and funny-sounding, and typed or written looks fantastic, I think. The exhibition at Feature is focused on paintings, with a new edit of the sketchbook slide show. This is what painting could be, it might not be the way painting is right now, or in vogue, rather I always feel like my work runs in the opposite direction. Also I do a lot of different things, which for me all feel connected through processes of archiving and two dimensions whether it's a video or a painting or a photograph or a drawing.
EF It has always made sense to me, that you began making video. It was new to you, but so related to your painting and photography—the same eye, the same way of noticing. I see a lot of the imagery from your painting in your video, from other art works, or in vernacular things on the street you edited into the video.
SG When I first got a pocket-size digital camera which had video, around 2004, it still took me a while to shift from always thinking of capturing a still image to the moving picture. It was very much a moment when something in my brain clicked. I think my video was a reaction of sorts against YouTube, rather than being posted online, these individual clips have been edited into one long movie with a cast of hundreds, from fledglings to legends—an archive of fuzzy moments strung together in chronological order as they appear. I felt that was a more satisfying way to watch things, and also when short clips are uploaded, it's great, but it remains just that, a clip online. I wanted to use all these clips as raw material to make my own work, use them to make one long video.
EF And you are still shooting?
SG Yes, I always have some kind of camera on me. Though I hear you are not a photographer anymore?
EF Well no, but I am working the same way. Again, noticing. Photography is about noticing and editing things you see in or out of a picture. The text pieces I'm making are similar—I'm making art from text I want people to notice.
SG It could be inferred that this text, the interview itself, could function then as a portrait of me by you, in place of a photograph.
EF I like that. If so, it's only the artist part of you. Portrait of an artist as a young man.
Eve Fowler is an artist who lives and works in Los Angeles.