Trees, Grass, & Collectivist Rock by Clinton Krute
Träd, Gräs och Stenar and the democratizing power of the riff.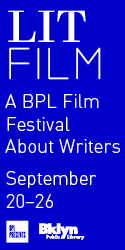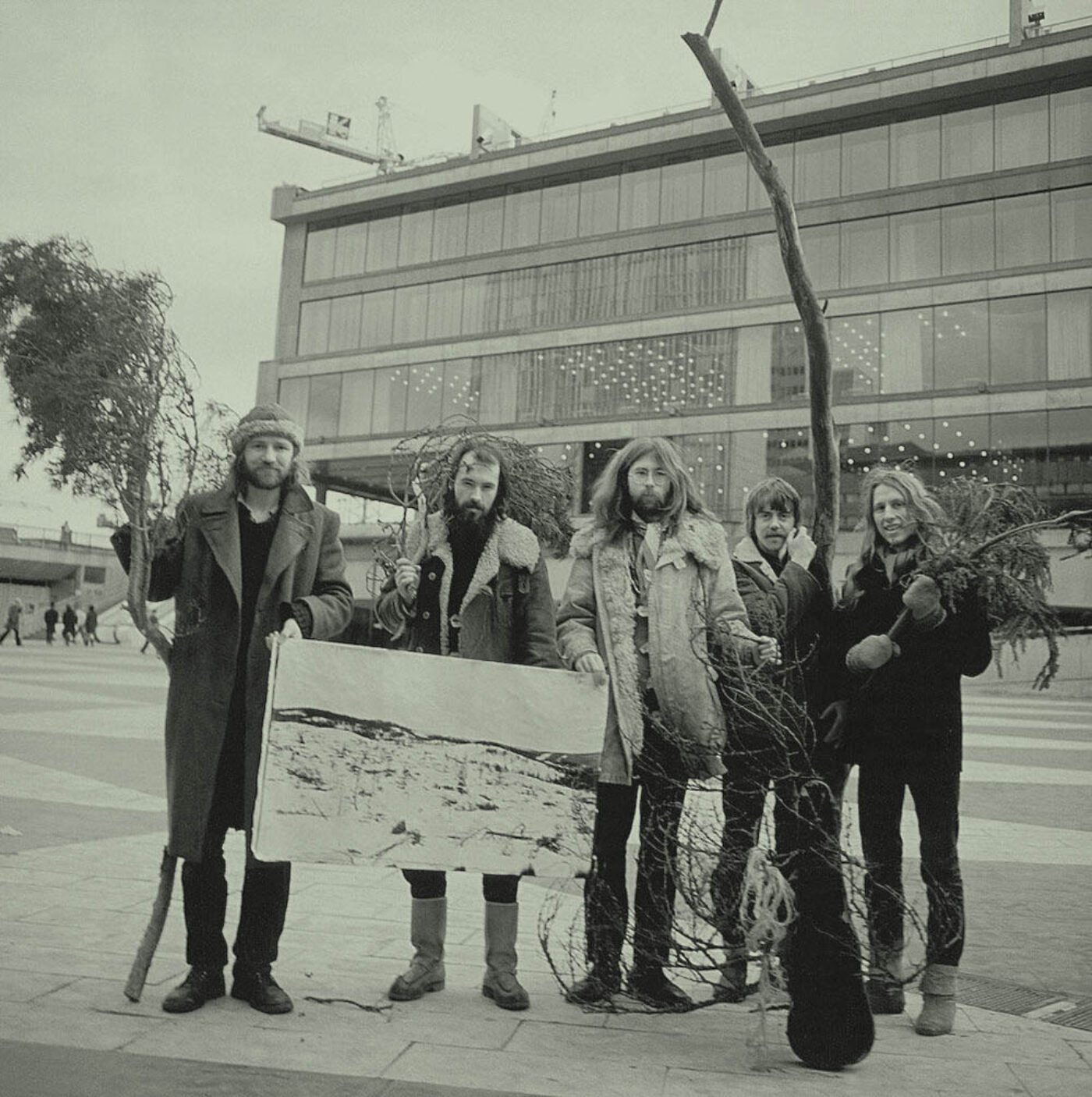 The Swedish heavy psych band Träd, Gräs och Stenar (Trees, Grass, and Stones) were clearly not in it for the money. They grew their own food, built their own guitars and amplifiers, and between 1969 and 1972, released four of their own records—two studio and two live. Although the early studio albums have some pretty incredible moments—in particular the shaggy, mammoth, 23-minute title track of 1971's Rock För Kropp Och Själ (Rock for Body and Soul), which cuts off just as it turns into a proto-punk chant—they were really a band best appreciated live. Anthology Recordings's new reissues, packaged together as a deluxe 6-LP box set, include the two live albums, Mors Mors and Djungelns Lag, along with an album of unreleased live recordings called Kom Tillsammans, discovered in the home of guitarist Jakob Sjöholm. These records are documents of a countercultural approach to art-making, as well as monuments of trance rock, of subtle motion inside stillness, where their commitment to chasing a single riff often overshadows any overt political agenda.
The cyclical, organic rock music of Träd, Gräs och Stenar is the synthesis, if not necessarily the culmination, of a series of late '60s DIY projects led by composer/guitarist/organic farmer Bo Anders Persson. Along with drummer Thomas Mera Gartz, bassist Torbjörn Abelli, and poet Thomas Tindholm, among others, Persson formed the band Pärson Sound in 1967, taking inspiration from the Rolling Stones and composer Terry Riley. In fact, a particular performance of Riley's "Olson III" at the Stockholm Conservatory in 1967—in which Persson participated—turned the group on to techniques of repetition, variation, and drone. Pärson Sound did not make pop or rock music in any accepted sense but instead created focused, swirling monoliths of sound built on elements borrowed from minimalism, modern classical music, Swedish folk music, psychedelic rock, and spiritual jazz. Their performances were often single improvised pieces lasting hours, and their recordings are, in my opinion, among the heaviest ever released.
As the late '60s peaked, Pärson Sound briefly evolved into the more politically oriented International Harvester, a sort of one-off concept band. The band's name, taken from the US-based tractor company, evokes—somewhat contradictorily—both "The Internationale" socialist anthem and the lumbering machine of global imperialism reaping its harvest. Their single album, Sov gott Rose-Marie, was recorded at Kafe Marx, a counterculture hangout run by the Young Communist League of Sweden. Its overtly Marxist iconography, lyrics, and song titles express the group's commitment to serving the collective over the individual.
In a 1969 film about the band, Persson and his comrades are seen in a snowy field standing under a huge banner stenciled with images of Mao Zedong, Bob Dylan, and Michel Foucault. A member of the group says, "What we strive for is a sense of community in which you can't really talk about 'audience' or 'performers' or any of that." There were to be no distinctions between these roles. In this sense, the band embodied their politics totally, transforming the capitalist construct of the "rock band" into a tool for total communication. All this said, it's difficult to pin down their specific stance on the far-left spectrum, as avoiding didactic messaging seems to be part of their point. But Sov gott Rose-Marie certainly subverts dominant ideologies musically, challenging orthodox political or pop music categories—a tendency that grows more pronounced as they continued to change names and transform their sound. It features more pronounced elements of Swedish folk music, including a horn section that wouldn't be out of place at a renaissance fair, and it could be read as a parody of nationalistic, back-to-basics traditional music, if it didn't also feature the haunting protest song "Ho Chi Minh" and two long, punishing, repetitive jams—"I Mourn You" and "How to Survive." In these songs, they move away from academic and political pursuits to explore the most basic elements of rock music—repetition, loud guitars, loud drums, and the time-honored verse/chorus structure.
Though still raw to most ears, the group edged somewhat closer to commercial, straight-ahead rock, changing their name to simply Harvester for the 1969 album Hemåt (Homeward). Its title and album cover—an amateurish painting of rolling green hills—again flirt with a naïve nationalism, while the music itself is classic heavy trance rock, kind of a trial run for the heights later reached by TGS. The album's centerpiece is the thumping 7-minute cover of "Everybody Needs Somebody to Love," further evidence of the collective's gradual transformation into the world's shaggiest house (or field) party band.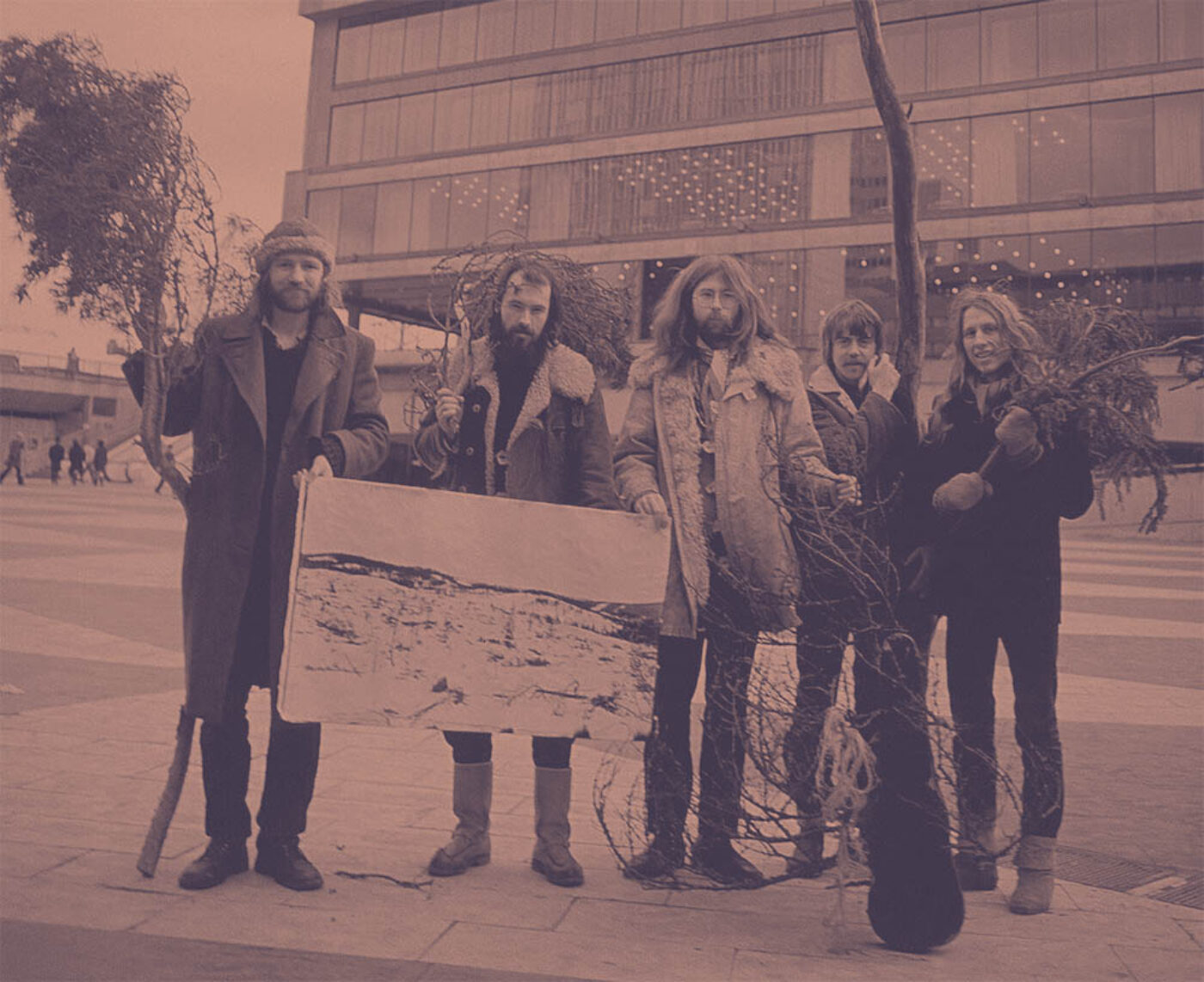 All three live Träd, Gräs och Stenar albums in this new Anthology Recording reissue series are testaments to the hypnotic power of the riff, that great equalizer. Newcomers with 33 minutes to spare might start with "Amithaba/In Kommer Gösta" from 1971's Djungelns Lag (The Law of the Jungle)—a long, semi-improvised song that builds to multiple fuzz-fueled climaxes before lurching suddenly into the proto-punk "In Kommer Gösta"—a ham-fisted drinking song originally by Swedish weirdos Philemon Arthur and the Dung. The lo-fi, documentary nature of these recordings, under any name, challenges listeners to pay closer attention to the context in which the music is being played, as opposed to the performance itself. Here the songs are filled with missed notes, flubbed vocals, birdsong, car horns, and friendly local hippies joining in on percussion. To my mind, only Grateful Dead audience tapes come close to placing the music and the documentary nature of the recording itself on the same level. The band's playing, like their recording, is also willfully amateurish, showing a total disregard for conventional virtuosity. The flubs and missed notes are evidence of an authentic spirit of fearless experimentation, and unlike other lo-fi hippie trance projects of the era—such as Amon Düül or, on the folkier tip, something like Comus—Träd, Gräs och Stenar appear to have been fully awake to the political and cultural implications of placing these records for sale on the same shelves as the latest Sonny & Cher record. Even next to Hendrix and the band's beloved Rolling Stones, Träd, Gräs, och Stenar were confrontationally unprofessional, and no doubt aware of the fact that by asserting themselves as pop music artists, they were challenging, if not openly mocking, the very idea of a "professional" artist.
Asked in 1969 why he doesn't play "serious" music, Persson replied: "Well, I'd say we're more serious [than professional musicians]… You have to realize that people exist. They don't think of the people, they only think of their culture, a culture that no longer exists in a way that's relatable… The purpose of that culture is to impose some kind of oppression." The broader social implications of this perspective are quite clear. An inclusive music not only challenges the economics of pop culture, it does so by employing an aesthetic approach that incorporates the methods of that pop culture. Another band member put it this way: "If not everyone can join in and play, then it's the music itself that is at fault."
Clinton Krute is a writer living in Oakland. He is a contributing editor at BOMB.