Traversing Fertile Histories: Vick Quezada Interviewed by Alexis Salas
Sculpture, video, and performance that queers US Southwest settler colonial history with plants and pilgrimages.

Discover MFA Programs in Art and Writing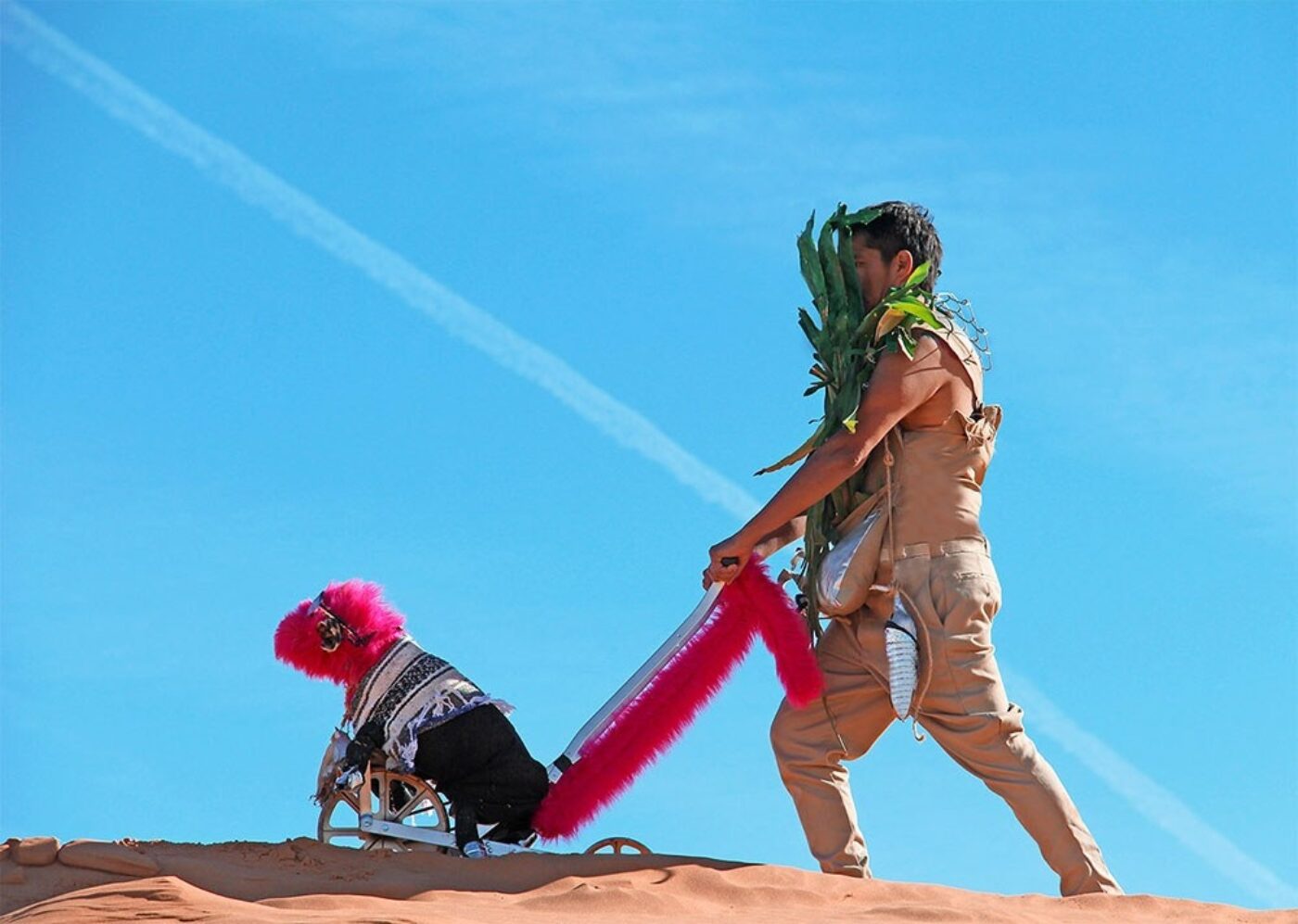 Vick Quezada (they/them) makes objects steeped in their lived experience of the US Southwest, currently refracted through their lens of the Northeast. Quezada and I have been talking about their work queering Latinx art since we first met in Western Massachusetts a few years ago. I saw a sculpture from Quezada's cart series, Cart No.1, in an exhibition at Smith College in Northampton, MA, around 2017. Adorned with colored fabric strips, its front end retrofitted with a boombox and its bottom ledge and interior filled with soil-propagating corn, the metal cart evokes a mobile musical greenhouse as much as rasquache grandeur. My understanding of Cart No.1 would be further informed by walks with Quezada in the Pioneer Valley's forests and on its riverbeds leading to homo hideaways. These excursions prompted conversations about POC and queer fertility, the poetics of corn and cacti, and the political potency of neon. Our LatinX experiences from opposite sides of the U.S./Mexico border inform our reads of their work and contemporary art more broadly.
—Alexis Salas
Alexis Salas Queer fertility is key to your work. How are you thinking about it in this moment when COVID fills our heads with the hygienic sterility of constantly washing one's hands, avoiding the invisible virus, and living in fear of one another's bodies?
Vick QuezadaThe chain of events since late February is unreal. It sometimes feels like we are in a poorly written B-movie. But of course it's not, and it's frightening. Like so many others, I've had to make major changes that are isolating. Fortunately, I am able to stay home. But it can feel especially intense buying groceries, for example. I've made a few masks; I use gloves and hand sanitizer every turn of the way. There are several people working in the communal studio where I have a space, so it feels impossible to make work there and feel safe. For now, a kitchen table it will be.
So, the fear of bodies is legit and also unsettling for so many reasons. I obviously have big feelings about this, because there's a long, settler colonial history of racial purity associated with cleanliness.
AS Yes, the long history of whom is quarantined and whom is most exposed to the disease intersects with race, class, and place. Could you speak a little about how these themes exist in your most recent performance work documented on video, Seed/Unseed?
VQSeed/Unseed takes place on the US-Mexico border in El Paso, TX, where I was born and raised—Polvos Town, far Eastside to be exact. In the video, I walked along a nine-mile route seeding the ground with a push seeder that I transformed into Ozomatli and embodied as a pink plush monkey. The costume that I wore had a pouch in the abdomen area from which corn leaves emerged and covered my face. Together, Ozomatli and I walked a trail that connects three historic missions: San Elizario (1877), Socorro (1682), and Ysleta (1680). These missions were the first colonial institutions in the area where indigenous conversion and discipline were exercised. Basically, by revisiting these sites, I was trying to contend with these complex colonial histories.
AS You mentioned that the corn leaves cover your face in Seed/Unseed. Your work uses material from the natural world, particularly corn and cacti, in ways that strike me as particularly queer.
VQ I generally incorporate cactus, maize (corn), and organic materials because they are all so much a part of my family's history as farmers. Plants, like humans, can be queer; they, too, are assigned genders. In terms of my work, gender is not always explicit, but it's certainly embedded. I am the maker so I bring myself everywhere I go, right? But my critique of settler colonialism is consistent throughout my work. The structures created by Western colonial ideologies are the same ones that create systemic oppression and control gender constructs. In regards to maize, it was a major crop for my family, and this is one of the central themes found within my work. But also, I use materials both natural and fabricated to reference history.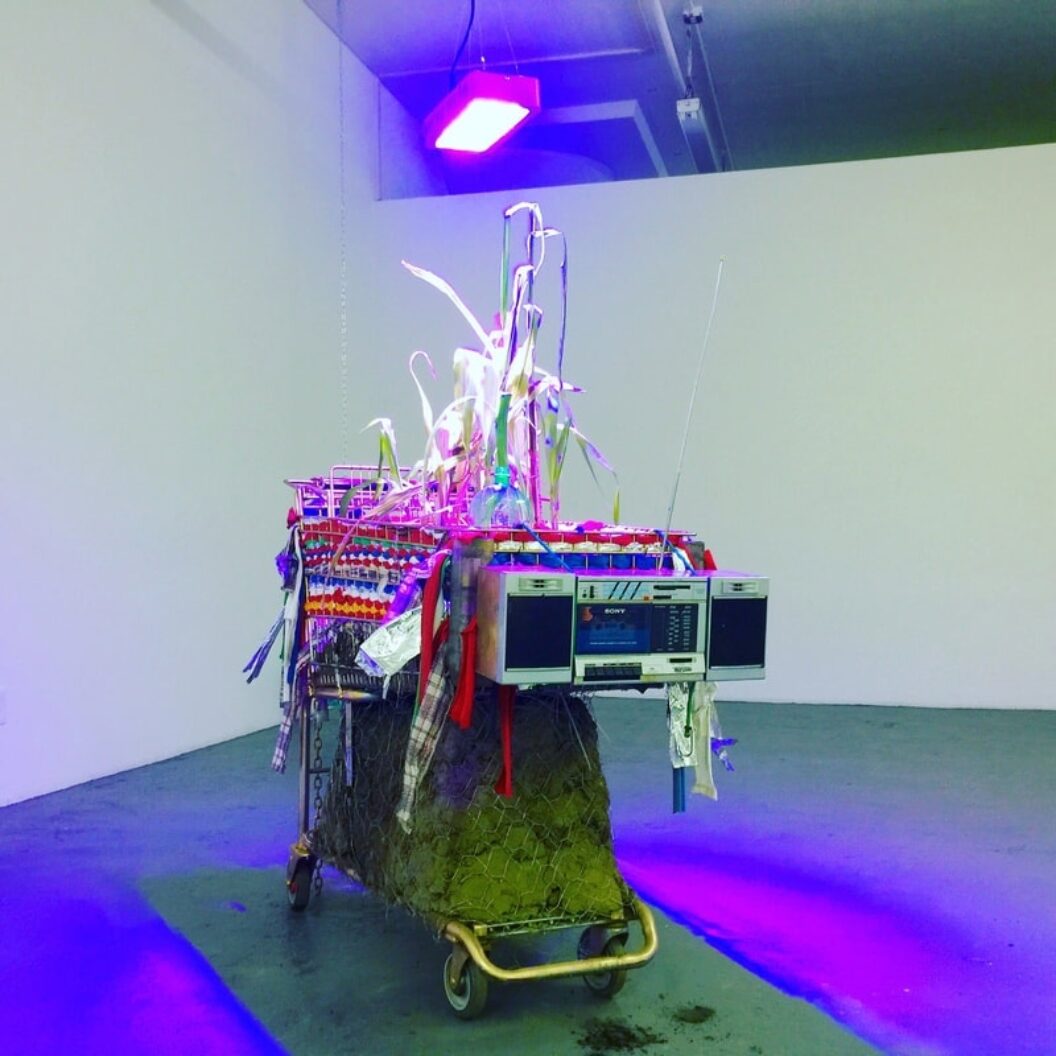 AS Can you talk about how the Shopping Cart series fuses the natural and fabricated?
VQRepurposing is part of my life experience: my father mostly repurposed materials out of necessity. He was really clever in sourcing used parts. So some of my work comes from that same spirit. For example, Cart No.1 (2016) is a metal shopping cart that I found on the side of the road. I repurposed the cart, working soil into the bed, and planted maize cristalino (a corn species), which transformed it into a mobile garden. I accessorized the cart, weaving frayed t-shirts into the stainless steel grid.
But going back to the role of the natural world in my work. I center my research on indigenous cosmology. Aztec indigenous beliefs are that we're interconnected with the natural world and the cosmos. The reason I thought corn was such an interesting plant to incorporate into my art practice is because it originated in what we now know as Mexico, and it was first genetically altered from grass. Ancient farmers did this! Also, corn is known as a monoecious plant, meaning it has both masculine and feminine reproductive organs. So, it's kind of ironic. Or perhaps not, because the ancient Aztec gods of corn, Chicomecoatl and Centeotl, were dual gendered.
I believe that Aztec indigenous resistance is found in the most basic elements: corn, sand, seeds, flora, the weather, bacteria, and the galaxy. These elements cannot be controlled by sovereign colonial powers nor can they be shaped by boundaries, binaries, and settler myths.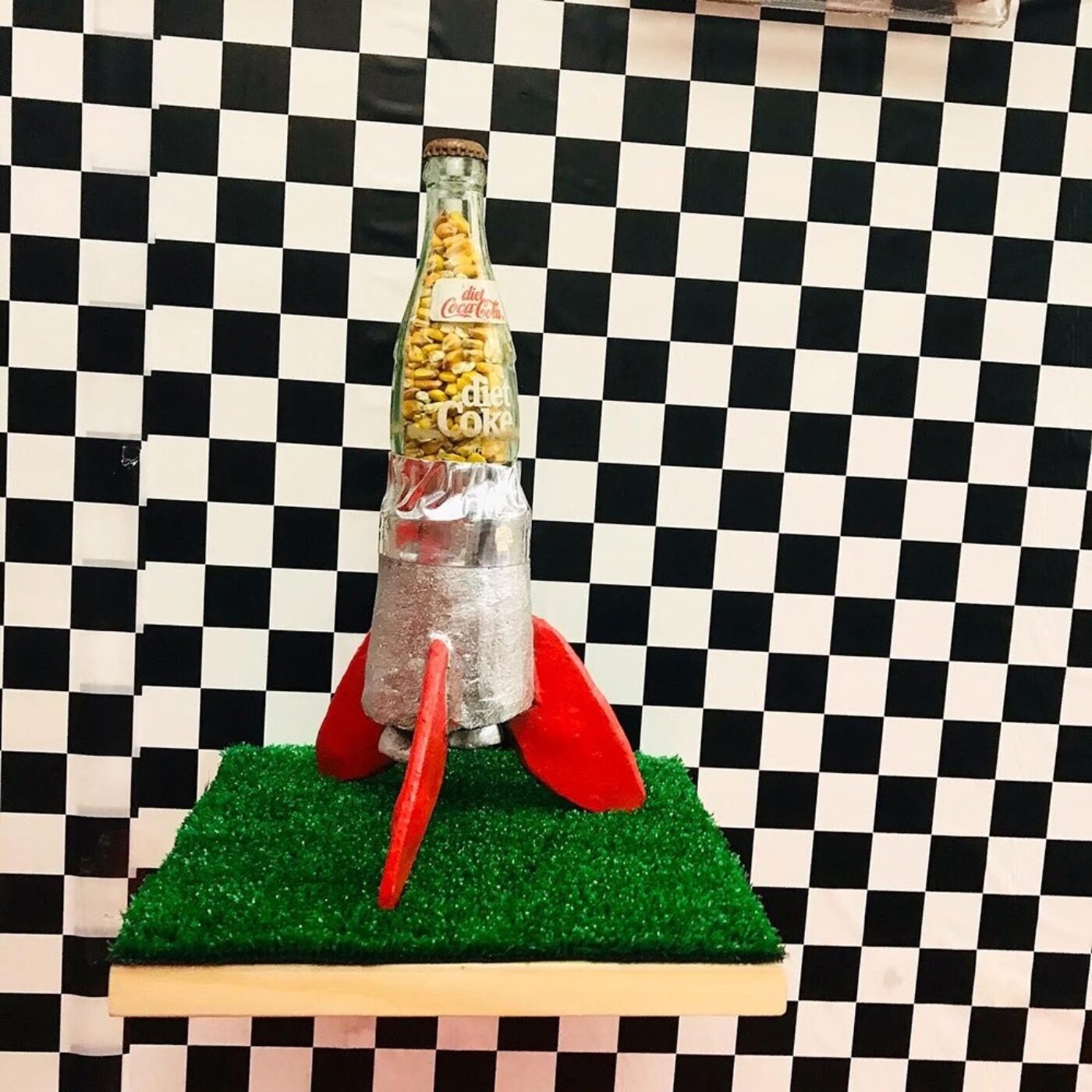 AS You're currently in Western Massachusetts, a place rife with colonial history. Tell me about art-making under quarantine there.
VQ New England is a complicated settler occupied space (myself included). I've made it home because there's a lot of open space, and you can hear your thoughts clearly out here; plus, it's a short distance to New York City. I frequently go on walks in the woods. Right below my feet there's something constantly going on with nature. And those things happen to be what I'm particularly interested in. It's like another universe, a post-human universe, right? The idea is that there's something larger than us in what is present in nature, and this is comforting. We are part of an interconnected system, and we need other organisms, fungi and bacteria and plants, insects and animals, in order to survive. As I walk through the woods, there are so many mushrooms hidden from plain sight; you just have to know where to look for them. Mushrooms, in particular, have vast networks that communicate with each other and the trees. Just the other day, I found what looked to be human ears in a pile of moss.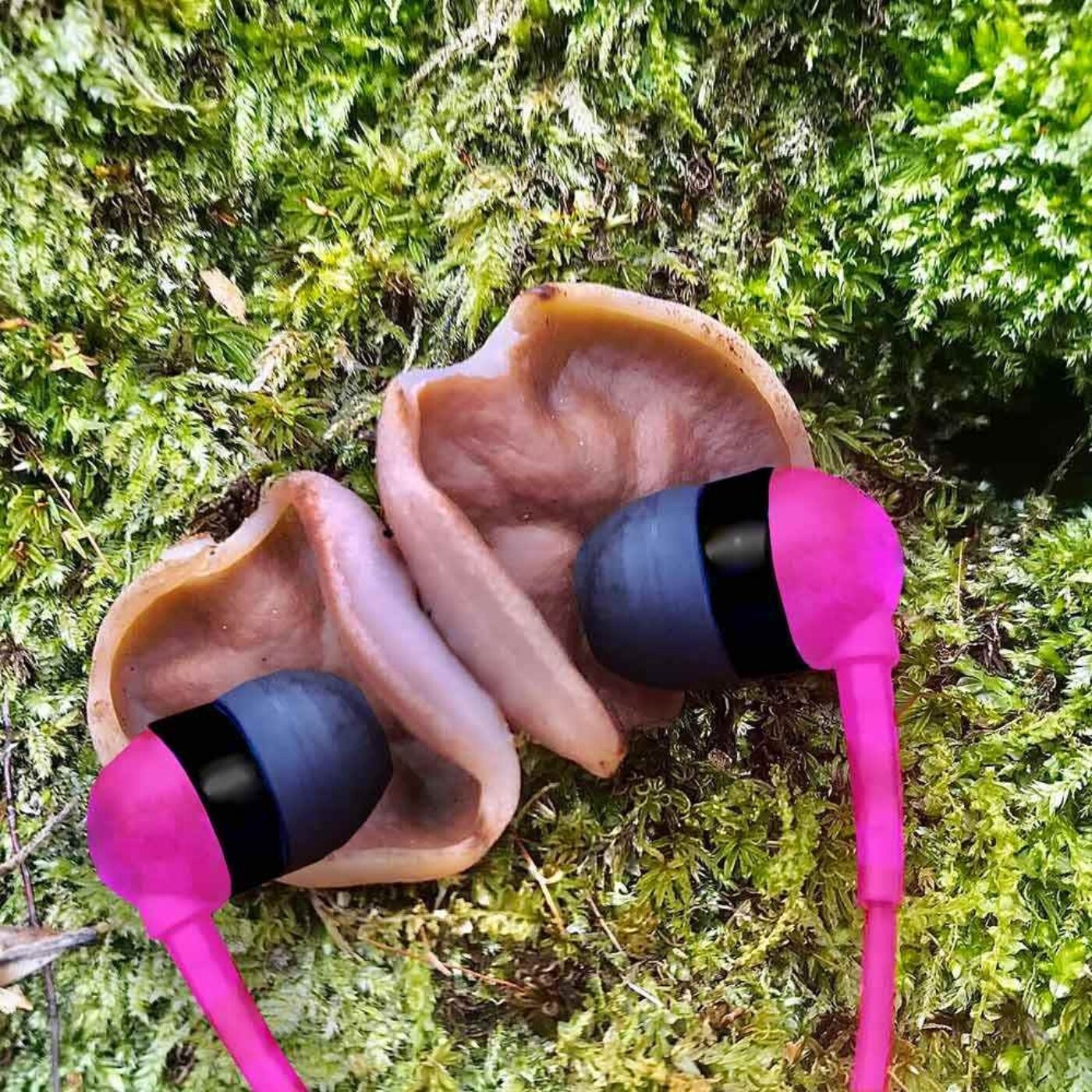 AS Yes, I saw a photograph of mushrooms that you posted on Instagram. It's amazing.
VQ When I spotted the wood ear mushroom on my hike, I snapped a photo and said to myself: This is a selfie of me lying on a bed of moss. So, basically, I'm walking a lot more and finding treasures.
ASCan you talk a bit about how you are using your nature walks in your new work?
VQ I've also begun to collect things I've found on these walks, and they are making their way into a wall sculpture that I am working on. I found some really old barbed wire as it was reclaimed by the growth of the trees. You know, barbed wire was invented as a result of westward expansion. I also found some neon-orange wooden stakes used for surveying land; I plan on using them for the form. I think it's easy to see how charged objects can be, and when paired together with the natural world they have a story to tell.
Vick Quezada's film Seed/Unseen will be on view online from June 24–26.
Alexis Salas is Visiting Assistant Professor and Bruce Gray Fellow at Gustavus Adolphus College and will begin as Assistant Professor in Contemporary Art History, Theory and Criticism at New Mexico State University, Las Cruces, in January 2021. Salas writes about contemporary Latin American and LatinX art. Salas is also part of Kegels for Hegel, a conceptual art project that writes raunchy, irreverent love songs to intellectuals.