Transformative Texts and Images: Susan Bee Interviewed by Johanna Drucker
A collaborative book imagines other worlds.

Discover MFA Programs in Art and Writing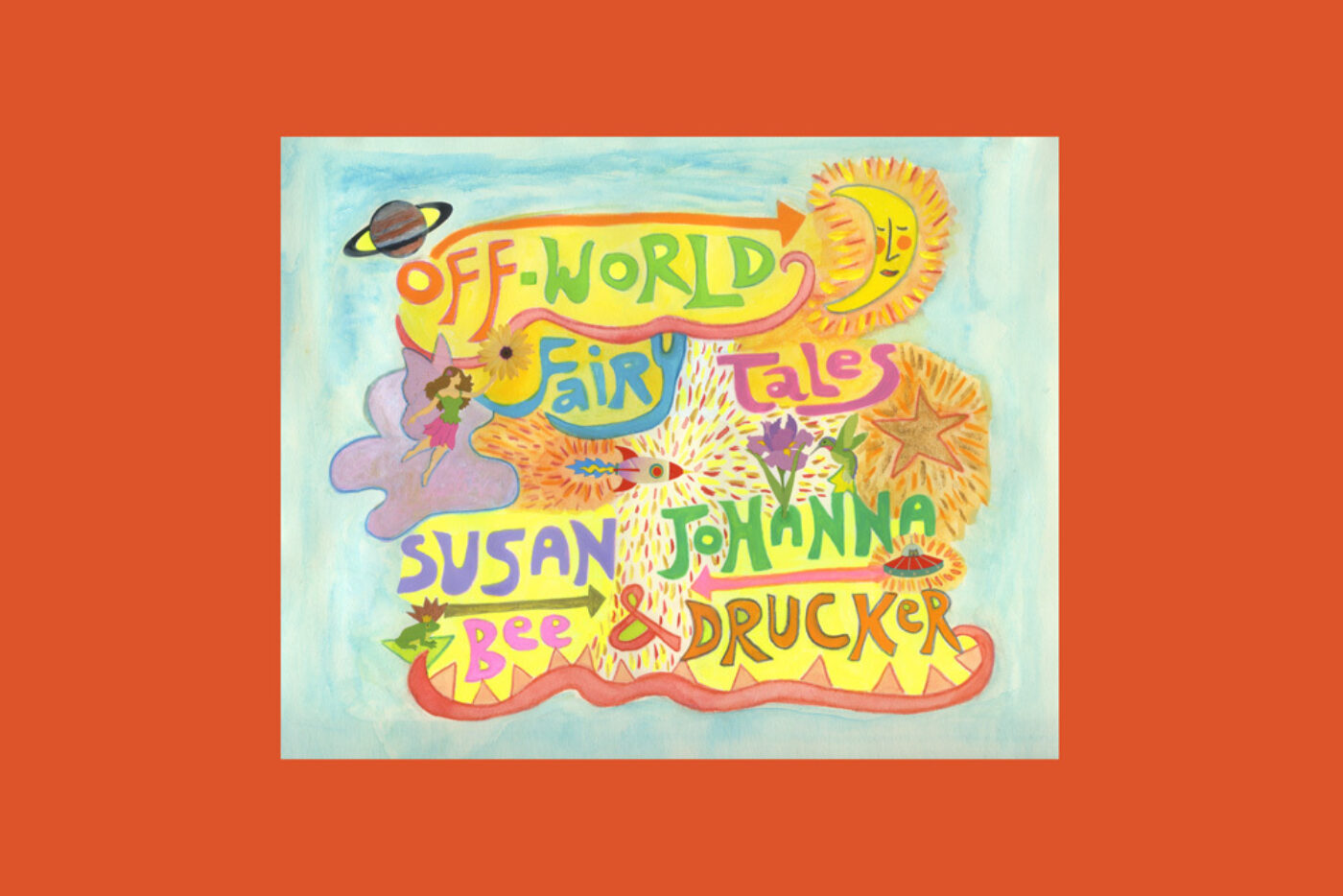 Susan Bee and I have collaborated on a new book, Off-World Fairy Tales, recently published by Litmus Press. Bee is best known as a painter of vivid canvases that draw on the history of art and its intersections with the dream life of popular culture. She was also the co-editor of M/E/A/N/I/N/G (with Mira Schor), a critical journal in feminist art history (1986–2016). We previously collaborated on two other books (A Girl's Life, Granary, 2002; Fabulas Feminae, Litmus Press, 2015), and our sensibilities and work have been connected through a variety of projects. I have curated Bee's work and written about it critically; she has published my essays in M/E/A/N/I/N/G; and we share a generational relation to the role of feminist thought in art and poetics. In what follows, she and I reflect on the process of our most recent collaboration.
—Johanna Drucker
Johanna Drucker In our other collaborations, the concept for the book framed the development of the texts and images. But when I first saw the images in your studio that prompted this collaboration, I wasn't sure if you had a specific project in mind for them. Did you?
Susan Bee No, I didn't have anything in mind at all; I was making some drawings in the studio for my own amusement. The drawings are an escape hatch from the oil paintings that I do at the other end of my studio. They are whimsical and spontaneous and are done with watercolor, ink, crayon, colored pencil, and gouache; and I use collage including stickers and images from my trips to China, Sri Lanka, Europe, and India. You saw them, and I sent a few to you, and that inspired some of the first stories that you wrote. It was followed by an unusual period of in-person visits because then you were at the Beinecke Rare Book & Manuscript Library at Yale, and we were able to be together in Brooklyn.
JD The images were playful and suggestive and seemed suited to my text. This was, after all, in the beginning of 2019. The idea of writing some light, fanciful texts that played with notions of quantum travel, dancing planets, or intergalactic games seemed like a good antidote to my isolation in New Haven during the cold, dark winter. Our two other book collaborations were about gender and feminist issues. Both had playful aspects to them—visual, graphical, and textual—but they came into being through a more deliberate planning process. Off-World Fairy Tales was spontaneous. I saw the images and wrote the first tale, "Inertia and the Princess." The process of collaboration involved a fair amount of exchange, building bit by bit on each other's work, as I recall. Of course, the mood in the world was already bad.
SB Yes, the political situation was fairly drastic when we were making this book, and the need for escapist fantasy was there when we started. The rollback of women's rights and the injustice perpetrated by our government on citizens called out for alternative visions to be addressed and created.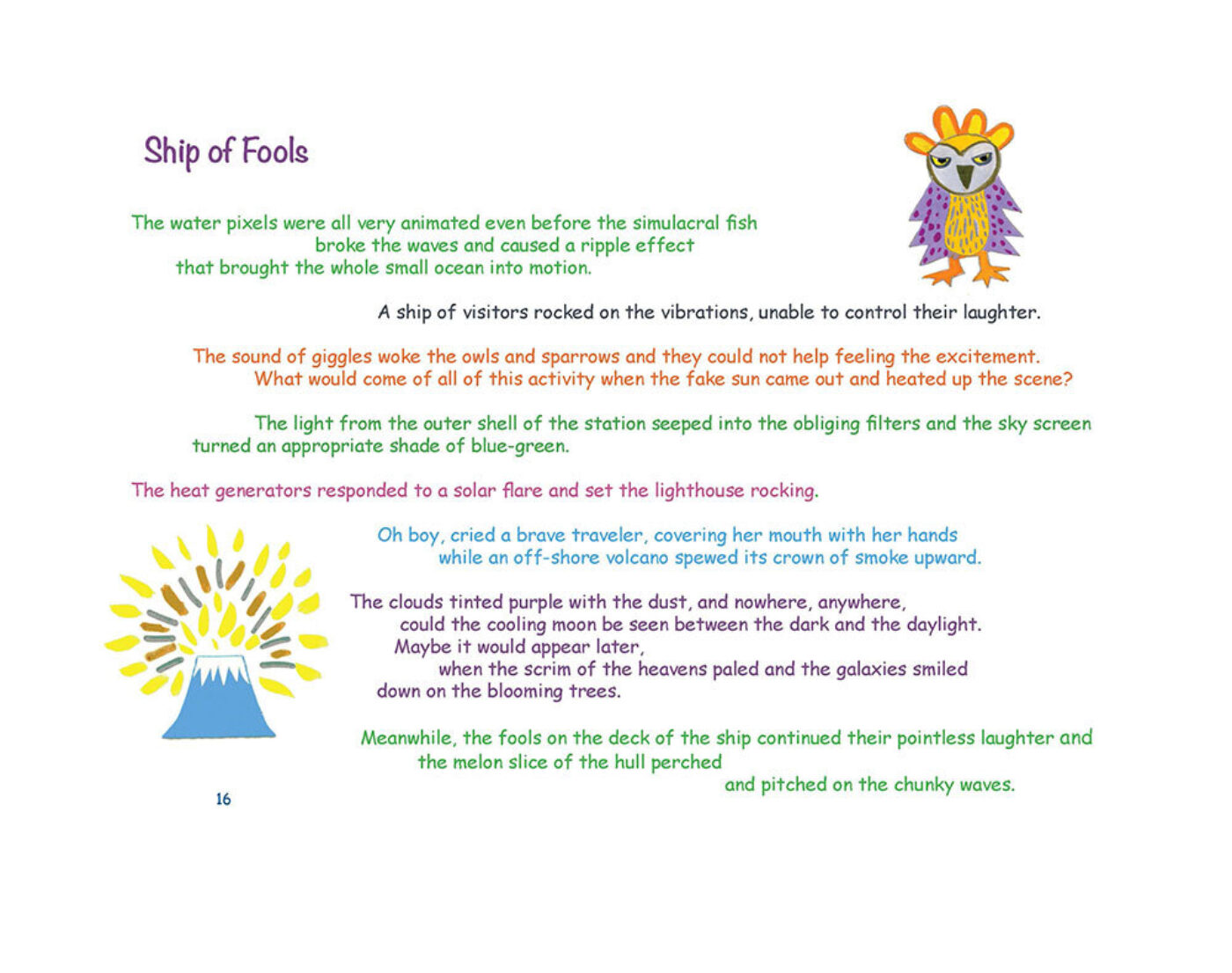 JD Agreed. Still, this was not a feminist book but an escapist fantasy with a few dark edges. I don't think of your work as generally having sci-fi images, rather, lots of mass culture, art historical, media references, and so on. But something about these collages seemed to offer the chance to engage with these themes. In part, it was the space between figures and scenes in those complex panoramic collages—as if those gaps were malleable, portals to other dimensions. And there were some images of planets and rockets! Once we agreed on the "off-world" premise, the images began to pick up on that theme.
People ask us about who the audience is for this book, which is also a way of asking about its genre: children's book, graphic work for adults, hybrid. What is your thought on this, and whose work feels like an influence?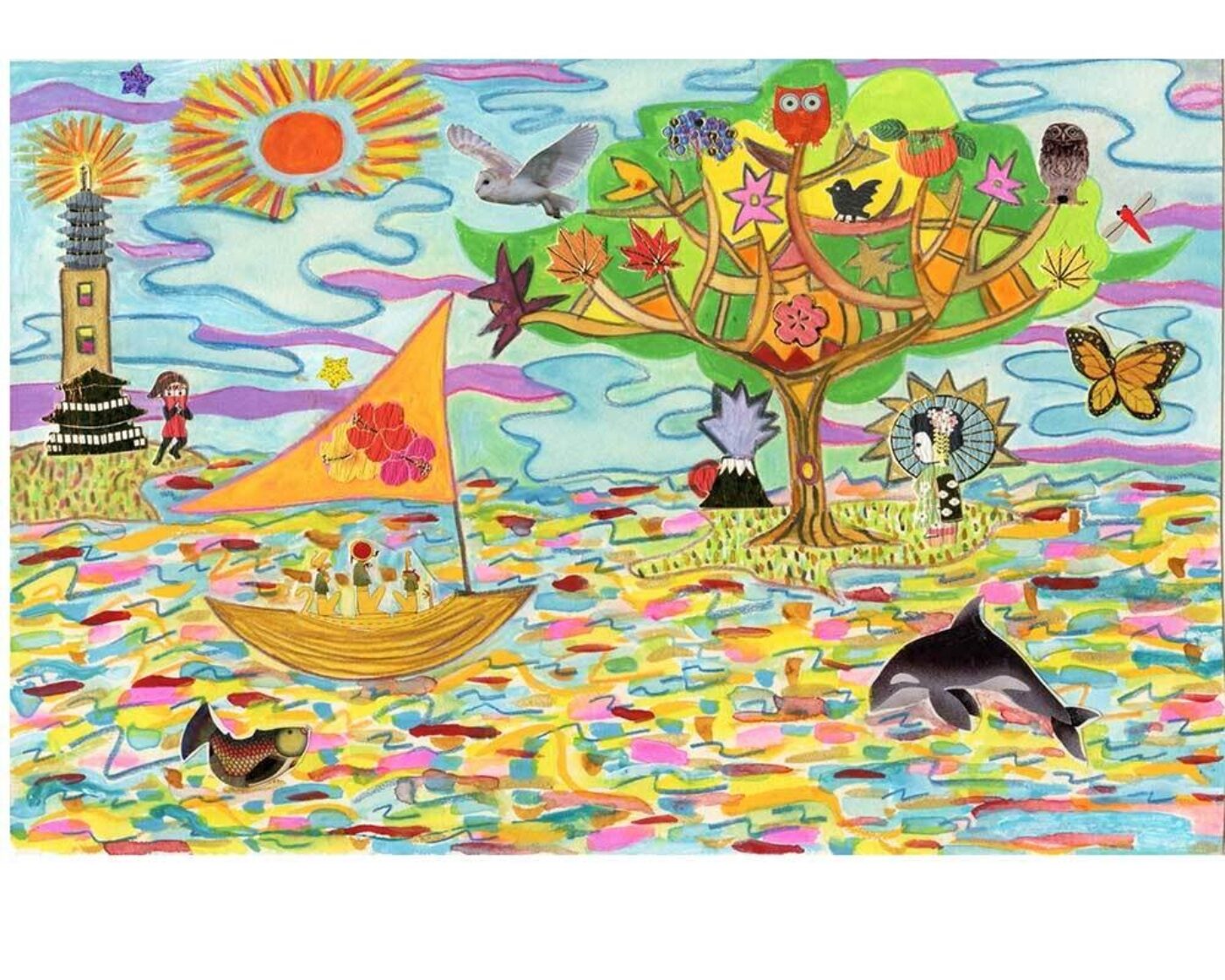 SB This book is a poetic work of imagination in the footsteps of Lewis Carroll, Florine Stettheimer, Leonora Carrington, Sonia Delaunay, Antoine de Saint-Exupéry, William Blake, and Edward Lear. It is a lighthearted travelogue through a fairly benign universe rather than a dark vision of the future. It isn't necessarily for children, but the images and writing are on the cusp of adulthood, when the imagination was a guiding life force. I like to think of these works as dreamlike and poetic. There is recognizable imagery such as dogs, cats, frogs, people; but they are placed in an exotic, colorful landscape that embraces and transforms them. When I was working on this imagery, I would read each story and then highlight certain images that I wanted to include in the drawing. So there is a direct reflection of the written sources in the collaged drawings. But this is not a one-on-one illustration. While the stories and the images can stand on their own, the combination strengthens and expands them. This is the key difference between this more collaborative approach and conventional illustration.
How would you describe the style of the writing beyond playful? What is our relation to fairy tales in the computer and internet age?
JD I have a long-standing interest in sci-fi language and concepts. They seem to open possibilities for knowledge and experience to pass beyond the already-familiar. Imagination takes many forms, but when I think about the artists and authors you reference, all favorites of mine too, I think their "other" to the world was dreams, cosmology, metaphor, whimsy, illogical-logic—all forms of play in the serious sense of invention. They saw the "within" and "beyond" of ordinary frameworks of experience in visionary creative terms. For me, sci-fi images and language provide the idiom of our time for these possible re-imaginings of space, time, human identity, and encounters with other forms of life and consciousness. What would William Blake's Jerusalem look like if he imagined it in 2020? Or Alice's Wonderland? They might look like the Off-World of our pages!
One of the great things about collaboration, however, is that the other person introduces elements you wouldn't—adds to your conceptual and imaginative vocabulary. We have been friends for more than forty years (!), so how do you see this book within the trajectory of other collaborations we have done?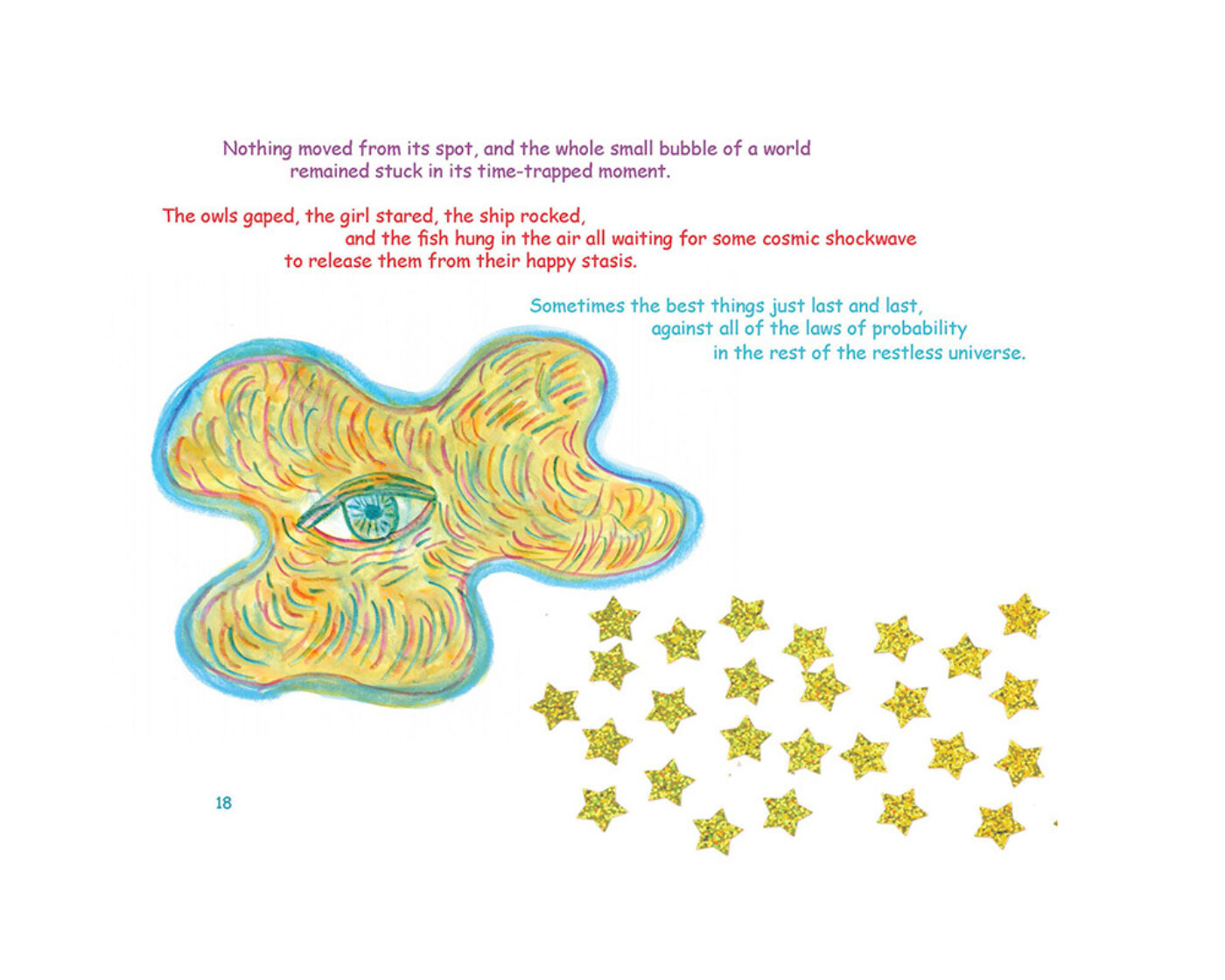 SB We met appropriately at a small-press book fair in Manhattan (Bryant Park) in 1977. You were coming from Berkeley. I was in graduate school at Hunter and was just starting to do my first offset artist's book, Photogram (Asylum's Press, 1978). I see Off-World as an odd apotheosis of our works. We have not only done our own work as individual artists, but we have also collaborated extensively. I have collaborated with Susan Howe, Charles Bernstein, Regis Bonvicino, Jerome McGann, Rachel Levitsky, Jerome Rothenberg, and my publishers: Steve Clay of Granary, Charles Alexander of Chax, Gervais Jaussaud of Global Books, and Tracy Grinnell of Litmus. Each of these other projects had their own logic and trajectory. But our books have involved more back and forth thinking on our feet. I am more likely to have a lengthy conversation or correspondence with you about the details of the story or about its meaning. I appreciate your feedback about the imagery and your questioning of the suitability or direction of the imagery.
One of the most fun aspects of our collaborations has been the assignments that you give me. For A Girl's Life, you asked me to create images of teenage girls and their boyfriends and then pages with just washes or single colors. For Fabulas Feminae, you asked for spot illustrations in addition to the collages for each woman featured, and the pages of spots ended up as end sheets. For Off-World, you sent me lists of images for spots: clouds, robots, stars, spaceships, eyes, globes, elephants, frogs, and arrows. I enjoyed creating these as much as the larger collages. My whimsy was stimulated, and there was a pleasure in these assignments, which reminds me that you wrote an important essay for M/E/A/N/I/N/G entitled "Visual Pleasure: A Feminist Perspective" (1992). We need pleasure more than ever in art, and our collaborations have been a complete pleasure for me.
The three books can be viewed as a trilogy and a portrait of a friendship over a period of more than four decades, don't you think?
JD Indeed each collaboration has a unique dynamic. But we share a playful approach and deep mutual appreciation of each other's sensibility. For me, the best part of the process is the surprise—that the frogs, planets, and clouds are not the ones I already knew, but images that extend the possibilities of poetic imagination. That would be welcome at any time. In these times, it feels like a real gift. I do not want to live in the "off-world," but if I had to, I would want it to be populated by your images.
Susan Bee and Johanna Drucker's Off-World Fairy Tales is available here.
Susan Bee is an artist living in Brooklyn. She has had nine solo shows at A.I.R. Gallery and has published sixteen artist's books. Bee's artwork is in many public and private collections and has been widely reviewed. She has a BA from Barnard College and a MA from Hunter College. Bee received a Guggenheim Fellowship in Fine Arts in 2014.
Johanna Drucker is a writer and scholar and a Distinguished Professor in Information Studies at UCLA internationally known for her work on artists' books, visual poetics, digital humanities, and information visualization. Recent publications include: Visualization and Interpretation (MIT 2020), Iliazd: Meta-Biograph of a Modernist (Johns Hopkins University Press, 2020), and Downdrift (Three Rooms Press 2018).