Transformation as a Common Theme: Billie Zangewa Interviewed by Rebecca Rose Cuomo
Weaving the personal and political in silk.

Discover MFA Programs in Art and Writing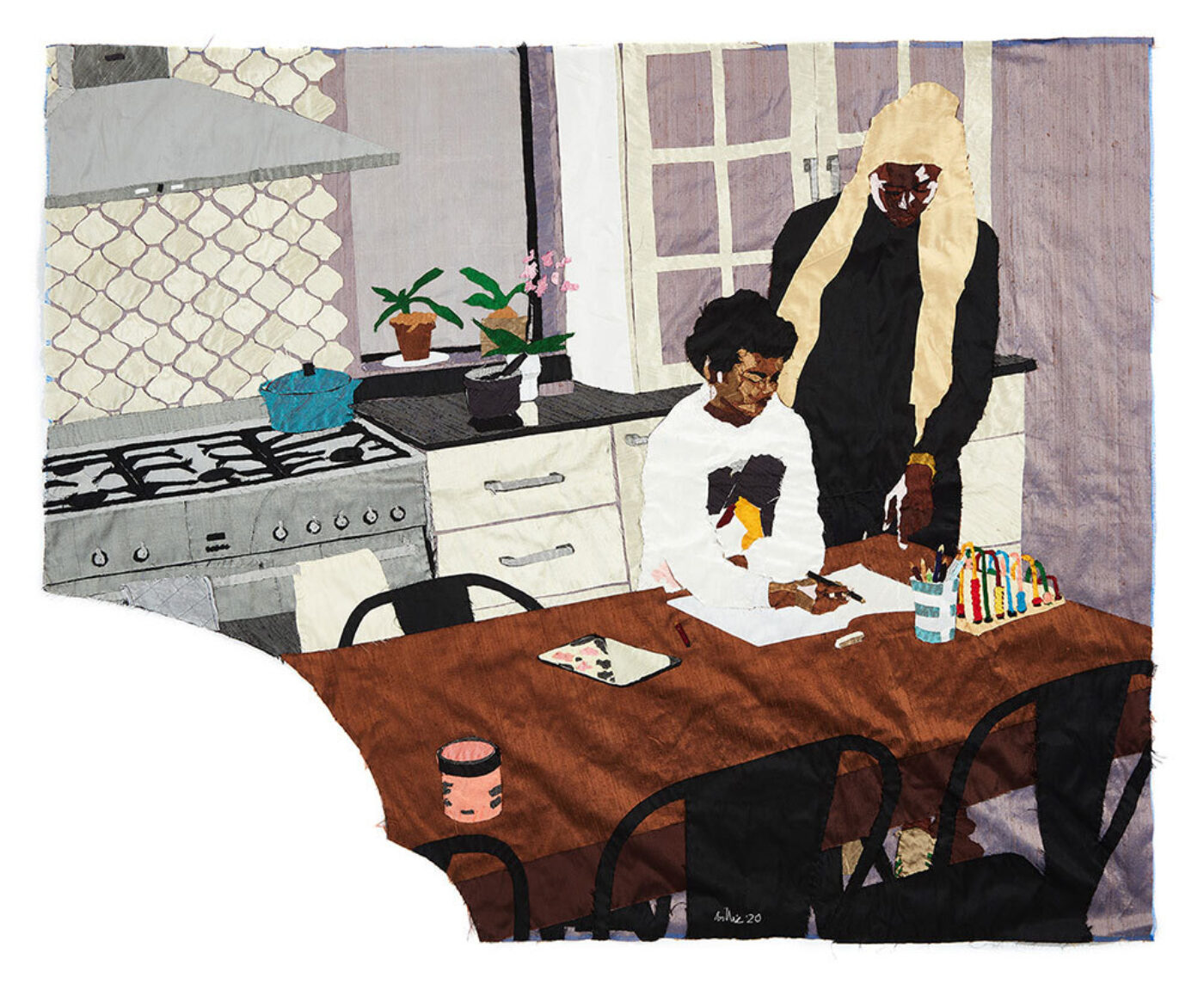 Billie Zangewa transforms pieces of raw silk into intricate and dazzling tapestries that offer intimate portraits of her personal life while also addressing sociopolitical concerns and shared human experiences. We connected over the phone between her base in Johannesburg and mine in New York City to discuss her practice on the occasion of her first solo show at Lehmann Maupin.
—Rebecca Rose Cuomo
Rebecca Rose Cuomo Congratulations on your first solo exhibition in New York! Can you tell me about the work you're presenting at Lehmann Maupin?
Billie Zangewa Thank you, Rebecca. I'm so excited about it. I am going to be presenting works dealing with my personal experiences during the last six months. The challenges I've been faced with include having to adapt to a new status quo and dealing with loss; appreciating things that I once took for granted; and how I now process experiences from before quarantine with more compassion.
RRC Finding new ways to live in the changing landscape.
BZ Yes, and making more room for love. After all this suffering, we need more love.
RRC How do you select the scenes you represent?
BZ I usually choose to depict events and emotions that make me stop and really think about them. Other times it's things that I need to let go of, and the creative process helps me do that and find closure. Sometimes I'm inspired by socio-politics that I feel need to be discussed and addressed.
RRC How does your work help you to heal?
BZ Stitching, the repetitiveness of it, becomes like a meditation. It brings me to a place of peace, a centered place of power. It's how I deal with confusing feelings and tension.
RRC You've talked about how silk is a byproduct of transformation.
BZ Theoretically speaking, there are no chrysalises or butterflies harmed in the process of silk-making because it's the leftovers that aren't useful anymore. I love that connection between transforming challenges and difficult emotions, or even positive emotions, into this tangible piece of self-expression. I truly think that's why silk and I work together, because we've got transformation as a common theme.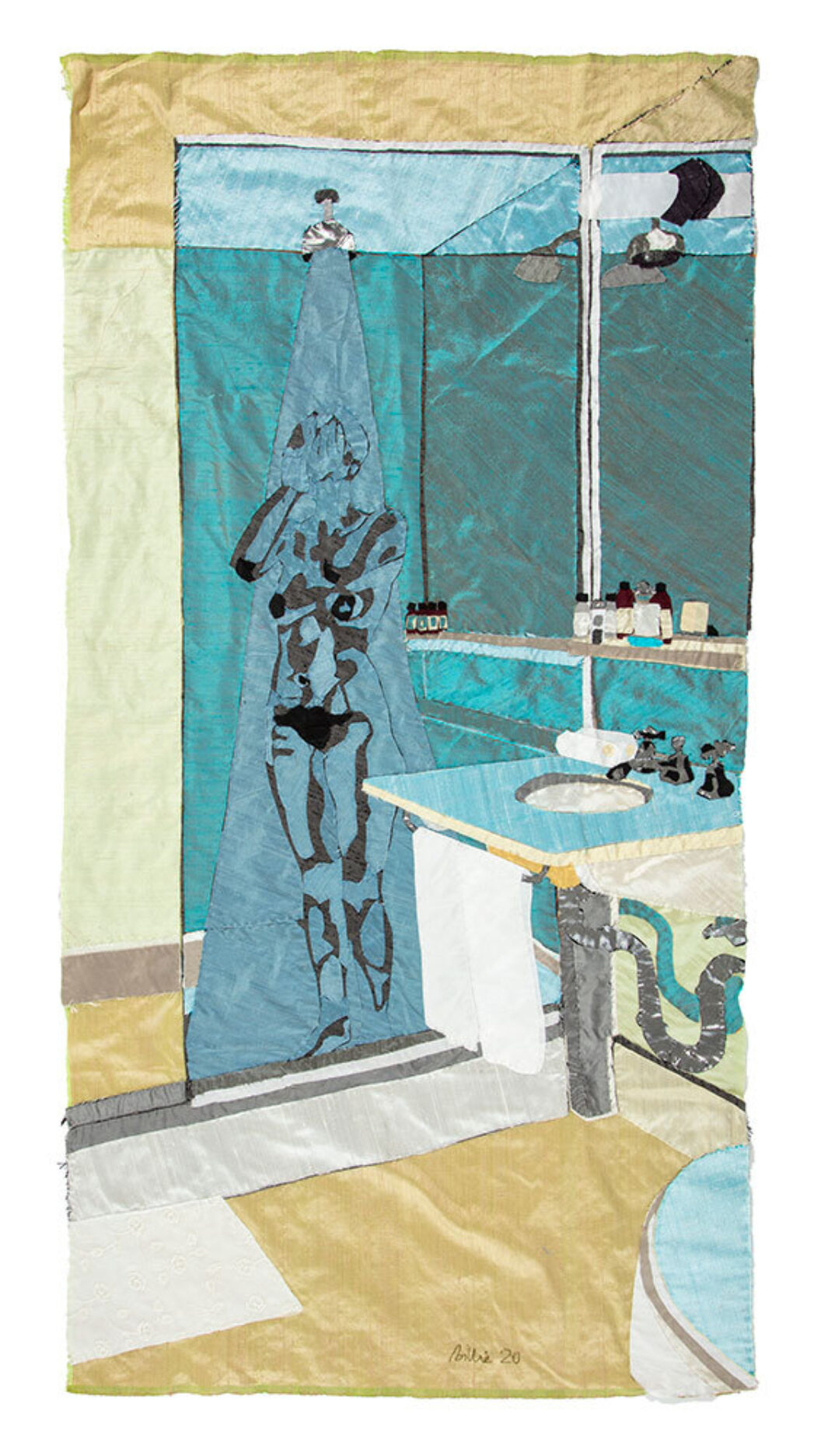 RRC Did you learn to sew from your mother?
BZ I saw my mother sewing, but she never taught me, and I never asked. My mother was part of a sewing group. Different women hosted each week, so when my mum would host, I'd sit quietly in the corner and watch with fascination. That's where I saw the therapeutic nature of sewing. I actually learned at school when I was very young; I think I was about nine years old.
RRC Time seems to be an important factor in your practice. Your process is very deliberate, meticulous, and labor intensive. You begin with an image that you produce as a drawing; then you cut pieces of raw silk and place those forms onto a background piece of silk before hand-stitching the composition together. Beyond the process itself, these images—I'm especially thinking of the ones of your son—seem to mark time, preserving memories. Can you elaborate on the way you conceive and experience time in connection to your work?
BZ Because my work is autobiographical, it does trace different periods of my life, and having my son represented really emphasizes the element of time, as you can see him growing and changing in the different works. In Mother and Child (2015) he is a toddler, and in Soldier of Love (2020) he is older and of school-going age. What is not evident is that in Midnight Aura (2012) there are actually two of us in the work, as I made it when I was pregnant and sleeping a lot! This work, too, speaks to a moment in time, and it's a fun fact that I love to share. The daily life scenes that I choose to portray also speak to times of day, rituals scheduled and performed at that time.
RRC There has been an evolution in your work in terms of narrative perspective. You've described how your early work was conceived in relation to others or how you felt you were perceived from the outside, whereas your later work is about how you perceive yourself. Can you talk about this shift?
BZ I think this shift came when I started to develop self-awareness and self-acceptance. Before this I valued myself in relation to how others responded to me, and I think on some level I started to wake up to the fact that the most important opinion is the one I have of myself. I then started to make decisions from this point of awakening and broke an engagement because I knew that I would be settling just to meet society's expectations, ultimately sacrificing my happiness in the process.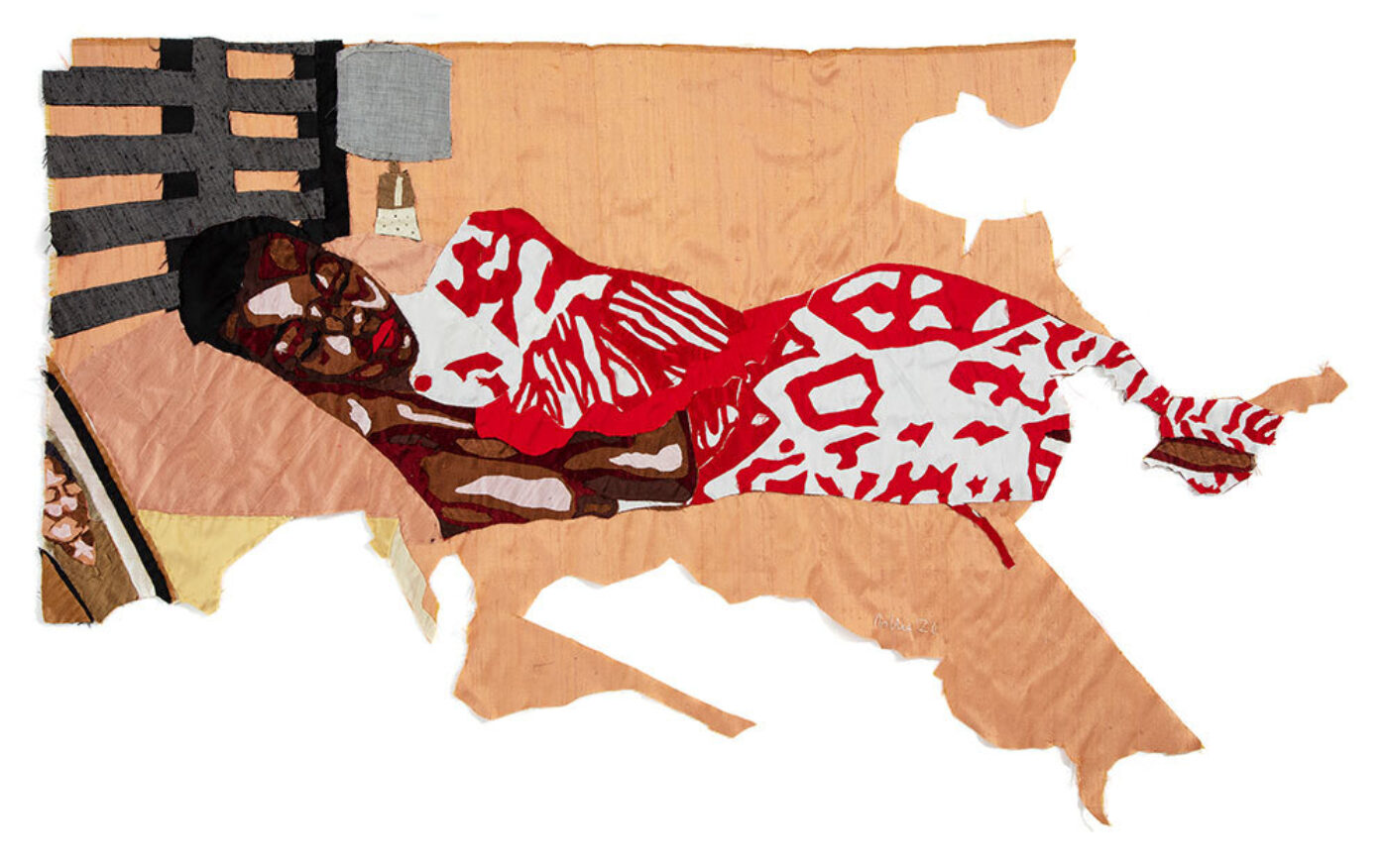 RRC There's a sense of self-containment and self-possession in your characters. They often seem indifferent to the viewer. They're existing in their own world, on their own terms, free from pressures of external classification.
BZ My characters indeed are just living their lives and not looking to the omnipresent audience for a reaction. It's a part of the personal move from seeing myself in relation to others to self-awareness, and I think that's being conveyed in the gestures of my characters. I'm also definitely trying to connect on a universal level through depicting shared experiences. I think that when you can relate to someone, their otherness begins to dissolve because you have something in common. This then gives room to look beyond identity to the core message. At the end of the day, we are all one community. My dream is a universality in which we can appreciate difference as a beautiful thing.
RRC In "The Master's Tools Will Never Dismantle the Master's House," Audre Lorde writes about "mutual (nondominant) differences" and "that raw and powerful connection from which our personal power is forged." Although it's a dream, we work toward it, because even if it's not something we achieve in our lifetimes, it may be possible in your son Mikhail's lifetime.
BZ We were talking about Black Lives Matter, and Mikhail was asking me why someone would hurt another person because of their skin. It's inconceivable for him. I would love for him to have that view for as long as possible, to carry on thinking that way as he goes through life no matter what kind of prejudice he experiences.
RRC I think that speaks to how prejudices are learned.
BZ They're perpetuated. It's the responsibility of society, but parents as well. I was very lucky that in my family there was never any kind of hate speech, so I don't feel hate toward anyone.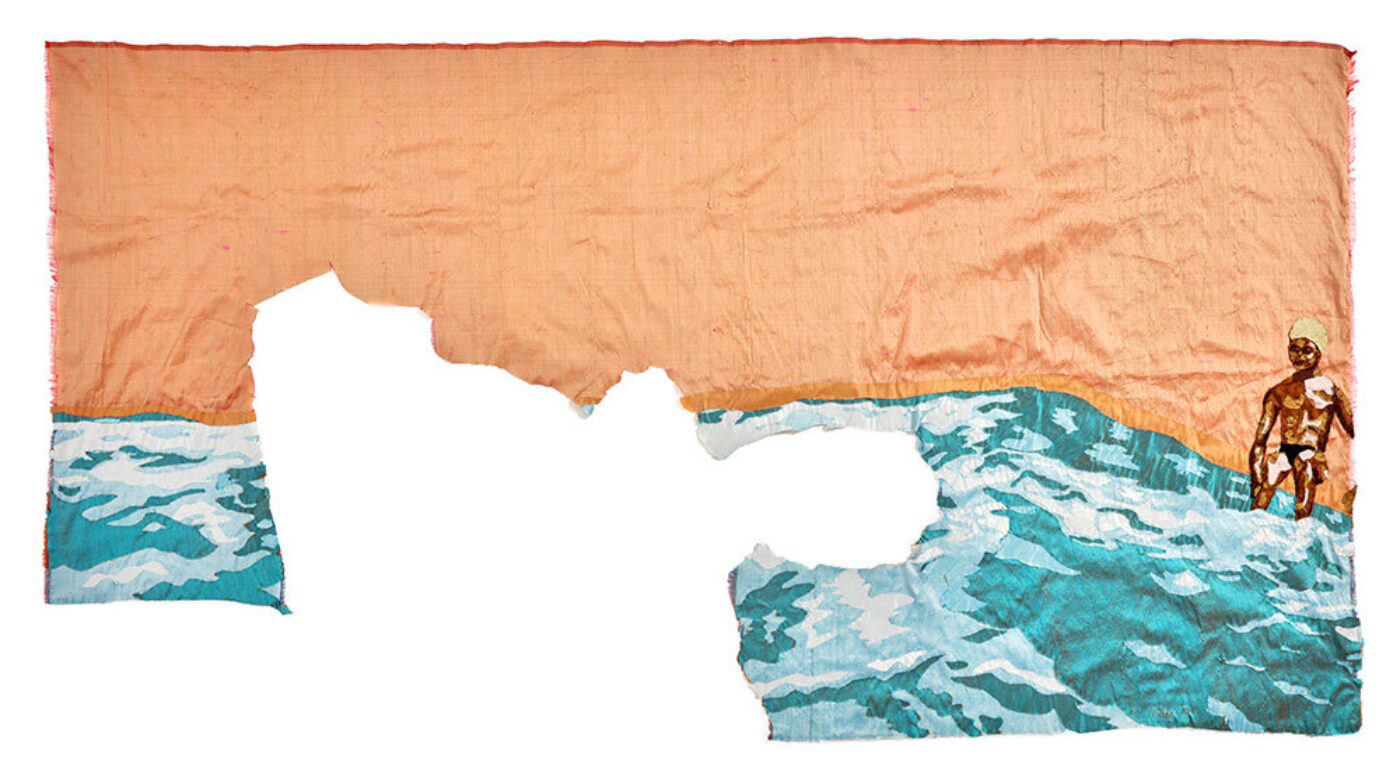 RRC I'd love to hear more about your upbringing. You were born in Malawi and raised in Botswana, which you've described in a profile for The Cut as "a politically free country with strong women in parliament, women running businesses and raising children on their own." How did this environment inform your understanding of womanhood and femininity? How has migration shaped your perspective?
BZ Botswana showed me that anything is possible, that I should aim to realize my dreams without placing limitations on myself because of my gender and geography. The experience gave me a larger awareness of the different roles that women play in society, therefore giving me more options to choose from. I think that deep down inside I knew that I did not want to be a homemaker, and that's why I searched for other options, which I found in Botswana. In the end I merged the two realms and am an artist working from home, raising my son as a single parent. I grew up with people from different cultures and am myself a product of two, so I don't identify with any particular culture. I think this is what drives me to universal themes and messages, looking for connection beyond identity to shared humanity. However, I still interrogate the challenges of being a Black African woman in our world. The two concerns are interwoven.
RRC You seem to use autobiography as a gateway to open up to these larger questions, merging individual and universal experiences through a lens of interiority.
BZ Yes, exactly. How do I see myself? How do I want to be? Who is the perfect me in the sense that's completely centered, open to giving and receiving love? I love to think that I can connect with someone or help them to connect with their higher self. There's enough pain and suffering in the world. We all need a reprieve.
RRC Perfection not in terms of flawlessness but wholeness, which is one reason why I'm really drawn to the missing pieces of information in your work. There are sometimes cuts, subtractions, irregular perimeters. You integrate fragments of material to create something cohesive and whole yet still seemingly in the process of becoming.
BZ The missing pieces were initially an accident, but I took the opportunity to express my position that we are all flawed and that instead of being ashamed of our flaws, we claim them as part of who we are. They represent the idea of perfection in the imperfect and also the childhood traumas we've all experienced that have shaped us. Really what I'm saying is: Let's be gentle with ourselves.
Billie Zangewa: Wings of Change is on view at Lehmann Maupin in New York City until November 7.
Rebecca Rose Cuomo is an art historian and independent curator based in Brooklyn, New York.