Discover MFA Programs in Art and Writing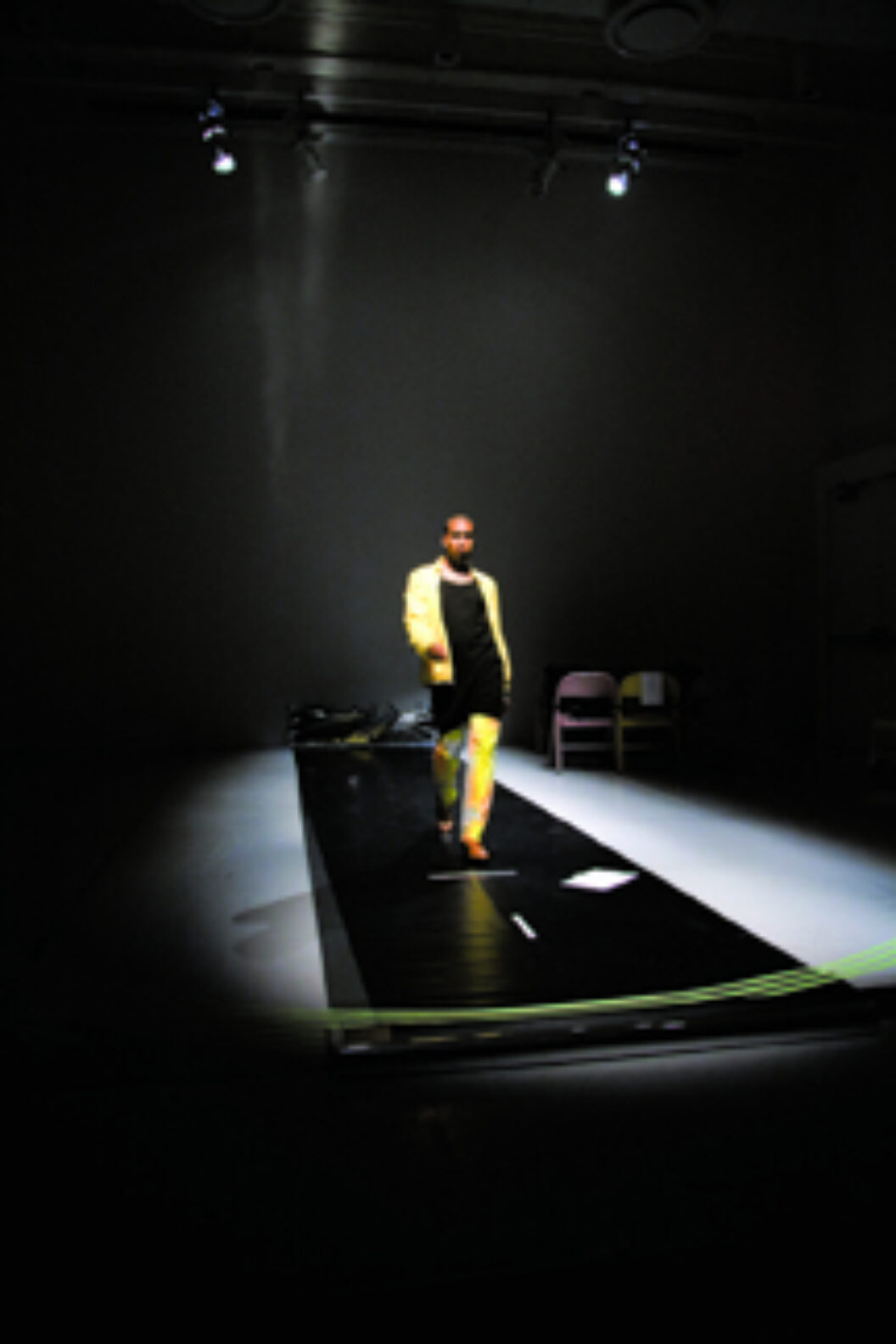 Trajal Harrell's recent solo performance at the New Museum was organized as a series of "looks" that collided voguing fashion with postmodern regimes, as its title suggests. At a vogue ball, a "look" is a chance to embody a dream, and Harrell employs the convention as a device to explore iconmaking and profiling, performing a schoolboy, a waiter in action, a legendary artist, and even a French lieutenant's woman. Though it's far upstage, his open-air closet/dressing room—six multicolored metal folding chairs, draped with clothes and surrounded by shoes—was in plain view. Each of Harrell's costume changes was subtle and everyday and in that way, surprising, even funny. The humor is in the differences. Take his interpretation of the "West Coast Preppy Schoolboy" look versus its East Coast counterpart—both are grounded by the same club tie and oxford, but one is paired with flip-flops and sunglasses and the other with a blazer and an Obama backpack. A more playful alteration is his take on "Serving." Harrell wears a kitsch apron that he turns around to wear as a cape, thus inventing a "Serving Superhero." Not all fun and games, the most stunning of Harrell's looks are the more reserved. Even though he appears screaming in a fully tie-dyed suit, his odes to Basquiat—"Eau de Jean Michel" and "Basquiat Realness"—are tempered by his reverent pose and gestures. With just light and sound, Look 11, titled "__" wears the heart raw in a dance of loss and memory, a veritable performance of a Félix González-Torres sculpture.
Well aware of the dialectic of watching and being watched, Harrell glides across an elegantly impromptu stage set/catwalk constructed by the artist Franklin Evans. Harrell moves simply and fluidly, in contrast to the voguers at the infamous Harlem Balls with their sharp, competitive angles. There, vogue was a form of non-violent gang warfare between drag houses or families; here, Harrell lingers with a double-lilt-roll of the hands and hips, conjuring Tilly Losch. (For more on Harlem vogue read the interview with Jennie Livingston in BOMB's online archive.) In Look 13, "Legendary Face," he expresses so much with so little, efficiently framing and shielding his face with his hands in one move embodying a duality of presenting and retreating. His dance reaches its emotionally expressive core with his twisted Guernica faces as the looks move into and desperately reach out from "Moderne" and "Legendary" realms (of truth?). But none of this is real. There is only "realness," and thus the opportunity to become. With Twenty Looks, Harrell expands the possibilities for an "authentic" self-image by presenting all he is and is not, with a little povera and make-believe that can be found in every closet.
Richard J. Goldstein is a painter and the archive editor of BOMB.
Originally published in
Featuring interviews with Guy Ben-Ner, T.J Wilcox and Anne Collier, Sam Lipsyte and Christopher Sorrentino, Carlos Reygadas, Patricia Clarkson and Howard Altmann, David Sylvian and Keith Rowe, Edgar Arceneaux and Charles Gaines and Rick Lowe, Charles Bernstein.