Tracking Changes: Inside BOMB's Editorial Process
Join us for a rare peek behind the publishing curtain with BOMB's Managing Editor, Benjamin Samuel, and special guest, Jenzo DuQue.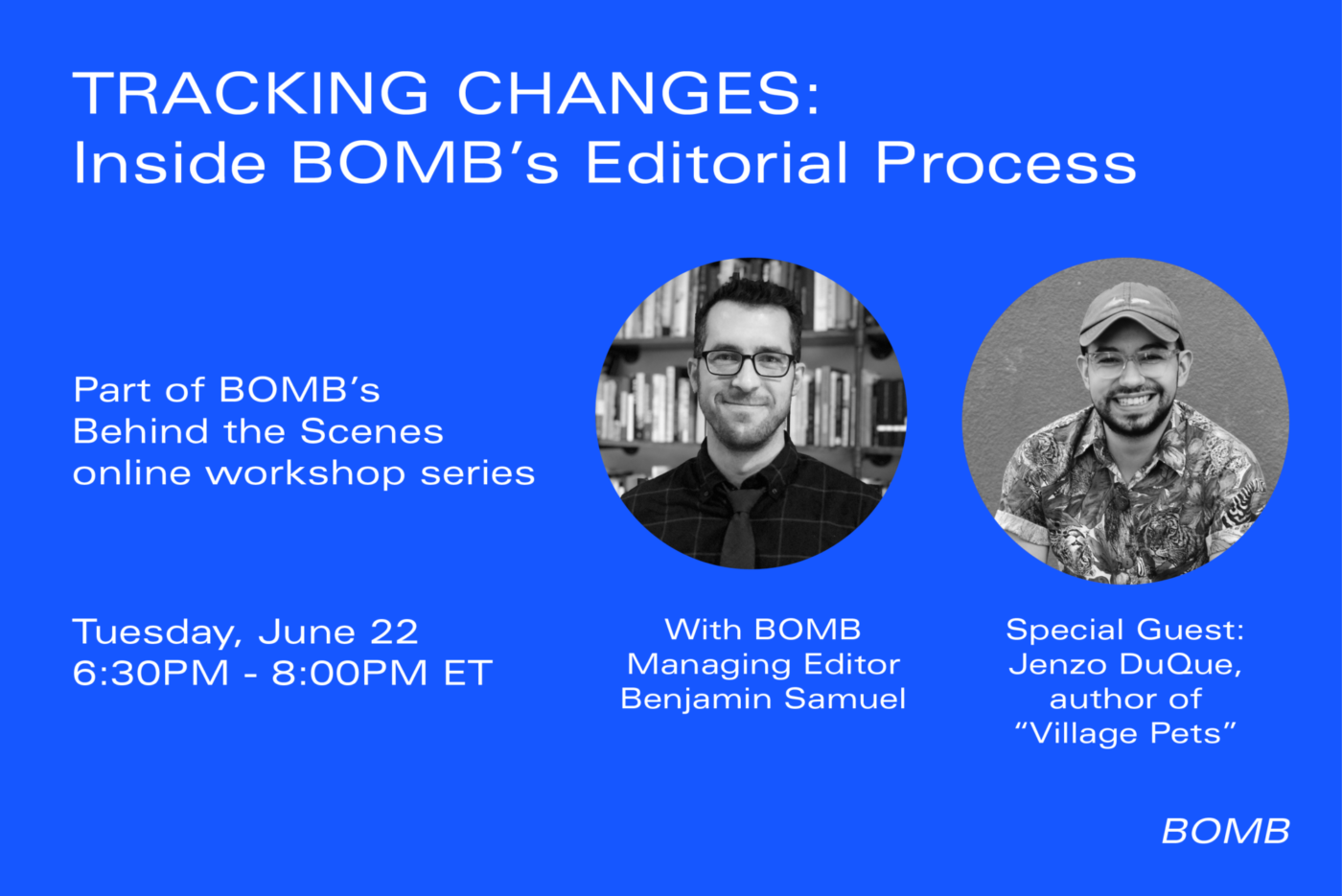 As part of our 40th anniversary celebration, BOMB's Behind the Scenes Workshop Series offers an exclusive look at how our editorial process works. BOMB's editors reveal how pieces develop from an initial idea to the final page, and share tips, best practices for writers hoping to publish in BOMB and elsewhere.
Join us for a rare peek behind the publishing curtain with BOMB's Managing Editor, Benjamin Samuel. This is the first in a series of BOMB Behind the Scenes workshops. In this workshop you will gain exclusive insight into the editorial process—from acceptance to publication—from both the writer's and the editor's perspective. Our special guest will be writer Jenzo DuQue, whose story "Village Pets" appears in BOMB's summer issue. The discussion will be followed by a live Q&A where you can ask a BOMB editor anything!
Leave knowing what pitfalls to avoid when working with an editor. Answer that nagging question: when is my piece ready to submit? And learn how to accept or reject changes to preserve the integrity and heart of your manuscript.
About Benjamin Samuel:
Benjamin Samuel is BOMB's Managing Editor. Previously, he was the Managing Editor of Restless Books, the Director of Programs of the National Book Foundation, and an editor at Electric Literature, where he co-founded Recommended Reading. Samuel also teaches writing in the Narrative Medicine graduate program at Columbia University and serves as the co-chair of the Brooklyn Book Festival's Fiction Committee.
About Jenzo DuQue:
Jenzo DuQue was born into a Colombian community in Chicago, but is based in Brooklyn. He received his MFA from Brooklyn College, where he served as an editor of the Brooklyn Review. DuQue is a 2021 Periplus Fellow and Shenandoah Editorial Fellow. His work has appeared in Glimmer Train, Joyland, and One Story, and was also selected for The Best American Short Stories 2021. You can read more at jenzoduque.com.
Please contact Libby Flores (libby@bombsite.com) if you are experiencing financial hardship and would like to attend.