Toxic Masculinity and Rainbows: Judy Chicago Interviewed by Olivia Gauthier
"Subversion is very basic to my work."

Discover MFA Programs in Art and Writing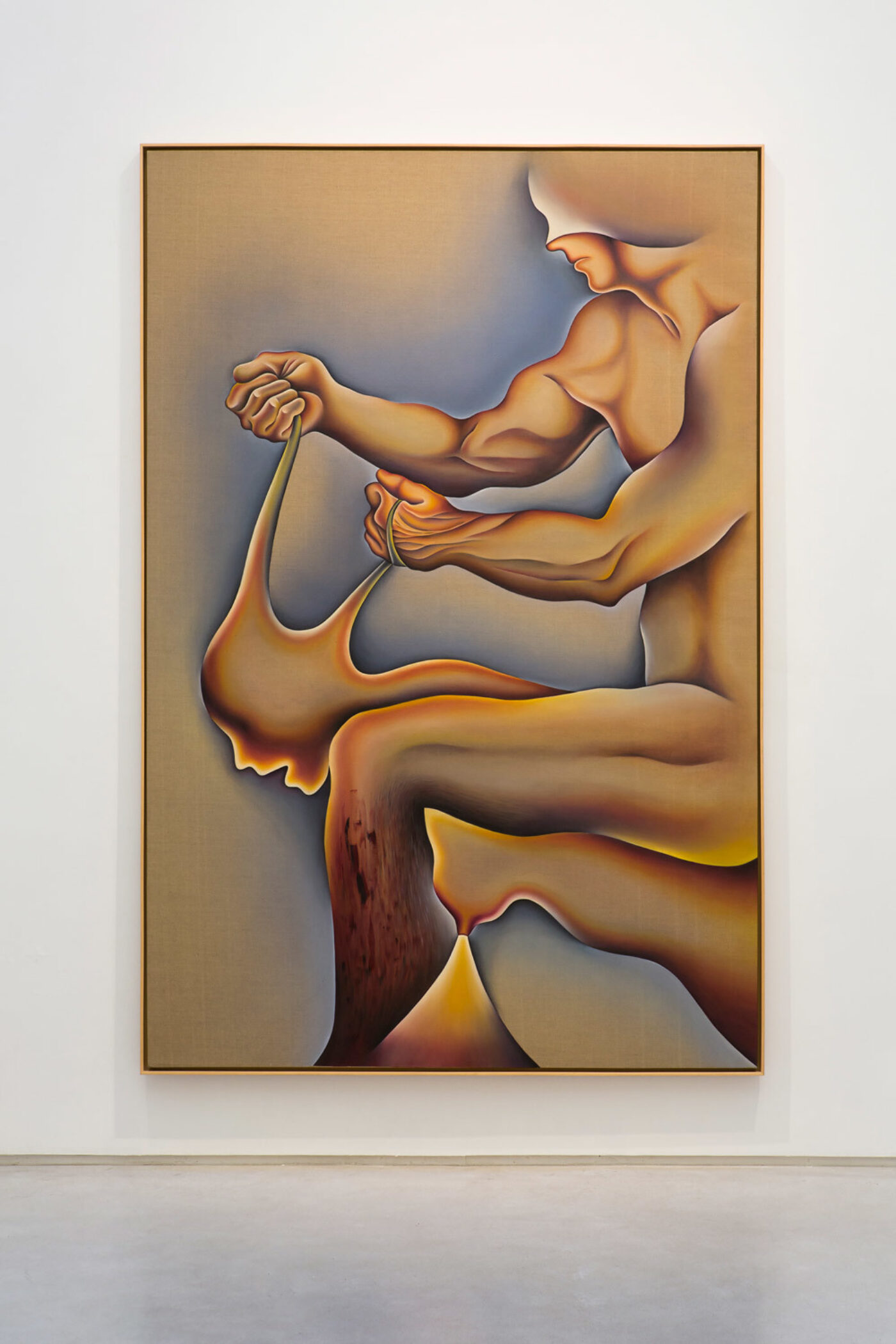 Sinuous, bulging musculature, garish grimaces, and violently graphic prisms of color explode on the canvases of Judy Chicago's lesser-known series PowerPlay. Begun in 1982 after a trip to Italy, Chicago drew, painted, and sculpted multiple forms of what she deemed to be representations of performative masculinity. The work makes clear that masculinity is constructed and that men also ascribe to a particular gendered experience, something Chicago felt was going unnoticed in the 1980s.
The men in these images are not individuals but rather symbolic figures who represent various ills of masculine behavior, which Chicago describes in their titles: Crippled by the Need to Control/Blind Individuality, Pissing on Nature, Driving the World to Destruction, In the Shadow of the Handgun, Disfigured by Power, etc. The works act as a stage for the display of the theatricality of heteronormative masculine culture. In this series Chicago turned away from her examination of femininity, partly due to a realization that so often it is women's bodies that are used as repositories for displaying emotion; in her typical fashion, Chicago flipped this tradition on its head with PowerPlay.
—Olivia Gauthier
Olivia Gauthier I wanted to start by talking about the particular presentation at Salon 94 Bowery, which you've titled PowerPlay: A Prediction, which seems to allude to the notion that this work has caught up with our current cultural and political moment.
Judy Chicago Unfortunately. What I didn't anticipate were two things: one, that we would enter a political moment like this. That's the bad news. The good news is that history sort of caught up with me and these theories, and people can see now what I saw then. This was before gender studies, queer theory, masculinity studies; people couldn't see what I saw about masculinity.
OG Did you feel that this work when you were making it was attempting to give a voice to that aspect of our culture without vocabulary being necessary.
JC Yes, absolutely; but it is not unlike other work of mine. The Dinner Party (1974–79), for instance, set off shrieks of horror in the reviews of it. As I said in my responses, it's a good thing I put my face in art history because who could have imagined that there would come a time when it became customary to study The Dinner Party and the misogynist criticism that greeted it. It was ahead of culture's ability to accept female-centered imagery. There was no language for it, no critical framework for it, no art-historical framework for it. Same thing with PowerPlay. OG On that note, I wanted to talk to you about when PowerPlay was first presented at ACA gallery and how it wasn't warmly received and what you thought about the general silence around the work.
JC I've really just been out of step with the art world for a long time. I think one could go back through my career and look at any number of responses to different projects. In the 1990s I was dismissed as an essentialist. Then The Dinner Party was dismissed as a feminist relic. It has really been consistent that the art world has continuously tried to ignore, diminish, or excise my work and my influence, and it's really a fucking miracle that this seems to be changing.
OG No criticism was coming out, and that is one way to suppress your work.
JC Think about how women in the workplace bring up an idea and it is ignored until it is then expressed by a man. That is why the point you make is very interesting because it relates to another strategy of marginalizing women.
OG People knew it was you who made the work, but it doesn't kind of stand out in your larger body of art because it deals specifically with men.
JC It deals with the construct of masculinity, and if you consider that for the previous fifteen years I had been dealing with the construct of femininity, it does follow. Also, there are still whole bodies of artwork that I have made, like The Holocaust project (1985–93) that I created over eight years with my husband, the photographer Donald Woodman, or the series Resolutions: A Stitch in Time (1994–2000), or ten years of glass work. There are still large parts of my work that have not yet entered the cultural dialogue.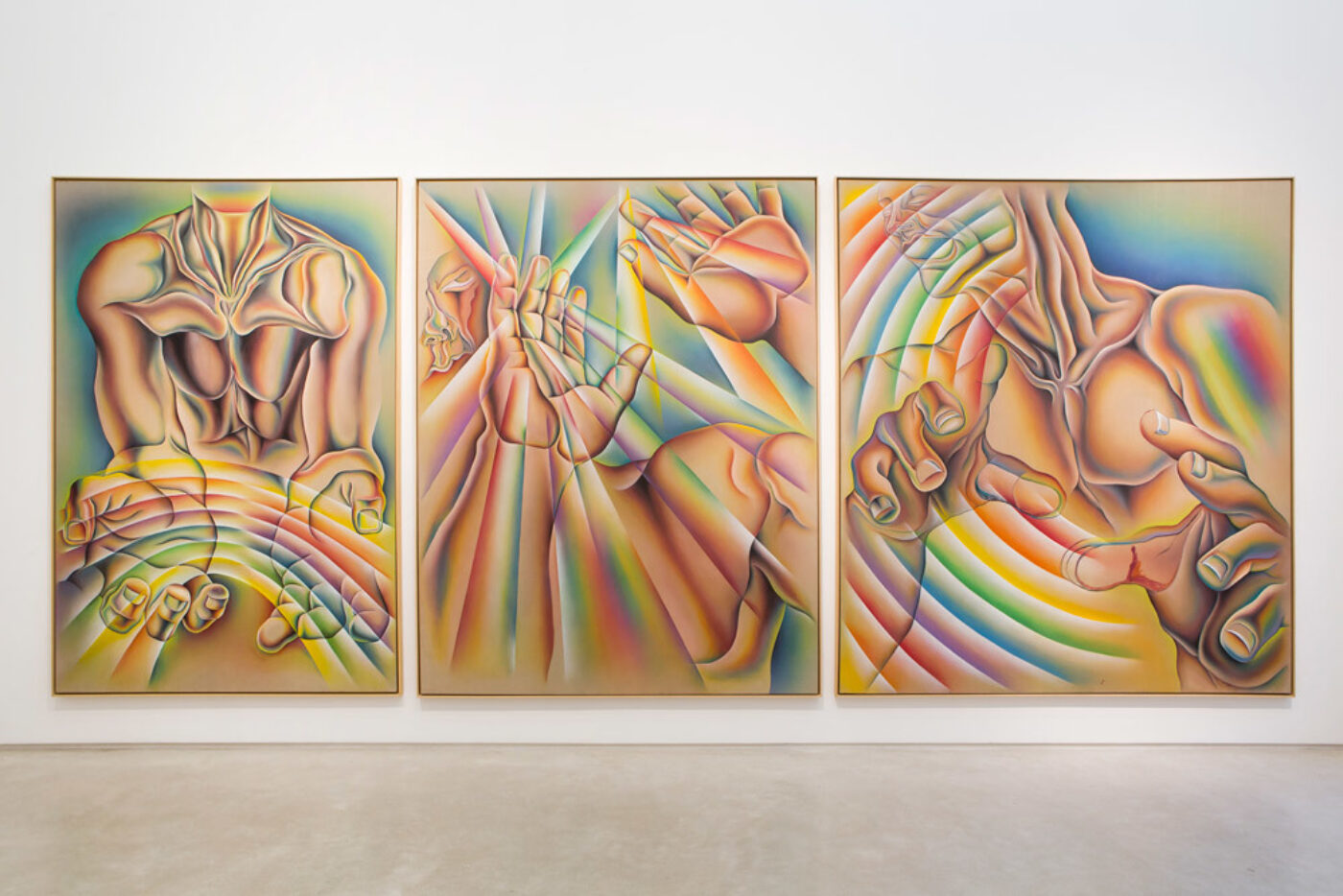 OG I'm curious to go back to that moment when you were making this work. I know it was very much inspired by a trip you took to Italy. But I wondered if you had this inkling to do something different, to deal with a different aspect of gender and a gendered experience before you went to Italy, or did it just make sense to you once you were there?
JC I really had an epiphany in Italy about it. And you know one of the reasons I work in different techniques and styles is because I have always chosen the style and form for a body of work based on the content I was interested in, so it seemed appropriate to frame these in the language of Renaissance heroic paintings.
OG I'm interested in what you were talking about it terms of the medium and the materials you decided to use. The Renaissance and the heroic male nude make sense to me, but also the use of oil paint and the…
JC …the Belgian linen, right, and the underpainting. I was trying to mimic the way those Renaissance paintings were made but in a contemporary way.
OG Yes, and those aspects are not necessarily evident to all viewers. How important was the making of these works for you in imbuing them with this idea of a construct of masculinity?
JC Really important. In the same way that I subverted needlework in The Dinner Party, particularly ecclesiastical needlework, which has traditionally been used to aggrandize male religious power. Similarly, I was interested in subverting the painting method of the great Renaissance paintings because if modern society was born back then, so, too, was our distorted concept of the male heroic. Subversion is very basic to my work.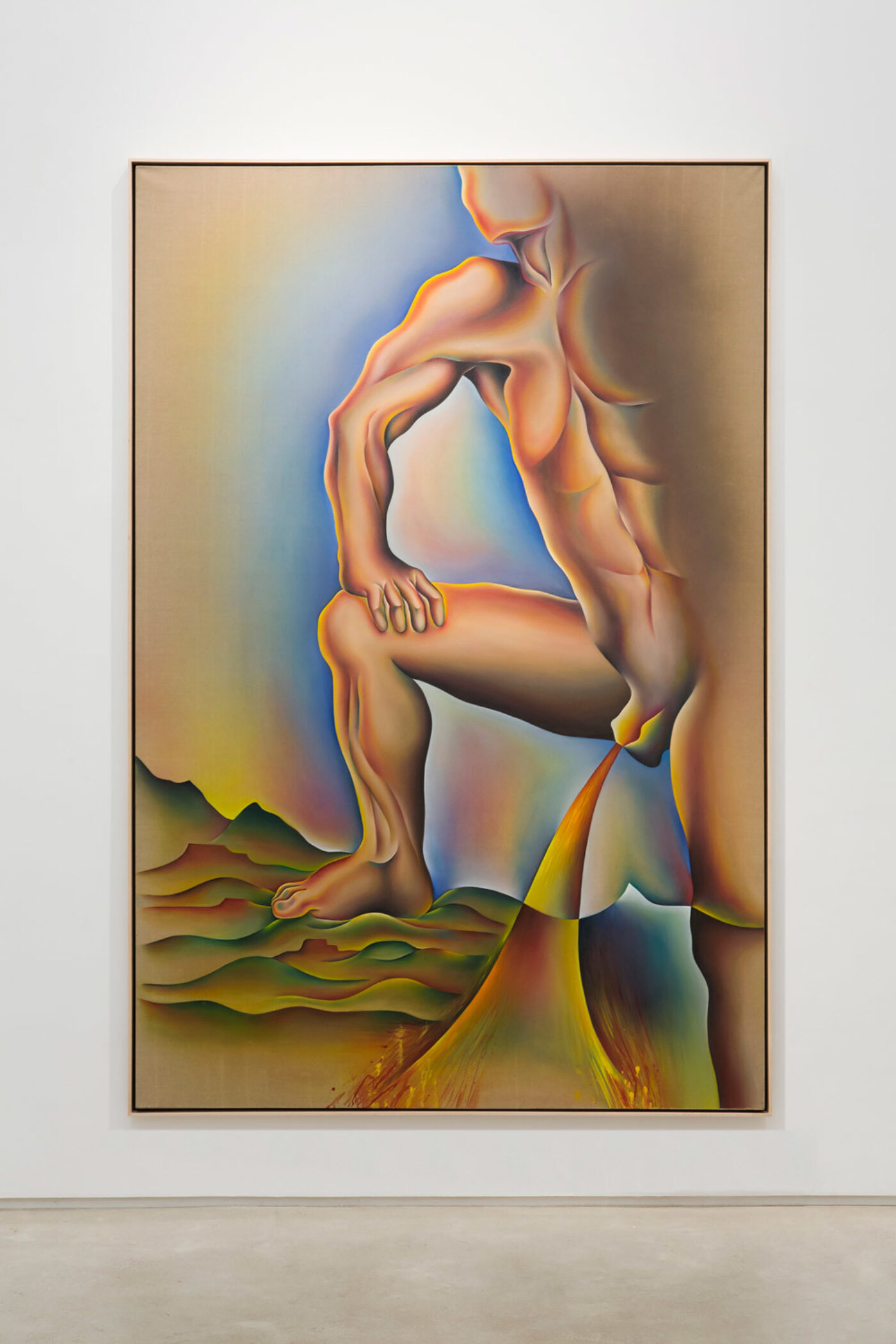 OG Another thing I wanted to talk about is your use of color, and I know that color is something that is very important to your work and has been integral to your practice for a long time. But in PowerPlay it seems almost ironic that you are using these bright rainbow colors.
JC You mean for such a dystopian view? The rainbow is associated with utopia, so again it is an impulse toward subversion in terms of using these colors to present this view of masculinity. 
OG It's definitely an attention-grabber, because as a viewer you are attracted to these bright colors and then asking what a rainbow is doing there?
JC In Rainbow Man, specifically, it is not doing what a rainbow typically does, which is signifying hope and beauty.
OG The faces are very dramatic. I was wondering if you had been looking at any political satire or caricature. Other painters in the 1980s were looking at cartoons, for instance.
JC I was not looking at contemporary cartoons so much, but of course I am a student of art history and I knew Daumier. I was more looking at grotesque and cartoonish behavior. After all, what is "grab them by the pussy" besides grotesque and cartoonish?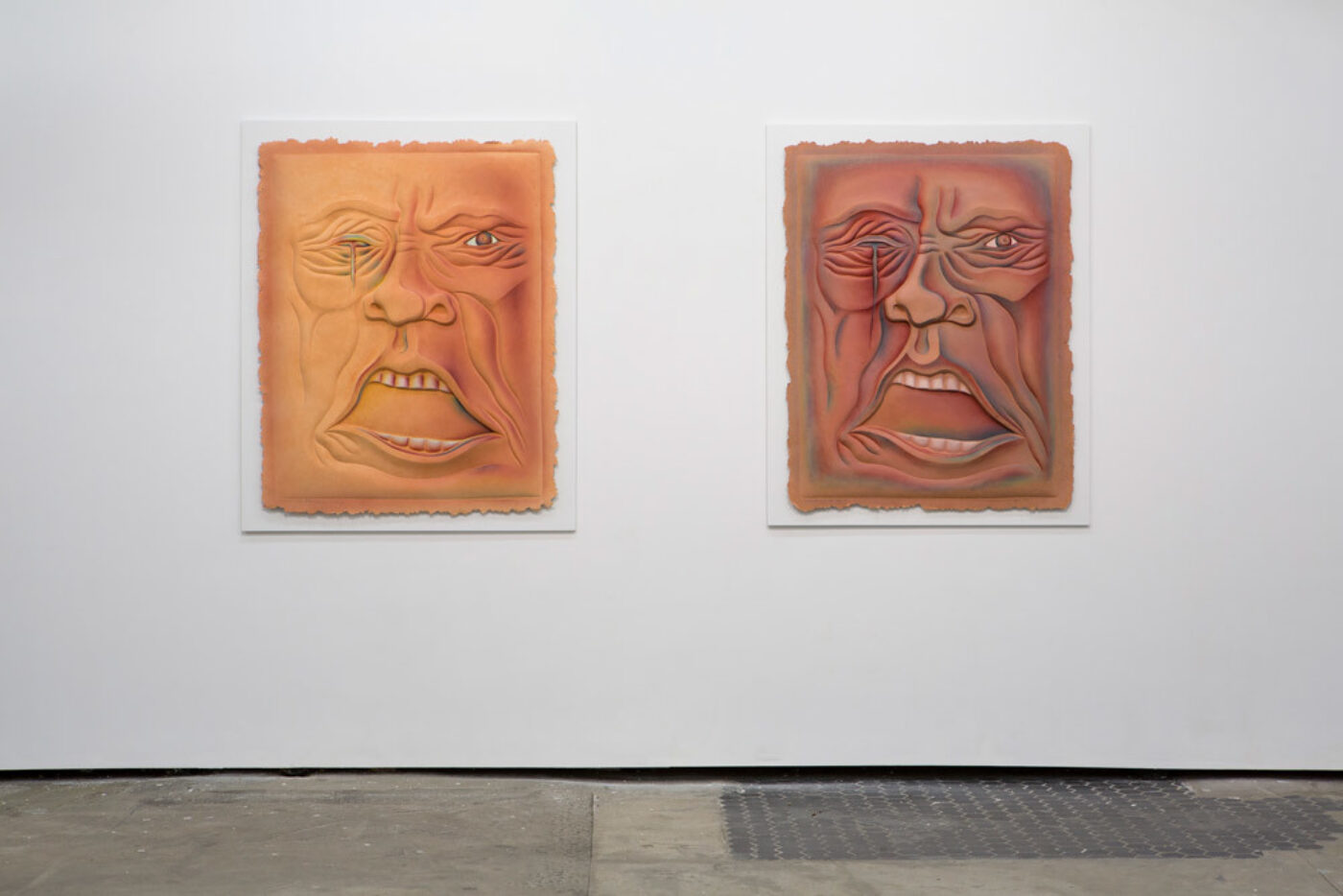 OG Another thing I wanted to talk more about is the built-up surfaces of certain works.
JC Some of those hand-cast paper pieces have never been seen before.
OG Those surfaces are really in tandem with what you did do in The Dinner Party, expanding the flat plate surface and moving it into the viewer's space.
JC That's interesting because I got my MA in both painting and sculpture, and I feel that some of my best work is at the juncture of two and three dimensions, like those paper pieces in PowerPlay, like The Dinner Party, like my sculpture in glass. I think there is something about that which makes it more real.
OG That technique is fascinating to me. Was that the first time you used it?
JC No, I actually used hand-cast paper pieces for the first time in the 1970s. In the late '70s and into the '80s there was a huge craze for cast paper pieces that came out of printmaking. I knew about it, but it kind of came and went, which is why you probably haven't seen much of it, but there were a lot of people doing cast paper. When I was in the Bay Area, I worked at a print shop, and I have done a huge body of prints across numerous techniques. I was in Sante Fe when I was finishing PowerPlay. I went there to paint it, because I needed to be alone. There was a guy in Albuquerque doing cast paper, so I made two related editions in cast paper. I mean, you know Judy-unusual-techniques-Chicago! I love unusual techniques. They make for the possibility of unusual content. 
PowerPlay: A Prediction is on view at Salon 94 Bowery until March 3.
Olivia Gauthier is a freelance writer, curator, and MA Candidate in Art History at Hunter College.