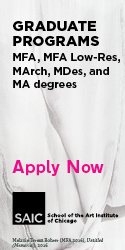 Earlier this year, a few months after Klaus Kertess died on October 8, 2016, I went to his apartment on East 8th Street with his husband, artist Billy Sullivan, to begin clearing it out. (A studio manager's bailiwick is broad indeed.) Among publications and papers carefully stowed in the bedroom closet, we discovered several unpublished manuscripts, including the story presented here.
Though Klaus was best known as a curator and art essayist—a "nonfictioner," as he put it—his literary writing dates back to at least 1970, midway in the decade-long run of his esteemed Bykert Gallery. "Tour," which was begun in 1973 and finished in 1975, is rooted in the revisitation and revision of his journals from those years. 
Thus the story's "contents" are spun from actual events: in August 1973, Klaus flies to Los Angeles to meet his then-partner, Lynda Benglis (referred to as "Her"), who was to drive cross-country with him back to New York. Instead, he drives back alone, lost in a disputatious reverie circling around language, Gertrude Stein, modernist literature, mapmaking, and the act of writing.
Later writings reveal the strange afterlife of "Tour" and further illuminate its concerns. First it was incorporated into a book-length manuscript called "Lost Profile" (1975–76) and credited to Peter Vogel, a writer who meets and falls in love with the narrator, whose name is Klaus Kertess. Peter, of course, is Klaus's doppelgänger. 
Another story, "Peter and the Pen" (published in BOMB in 1985), offers a detached third-person critique, disguised as fiction, of Klaus's own literary output, which was then still largely unpublished. Here "Tour" is described as being "in open rebellion against his mother/father figure, Gertrude Stein; huffing and puffing to blow down the impregnable facade she had built out of her name (stone by stone, word by word). They drove across the country turning the lines that divided the highways into typewriter tracks… ." 
So there, beneath the distracted drift of "Tour," is the contour of a plot: a road trip with Gertrude Stein. The story is also haunted by Robert Smithson's death in a plane crash near Amarillo on July 20, 1973, and it evokes his hallucinatory travelogues. Like a Barthesian "modern scriptor," the narrator obsessively charts the touch and motion of his pen across the page. This attention to the mark making of language (which the present facsimile printing emphasizes) culminates in three and a half pages of dashed and straight lines that, like a Carl Andre typewriter poem, ask to be read, not just visually scanned.
—Paul Kennedy 
Klaus Kertess (1940–2016) was a writer, curator, and art dealer. In 1966, with Jeffrey Byers, he opened Bykert Gallery, which he ran for ten years, fostering the careers of many artists, including Brice Marden, Chuck Close, and Dorothea Rockburne. He went on to curate for the Parrish Art Museum, the Whitney Museum of American Art, and the Drawing Center, among others. He was also the author of a number of artist monographs, essays, and short stories.
Paul Kennedy is an artist based in Brooklyn.
Special thanks to Yale University Archives for providing these materials.

Originally published in
Featuring interviews with Milford Graves, Celeste Dupuy-Spencer, Meredith Monk, Jim Hodges, Lucy Dodd, Branden Jacobs-Jenkins, Jlin, Cate Giordano, Don Mee Choi, Christian Hawkey, and Friederike Mayröcker.