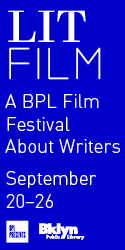 She is Pierre like my ass is Pierre. She is Pierre like this cell is the goddamn White House and I am just the First Lady sitting on my ass waiting for an iced tea.
But do I care?
If she wanted me to call her Paris, France, well, c'est finis, that would be that.
Pierre says I am full of shit. She says that she is logging pulp through and through. Her mama, she says, just somebody up and gone before the birth blood was dry. Her daddy, a Douglas fir. Or, probably, one of those stub-fingered loggers she had when she was working camps, probably just some old guy wheezing and spitting as he poled his way into her, him taking her extra hard, pinning her with his stub-fingered hands, him giving her no place to turn from him to, him all bent out of shape because this little squeak had the balls to make him pay first.
I squeezed Pierre's hand.
I tell her, "Pass me the salt."
Oh, yes, I am hard, hard as Pierre is hard.
Pierre tells me about men.
I had to wait my turn.
I had to wait two fucking years.
I had to wait while Pierre walked her tits and ass around this hold with every cunt on two legs. I had to wait while Pierre got all her extras—her metal case of perfumes, her eyelet curtains, her silk stockings, her black beauties, her ludes, her reefer, her extra-long cigarettes, her mirrors, her magazines and her cherry lipstick.
Pierre says that someday we'll be rump up in our garden, tending tulip beds.
Pierre says we will stay outside all day long.
Pierre says, "Oh, Baby, your rump is blazing red as a tulip."
Pierre says she will cool me down with an oil made of three kinds of grasses.
Pierre says, "I am Venus, first star in the sky."
Pierre says, "You old free woman, you."
"Oh, come on, Pierre," I say, "just stay with me through the night."
She holds the bed's metal bracing. The mouth Pierre gets is a mouth with no cushion, there is no resting place, no cool patch of snow, no steamy breathing plants after the June rains. It is a take-it mouth, a hungry mouth, a hurting mouth, this mouth Pierre has asked for.
She presses against my palm.
She takes me in and in and in, looking for the loggers, for the driver of the oil truck, for the smooth-faced kid who said, "Please."
Her tongue roughs on my shirt. Wool strands thread her mouth.
Down the row a woman shouts, "Pipe it, you fucking cunts."
Pierre opens her eyes. "You cunt," she says to me.
Anything. I would give her anything. I would give Pierre men if I could find a man in this hole, give her cocks on silver platters. I would search out the roughest, sweetest, fucking cock to take her there.
For my Pierre. Now it is just Pierre in my hands, my hands in Pierre.
Until she yanks herself still.
"Timber," I whisper, "Timber."
Saturday night. All the girls dance to the concertina, even the ones you would not imagine dancing. Pierre gets them going. Soon the clogging girls get their heels moving, their knees bent and lifting. The polka starts, and you should see the Polak girls go, their big legs stepping out. Pierre leans back and lets a girl turn her, lift her through the smokey room.
The concertina sings, Ah Pierre, Je vous aime, ma jolie danse c'est pour toi. Toujours Pierre.
Pierre says, "So you tell me, what is forever in a hole like this?"
Pierre says, "Out there is an oil truck driver who wears his name on my skin, the only fucker who did not stink of pine pitch."
Pierre says, "I want me a house of stone. Piled-up stones. A stone house on the rock edge of a rocky coast with not one goddamn tree in sight."
"And not just trucks on the pass," says Pierre, "or their heavy chains, or the belt down poles." Pierre says she can hear the growth of larch and spruce, hear the bald scabby slopes. She says she can hear it grow and hear it harvested, felled, taken down and bucked to logs, the logs skidded to the mills, heartwood planked, boards tacked and drying, scrap-wood whittled for spoons and Christmas tree ornaments.
"Forget it," says Pierre, "I can hear the fucking air."
Pierre, she has got herself a pretty job. She says she earned it with her mouth. "And not from talking," she adds. This place has rules but Pierre's the first to point out it's no prison.
Susie. Down-on-the-Farm Susie. Betty. Even Jane. She is anything over a Pierre. She is a girl, like they don't make here but once in a pine moon.
Pierre has got me a place right beside her. "Slow down, girl," she orders me.
Ten, sometimes nine, sometimes 12 cartons a minute—this is how fast Pierre can go. But she says, "Do six."
The table is rutted, heavy with marks years and years of girls have made.
She stops folding cartons to pretty up her face. She doesn't need a bit of prettying. She paints up her lips mostly to show off her cherry lipstick.
"I liked a boy so much I let him bite through my lip," says Pierre.
She rubs her finger over the corrugated paper edge.
She winks at me, "Tell me again about my great stone house?"
Other nights, it is all night, who can be more girlish than whom. When we start to fall toward sleep, Pierre climbs back up to her bed.
Another Saturday night and the girls are buckish. Polaks waltz, taking long turns through the room. The upriver girls spit into cans. Girls line the walls, two abreast. Low riders walk heavy boot across the room. Sweet Mary grinds in the corner. The concertina fills with air, and the girls pull in tight for double spins. The Mex does her shimmey. Off for a slow jam, the lights flare up for a two step and someone starts snapping.
A new girl shouts, "Motherfucker!"
The Queen shouts, "Bring her over."
The new girl walks herself over to where the Queen sits on her broken back chair.
The new girl straddles the Queen. She rocks the Queen's chair creaky. "Motherfucker," she whispers. The Queen gives a wallop on the new girl's ass. "I'll motherfucker you, baby."
So much girl here, it's easy to smell blood in this room.
Toe heel toe step toe heel toe step. Saturday night. Minutes to midnight. The Mex girls, the Polaks, Miss high queen, the lowriders, Sweet Mary, everyone looking to take out a good time.
Pierre sits smoking her extra-long cigarettes, listening to something not here with us in this room.
After the last buzzer, before the first buzzer, somewhere before morning, Pierre says, "I'm out of here, sweet darling. This girl is history. I'm a gone one. So don't be looking."
Where there is Pierre, there is no not looking.
I hold her above me. My tongue is not fast. But, listen, here is what it is saying. It goes: "Ah Pierre, there are no places without trees. Even there, where there is only rock, and rock on rock, you will find it still. Maybe at first it will only be a bit of green some patch of moss, but, soon enough it will poke through, point up at you, its roots tickling beneath your feet. See the growth ringing it? Thickening it? Pushing it through the rocks, pushing away even the largest tock—until you see it coming, all that drive, Pierre, and ache to break it down."
In 1995 Victoria Redel has published a collection of stories, Where the Road Bottoms Out (Knopf), and a collection of poems, Already the World (Kent State University Press) which won the Tom and Stan Wick first book award.
Originally published in
Featuring interviews with Patti Smith, Peter Carey, Mike Figgis, Lawrence Weiner, Sharon Olds, Kiki Smith, Ridge Theater, Oliver Herring, Adrienne Kennedy, and Shu Lea Cheang.