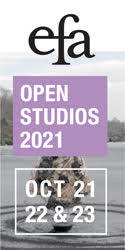 Adrienne Truscott's … Too Freedom …, performed at The Kitchen this last December, is a multilayered meditation on social (inter)action. How do we, together, accomplish a given task? What agreements have we made before we even begin? Truscott addresses and implicates the audience in presumptions by seamlessly interweaving daily labor practices with performative illusion.
A teapot pours a seemingly infinite amount of liquid into a cup that mysteriously ceases to overflow. José Manosalvas, Adán Escalante Vásquez, and José Carlos Villanueva—hired day laborers—build a three-walled wooden structure. Meanwhile, Mickey Mahar, Neal Medlyn, Laura Sheedy, and Gillian Walsh—The Kitchen's box office staff—eat a roasted chicken bit by bit. This is a study in cultivating with-ness. Side by side, structures are put together and taken apart, constructed and consumed. Clad in white headphones, Truscott cavorts throughout the space with a remarkable balance of ease and instability. Live and prerecorded sound bites designed by Medlyn filter in and out. In one memorable moment, Medlyn is lifted to the ceiling in a Genie cherry picker, where he exclaims to no effect, "Here comes the big stuff!" Truscott pays no mind—she shuffles through the audience and our knees touch. She stands with her legs spread and spits like a fountain. She arches backwards, her eyes searching and shifting. She is continuously repositioning herself—in relation to the space and to us.
Several times during … Too Freedom …, I have the experience of forgetting something. When I take my seat, I forget the time. Only after watching additional audience members being slowly and somewhat awkwardly escorted to their seats by The Kitchen's box office staff do I realize the performance has actually "begun" well before eight o'clock. Similarly, only after being handed a program by a naked member of this same box office staff at the "end" of the performance do I realize that I had not received a program in the first place. While these may sound like somewhat trivial deceptions or a clever subversion of audience-performer expectations, they confuse the taken-for-granted devices that typically mark beginnings and endings in a performance. … Too Freedom … exists in a liminal space, a space between the theater of dance and the theater of living, so much so that the performance renders these distinctions irrelevant.
Action exists alongside action: walking alongside pouring alongside building alongside eating alongside talking alongside dancing alongside ______. The fantastical and the mundane commingle and trade places. The ushers are the dancers, as are the construction workers. Manosalvas, who describes himself in the program as "happy and at ease," leads his two co-workers ever so gently and intentionally in a small dance. With an arm raised and fingers softly forming a fist, he counts under his breath, guiding the men as they step back and forth in unison. Behind them, somewhat obstructed by the fort they just finished building, a piano plays itself, and I experience a kind of magical tenderness. Ann Hamilton describes "all making as an act of attention, and attention as an act of recognition." In … Too Freedom …, Truscott is paying careful attention, drawing our focus to the materiality of living and working alongside one another. Yes, it can be banal, but it is also absurd and complicated and sometimes beautiful—like the smell of roasted chicken and a performance you hope doesn't have to end.
Lauren Bakst is a dancer and choreographer and BOMB's development associate.
Originally published in
Featuring interviews with Verne Dawson and Genesis Breyer P-Orridge, Stanley Whitney, Katrín Sigurdardóttir, Federico León, Stan Allen, Rachel Kushner, Enrique Vila-Matas, and Coleen Fitzgibbon.