"It's so important to make your own little specks of peace around you. It's a matter of being an idiot."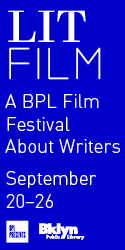 It was by way of the New York Drawing Center that I discovered Tomi Ungerer. After rabidly devouring all that I could get my hands on, I wondered why it was only later in life that I had found his work. The adults of my childhood had certainly played a cruel trick on me. I can't fully describe the way I felt looking through the diverse, wily, brutal, and tender graphic work of this artist, except to say that my skin chilled. His hand is one of complete freedom as well as control: his humorous depictions of animals feel more human than people beside you; the elegance of the renderings of bodies and politics in Babylon and in The Underground Sketchbook seduce and invade your mind; Fornicon titilates while admonishing us and our machines; and, then there are the children's books which bestow respect on children—those who need not be coddled by the un-realities of life. Ungerer himself and his work can be flirtatious, unflinching, and ruthless in satire; his drawings always lead you on a journey that is equal parts magic yet stinks of the real. I had the pleasure to speak with Ungerer at length by phone while he was in Strasbourg, and I in New York, where his first US retrospective opens at The Drawing Center on January 15. Claire Gilman has curated an exhibition representative of both his erotic works and his children's book illustrations, a vindication for an artist once banned in this country. 
Ungerer has been recognized as a Commander of the French Order of Arts and Letters, a Chargé de Mission by the French Ministry of Education, Officer of the Legion d'Honneur, and was awarded the National Prize for Graphic Arts by the Ministry of Culture. He has worked passionately on behalf of Franco-German Relations, and with humanitarian operations, the French Red Cross and Amnesty International. Ungerer is the recipient of the Hans Christian Andersen Prize, the most prestigious children's literature prize, as well as the European prize for Culture. He holds an ambassadorship for Childhood and Education by the Council of Europe for which he drafted the Declaration of Children's Rights. The Tomi Ungerer Museum in Strasbourg opened with Ungerer's collection of over 1500 volumes and a stock of over 8000 drawings; it is unique and a first in French history that a government-funded museum has been established on behalf of a living artist.
Natalie Frank Since you grew up in Colmar, near the Isenheim Altarpiece, I wonder when you discovered the painting and if it is significant to you?
Tomi Ungerer Well, I was brought up with my father's library of art books. So I've been exposed to a lot of art as a child. But the first real masterpiece I saw in full glory was definitely the Isenheim Altar. After the Mona Lisa, it is the most visited artwork in France. It's like a psychedelic experience—especially the Temptation of Saint Anthony. Why should Saint Anthony be tempted by such ugly demons?
NF Has it been a direct influence on your own work?
TU In my own version of the Temptation, it was always naked and luscious and libidinous women spreading out their big behinds. (Laughter) As a child, I was struck by the monsters that are trying to get hold of the saint, pulling him by the beard and all that stuff—it's really quite graphic. I discovered later in life that all of humanity is made of demons in the right attire. You don't have to look like a monster, all you have to do is wear the Nazi uniform. It was a lesson for me.
NF Were the demons in that panel of Saint Anthony being tormented an inspiration for Crictor?
TU No. I have had so many other influences aside from that. I've always been a sponge, just absorbing whatever I see, whether it's in daily life or in art. Children's books were first a sideline for me. Crictor was just an idea, and then I did other books with animals. I tried to rehabilitate animals that are normally disliked and hated. Why should we judge animals as we judge humans, saying that they are bad or good?
NF Can you speak about the relationship between drawing and writing in your practice?
TU I write more than I draw now. I've always drawn what I wrote and written what I've drawn. The word and the line go hand and hand for me. I think there's a big difference with children's books that are written by one person and then illustrated by another. I have this incredible luck, and the chance, to do both. So one compliments the other. I write for adults as well, especially aphorisms. I always loved writing but it took me a lifetime to have a style in three languages. I have my style in French, in English, and in German—and each is different. When it comes to drawing, I sometimes feel that I have already drawn everything. I cannot go further or do more than what I have done. So now, in a way, I spend more of my energy writing and doing sculpture.
NF What is the process like for you when you begin something with either writing or illustration? Do you move back and forth between the two?
TU When I conceive a children's book, I conceive the story first. I have the idea for the story and then I make what you would call a storyboard. It happens nearly at the same time. A picture brings a line and a line brings a picture.
NF You have said that fear and darkness are necessary for children, because once we experience fear we discover courage. Bruno Bettelheim wrote about how productive it is to expose children to the way the world actually is—through narratives of violence, trauma. What role does fear play in your writing and in your graphic work?
TU I always put scary elements in the children's books. I think it's a way for children to overcome fear, regardless how young they are. 
Not long ago I had a visit from a woman whose mother had brought her along twenty years ago, when she was six years old and she was scared of the skeleton in my studio. Back then, I had told her that this skeleton was my mother and that she should go and shake hands with it. She was terrified. But she said that after that she was never scared of skeletons again, because afterward I had explained to her that it was a joke. I think it's important to be scared and it's very important to turn fear into something fun. 
My mother knew no fear. Even in the middle of the bombings and explosions, we were telling jokes and laughing. It's a good attitude to face life that way.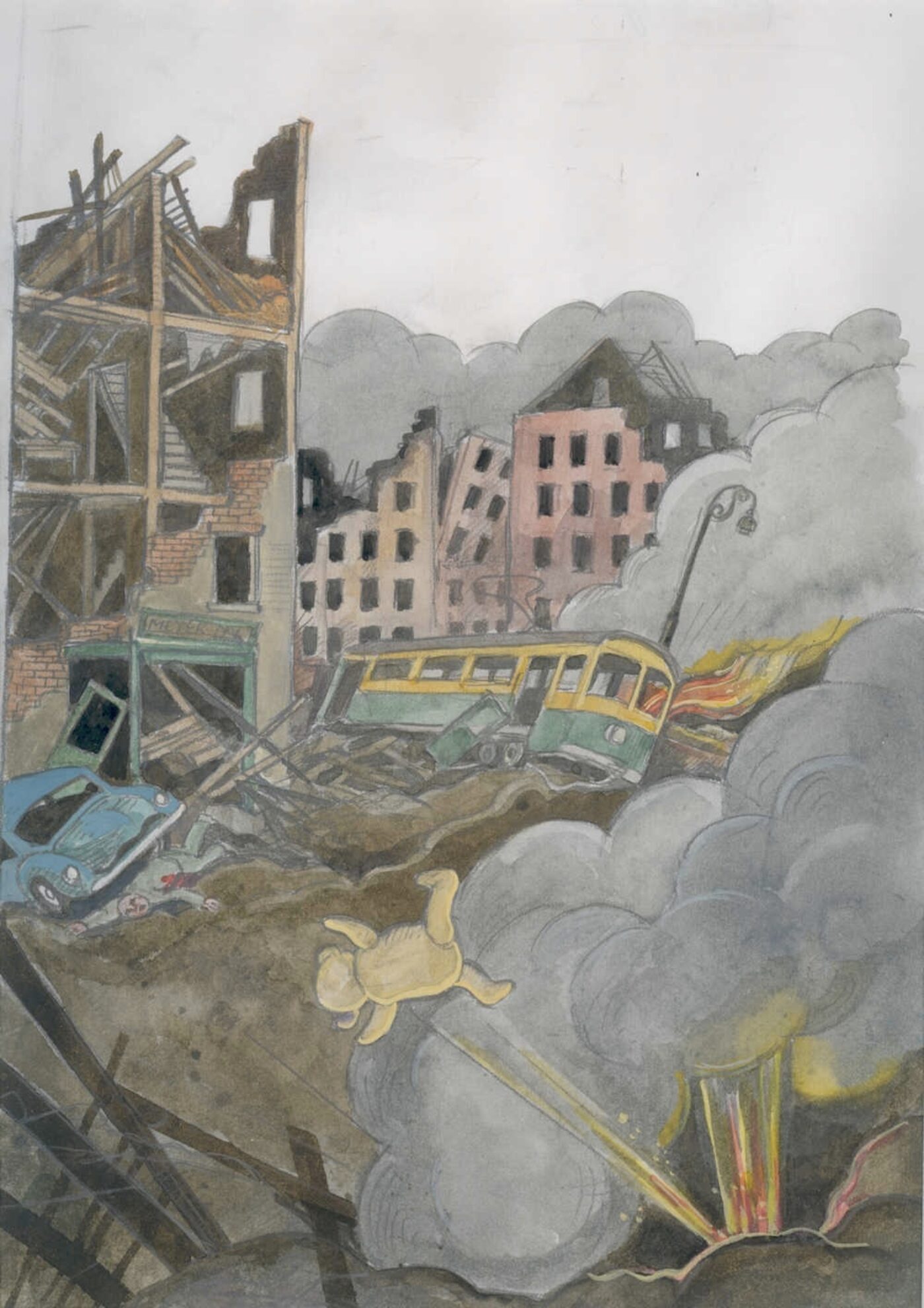 NF Is there an element of fear in your erotic work as well?
TU That's an interesting question. I never thought of it that way. Offhand, I would say no, unless there was a danger to be caught or something like that.
NF When you say "danger to be caught," do you mean that you feel you're almost committing a crime?
TU (laughter) Oh no, on the contrary. Everything I do is with a bit of joy. Why make love if it were not to be a wonderful thing? What I meant with being scared to be caught is—in the olden days in Long Island, I used to break into big villas with a girlfriend and spend the night there while the people were gone. One time people arrived and we jumped out the window. I was a bit scared then.
NF Do you see yourself as a feminist? What are your thoughts on the ways in which your erotic works have been interpreted, either by feminists or critics?
TU I've been very misunderstood in those days. I was definitely part of the sexual revolution. The things I used to say are normal now. I was always more interested in the woman than in myself. I was fascinated by women's fantasies. For me, eroticism was always about staging a fantasy according to the partner's taste. It is really even steven. Women have a right to sexual fantasies just as men have. 
The worst thing that can happen in an affair is to fall in love, because then you trip. I think it's better to have a level of friendship without sentimentality. It's about communion, sharing and daring, and partaking in a common experience—as long as you don't hurt anyone. 
In Hamburg, I lived in a bordello with a show window. In every bordello there was a torture chamber and a domina. They were wonderful women. As I wrote in my book, what is normal? It is all very relative. Normal is what people enjoy. Some of the things that happened in the house would be inconceivable for you, and even for me. There was one client who could have an orgasm only if the domina nailed his tongue to a block of wood. Now that's the kind of thing that I couldn't do and I don't think I would enjoy (laughter). But it's just to show that everything is relative.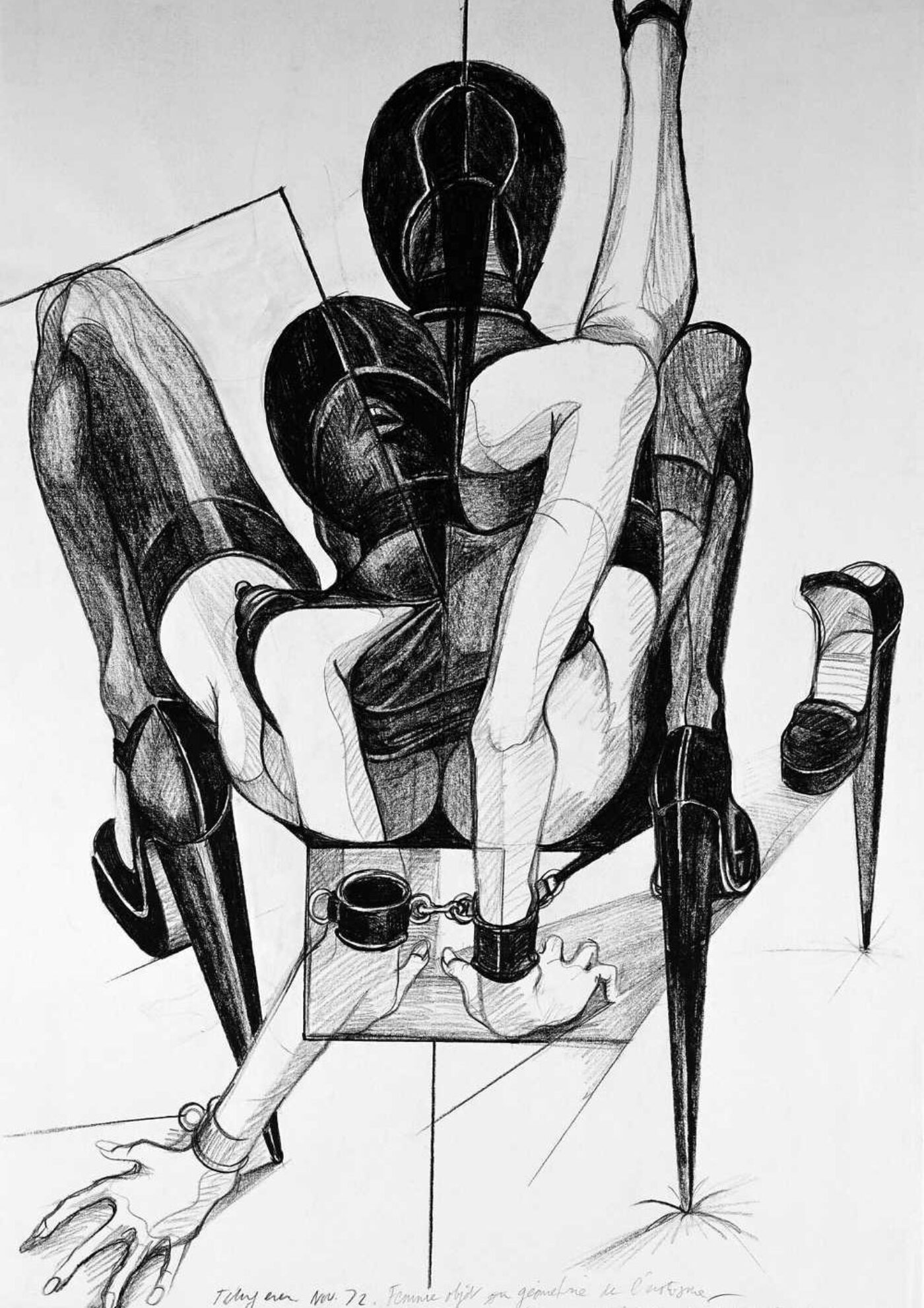 NF I am fascinated by your images of sex, especially in Fornicon. Can you speak about your depictions of sexuality, women, and power?
TU In Fornicon, I was showing the clinical aspect of lovemaking nowadays, which is being mechanized. I was struck at the time—it was the '60s—by how in America one book came out after the other about how to do it. So I did The Joy of Frogs, which is a satire. It's the Kama Sutra of Frogs, showing all the different positions—as if people didn't have enough imagination for how to do it. The Fornicon was just an extension of the same thing—do people need gadgets and instruments? It was a rebellion against a mechanization of our lives, not only of sex. We live in a world that's completely ruled by machines. I don't have a computer. I don't have a cell phone. I believe in my freedom. I don't want to be tied up by everything that is imposed upon me. 
The drawings in Fornicon are medical. If you want to see some of my erotic works, look at the big album that is called Totempole, for instance. These drawings are drawn from life and they are, for me, erotic. I met this girl and I asked her what her fantasies were and she said she would like to be my slave. So, okay, that's one game and I must say I really enjoyed it.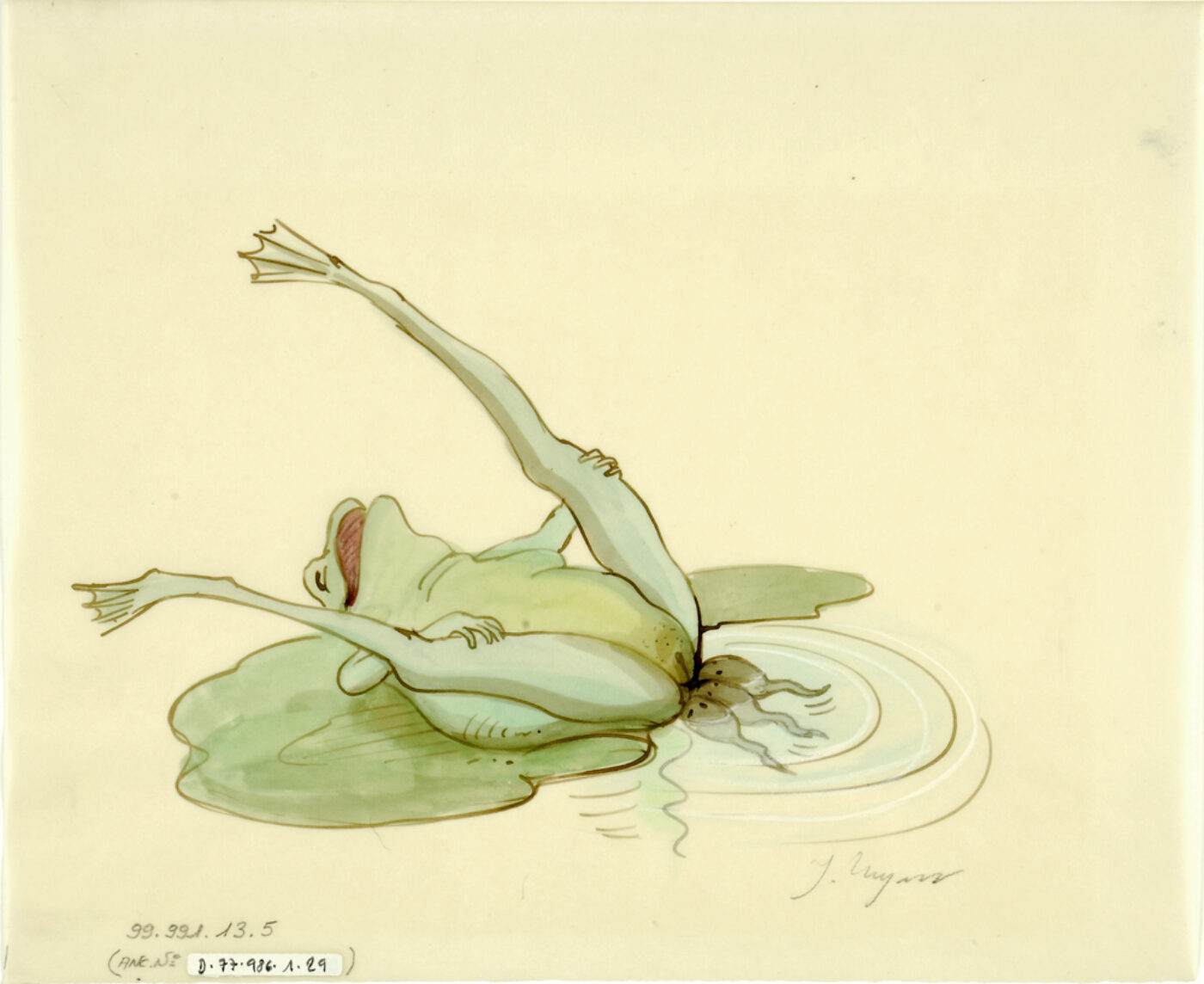 NF Do you separate sex and violence? Can they be separated?
TU I'm not really interested in that anymore. About fifteen years ago I really tried everything I had in mind. I think it's kind of a lost novelty. I can be quite satisfied with perfectly normal behavior, if you want to call it that way. I got my kicks, I had my things. But so what? My whole life has been like this—I go from one subject to another and when I've had enough of it, I go on and do something else.
NF How did you come to stay with the dominas and gain access to them?
TU The brothels in the Herbert Strasse are held by the women only. Men and pimps are not allowed, so the women are really free. I had to have this experience of living in a bordello, as a witness, drawing the girls and drawing whatever happened. A friend of mine introduced me to Domenica who was considered the empress of prostitution in Germany. She welcomed me and said I could stay there. She was not really a domina herself, but she had two dominas working for her. One of them was Helen who overtook the house. Her husband was a decorator and he designed all her torture instruments. You have to understand that dominas are never touched by their clients; they only apply torture.
My book—the title translated into English would be The Guardian Angels of Hell—never came out in English. Maybe the Anglo-Saxon public is still too puritanical for some things. I don't know.
NF I was curious about your relation to another powerful woman, your first publisher, Ursula Nordstrom.
TU She was my guardian angel too, in a way. Ursula Nordstrom was a fabulous woman who really got me started in children's books. When I arrived in New York, I already had the idea for The Mellops and I went to the publishers and was told, "There's only person who would publish you in America and that's Ursula Nordstrom at Harper." So I went to see her and she liked my pigs, but not the ending—they ended up in the butcher shop. She said I should use the same pigs to do another story. With the first book I won an award at the Children's Book Spring Festival. From there on, I did about two to three children's books a year among other books. For all those years I must have brought out an average of three to four books a year, some of them satire, some of them other subjects. Ursula shared my black humor too. She was quite a character altogether. She was just like a funnel, open to any talent. The more original and the more out there, the better. She's the one who started publishing Maurice Sendak. I brought her an old friend of mine, Shel Silverstein, who was at the time a singer and a lyricist.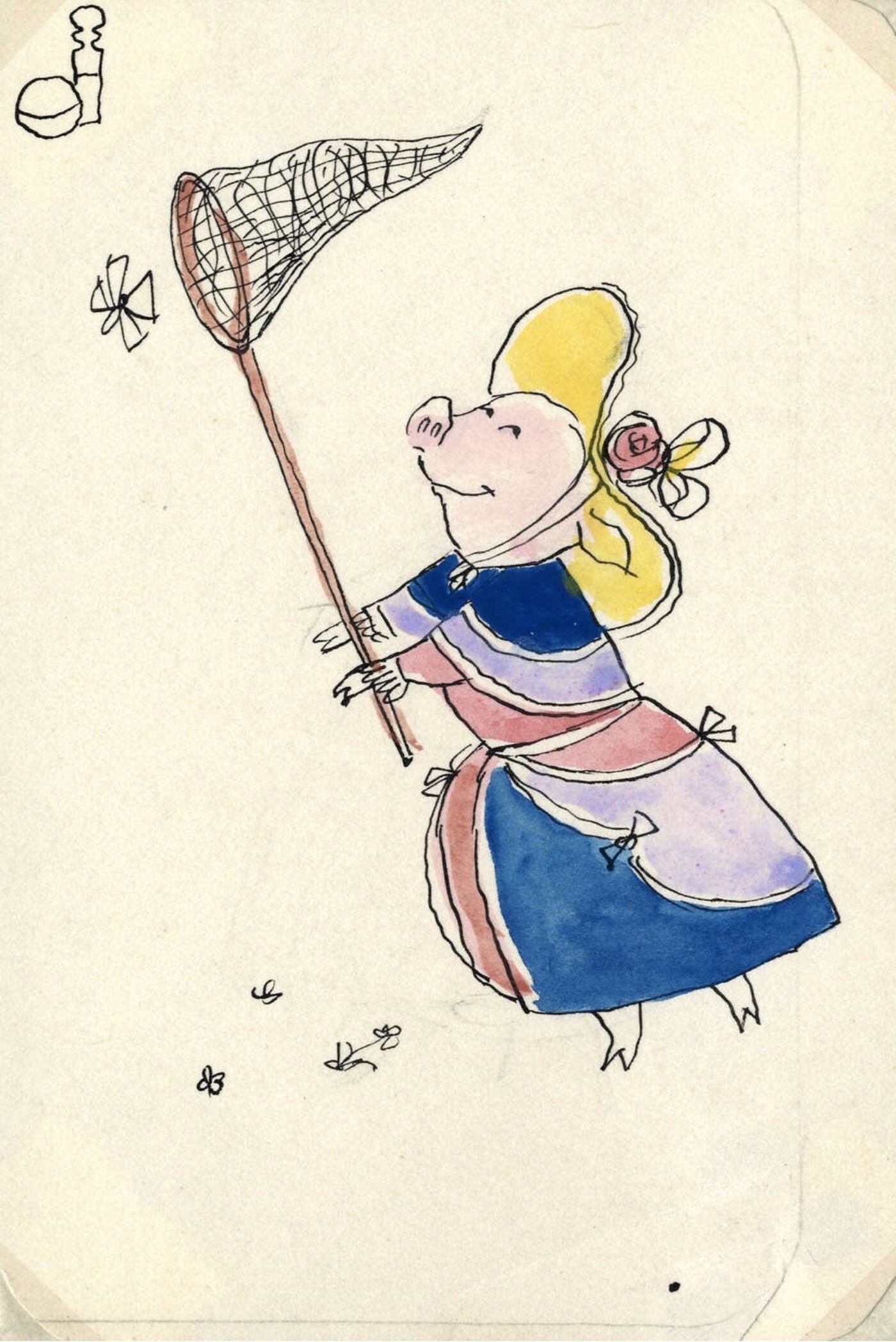 NF What about your relationship with your longtime publisher, Diogenes, who was responsible for supporting and publishing many of your erotic books, which were banned here in the US?
TU I have been so lucky. I met this young publisher who had seen some of my drawings. He was quiet and he was single-handedly starting his own publishing house. That was Daniel Keel. I grew with Diogenes, which I consider the greatest publishing house in the world. There was no American classic that wasn't published there. Of course, he did children's books too and that was the only problem I had with Ursula Nordstrom—she was deadly jealous of my Swiss publisher. I have now been with Diogenes for sixty years and most of my books were published there, regardless of what subject. There was no angle of my creativity that was not embraced by them. That was very different in New York. I always worked with editors, like my friend Bill Cole for instance, or Mike Bessie at Harper. But they would change publishing houses, you see. So one day Bill Cole would be at Viking and publish my underground sketchbook and then he would go to another publishing house. I never had to look for a publisher because my publisher was my editor. Cole edited and published all of his own books, he did Patrick Süskind's Perfume, all of Friedrich Dürrenmatt's and Georges Simenon's books and people like that. I was in phenomenally good company.
NF Tell me what it was like for you in the '60s when there was such a backlash to your erotic work.
TU Around '68, '69. Strangely, you'd have thought that it would have been the opposite, that the blooming '60s would have opened—and they did open—people's minds. But then one must also realize that the drugs had come in, too. That's not at all my territory. Out of the blue—I think it was because of the Fornicon—there was an official notice proclaiming that all my books would be banned from American libraries, including the children's books. That was a bit much. I still have a hard time understanding it.
NF Did your publisher stand by you during that?
TU Well, in a way, once you have that, no one wants to publish you anymore. Some of my books are still legally banned in England, too. But I just went ahead and, in the meantime, I published books all over the world and all over Europe. I kind of saw it as a compliment to be banned. My Swiss publisher was able to get the rights back and they are all under the Diogenes copyright now, so I have nothing to complain about. Whenever you have a problem, turn it into a joke. That's the basis of all my stories, actually.
NF Your show in New York, at the Drawing Center, must feel like a vindication of sorts for you.
TU It's just a little segment of my work. When I have an exhibition, I let the curator make all the decisions. Everybody has to be creative, and as you know, I'm so spoiled. Can you imagine having a museum? I have a state museum of my own here in Strasbourg. Actually, I got the museum because I gave my hometown about 15,000 drawings and sketches. As soon as I have enough to have a show every four months, there's an exhibition. Right now I have a show about anatomy. But, as I said, I always let the organizer do it the way they see it. For me, when there is an exhibition, I feel like I'm being hung just like a picture there. 
If you go through my work you'll see that some of the subjects repeat and repeat themselves over the years, just because I was never happy with what I had done. Phaidon is catching up with all my old children's books, and they sent me the copy today with new colors for The Mellops Go Spelunking. Honestly, I have not looked into this book since it was published in 1963. Today was the first time I did, because I had to check the proofs.
NF And how did you feel?
TU I thought the story was good, and I was amused by the sheer clumsiness of the drawings. I guess if they were perfect, they would be without charm. I think that's the problem with far too many books nowadays—they're so well drawn! My God, what's talent? (laughter) I could have never reached this kind of perfection. But the perfection takes away from spontaneity. With my book, Derby, I got together with my publisher and I had a pile of about two feet high with drawings of horses. In the end we decided to take the initial sketches for the Kentucky Derby and dropped all the others, which were much better drawn. But the first ones still had this extravagance, this clumsiness, I would say they were even pretentious. Anyway, I was surprised by how much I enjoyed the old Mellops. I said, "No harm done."
NF Do you have a favorite book or body of work that you've done throughout your career?
TU I don't know. When I work on a book I am enthusiastic, and when it's done I see all the mistakes. I will not deny that I'm happy with Slow Agony, which is an album about my landscapes of Canada. And then I did a book on Thomas Mann's Magic Mountain. I was in a sanatorium, which had turned into a hotel in the Alps, and I used all the objects there as symbols. A favorite children's book of mine would be Papa Snap.
NF Could you tell me a little about your relationship with Maurice Sendak and Shel Silverstein?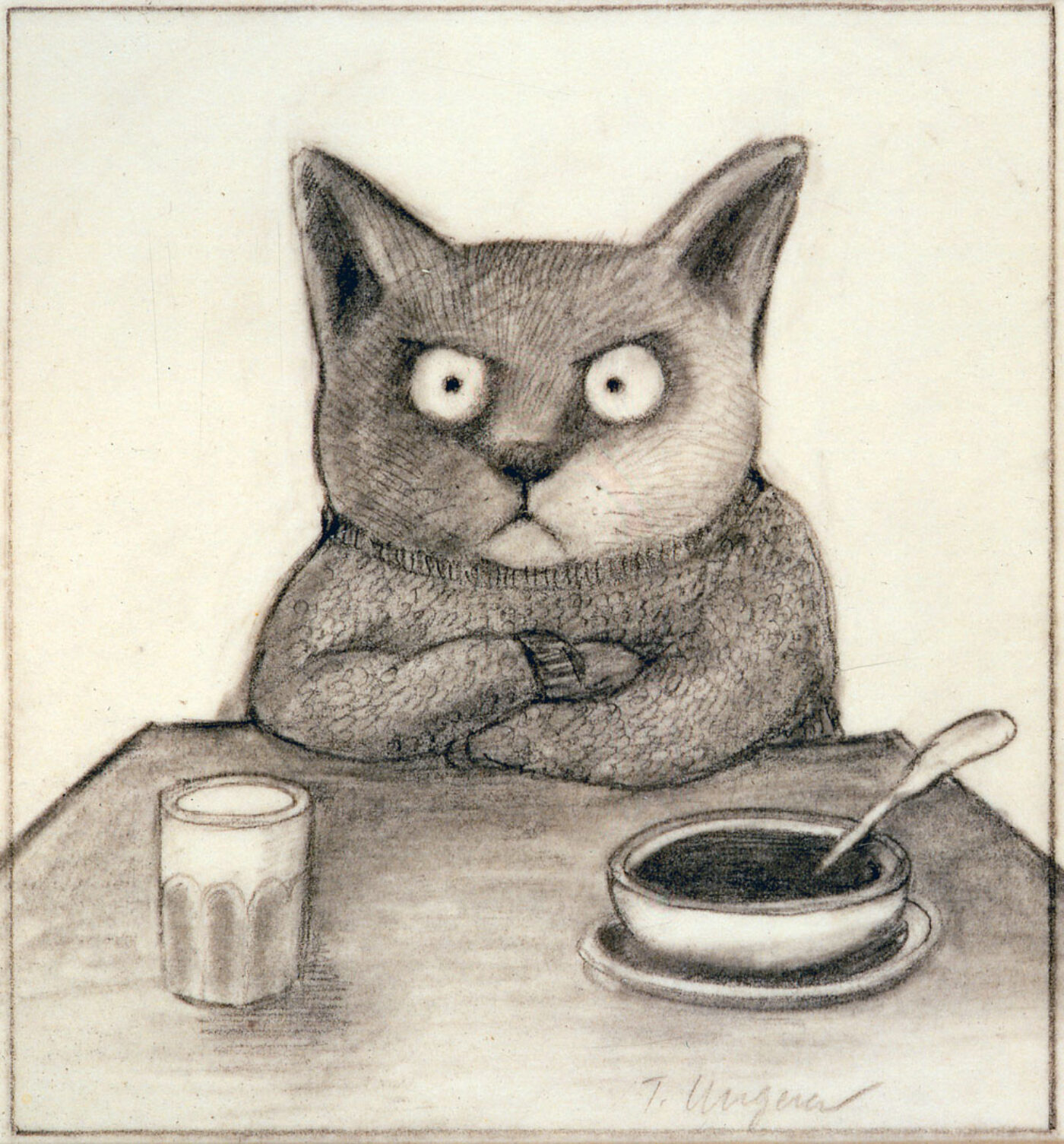 TU We met by our shared taste for German Romantic illustrations and drawings. We used to go to Third Avenue and hunt for second-hand books. We had the same opinions about children's books. Who needs all these mushy, sweet— 
But Maurice did one sweetheart book, and that's called A Kiss for Little Bear. As an answer, I made No Kiss for Mother. That was my reply to his little mushy book. (laughter)
NF How much time did you and Maurice spend together? And what sort of things would you talk about besides children's books?
TU We were really busy, he sometimes spent some time with me in Long Island, but otherwise, let's call it occasional. It was usually impromptu—"Are you free this afternoon?" That kind of thing.
NF Can you tell me about your involvement and recognition in cultural politics and childhood education? And how you have expressed these commitments in your books?
TU I was very involved for twenty-five years with the Franco-German friendship. I was councilor in the inter-ministerial Franco-German Committee and I was chargé d'affaires in the Ministry of Culture in France and also in the Ministry of Education. I must say that about one fourth of my life's energies have been spent on cultural politics, as an advisor and as a committee member. It's only belatedly that I was named Ambassador for Childhood and Education at the European Council. But before that, I had a lot of other positions. 
I really believe that if one has a talent, it has to be put to use. Allumette is about the miseries of the third world, Otto is about the Shoah, about persecution, making friends, about acceptance of immigrants in a neighborhood, and things like this. I've always been busy against violence and injustice. Culture knows no breaches. Culture is something that can be shared by anyone. I've been very active promoting other artists. A lot of energies went to that. When I arrived in Ireland, I got death letters, menaces from French patriots calling me a "dirty German." And I thought, "I must be." But instead of ending up in jail, I've been covered with decorations. I've been collecting my medals without even asking for it.
NF (laughter) Well deserved.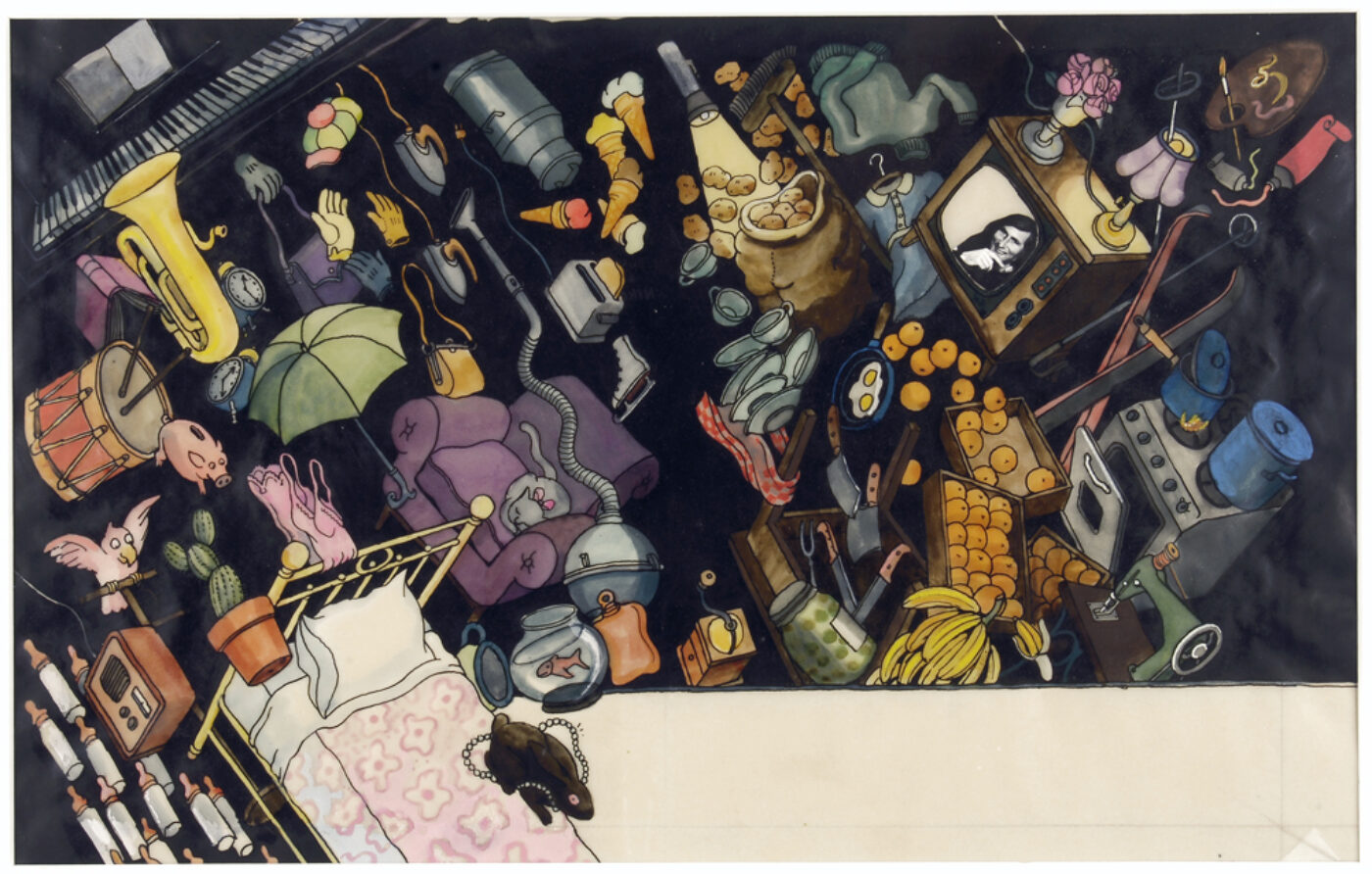 TU I believe in peace, you know. Already as a child I could not understand hate. It repelled me. I always made friends. I don't remember having once gotten into a fight with another kid. That's where I found out that humor is really the greatest weapon. Just turn everything into a joke.
There's a magazine in France and Germany called Philosophie Magazine, and I have a page in that magazine every month answering questions. A lot of the questions are from children, and many of them are about violence. "Why is there so much violence and hatred?" And I say maybe peace is a matter of discipline. You have to decide that you want peace. Don't wait for it to come to you, you have to make it. Peace is something to be made.
NF Along those lines—is there art and literature that you see now, that you feel still has the power to shock and be political? Here in New York, we currently have a survey exhibition at the New Museum of the British painter Chris Ofili. In 1999-2000, when the Brooklyn Museum showed his elephant dung Madonna in the exhibition Sensation, it caused such an uproar from religious groups, Mayor Guiliani, and the city of New York, that the House of Representatives cut off funding to the museum! The director, Arnold Lehman, in turn filed a lawsuit against the mayor on first amendment grounds. When I looked at the same piece in the exhibition this week, I chuckled, because it seems so foreign that this painting could have produced such an uproar just fifteen years ago. But at the same time, I was very proud that art can still provoke in this way.
TU I do my work, and I don't know much about what's happening in the arts. I don't know this artist's work, so I cannot say. But you mention the Virgin Mary, well—there are so many worse things in the world to fight against than that. I personally am atheistic; I believe in doubt. And to believe in doubt means that everything is possible, everything is acceptable. But religion, as long as it is not fanatical, is so important to people to survive. It gives them hope. I don't believe in hope; I've always said that hope is a four-letter word. But it is not the same for others. There are some things, which—you may laugh—are taboo. If I've been outrageous, it's been with a very specific purpose. I don't know about being outrageous and gratuitous.
NF You don't believe in hope or religion—what are the things that you do believe in?
TU When I was fourteen, I had my confirmation, and I was supposed to go to the altar and for the first time have the bread and the wine, the whole thing—and I walked out of church! Because I would have considered myself being dishonest taking the wine if I didn't believe it was Jesus Christ's blood. So, very early on I was already doubting. Doubting for me is a wonderful recipe for open-mindedness, because by doubting you consider things possible. If I doubt reincarnation, it means reincarnation is possible, for instance. 
I made it a point in my life to not believe in hope. I believe in despair; despair is my fuel. Without despair, I would have hardly brought in any of my major drawings. By fighting my despair, to get it out of my system, I made—we'll call it my talent, if I have any. That's very important. The moment you hope, you have the risk of disillusion. Why take risks? I think one just has to deal with reality and fate as it is given to you. As I always say, give destiny a destination. If you have no problems, and nothing happens to you, then what are you going to learn? You have nothing to compare your happiness to. 
I can fight for peace, because I've seen the war. It's worse than ever now. I always thought that education could help improve mankind, but it doesn't seem to be the case. There is la condition humaine, the human condition. There's no way to change that. Nobody can save the world. The only thing we can do is our little bit. I think it's so important to just smile at people, to open up to everybody, to make your own little specks of peace around you. It's a matter of being an idiot.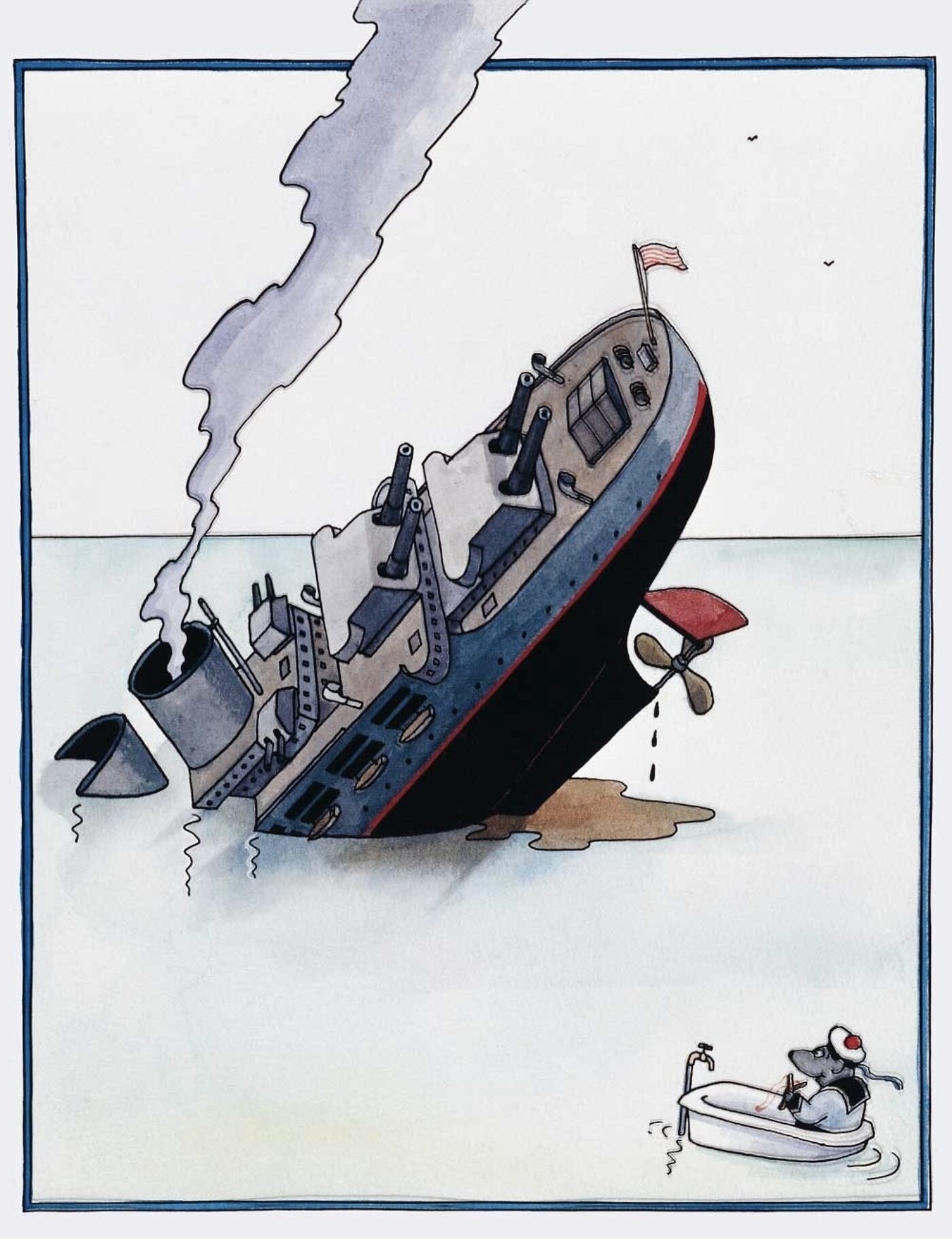 NF I feel that despair in your work, but I also feel a sense of hope in that you always return to people, and to animals, and to narratives, and to some sort of humanism—
TU I would call myself a humanist, definitely. There's a great lack of that nowadays, because everybody's taking everything for granted. You could not have humanism without doubt, because with doubt, you keep looking for another solution, for other ways of looking at something. A face, a head, you have to see from the front, the back, in profile, you have to see it from above, from below, and more important than that, what's inside the head. It is a matter of questing and questioning. Humanism is not only just to be a human. 
And I think that to be a humanist is very painful. Ever since I was a child, I've been afflicted by what the Germans call Weltschmerz, which is "suffering for the world." Don't forget the last words of Christ: "Why have you forsaken me?" This is what comes to my mind very often. I mean, I'm not religious, but can you imagine the pain of a crucified man, the hours it takes for him to die? Even worse than that, imagine his mother, watching her son slowly dying on the cross. You can think that way for all of humanity. Humanism means to detect all the messages, including the hidden ones, to give them a greater dimension. Looking behind the picture, behind the news, the photographs of misery. To just watch it is not enough. You must put yourself in the place of others. Where it hurts. I think this is what enabled me to do such satirical work.
NF Do you feel an affinity with the Weimar artists, like Käthe Kollwitz, Otto Dix, or George Grosz?
TU Well, it was only after being compared to Grosz that I looked up who he was. (laughter) No, but I think somebody like Grosz must have felt the same way I do. Most artists today aren't using their talents enough to make bold statements about the world we live in. I think artists are there to make statements. I admire Andy Warhol, because he made a statement about consumerism, in his own way. He made fun of it. But I think a lot of artists are not aware of what's going on in the world, and the role that their work could play. That's what's missing in children's books too and that's why my recent children's books are all oriented for a specific purpose.
NF What kind of statement is important to you to make today? You've been making work over so many years, and times continue to change.
TU I consider myself very lucky being eighty-two years old. I would say it's really in my writing and in my aphorisms right now. I've got, if you piled it up, about four feet of writing in wine boxes to pass on. Maybe some of the messages might speak to a few individuals. But nobody ever will change the world. And the world is slowly disintegrating, collapsing. We cannot repair it. It is beyond salvation now. It's not a slow agony, it's a slow, diluted apocalypse.
Tomi Ungerer: All in One is on view at the Drawing Center through March 22, 2015.
Natalie Frank, born 1980, is an American artist living in New York, NY, who works in painting and drawing. She received her MFA from Columbia University, and her BA from Yale University. She is a Fulbright Scholar and is completing a book of drawings of the un-sanitized Grimm's fairy tales.