Ryan Spencer sits down with DeVotchKa's Tom Hagerman to reminisce about celebrity haircuts and toy pianos.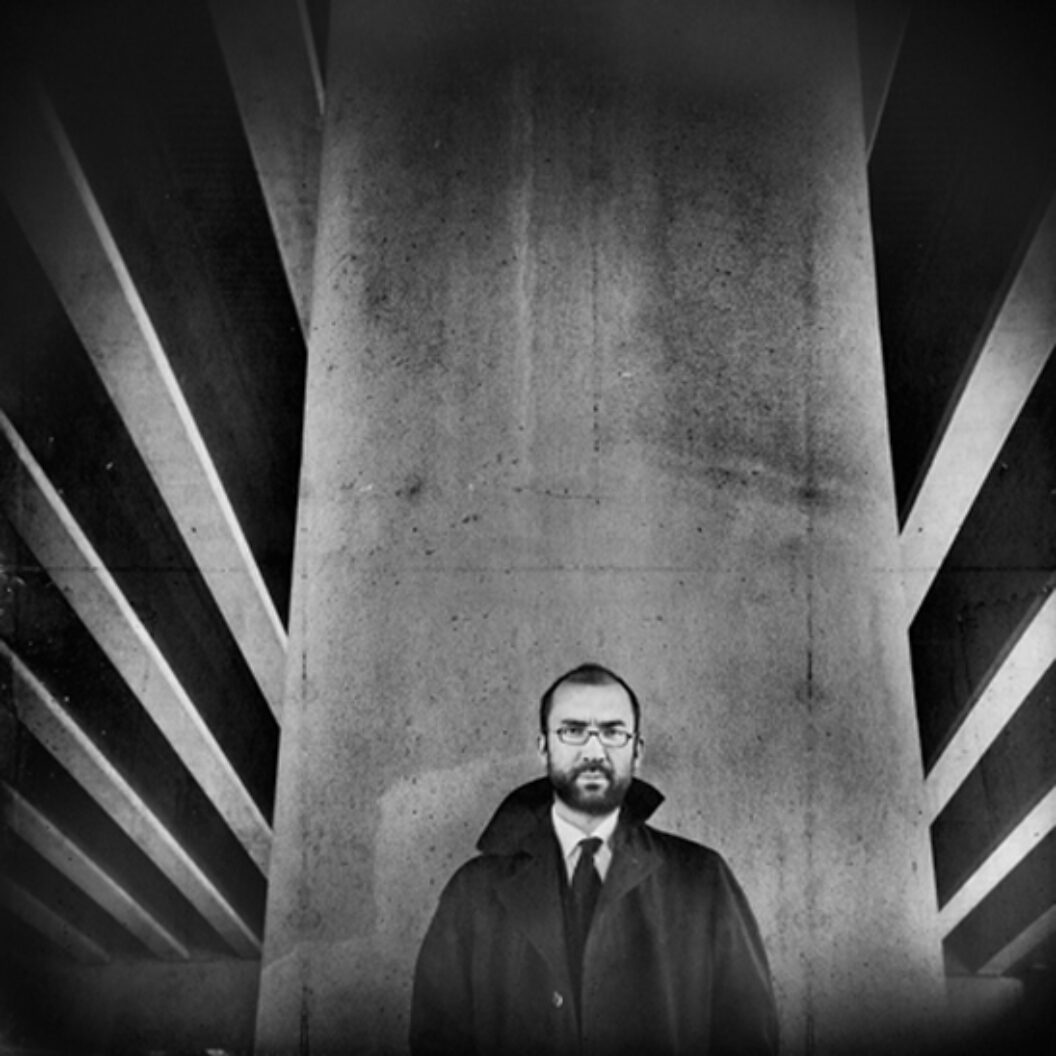 I first met Tom Hagerman back in 1994 in Colorado. We had some mutual friends at the University of Colorado in Boulder. I have seen and heard Tom play in numerous bands over the years and there were even a few times in college when we played and recorded together—cassette tapes which I have carried from apartment to apartment and city to city over the past decade and a half.
I met up with Tom in November 2011 at the Penny Arcade in Manitou Springs, Colorado to reminisce and to talk about his two solo records (which were just released) and the upcoming DeVotchKa show in February 2012. They will be performing with the Colorado Symphony Orchestra and the show will be recorded for an upcoming CD/DVD release.
Ryan Spencer So DeVotchKa just played a show for the opening of the Clyfford Still Museum in Denver, which in some ways brought you full circle from where you started; you were a security guard at the Denver Art Museum in the 1990s, right? How did this show come about?
Tom Hagerman I was actually a security guard at the Denver Art Museum in the summer and fall of 2002. I have no idea how the Clyfford Still show came about. It was just one of those things where this major art institution was opening in Denver and they wanted some entertainment for the movers and shakers of Denver that was some sort of representation of our city. Governor John Hickenlooper was there, who I think was largely responsible for getting the Museum to Denver in the first place. He's a big fan of pop music; I had a friend who was playing in John Doe's band [LA punk band X] at the Lion's Lair a few years ago and Hickenlooper was there. He was mayor back then. He pops up occasionally; we played his inauguration ceremony in January.
I can't say Denver has ever been massively supportive of the arts, with the symphony in disarray and whatnot. But the new wing of the Denver Art Museum and the addition of the Clyfford Still Museum to the cultural landscape has made a pretty large impact on our standing as a "real" city. You know, as opposed to a fake one.
RS And at the time you were working at the museum there was this very fertile community of bands and musicians in Denver that you were involved in …
TH When I was there I lived in the Capitol Hill section of Denver, below Jeffrey Paul Norlander who was in a band called The Denver Gentlemen. He was, and is, a good friend of mine and I also played in The Denver Gentleman. I was introduced to him through Paul Fonfara, who I played in a poppy goth band with years ago called Removed and who had a brief stint in DeVotchKa as well. Nick Urata [from DeVotchKa] moved in the apartment building, and pretty soon my garden level apartment became the practice spot for both bands. You basically had to walk through the boiler room to get outside—I'm sure it was totally illegal. Anyway, The Denver Gentlemen was sort of the feeder team for some of Denver's alt/goth/punk country bands (for lack of better term); Slim Cessna's Auto Club and 16 Horsepower.
RS You played Lollapalooza in 1995 with Zero Administration. You had blue hair—I know because there is a picture from my 19th birthday party in July right before the show. I still have that like a two song cassette you guys did. Was that your first brush with music as an industry, not just playing in a band?
TH Paul Fonfara got us that gig. Zero Administration was Removed's predecessor—different singer. I don't remember how we got that gig. It had something to do with KTCL radio. I remember thinking it was pretty cool being able to walk right through the gates with a bass guitar strapped on; you know, people thought we were a real band. We didn't really have a green room or anything, and we were basically opening up for the drummer from the Mighty Mighty Bosstones shaving people's heads, I think.
RS No, no—it was "Celebrity Haircuts with Dicky Barrett," the singer from the Bosstones. I was out there waiting for you guys to play.
TH Yeah, that's pretty funny. Paul gave Thurston Moore that tape that you have. Which of course made us massively commercially successful …
RS Early on you described DeVotchKa to me as "punk-rock meets polka music" before I actually heard anything. And although the band has evolved and matured, there has always been a very "gypsy" sound and identity with the band. How did that come about?
TH Nick started this band in Chicago shortly before I joined. It kind of rose out of the ashes of his old band with the bass player John Ellison. I think both of those guys had been burned by being courted by big labels and management companies only to be more or less dumped by everything. They had a very "'90s sound." I suppose they could have been really big, but it just didn't go down like that. John E ended up finding an accordion and playing songs with Nick and I think that sort of sparked the initial "old world" sound of DeVotchKa. Chicago has a massive Polish and Eastern European immigrant population. There is an old, dusty accordion in every attic.
I studied classical music, as you know. There are all of these composers that stole what they could from the Gypsies. And countless really famous violin show pieces written by people like Pablo de Sarasate, Ravel, Brahms etc., which basically took folk and Gypsy music from Eastern Europe and made the rest of Europe shit their pants in the concert hall way back a hundred fifty years ago or so.
Taraf de Haïdouks
There was also this band, Taraf de Haïdouks, which had just come on the radar in America that I was really into around the time DeVotchKa was forming. I can't say I ever wanted to sound like a gypsy band; it's impossible. You hear a Taraf de Haïdouks record and you just can't emulate that with traditional classical training. People try, but it always falls slightly flat; it sounds insincere. They are the real deal from Romania who had been trained by generation after generation of masters of Gypsy music. I grew up skateboarding in Colorado Springs, reading comic books, and studying with a very angry lesbian violin teacher.
RS I saw DeVotchKa play at Spiegeltent in New York in 2006. It was shortly after Little Miss Sunshine came out, which you all did the music for, and it really piqued interest in the band. And the band also had established a real identity at that point; I was hearing the music in commercials and on the radio, you got signed to a label, you had a stylist. Was it hard to fulfill the expectations people had while moving forward creatively?
THI think it happens to a lot of bands when the sort of beginning of the successful period starts to happen you, kind of don't know how to deal with it. Even having management and what not in place, you don't have the protocol of how to deal with these new situations. I can say at the time my girlfriend (now wife) was pregnant, I broke my hand, there was a massive breakdown in communication within the band and our management. It was difficult. Ultimately you either get over all of that and make records or you implode.
RS I definitely think of DeVotchKa as a "live band"—the shows have everyone clapping and stomping and singing along. Nick's girlfriend, Alex, has this amazing aerial tapestry dancing routine. However, you said that now with all of the technology making it so easy to record and share music digitally that it's more and more difficult, or maybe unnecessary to get you all in to the same room. Has this changed the "live" performance aspect of being in the band?
THI think it is completely necessary to get into the same room to get ready for live shows. Our problem is that we're getting older and all of our lives are busy; Nick is in LA half the time scoring movies, some of us have kids; we all have other lives. It's hard to make rehearsals happen and I think more and more we take on side projects that need to be finished with a deadline so you just have to do things sort of independently of each other.
For the last DeVotchKa record 100 Lovers I ended up writing a ton of stuff in my garage, bringing it to Shawn [King, who plays percussion and trumpet], fleshing it out with him and Jeanie [Schroder who plays sousaphone and double bass], sending files to Nick [Urata, who sings and plays Theremin, guitar and bouzouki] in LA and having him write lyrics, and sort of all meeting in Arizona at Wavelab [the recording studio] to record it all.
RS And you just put out a solo record called Water Music, which is the score for Where Have All The Mermaids Gone?, a documentary about fishermen in Montauk, right? I haven't seen it yet, but the music is a real departure from Devotchka as well as your solo stuff. How did scoring a film change the way you worked?
TH I have to say I really enjoyed working on that, even though I'm not sure how listenable the final record is, really. The first 15 minutes of the film score is a little drony and dry, and I thought about hacking out a lot of that from the record. I was seeing the movie in my head as I listened to the record—it tells the whole story of these guys on a boat.
I tried different approaches with that movie and for the most part, the director gave me carte blanche to do whatever I wanted, but after awhile he kept steering me into directions saying things like "make it more folky." I think he didn't want it to be to grandly orchestral sounding, which can happen quickly if you use too many strings on things. So I just started playing electric guitar on everything because that was the sound he was looking for. And I don't know how to play guitar very well, which made it even more fun. In fact, I had to borrow one to do the recording.
I know I said this before: "Film scoring is where rock and roll musicians go to die." And that's true in a way. What do you do when the industry is done with you and spits you out without any sort of practical job skills? But it also is a really creative outlet for making instrumental music if you are working on the right movies.
RS Well, maybe not "go to die," I hope, since we're the same age, but definitely where you can have an identity outside of a band. You've also made two solo records: The Breakfast Playground which came out a few years ago and Idle Creatures which was just released. They aren't scores to anything, but I guess since maybe I'm not a musician but a visual artist they definitely conjure very specific images in my mind, like the soundtrack to an imaginary Jean-Pierre Jeunet film; the songs are alternately, or I suppose simultaneously, whimsical and sinister. And Breakfast Playground especially has a childlike quality, but more like an Edward Gorey or Tim Burton vision of childhood, not Disney. What was the inspiration or concept for that record?
TH The Breakfast Playground came out of my first tinkerings with digital recording. I had a tape 4-track that I always messed around with, but they are a little limited as to what you can make. Jeffrey Paul set me up with my first computer and some cracked software back in 2003. There were all of these Denver Gentlemen and DeVotchKa instruments laying around so I would just start playing and recording whatever. Some of the music became demos for DeVotchKa material and ended up being turned into songs. The original versions of "Charlotte Mittnacht" [from How it Ends and "The Clockwise Witness" [from A Mad and Faithful Tellingare on that record. A lot of toy piano's and Jeffrey's cool old miniature spinet piano, and that sort of thing ended up on there. There is this mall in Denver that had a playground with all of this rubberized, over-sized, breakfast playground equipment that the kids would run around and play on. I recorded noises there on a digital camera, which I knew would look sketchy; you know, a grown man walking around a playground recording audio on a digital camera looks pretty fucked up so I sent my daughter around to get audio. It became the theme for the record. As far as the Jean-Pierre Jeunet sound—I love his movies, and for sure I was getting a lot of Yann Tiersen comparisons with that record. I wrote Charlotte Mittnacht on the piano, I saw Amelie and suddenly I cranked out a bunch of material on the accordion that sounded an awful lot like Yann Tiersen. It taught me a lot about how to play that instrument.
RS And Idle Creatures is much more mature in a lot of ways. Not just the songs, but the arrangements, the production, the instrumentation. What was different in recording that album?
THI think this new record was less of a sort of tinkering with digital recording and more sort of tinkering with scoring. There are a lot of musicians on that record. I didn't just overdub all of the parts myself like I had before. It's just not all me overdubbing; the material started with me handwriting out the main theme with a piano and fleshing it out using music notation software. To be perfectly honest, I'm starting to feel more like a data entry guy than a musician! I need to get away from the computer. I've been involved in a lot of scoring projects lately and it seems that the computer is really the only way to transfer that music to paper where musicians can actually read it. I wish I was Beethoven and could get ideas straight from head onto paper, but I'm not.
RS Right now you are working with a very large live ensemble; you are scoring an entire symphony to accompany DeVotchKa for a show in February with the Colorado Symphony.
TH Yeah, this is one of the scoring projects that I was talking about … and it is by far the biggest one I have ever done. I've never worked with an ensemble this large, or this professional. The Colorado Symphony is a union orchestra and I believe it's the only full time orchestra in Colorado. It is intimidating, to say the least, but the DeVotchKa records have a lot of instrumentation on them all ready, so I had a lot of the foundation already done. 100 Lovers, the last DeVotchKa record, had an octet of string players which I had already scored out. But it's a different level translating that to a full orchestra.
RS And this is going to be put out as a live album, right? You said that DeVotchKa is no longer on your previous label, ANTI, so are you putting it out independently?
TH It is being recorded for sure. I don't want to say for sure it'll be put out as a live record. Anything could happen. The hard drive or tape or whatever could get wiped out. There could be a total train wreck on stage or I might have a nervous breakdown. Who knows? As far as releasing records independently or not, I don't know. It is a different climate within the record industry now. Lots of artists are doing it themselves. We started out doing it ourselves and our most successful record thus far, How It Ends, was released independently in 2004. ANTI is an amazing label filled with great people and great artists and I can't say for sure what we are doing for the next record. I know that we have fulfilled our end of the recording contract with ANTI and, in that regard, we are free agents.
RS The covers EP Devotchka put out in 2006, Curse Your Little Heart, was great. And last year I saw you and Nick play "Only Love Can Break Your Heart" as part of a Neil Young tribute performance and later with the band. What are you listening to now and can we look forward to any new covers at the upcoming show with the symphony?
TH DeVotchKa has been tossing around ideas for a cover tune for the symphony gig, but at this point it's getting a little late. I don't think I'll have time to score the thing unless we pick it out immediately. And I can't really say what I'm listening to now; I guess I listen to a lot of children's music, because it keeps my kids happy. A lot of it isn't so fun to listen to. I checked out the Winnie the Pooh soundtrack from the library though. I played violin on one of the songs that M Ward and Zooey Deschanel did. I love that soundtrack, my kids love that soundtrack. The movie is amazingly good as well. So, yeah, that's what I've been listening to.
DeVotchKa will be playing shows this spring, including an appearance with the Colorado Symphony in Denver on February 18th and an acoustic set with The Magnetic Fields in New York on April 3rd and 4th, 2012.
Ryan Spencer is a photographer currently living and working in Brooklyn, NY.