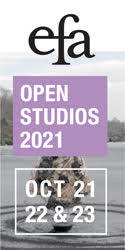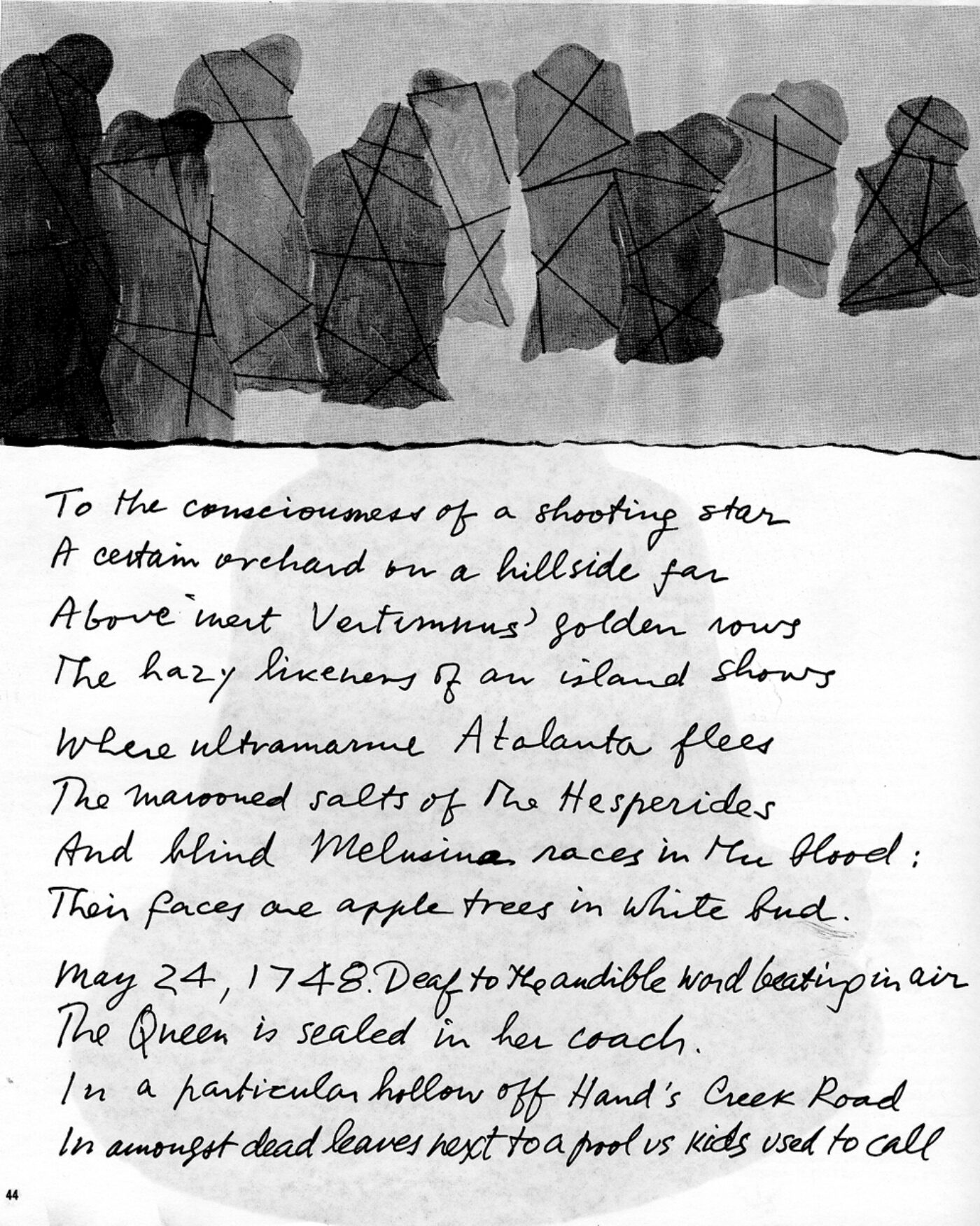 To the consciousness of a shooting star
A certain orchard on a hillside far
Above inert vertimnus' golden rows
The hazy likeness of an island shows
Where ultramarve Atalanta flees
The marooned salts of the Hesperides
And blind Melusina races in the flood:
Their faces are apple trees in white bud.
May 24, 1748. Deaf to the audible word beatings in air
The Queen is sealed in her coach.
In a particular hollow off Hand's Creek Road
In amongst dead leaves next to a pool us kids used to call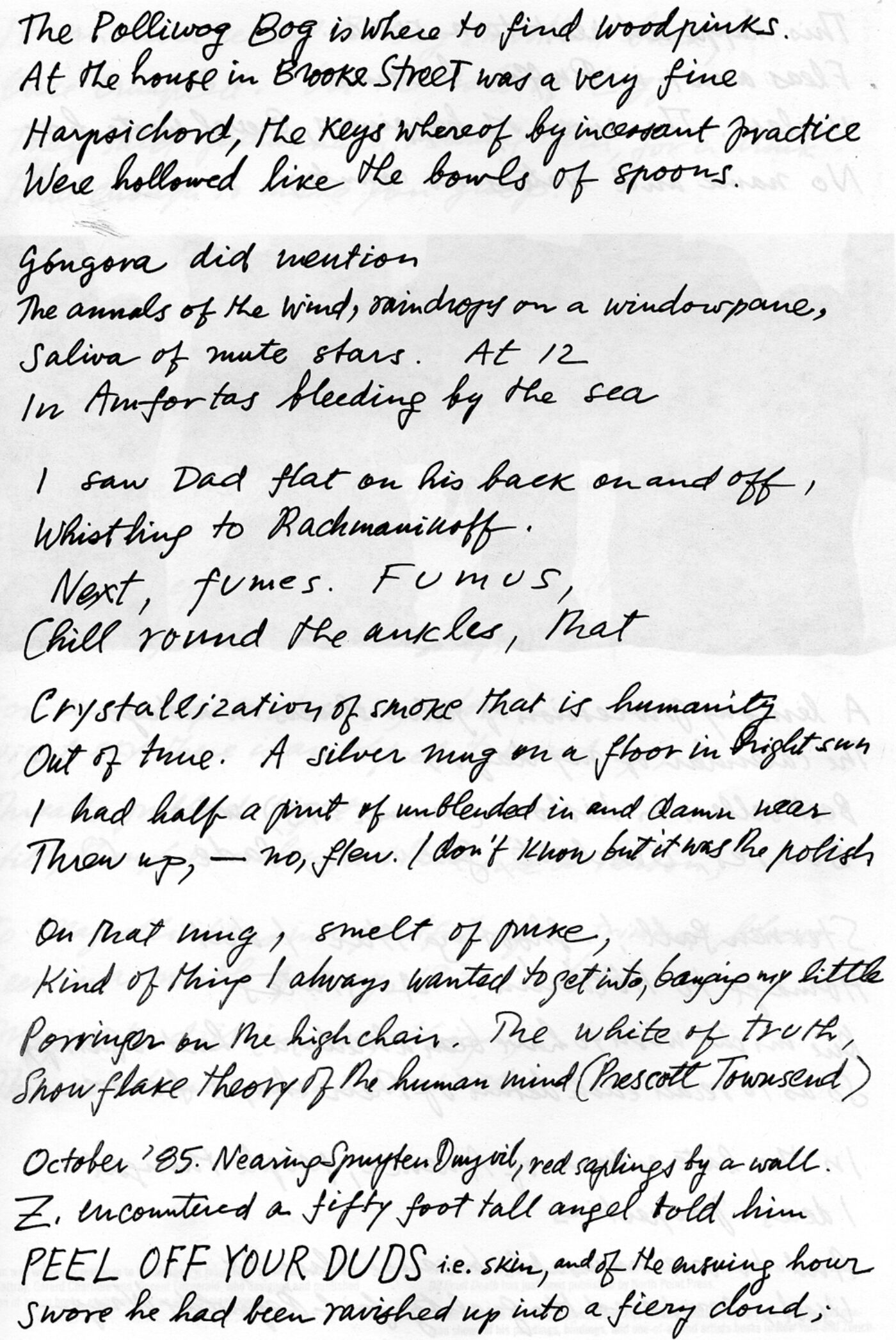 Gongona did mention
The annals of the wind, raindrops on a windowpane,
Saliva of mute stars. At 12
In Amfortas bleeding by the sea
I saw Dad flat on his back on and off,
Whistling to Rachmaninoff.
Next, fumes. FUMUS,
Chill round the ankles, that
Crystallization of smoke that is humanity
Out of true. A silver mug on a floor in bright sun
I had half a pint of unblended in and damn near
Threw up,—no, flew. I don't know but it was the polish.
On that mug, smelt of puke,
Kind of thing I always wanted to get into, banging my little
Porringer on the high chair. The white of the truth,
Snow flake theory of the human mind (Prescott Townsend)
October '85. Nearing Spuyten Dayvil, red saplings by a wall.
Z. encountered a fifty foot tall angel told him
PEEL OFF YOUR DUDS i.e. skin, and of the ensuing hour
Swore he had been ravished up into a fiery cloud;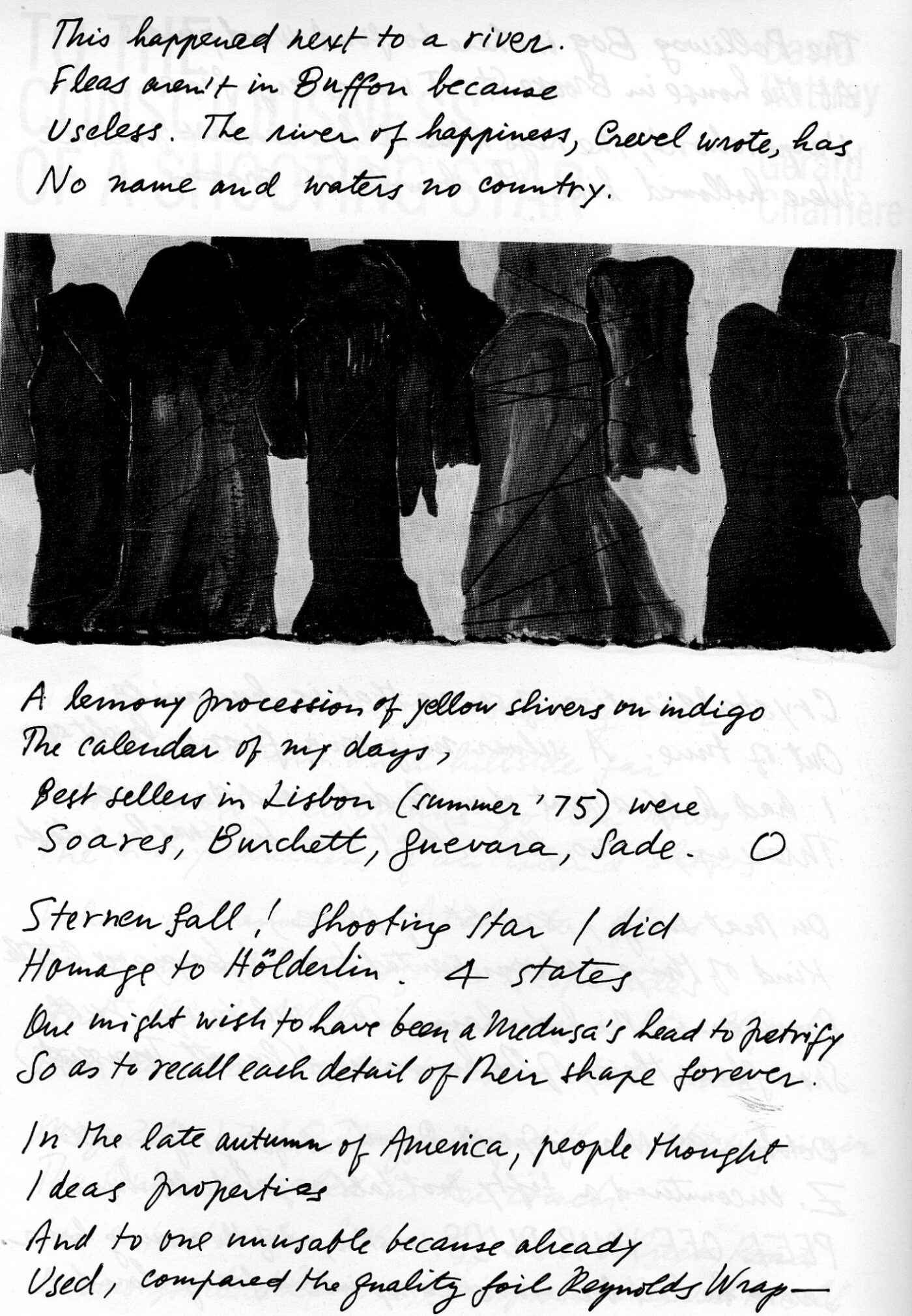 A lemony procession of yellow shivers on indigo
The calendar of my days,
Best sellers in Lisbon (summer '75) were
Soares, Burchett, Guervara, Sade. O
Sternen fall! Shooting star I did
Homage to Hölderlin. 4 states
One might wish to have been a Medusas's head to petrify.
So as to recall each detail of their shape forever.
In the late autumn of America, people thought
Ideas properties.
And to one unusable because already
Used, compared the quality foil Reynolds Wrap—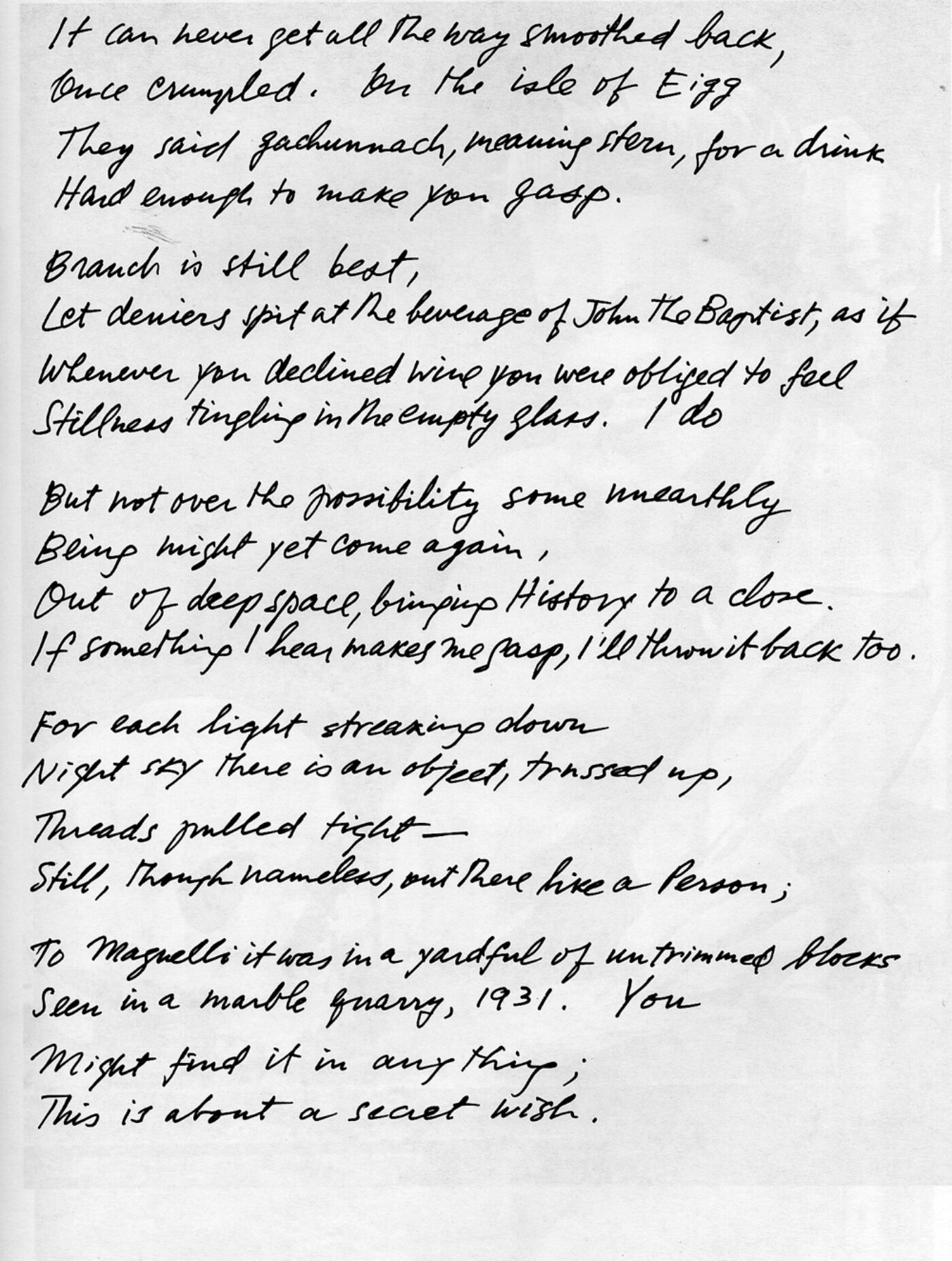 Brauch is still best,
Let deniers spit at beverage of John the Baptist, as if
Whenever you declined wine you were obliged to fail.
Stillness tingling in the empty glass. I do
But not over the possibility some unearthly
Being might yet come again.
Out of deep space, bringing History to a close.
If something I hear makes me gasp, I'll throw it back too.
For each light streaking down
Night sky there is an object, trussed up,
Threads pulled tight—
Still, through nameless, out here like a Person;
To Magnelli it was in a yardful of untrimmed blocks
Seen in a marble quarry, 1931. You
Might find it in anything;
This is about a secret wish.
This poem was written in response to the images. It resulted in a collaboration among David Rattray, Gérard Charrière, and Vincent Fitzgerald, who designed and published an edition of seven books, each handwritten with original poems.
David Rattray is a writer who lives and works in New York. His translation of Réne Crevel's Difficult Death has just been published by North Point Press.
Gérard Charrière was born in Switzerland and studied bookbinding in Paris. He has had one-man shows of his paintings, bindings, and one-of-a-kind artists books in New York and Zurich.
Originally published in
Martin Amis, Gretchen Bender by Cindy Sherman, Charles Henri Ford, and Roland Joffé.