To Project with Intention: Claude Lawrence Interviewed by George Negroponte
Painting's proximity to music and performance.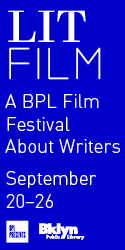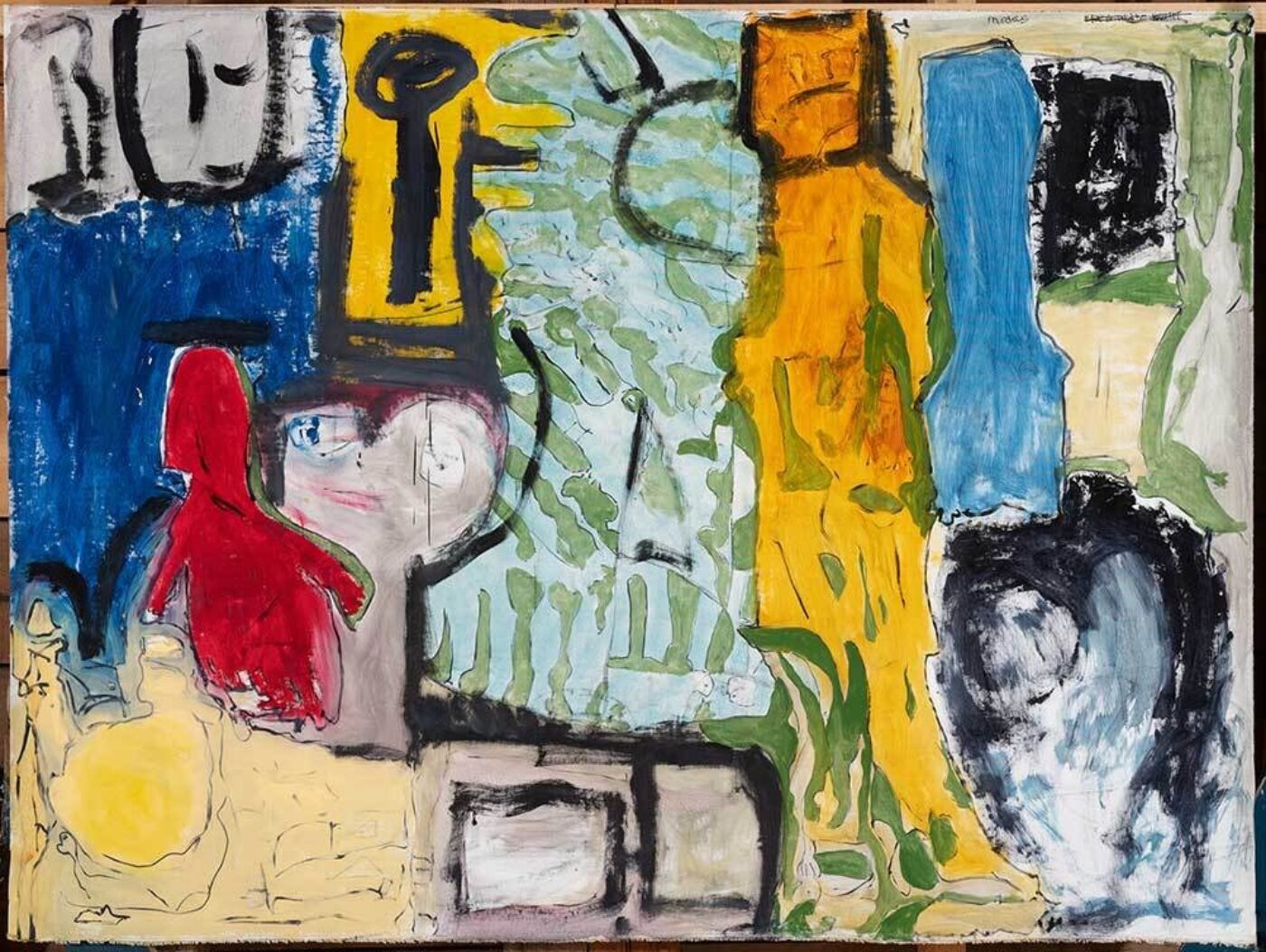 Claude Lawrence was born in Chicago in 1944, a time when a large Black working class was moving into the city from down south, often referred to as the Second Great Migration (1940–70). Chicago was preordained to become a significant capital for music and the arts. Most musicians in Chicago developed a recognizable style of their own by assimilating the blues and creating a legendary new sound. By the early 1940s, Chicago had over 200,000 African Americans living in the city; as Lawrence says in our interview below, in those days Chicago had "juice."
Lawrence grew up fascinated with painting and jazz. He picked up the saxophone at fourteen and played it through high school. Six years later, Lawrence bolted to New York City with two dollars in his pocket and tried his hand as a professional musician. From 1964 to 1968, he bounced between New York City and Chicago, playing at various jazz clubs on a steady basis until he settled in NYC for an extended period in 1968. The following fifty-three years have taken Lawrence countless places as he transitioned from full-time musician to full-time painter. After the mid-eighties, and as a painter, Lawrence accumulated a lot of mileage points: NYC from 1986 to 1989; Stockbridge, Massachusetts,1989–90; Los Angeles, 1991–93; NYC again, 1993–94; Sag Harbor, New York, 1994–98; Philadelphia, 1998–99; Chicago, 1999–2001; Sag Harbor, 2001–6; Mexico City, 2006–10; and Chicago again from 2010 to the present, culminating with a year in France! During this time, Lawrence has produced a tough, direct, and evocative body of paintings.
From the end of April until May 23, Lawrence and his fiancée, Leslee Howes Stradford, are the artists-in-residence at The Church in Sag Harbor, a nonprofit art center founded by artists April Gornik and Eric Fischl. Together the latter purchased a former Methodist church built in 1832 and spent several years creating a spectacular space devoted to culture. The founders applied their touch to all aspects of this gorgeous and exceptionally well-planned place. As Fischl said recently: "We want the Church to stand as a beacon of hope and renewal."
—George Negroponte
George Negroponte Where are you? You must be asked that question a lot!
Claude Lawrence Ha. Yeah, "return to sender, address unknown." I'm outside Paris. My fiancée, Leslee, and I were invited to a residency at Chateau Orquevaux in France in March of 2020. Then the pandemic hit, and we opted to stay. We rented a twenty-five room chateau in Ecot-la-Combe about twenty minutes away, and I've been painting here since.
GN You've spent a lifetime traveling from one place to the next. Georgia O'Keefe had Hawaii. Edward Hopper loved Cape Cod. But you're continually on the move. Now back to Sag Harbor a third time! Must feel triumphant.
CL You bet! I put my house and studio on my back a lot, always on the move. Residencies make sense to me because, like for many other artists, travel is like food to me. Making paintings has always taken me places. I thrive on it! Wherever I go, I always find a place to work. I'm lucky.
GN Did you have a productive year in France?
CL Had a very productive year! The pandemic made me focus, and nothing else mattered very much. It feels like the tone of the new work changed some, a little somber and solemn. We were in a small village with less than fifty people; it was like blessed isolation.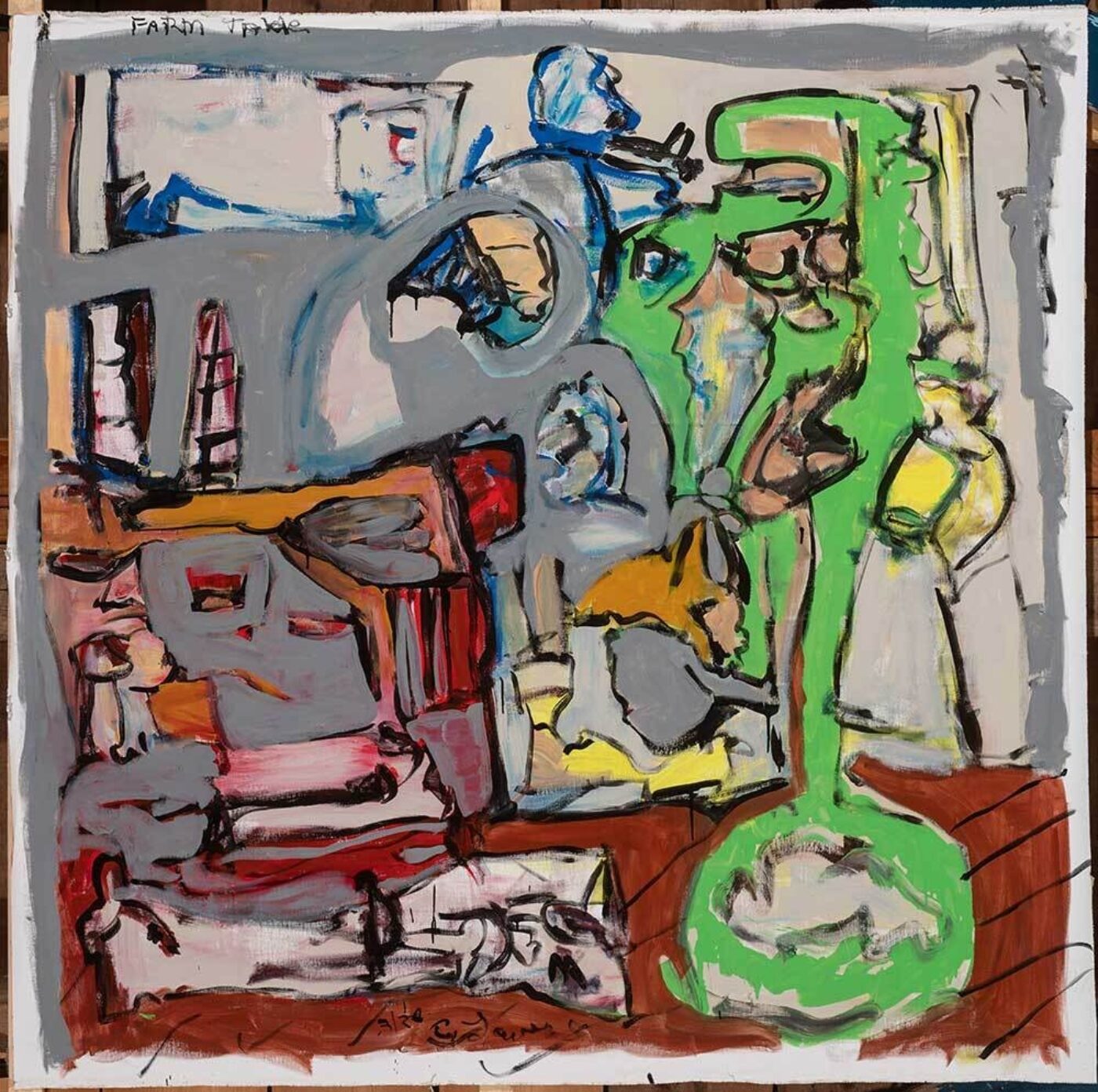 GN Tell me about your beginning. You were born and grew up in Chicago in the 1940s. By many accounts, it was a period of promise. Is that what you remember?
CL Chicago in the '40s: tough place, poor, crowded. I must have had a couple of dozen fistfights by the time I was eight years old. The only thing going for the city at the time was a sort of urbanization—that's where the juice came from. There was a rite of passage for a young man in my neighborhood: you had to be able to box, shoot a little pool, dress well, and dance. Keep it coming.
GN So the music started then?
CL My earliest musical memories were jazz and bebop. In Chicago, there was an influx of families from the Mississippi, and they brought the blues. Jazz was there already. I started playing the saxophone at fourteen. I went to a vocational school for commercial art and instrumental music; a few of my classmates were Fred Brown, Anthony Braxton, and Jack DeJohnette. Music was everywhere: we listened to Howlin' Wolf, Sonny Boy Williamson I & II, Nat King Cole.…
GN I know Muddy Waters arrived in Chicago in 1943 and recorded with the Chess Brothers.
CL Fred Brown was more aware of the blues scene. When I stayed with Fred on Wooster Street in NYC in the '70s, his paintings packed stories about our early days in Chicago.
GN I was on Wooster Street in 1975.
CL Damn, what a coincidence; I was there too, at Fred's loft. I took a couple of lessons with Ornette Coleman on Prince Street. I remember some great conversations with Frank Bowling, Peter Bradley, and Edvins Strautmanis.
GN What or who took you to NYC the first time?
CL I first went in 1964 at the age of twenty and skipped off the bus with two dollars. Because that's where the Cats were. Funny thing, one of the first people I met was Jack Whitten. Most visual artists had a strong affinity with jazz musicians. It took a few trips; I finally moved there in '68.
GN Seems like you had an eye on the painters.
CL It felt like a natural extension. Making art was always a big deal for me. I did my first illustrated book when I was four. In the mid-'80s, I was in NYC again for a while. I was performing a lot. I went to a psychic, and she told me it was time for a change. I heard what I wanted and was painting full-time three weeks later. My feeling then was that there were no rules to making a painting. NYC made everything feel wide open, and I jumped.
I spent the '70s in NYC; I was married and divorced. I had girlfriends around town and lived in several lofts. One place was on White and Broadway right across the street from the Mudd Club. I had the top floor. I was playing with the Last Poets at the time, and we made an album. They were early rappers.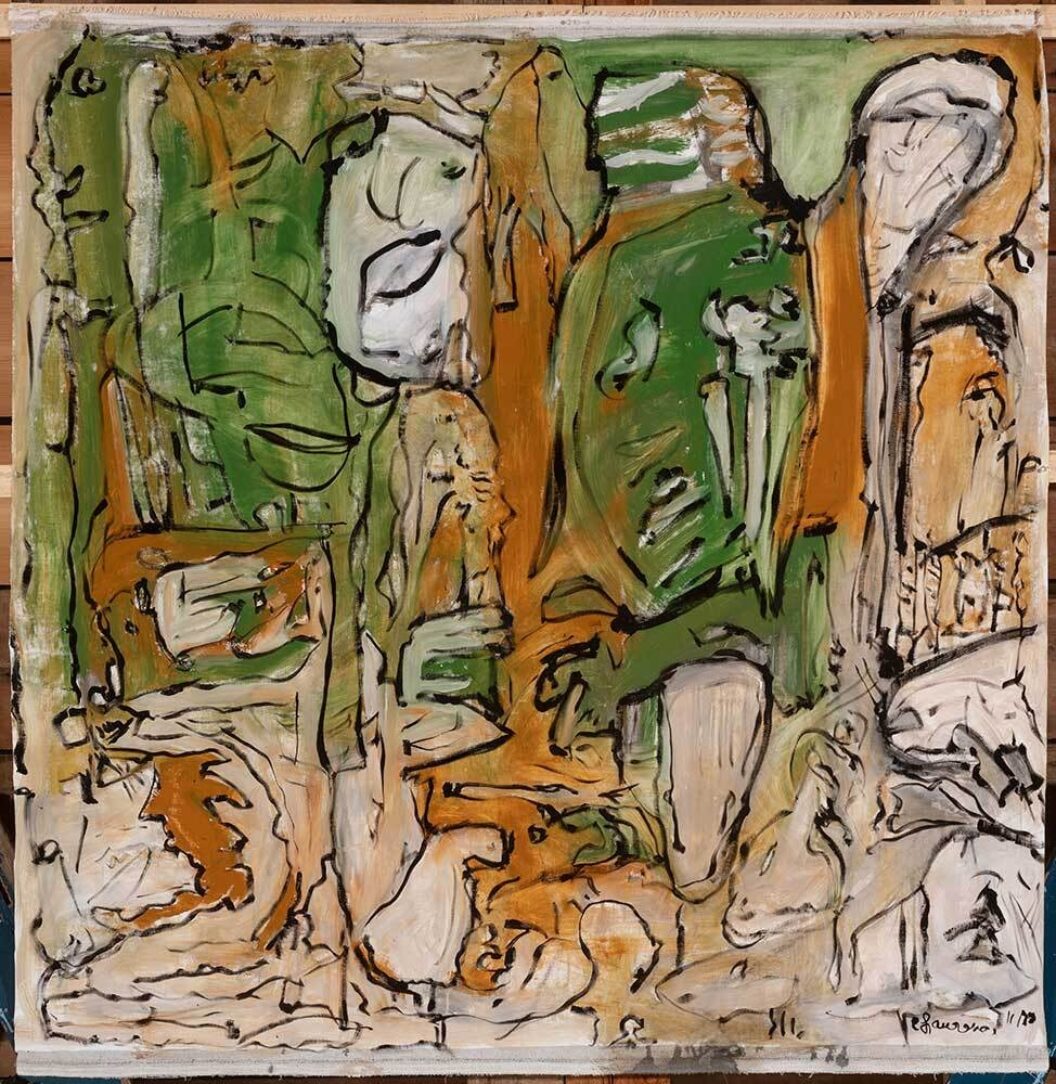 GN Let's fast-forward to the more recent paintings. The larger paintings have even more presence; you move freely from one to the next. Self-possessed and assertive.
CL It's been a big moment. George, you wrote that my painting The Gathering (2020) was an "elegy" and a "head-on collision"!
GN That painting is epic, a summation! I compared The Gathering to Jackson Pollock's Portrait and a Dream from 1953. It was the pluralism of both paintings that struck me. Both works are unsettling to me, and the symbolic slant of Pollock and you is authentic.
CL Seems like we're moving to the same music. Smart!
GN His imagery and his body in motion made for a ritual he called painting. Is he relevant to you?
CL Not entirely because his challenges are not mine. I'm just an instrument when I paint; I "succumb" to purpose. But Pollock, yeah, I consider him one of the few artists who crossed over which is hard to explain. But when signature uniqueness is achieved, that's the sum total.
GN Didn't Pollock say the same thing?
CL I get that. But I come from a different place. Pollock needed to define painting, give it an American name. I don't have that burden. He had filters to deal with; I don't. I aim to focus my energy. To project with intention and make a mark. I trust the mark I make is MINE, genuinely mine. The organization of any or all of this is physical. I mean intuitive—my place in time and space. Each painting is a performance.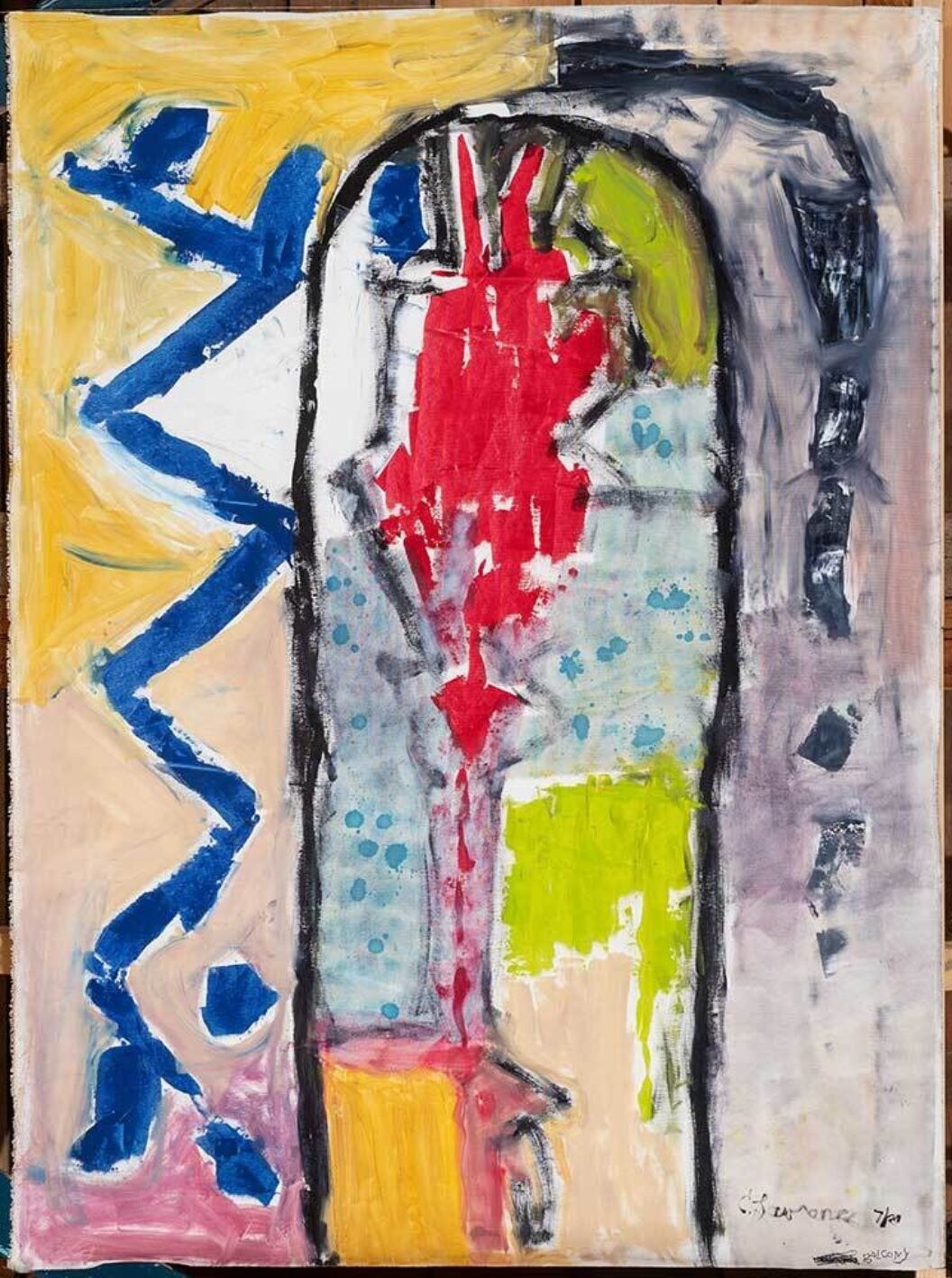 GN It sounds like leaps and surges. But I bet the day-to-day is something else. You used the word "ruminations" in a title of a recent painting. Sometimes your work comes across like throwing fists and elbows. But there's a slower side too.
CL You spend a lifetime trying to say something, make something that feels real. It stacks up in your head; the images keep coming back. If you get stuck there, you can get lost. Regret could kill a painter. It's my time to keep moving forward. The force is with me now. My energy is there. All I need is to stay focused.
GN My mother used to tell me, "Be like a duck. Stay calm on the surface and paddle like hell underneath."
CL That's cool.
Claude Lawrence is an artist-in-residence at The Church in Sag Harbor, New York, until May 23. Tickets to tours of The Church are available here.
George Negroponte is a Greek-American artist living in the Springs, New York.