Chris Kraus and Douglas A. Martin conjure the iconoclastic author.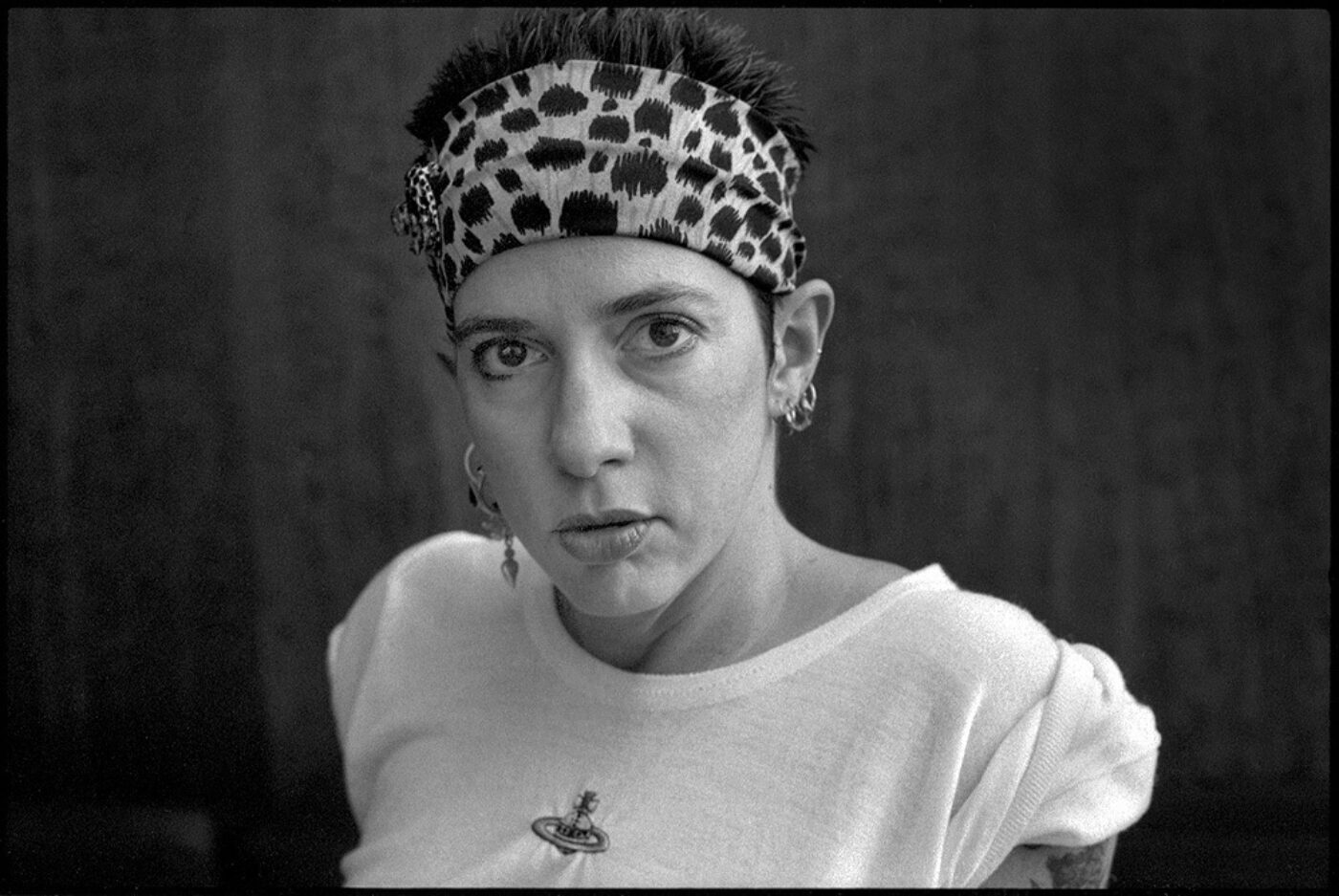 Kathy Acker catapulted to prominence as the enfant terrible of American literature in the 1980s—in New York, she was infamous; in London, she became famous. She aimed to sculpt herself into an icon of literary creation and destruction to be worshiped at the altar of evil sainthood alongside canonized experimentalists like William S. Burroughs and Jean Genet, and for a time she succeeded.
Two new books explore the life and work of Acker, who died almost twenty years ago of cancer, at the age of fifty. After Kathy Acker (Semiotext[e]), by Chris Kraus, is an informal biography that mines Acker's formative influences—her raucous relationships, her inflammatory views, her unconventional writing process, and her dedication to crafting a life outside mainstream norms. Acker (Nightboat), by Douglas A. Martin, is a rumination on Acker's methods, an incantation to her relentless experimentation, and a meditation on the process of honoring the impact of a personal hero.
Both books are meticulously researched works by accomplished authors who, like Acker, thrive in the realms of self-disclosure and structural experimentation. And, as a testament to the talents of these writers, both books manage to maintain a casual air alongside rigorous critical engagement. Known for appropriation—Acker threw Cervantes, Colette, Dickens, Sade, Bataille, pulp novels, paperback porn, and anything else that captivated her awe or disdain into the blender, and worked the resulting chaos into her own stories until everything collapsed—she wanted to end narrative as we know it. And so it's a fitting tribute that two very different books on her work emerge at the same time. The intermingling of these two works allows for a far deeper understanding of Acker's creative process, which was more like collage, sampling, surrealist cinema, or aggressive psychotherapy than conventional writing modes.
Both Martin and Kraus have clearly devoured all of Acker's work; have scoured her archives for letters and unpublished drafts; and have spoken with many of her friends, lovers, and collaborators. Sometimes Acker and Martin see eye-to-eye (or "I-to-I," as Acker might have said), and sometimes they disagree. Surely Acker, who highlighted contradiction in her work until it became its own form, would have seen herself in the ambiguity of these differences of opinion.
Kraus traces the development of Acker's writing methods to seminars she took with David Antin at the University of California, San Diego, in the late 1960s, after the completion of her undergraduate degree. Antin taught students to "find someone who's already written about something better than you could possibly do," and then to take that text, combine it with another text, and create something new. Martin, however, barely mentions Antin, and focuses on the influence of Burroughs's "cut-up" techniques in helping to form Acker's sensibilities. But, Martin adds, "When no one man leads us no single form will hold us," a statement that is as much a philosophical stance as a reading of Acker's process.
"But to lie is to try" is Kraus's pithy summation of Acker's self-creation in writing and life, as well as her tendency to invent origin myths connecting her to the lineage of famous men. How can one develop a cohesive biography of someone who eschewed notions of linear truth? While After Kathy Acker is promoted as the "first, fully authorized biography" of Acker, a designation that Acker would surely have found hilarious, Kraus admits that, due to the difficulty of establishing any kind of certainty about many of the details of Acker's life, it "may or may not be a biography" at all. Perhaps this could be said of any biography—Kraus's candor separates After Kathy Acker from the dry reiteration of facts standard to this type of examination, and gives the book a propulsive energy.
While Kraus spends the majority of her book tracing Acker's life, her wry observations on Acker's methods are what stand out: "Acker worked and reworked her memories, until, like the sex she described, they became conduits to something a-personal, until they became myth." Martin's description of how Acker collapsed binaries in order to create new forms fits right in here:
Self and other, subject and object, high and low, literature and pulp, love and body, she wants these to turn over; isolation taken down by love, the contained or open-ended, holy and debased, East and West, beautiful and ugly, the vertical and horizontal, organized and scattered organic, standing-up and lying down, the writer erected, reader, creator, receiver […]
Kraus adds, as if continuing Martin's thoughts: "She was hoping to write her way into a void: a state of hollowness she felt inside and out that might still lead to all possibilities." Italics in both books signify an excerpt from Acker's own writing (lead to all possibilities is from one of Acker's letters). Both Kraus and Martin dispense with conventional footnoting, which allows Acker's work to blend evocatively with their own, although Kraus's book includes forty-seven pages of endnotes, whereas Martin's citations are all contained within his diary-like text—a series of numbered, untitled, dreamlike entries. In one of them, Martin mentions a conversation with Kraus after she reads his doctoral thesis on Acker. She wants to confirm a letter that Martin references, from Acker to her birth father in 1976. She can't find it in the Acker archives at Duke University.
In After Kathy Acker, Kraus doesn't mention the (presumably unsent) letter, but emphasizes that the disappearance of Acker's birth father three months into her mother's pregnancy "haunts all her work, and yet she had full name, address, place of employment, and chose not to contact him." Martin, though, is more interested in a hybrid form of all-encompassing literary analysis, an embodiment through language, a fusion with Acker's work, than in any kind of linear biography. "In Acker," he writes: "we will never be far from working and reworking definitions of who is normal, who has value, who is abominable and how and why, who is sick and who is sane, who should be confined, who is made to feel they warrant space, how, who belongs, and who doesn't." It's in these moments that Acker almost becomes a manifesto, and Martin tells us why: "It was this work that kept me alive."
Kraus's motivations are harder to pinpoint. For a writer who, like Acker, famously places herself as a character at the center of her work, she is curiously absent from the pages of After Kathy Acker. She describes her impressions of Acker's private 1997 memorial in detail at the beginning of the book, and briefly mentions attending one of Acker's readings in New York in 1980 ("Her performance that night was indelibly charming and brazen."), but doesn't reveal any encounters in between. And yet, Kraus, like Acker, lived in New York in the 1970s and 1980s, and her subtly scathing insights about the downtown art world they both inhabited are keenly hewn by her insider status. Kraus describes Acker's three-year relationship in the late 1970s with Sylvère Lotringer, who later became Kraus's husband, but she never discloses whether there were any personal connections between Acker and herself.
Acker, who railed against every aspect of the nuclear family, would have been unlikely to leave the wife of a recent lover out of her own writing—through the veil of fiction, Acker invoked, satirized, and provoked almost everyone in her life. Martin points to a part of Acker's My Mother: Demonology, where she writes, "one of my ex-boyfriends, another tour member, had abandoned me for the woman who was now his wife," and assumes that the woman in question is Kraus.
Acker was both intensely public and fervently private, fractured in her intimacies and disclosures, meticulous about cultivating a public persona, deeply attached to falling apart, and these two new books render her in all her complications. Read together, they do even more—Acker is in the texts, yes, but she is also in the gaps between them.