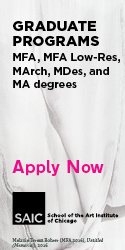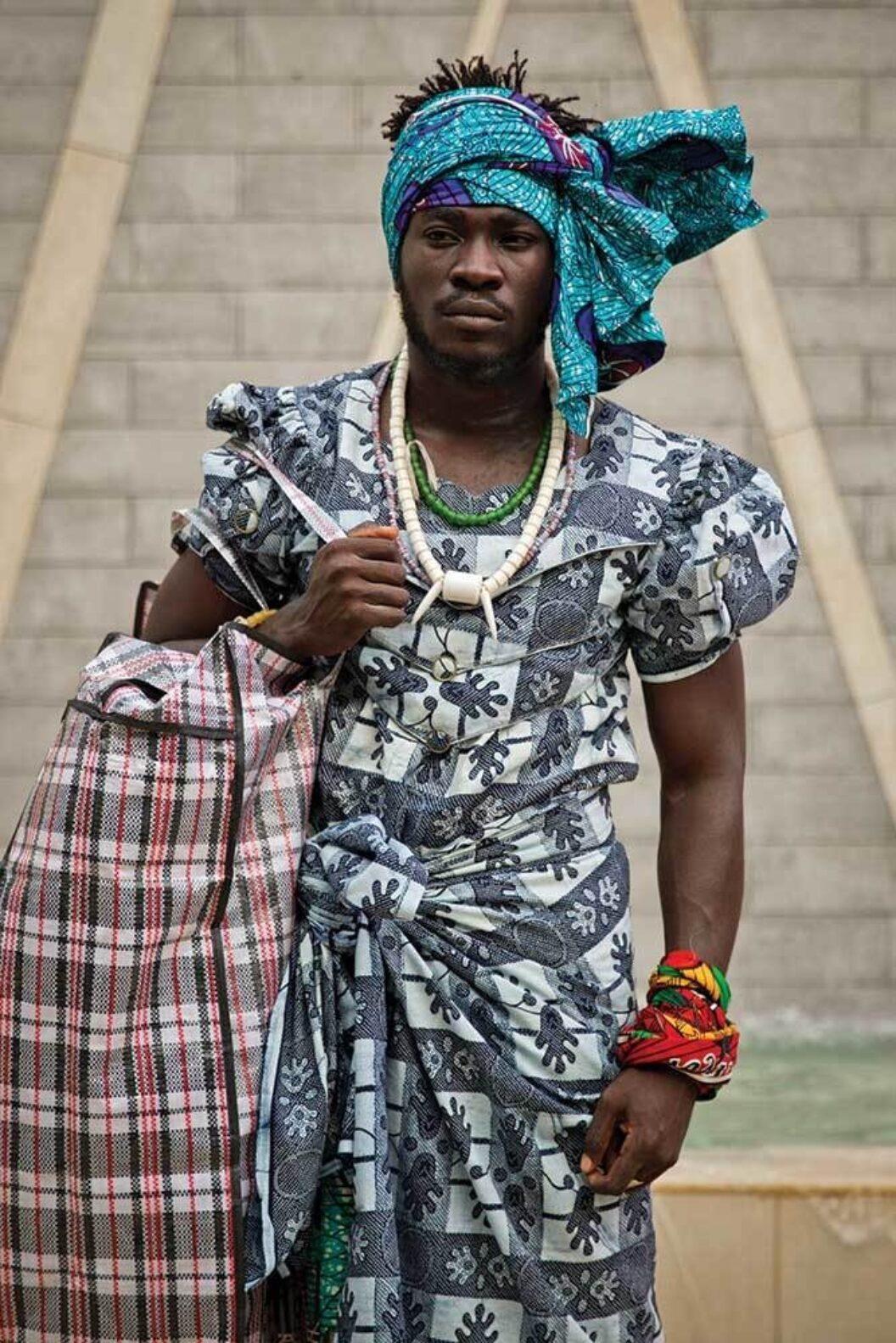 I.
The water of the Donko Nsuo River—known to some as the "Slave River"—is surprisingly calm, its crispness in stark contrast to the thick air of the Assin Manso forest. "You may now enter the water," were the instructions, delivered by our local Ghanaian guide moments before. One by one, we ease our feet into the shallow edge, resting them between grass and stone. In a timid chorus, each of us bends down to let the water gather in our palms. We lift our hands to our temples, to our forearms. The salt of our tears mingles with the freshwater. We don't look at one another as we walk away. As we near the bus, a group of children surrounds us. Thin arms link with my own, our browns mingling. I begin to leave. Several sets of shiny gray and black eyes remain intent, saying "take a picture" or "stay with us."
It is the Year of the Return—400 years have passed since the first African slaves arrived in the English colonies in Virginia in 1619. I am traveling as a faculty chaperone with a group of multinational college students on a political education trip to Accra. On the Gold Coast of West Africa, the British and Portuguese built sixty forts for enslaved captives during the time of the slave trade; in Ghana there were forty-four. Africans were taken to the Donko Nsuo River to have their "last bath" before they were violently picked over, separated, and taken to one of the forts before being forced to board the slave ships. Our group made the drive to the Donko Nsuo near the end of our trip. As we drove, the coastline softened our concerned gazes. The bus parked; each of us hastily dismounted and rushed toward the endless sky and abrasive salt of the waves, stopping to place our hands in the water.
"They Clapped"
by Nikki Giovanni
they clapped when we landed
thinking africa was just an extension
of the black world
[…] allegiance to the mother land
not knowing despite having read fanon and davenport
hearing all of j.h. clarke's lectures, supporting
nkrumah in ghana and nigeria in the war that there was once
a tribe called afro-americans that populated the whole
of africa
With each roll of the tide, plastics and debris tumbled onto the shore. Some of us began to laugh, cracked open and gratefully unmoored. Others of us dug our hands between the coppery sand and cockles, afraid to look into each other's darkened eyes.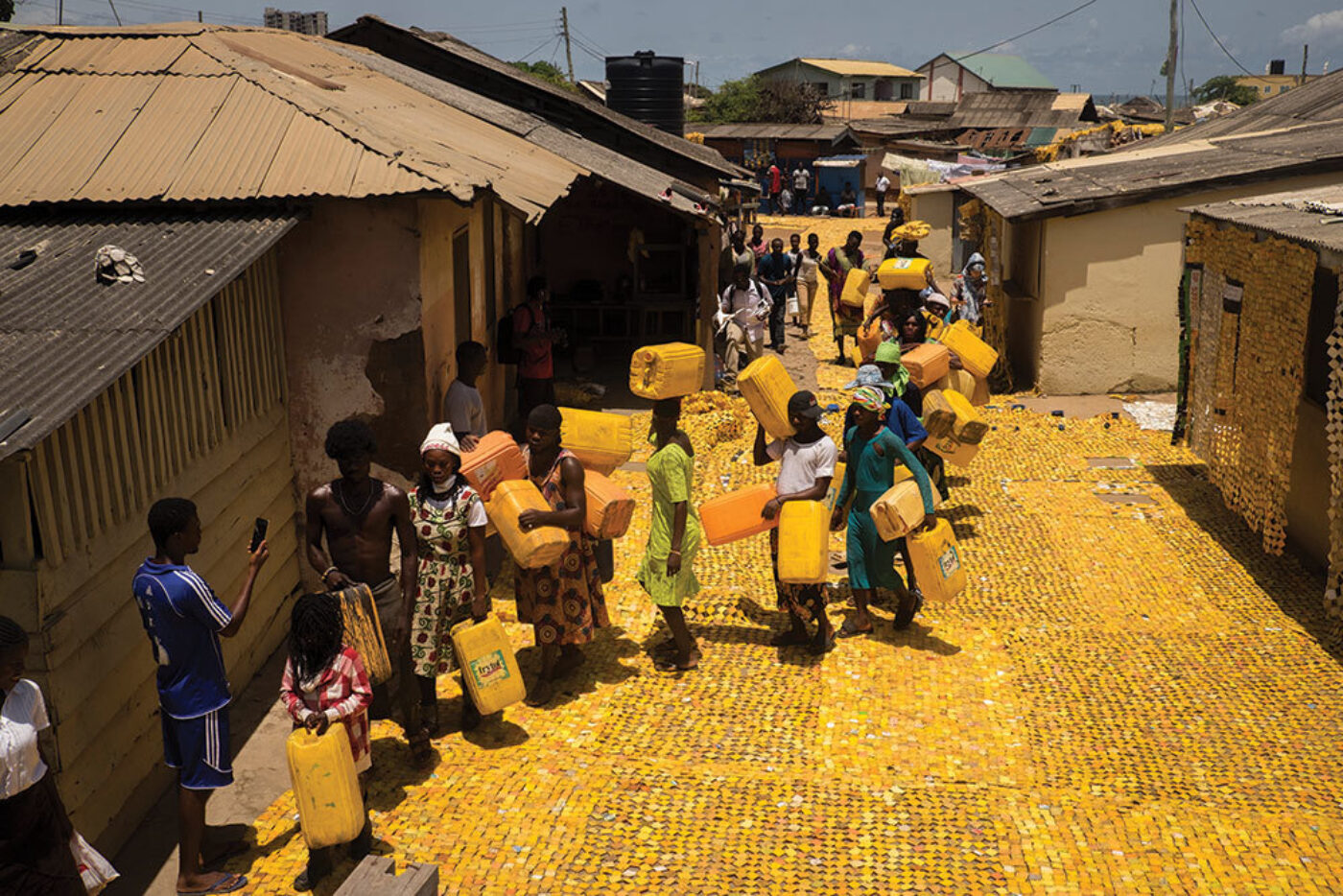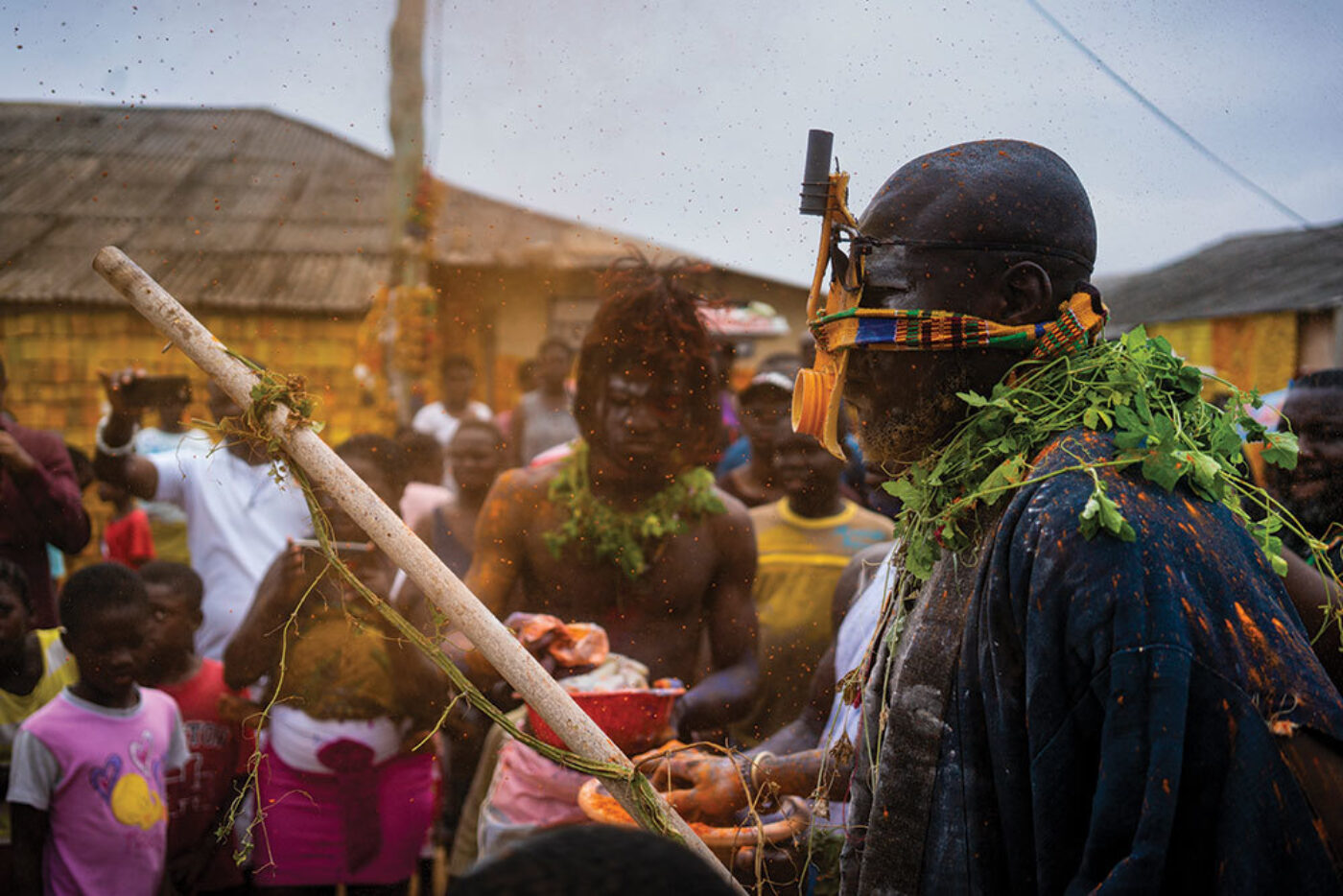 II.

A hair's breadth away from me sits the Ghana-based artist Serge Attukwei Clottey, known for his highly publicized Afrogallonism project, which interrogates global resource consumption and the African water crisis. We are in his studio in the coastal village of Labadi.
Earlier, a cab driver dropped me off at the Artist Alliance, the first contemporary art gallery in Accra, where Clottey comes to meet me. I watch as the artist steps gingerly across the muddy median. It takes me a moment to realize he's flagging me down to join him halfway. I am stuck, replaying the image of him in my head as it collided with his presence a few yards away. Beyond us, the ocean is loud. The mixture of traffic noise and crackling waves stirs me up inside. When I make it across the street, he shows me to an SUV parked nearby. The vehicle wobbles as he drives a very short distance into the village, an apparent courtesy for his visitor. As we exit the car, the area immediately fills with curious faces. I can hear hiplife music playing and at once notice the ubiquitous jerrycans everywhere.
"Oh, I see!"
"Yeah," Clottey replies, accustomed to the yelping naivete of visitors from the West.
My chest swells and my eyes grow wider—I continue to speak in spite of myself. "The gallons, " I say. Shame heats my face with nowhere to go. I'm struck, suddenly, as I was at the river, with the terror and guilt of having been spared. Here, in front of me, is the cost of my life. I feel sick.
[…] they brought out their cameras and bought out africa's drums
when they finally realized that they are strangers all over
and love is only and always about the lover not the beloved
they marveled at the beauty of the people and the richness
of the land knowing they could never possess either
Moments later, several community members greet us, wearing T-shirts, sneakers, and gentle smiles. Some are studio assistants—he has fifteen, including three women—and the rest are among the more than one hundred members of the GoLokal collective, an expanding group of friends and artists Clottey has been making performances with since 2012. I offer a "hello," which is met with an impersonation that mimics my snappy upspeak. It's a bit of a "trying on," a somewhat higher inflection that's somehow even more American.
"Hello! And, how are you?"
Clottey guides me into one of the buildings, which opens onto a sparse dirt courtyard filled with rolled-up remnants of the "yellow brick road" that the artist and his team constructed out of bits of jerrycan. The sun's heat subsides under a cloud cover and rain begins to fall.
Clottey's workspace, a one-story building with several small flats, is more home than studio. His family name—Ni Tetteh—is painted on the front of the building. His aunt and uncle reside in the backroom.
"We have the space mostly on the weekends. During the week it's used for family gatherings."
He says something in Twi to one of his collective members, and two green plastic chairs appear before us. As more community members arrive to greet us, I can't help but feel I'm in the presence of the anointed.
Clottey claims that, as a child, he never wanted to be an artist. He was more interested in "taking his toys apart and making them into something else."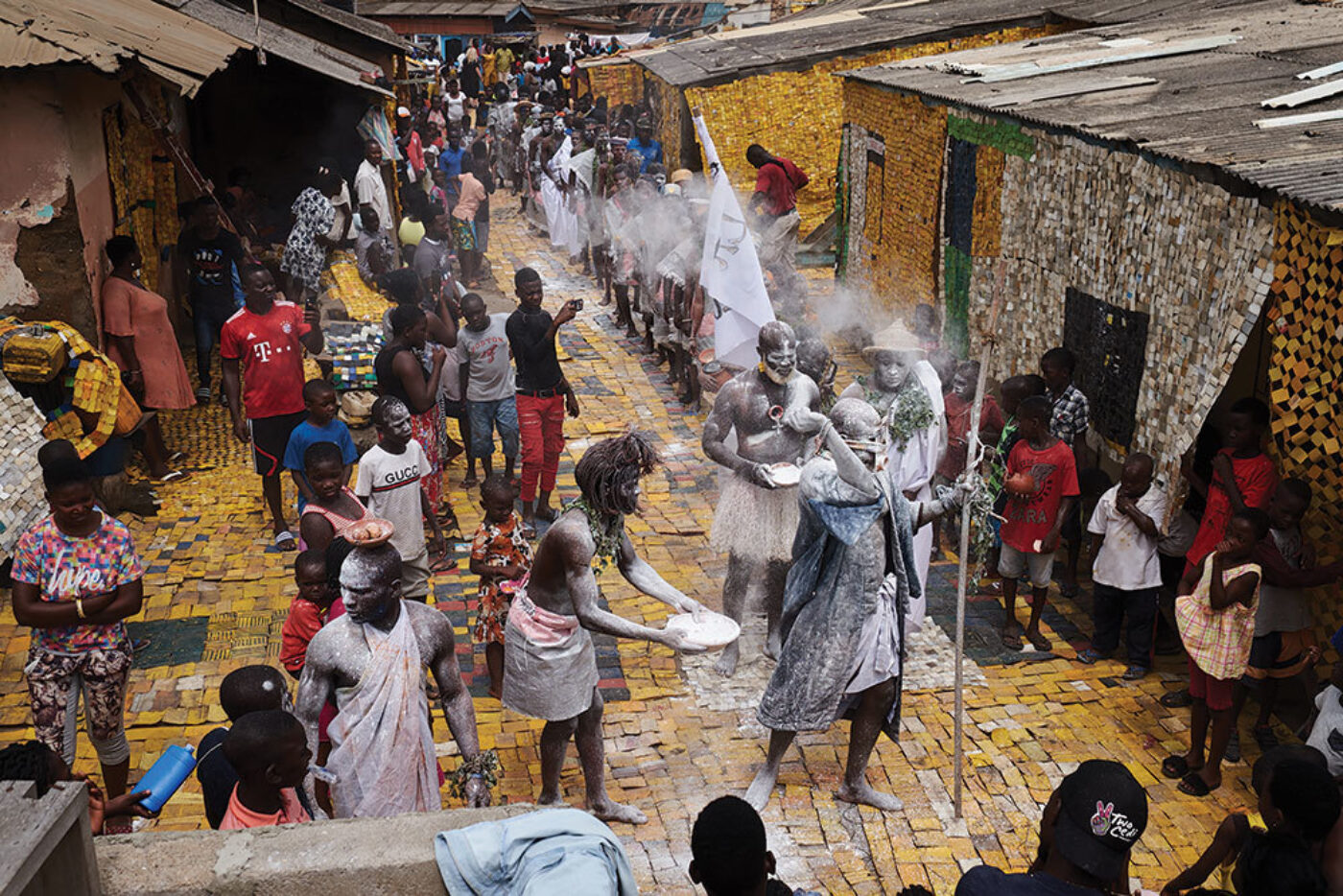 Eventually, he studied art for four years in Ghana before going on to art school in Brazil, where he began to work with found objects and incorporate other forms, particularly performance. After returning to Labadi to live, Clottey continued to work with materials at hand, such as the jerrycans, or gallons, found around his village. The jerrycans start as containers for cooking oil transported from Europe and Asia; in turn, Ghanaians collect the bottles and use them to transfer water to their homes. To Americans, the predominantly yellow jerrycans might evoke mundane nostalgia for lawn mowers, two-car garages, and obscenely large tractor trailers. In Ghana, it's a symbol of scarcity and contamination.
"My family was selling alcohol and beef on the coast nearly two hundred years ago [at Jamestown]. The chief awarded my family this space. And because of the trade relationship, my family migrated from James to Labadi. Recently there's been an issue with property claim and the people realized we are not from here so they've begun to avoid our space."
Through Clottey's repurposing, the plastic gallons take on a new and unconscious dimension, once they've been pulled apart and made into art. Afrogallonism isn't meant for aesthetic pleasure, and somehow isn't capable of it either. Through the metaphor of material, it tells a story of environmental and humanitarian neglect. According to Clottey, when strewn on the ground, the Afrogallonism squares also serve to demarcate his family's land for the Ghanaian government, a form of installation he calls the "yellow brick road."
"That's how I got the community involved as part of the process. The gallon is a functional and available commodity. The idea was to transform it and send it back to the West, so the continent can benefit from that transaction. To be able to get back to the more traditional way of storing, which is the clay pot."
Clottey continues, "'Follow the yellow brick road,' which leads home and investigates the history of settlement. I invite people to walk on it to be a witness. How do you recreate the property line that wasn't written? I incorporate the history of my family into my practice to share it with the coming generations before we pass away so it isn't lost."
Essentially, Clottey has created a living archive. As a means for social transformation and community engagement, Afrogallonism is rooted in the practice of fellow Ghanaian El Anatsui and the iconic technique and cloth-like texture of his large-size bottle-cap assemblages. Both artists break down and rearrange found materials, removing the patina of their everyday functionality and allowing us to envision how we might engage them anew. In an interview with San Francisco Arts Quarterly, Clottey subtly distinguishes his oeuvre: "Anatsui's work references handwoven kente, which is a traditional fabric, but mine represents a migration of objects and how we consume so much plastic in our daily lives."
III.
I first became aware of Clottey a few years ago, when I saw a photograph of him dressed in women's clothing—a clay-colored two-piece kente garment with a modest neckline.
Upon first engagement with the photograph, I couldn't look away. I stared for a long while, concerned for his safety, and also feeling a deep sense of family, a paradox rooted in the displacement of our ancestors. The image held pain, but also familiarity and honesty. I wanted him to be queer, to be an outsider. What I wanted, what my soul was asking: Is he like me?
In Ghanaian tradition, when a mother dies, her clothing and belongings are locked up for a year before being given to her daughters. An only child with no sisters like Clottey would inherit nothing. Following the death of Clottey's mother in 2014, the artist thought, "I am being tied away from my mom." He became interested in the history of fabric and how it intersects with questions of gender equality and LGBTQ rights, which led him to organize My Mother's Wardrobe (2016), a performance in collaboration with his collective.
Initially, the male members of GoLokal were skeptical about wearing women's clothing, for fear of being pegged as homosexual, which is viewed as evil in traditional Ghanaian culture and is punishable by law. But Clottey reminded them of Homowo, a festival celebrated by the Ga tribe, where men dress as women and women dress as men.
"When they began to understand, to see it as a part of culture, other members of the collective went to get their mother's clothing from home. They got dressed and wore them as they walked to my studio."
Soon the GoLokal members could be seen all over Accra—a collective symbol of both tradition and resistance—heads tied, wrapped in their mother's kente garments. Clottey went on to incorporate these elements into the Afrogallonism performances as Afrofuturistic parades of gender nonconformity, drastic femininity, and repurposed yellow plastic.
they clapped when they took off
for home despite the dead
dream they saw a free future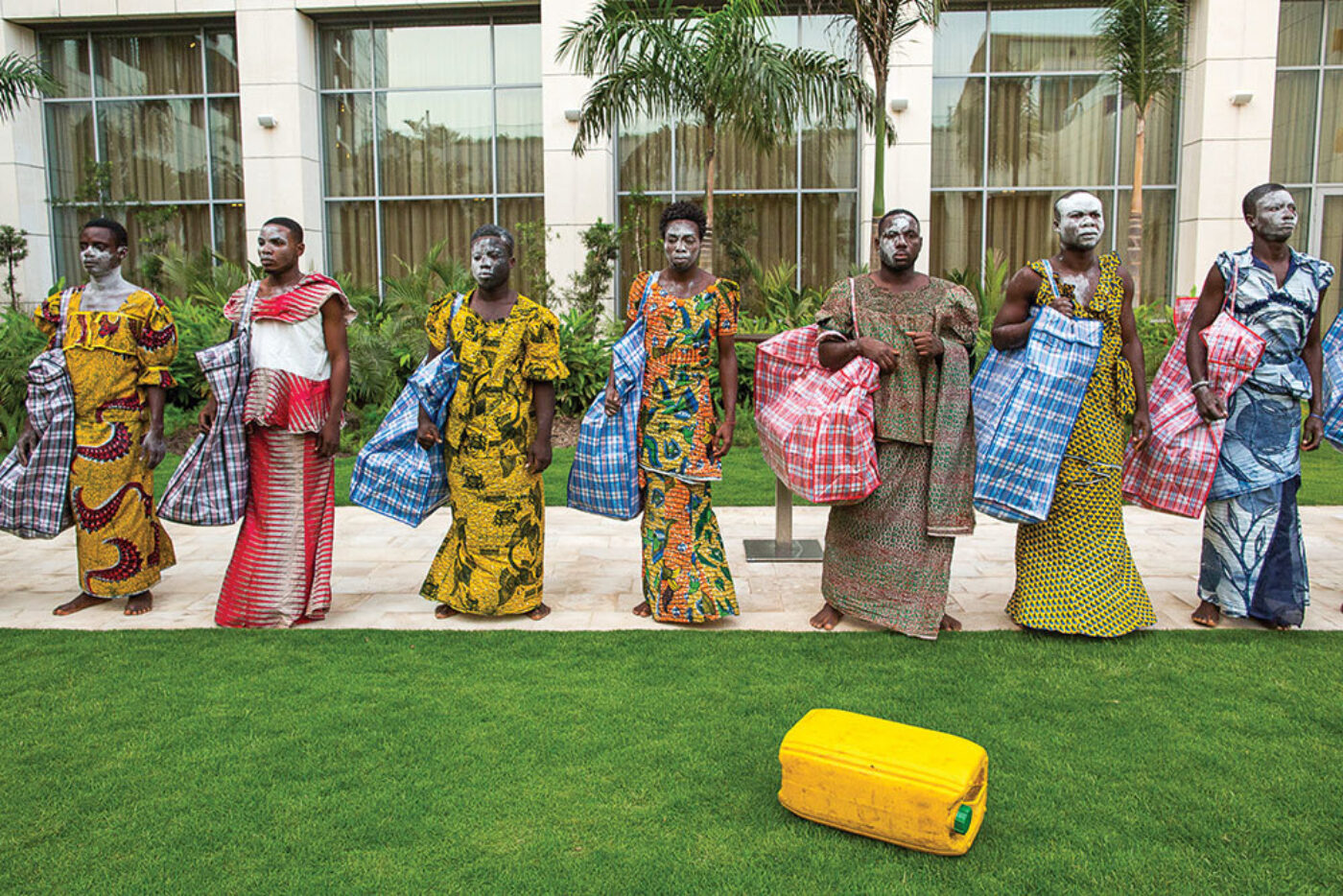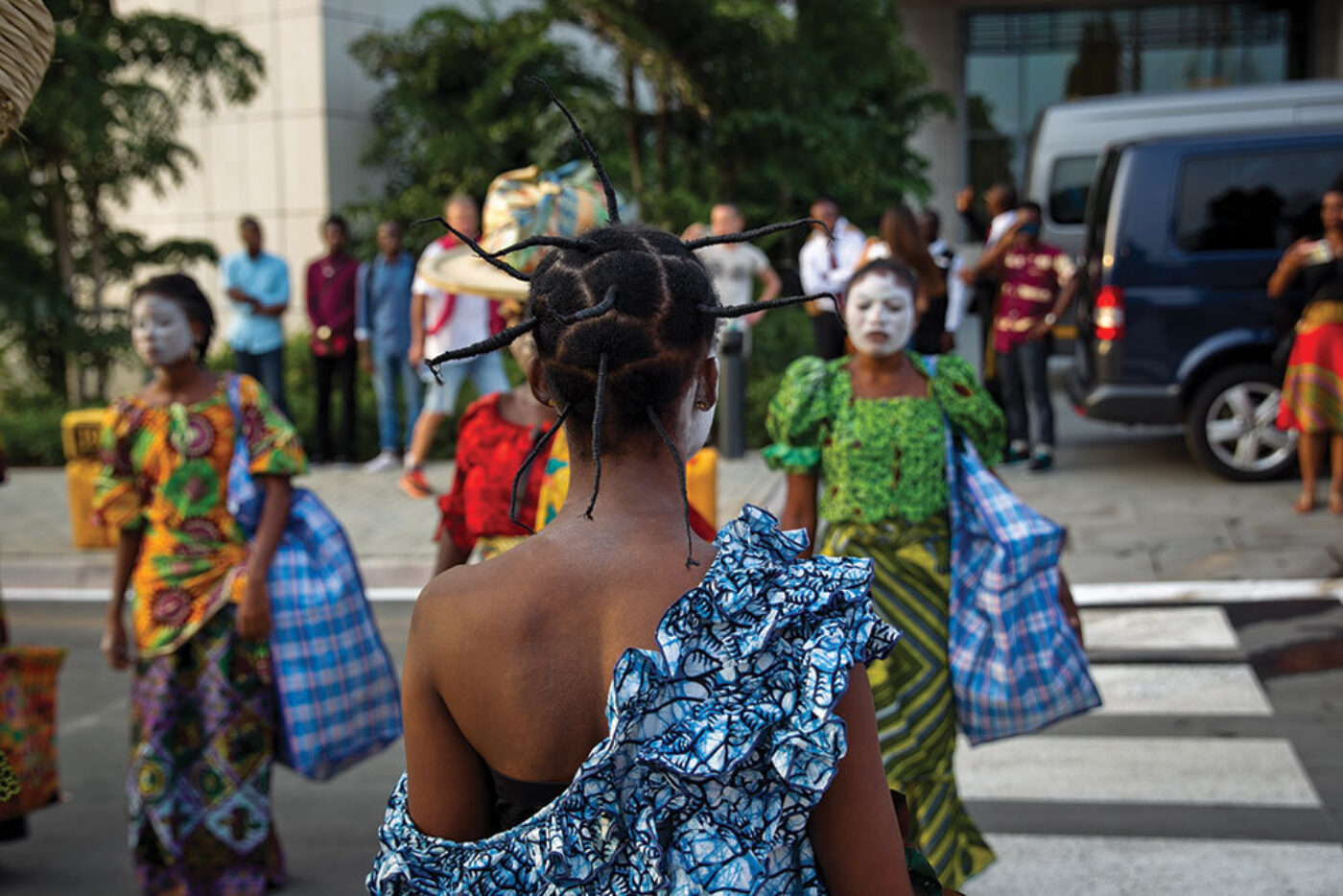 Erica Cardwell is a writer, critic, and educator based in New York. Her essays and criticism have appeared in The Believer, Hyperallergic, the Brooklyn Rail, Sinister Wisdom, the Feminist Wire, Bitch Media, and elsewhere.
Originally published in
Featuring interviews with Korakrit Arunanondchai, Antoine Catala and Dan Graham, Atelier Bow-Wow, American Artist, Jeff Bliumis, James N. Kienitz Wilkins, Rion Amilcar Scott, and Carmen Giménez Smith.