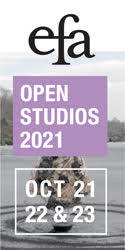 I Was Very Hungry!
How often do trees move with such quick, light steps?
In fact, the place is pierced through with pear trees that
approach the house. The efforts of Elizabeth Hodson
have produced a young orchard.
     I don't think you'll like it, but I like gaudy things.
     The fruits of the climate and of the surface surround
us, and it is all very gaudy.
     I have to get back inside this house by 7:30 at the lat-
est for human relations. I do not have time enough for
my sexual endeavors with the Hodson woman. She has
a sad face now—at the mise-en-scène—that signals
much pleasure, good fortune and longevity for me.
And this is the type of flesh I just ate—I ate a steak
and I drank a big glass of wine. Elizabeth ate a double-
bone. Then again, she takes so many pills for her kidney.
     She wore her black sweater with the black buttons
that buttons tightly and she wore a red flannel jacket
with the rare green velvet collar.
    Hot water was prepared for tea and Dark
Pfefferneusse were served.
     Looking up the cantilevered staircase, with its dopey
newel animals, I think, Aren't some animals so cute!
Upstairs, I straddle Hodson and keep her lying down
and warm. Then I get her into a warm bath and encour-
age her to try to void. I get her out of the tub and put a
hot-water bottle on the pain area.
    In this position I reach over her and bring my top arm
over her shoulder and then place my hand over her
breast head. My other hand grasps for her hip. I hunch
and I hunch and I hunch. It is hard to lie here and
struggle with something I had thought was finished.
     There's such a thing as recalling some of our confi-
dential fretting or exultation. I've required myself to
preserve some of that in a greater number.
Opening the Closing Mouth of the Woman
She bursts somewhat and the cocks of the men may be seen.
      The cocks are knee deep into their lark for about ten minutes.
       It's exciting to show someone something and ask, "Is this enough?" At the
query she had been surprised. Her hair was upswept off of her back. Comets burn
in the sky nastily. The heat from her face and the flash of her old boots are con-
vincingly some of the transparent parts. She is going up. She is going up. She is
going up. A penis leans heavily on the walls inside of her.
       Faustine—that is her name—is dedicated to the rammers after she has been
loaded with their meaning. A corner of her is being slightly shaped.
The Ring Stuck On
I drank a warm soup solution after. And when we, the people, were released, some
people were able to circle around. I felt mental symptoms. I threw up. After all,
many who have dined with me have done so.
      He who looks at me, I might look at him. Significantly, I have a picture-perfect
headache and hard stool in the rectum.
      There was another short silence. The phone rang.
      "Hello," I said. At the momentous instant, I said good-bye.
       After some hesitation, even with all of my pageantry of feeling, I slept.
       The fiery ring was heard again. Into the telephone I said, "What did I tell you?" I
said, "Leave me alone!"
     I ignored the bedclothes or I just endured them. The bedclothes are a fine hue
of fuscous. The evening light through my open window might have been intensely
fuscous.
      I wanted to hear his voice again. I telephoned him but said nothing, and the spir-
its of the dead must have hit the roof.
     A moth toiled in the pointy peaks of flowers in the tureen before I killed the
moth.
      I felt strengthless the next day, although I kept speaking to you!–much of it to
my mind too thoroughly personal.
     Perhaps it is only in a story that a woman or a man can be amusingly betrayed.
Paving a way to the entrance of this house of brick and of stone, there are
woodland trails. The exterior decoration of the house (I did not build it) is in a
grayish, brownish stone and there are many ways to overstep the influence of this
torsade band, awkwardly.
At breakfast, "Eat," I told myself. "Talk." I served myself salt mackerel and a little
stalk with the leaf still attached to it, which I had paid for with hard cash.
The end of the line is massive. There is laurel all over the garden, as well as my
dog Cyril, and the fowl who walk without the benefit of their arms and hands to
swing. And there is a live oak—squarish, nude and badly executed—carved from
one solid piece of pearwood.
—Diane Williams is the author of five books of stories and novellas. Her recent titles include Excitability: Selected Stories (1998) and Romancer Erector (2001), both available from Dalkey Archive Press. She is the founding editor of the literary annual NOON. Williams's stories have recently been published or are forthcoming in Conjunctions, Verse, and Parakeet. She is a visiting artist at Bard College this summer.
Originally published in
Featuring interviews with Olafur Eliasson, Ellen Phelan, Percival Everett, Francisco Goldman and Esther Allen, Ben Katchor and Alexaner Theroux, Jorgen Leth and Ann Mette Lundtofte, Michael Bell, and Mauricio Kagel.