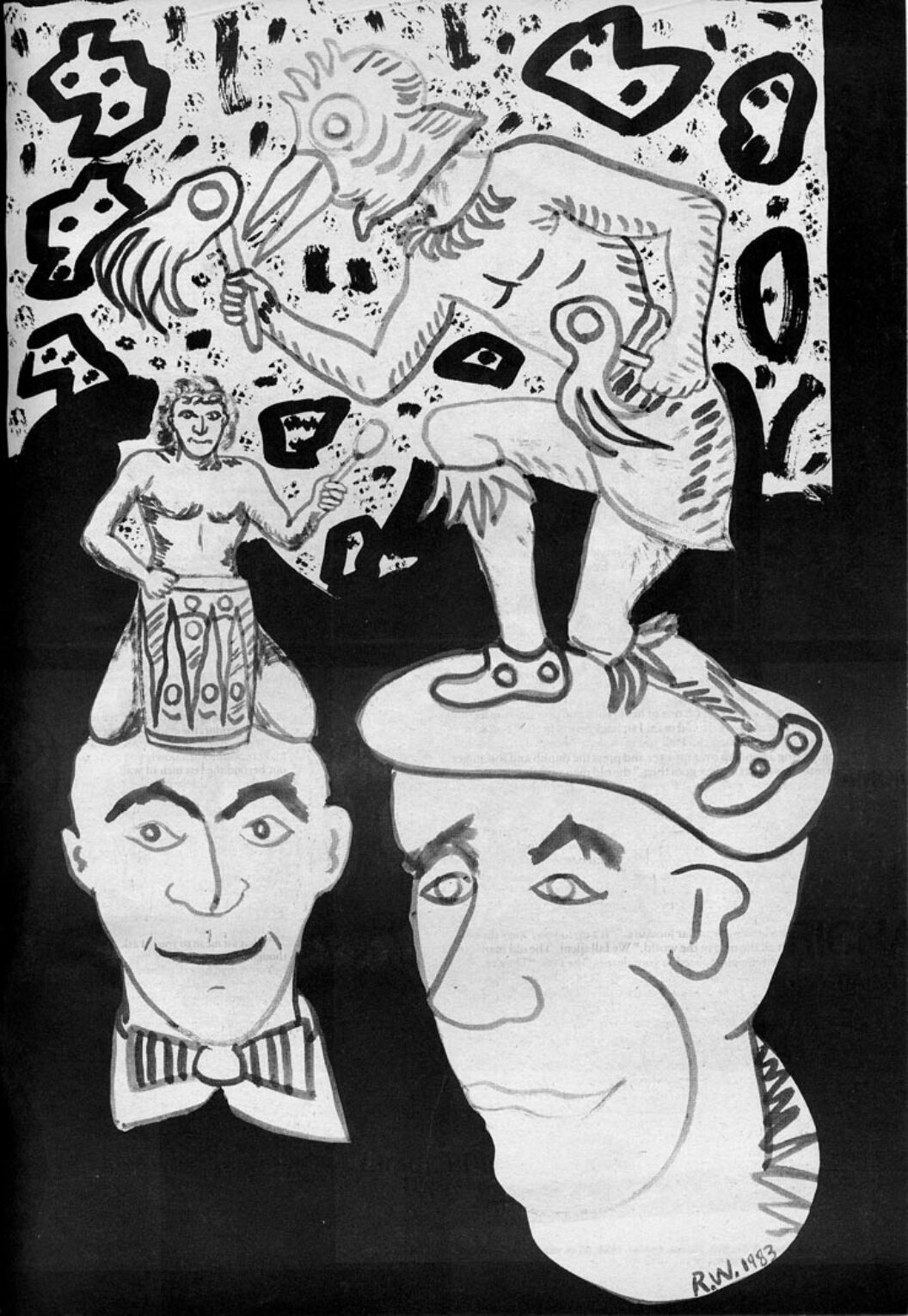 Be Relaxed
"Don't do that kind of thing to your spine, son," said his mother. "You'll only complicate your life … You've got to learn how to relax."
One day she opened his door and caught him in the act. He was sitting at his desk with his head in his hands, staring down at clean white sheets of paper.
"It's nothing mother. I'm just trying to relax."
Another time she found him leaning against the wall, staring into the light bulb in the floor lamp.
"You'll blind yourself," she cautioned, pulling out the plug.
He took the plug in his hand and forced his thumb between the prongs—"It's nothing mother."
Later he stood with his shoulders pressed up right to the window frame, his head hanging halfway through the broken window, staring down at the shattered pieces of his spine which lay twitching on the ground.
His mother ran up from the garden—"What's happened here?!"
"I have relaxed," he sputtered, going out like a blown fuse.
You Are There
You are somewhere locked below the surface of the earth, leaning against a steel wall, looking down a long, unbroken corridor. The floor, ceiling and walls are made of a metal so shiny it looks blue. You think you hear someone strike a match.
Turning to look over your shoulder, you notice a small table. In the center of the table is a candle set in an elaborate candle holder. Next to the candle holder is a new book of matches. You light the candle and reach your finger out to stop the first drop of wax from running down the side.
But the wax never melts. As if the candle could last forever, as if it's always burned without giving anything up.
Out of the corner of your eye you catch vague flashes moving toward you along the walls. You follow them for the source of light, each step echoing the next, and the step before, the long, unbroken corridor, the endless blue steel walls, until you arrive at a corner. You stop. Unsure how to make the turn. Then slowly you move your left eye out beyond the last inch of wall.
At the far end of the corridor someone lights a candle, the question of why you are here, leaning against this wall, why you will be searching.
I'm Not Kidding
You and me, we're downtown in the middle of the sidewalk, arguing. You ask what it means to you, you say I'm only making a gesture, just making a face, nothing to you, nothing for you. But I'm not kidding I make a gesture and you duck.
"What's it mean to you?" I ask. "Nice duck though!"
You're mad now that I'm making your face a red face screaming red like a siren blames caprice on where a bomb might go off. You want a bomb to go off? OK, a little one two blocks away explodes leaving us unsteady. Now you're really ticked and threatening me, now pulling your hair, now running over to the department store, scaling the wall. You're so fast already on the ledge of the 20th floor and looking down at me. Go ahead, look down at me. Scream, "Manipulator!" See me down there waving?
Go ahead, spread your arms, you're dizzy … Now you leap off into the air, falling toward me screaming it means nothing to you.
And I call up to you, "Well I'm not kidding did you ever fall 20 stories slow motion down to the sidewalk someone calling up to you?"
"No, never!"
Well you have now.
Originally published in
María Irene Fornés, Jeff Weiss, art by Cindy Sherman, Billy Sullivan, Robert Gober, Laurie Simmons, and more.