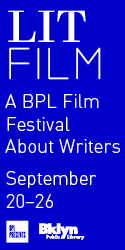 Some Comforts at the Expense of Others
I dreamed of home invasion, and of a great celebrity
hidden inside a series of rooms, each hermetically
separated by glossy, voice-activated doors, each
bordered on both sides by facsimile rooms, identical

to the real room in every detail, which were in turn
separated from the next room's facsimile by a sort of
hybrid non-room, its decor partaking of elements
of the two facsimile rooms it served to divide, or rather

of the two real rooms the facsimiles referred to.
Only a gold-level member of the household could tell
the real room from its facsimiles, but it was unclear
whether this was due to prolonged exposure, microchip
technology, or a receptivity to signs of life so small
only deep feeling for the absent might sense them.
In just minutes it grew apparent that these non-rooms,
separating one facsimile from the next, bred distinct
moods and possibilities, just as brackish habitats
like deltas, marshes, some lochs and coastal lagoons
inaugurate and foster a plenitude of life forms neither
purely fresh nor purely salt water alone can sustain.
In the confessional, the celebrity appeared to regret
the existence of the non-rooms, deposited as they were
with a ghostliness and quotient of blue found nowhere else,
observing that no verified member of the household
would ever choose to enter them, much less spend
disposable time in them in the cold. This would signal
something was amiss, some danger afloat, possibly
an invasion, and possibly from within, like the buildup
of urate crystals in a big toe, or slight myopia due
to highly reflective skin, or else a simple, seamlessly
engineered distraction, personified through the dream as
an influencer in athleisure remarking on the vertigo
of watching on one's phone a video of small children
being lowered down by bucket into a dark toxic tunnel
near the border of oblivion to retrieve some fraction
of the cobalt in the battery of the privilege to feel nothing.
Even if it could be felt
all at once, instead of
in installments, instead of
this staggering
out over a lifetime
of feeling it without
warning, or even
without wanting it, seize

before sliding back
into its opposite, seismic
event, so that
by analogy, being itself
grows corrugated,
as sand does recalling
the motion of water,
or like ridges on the roof

of a good dog's mouth
science says serve
to stop the water from
escaping when lapping it
up, then again
by analogy, the feeling
of how it would feel
likewise would escape me.
Burning Lichen from a Bronze Age Megalith
Never before in the wind indigenous
to the Atlantic have I felt
commonsensical to myself, and now
is no time
to start: loud power, constant
boom, I have wanted to live
like this in the longform, the way
a plant can
on air, suspended in
its element, swallowed whole
by the senses: cold clear sky,
companionable sun, no need
not answered, all alien
to advanced thought, which has only
ever brought more suffering.

Not technically a plant, not even one
thing, but the mutually
beneficial union of a fungus and green
and/or blue-green
algae, you've been with me
in the longform, long enough
for me to forget I didn't
fold you up in the clear
of a Ziploc, which is how it
looked, but in a hotel shower cap
that, if I hadn't,
would have one day clung to the head
of a fellow traveler I'll never
know, keeping hair dry, which is why
it was put there, and I'm sorry.


Elsewhere, another traveler caught
my attention once, saying
you dropped something back there
on the sidewalk
and automatically I thanked her
without asking what
it looked like I had dropped
so I spent the next
ten minutes looking for what
I didn't know, which is a rare
and almost holy state of mind
I couldn't wait to be
released from—then there
you were, my little two-inch square
of lichen fallen out of the open
pouch of my backpack. Now, brow
riddled with the storms of
administration, I lay the green-gray
threads of you
on a block of dried-out peat
like a sugar cube and light it
in order to inhale
whatever principle of the sea
your filaments might
retain, or of the sea-blown
air you grew in, or of the rock
you anchored to before
I tore you off it, its purpose
uncertain, your smoke bitter, but enough
of an obstruction to see through.
Timothy Donnelly is the author of The Cloud Corporation, winner of the 2012 Kingsley Tufts Poetry Award. His new book of poems, The Problem of the Many, will be published by Wave Books this fall. He lives in Brooklyn with his family.
Originally published in
Featuring interviews with Young Joon Kwak, Kazuo Hara, Bill Jenkins, Ligia Lewis, William Basinski, Titus Kaphar, José Roberto Cea, and Barry Lopez.