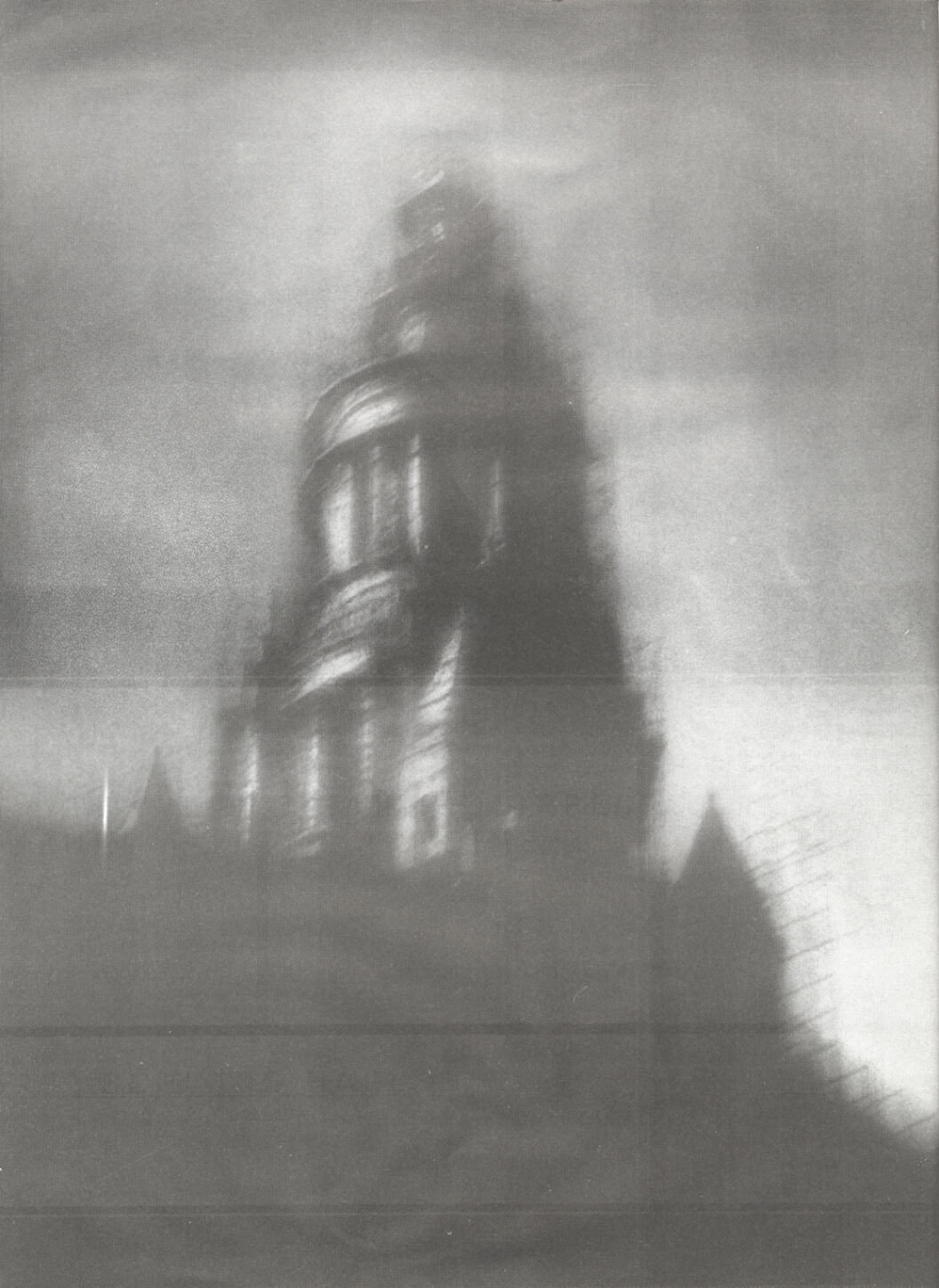 Harmony in Red

The woman with the bun
and Roman face
arranges red and yellow
fruit upon a bed
of dark green leaves,
for a centerpiece the colors
of a traffic light, which
hadn't been invented yet
in ought-eight, when all this
popped up in the mind
of an artist—popped
out, rather, in his work.
Arabesques as thick and bluntly
pronged as antlers snake
up the tablecloth and up
the wall behind it, framing
clunky flower baskets
painted in the style of wacky
backgrounds from the Jiggs
and Maggie comic strip, though
with a broader brush. Luscious
lemons on the table, purple
sky outside above the lawn
and weird pink barn.
There's a season out there,
spring from the look of it,
and a time of day, less
conclusive. But indoors
the red of walls and tablecloth
and whatever concoction
the decanter holds would
stop time, even if this weren't
an image on a poster
for a show of Impressionist
and Early Modern Paintings
from the U.S.S.R., on the wall
above the table where I drink
my bright red breakfast juice.
Today will be as packed for me
as Matisse's dining room,
with its tasks and patterns.
May I be the woman
with the bun, intent
on lovingly composing
the abundance of the grove
outside or a fruitery
down the street from the studio
in the heart of a city
where the art of the centerpiece
can make a difference still,
as quiet as a nun, serene
as a successful nun
as I pursue my work.


Ordinary Time

Which are the magic
moments in ordinary
time? All of them,
for those who can see.
That is what redemption
means, I decide
at the meeting. Then
walk with David wearing
his new Yale T-shirt
and new long hair to 103.
Leonard and Eileen come, too.
Leonard wears a shark's tooth
on a chain around his neck
and long blond hair.
These days he's the manager
of Boots and Saddles ("Bras
and Girdles," my beloved
Bobby used to say) and
costumer for the Gay Cable
Network's Dating Game.
One week the announcer
is a rhinestone cowboy, sequin
shirt and black fur chaps,
the next a leatherman, etc.
Eileen's crewcut makes
her face light up.
Underneath our hairstyles,
23 years of sobriety, all told—
the age of a girl who's "not
so young but not so very old,"
wrote Berryman, who fled
from his recovery with the force
of a poet hitting bottom.
It's not the way I choose
to go out of this restaurant
or day today, and I
have a choice. Wanda
the comedian comes over
to our table. "Call me
wicked Wanda," she smirks
when we're introduced.
Why is New York City
awash in stand-up comics
at the least funny point
in its history? Still,
some things stay the same.
People wonder what the people
in their buildings would think
if the ones who are wondering
became incredibly famous,
as famous as Madonna.
Debby Harry lived in Eileen's
building in the Village
in the early seventies, and she
was just the shy girl
in the band upstairs.
Poets read the writing
of their friends, and
are happy when they like it
thoroughly, when the work's
that good and the crippling
sense of competition stays away.
Trips get planned: David
home to California, Eileen
to New Mexico, Chris and I
to France and Spain, on vectors
which will spread out
from a single point, like ribs
of an umbrella. Then
after the comfort of a wedge
of blueberry peach pie and cup
of Decaf, sober friends
thread separate ways home
through the maze of blankets
on the sidewalk covered with
the scraps of someone else's life.
Mine consists of understanding
that the magic isn't something
that I make, but something
that shines through the things
I make and do and say
the way a brooch or scrap of fabric
shines from the detritus
to catch Leonard's eye
and be of use for costumes,
when I am fearless and thorough
enough to give it room,
all the room there is in ordinary
time, which embraces all
the people and events and hopes
that choke the street tonight
and still leaves room for everyone
and everything and every
other place, the undescribed
and indescribable, more various
and cacaphonous than voice
can tell or mind conceive,
and for the sky's vast depths
from which they're all
a speck of light.
Radiant Child
for Keith Haring
A baby in a desert
boom town wears a T-shirt
on which is an image
of the Radiant Child.
The infant is no larger
than a young man's hand,
the generous hand of the artist
who died this afternoon.
By the time she's old enough
to crawl like the child
in the drawing, his hand
will wear a coat of dust,
or long ago have been
reduced to ash. Ashleigh
Noelle Snow, my lover's niece,
a brand-new life in a T-shirt
from the Pop Shop, in a snapshot
he would have loved to see.
Tim Dlugos's books include, Entre Nous, A Fast Life, and the unpublished manuscripts, Powerless and Strong Place. He died of AIDS on December 3, 1990.
Originally published in
Featuring interviews with Kathy Bates, Philip Taaffe, Lynne Tillman, Kid Capri, Luisa Valenzuela, Meg Cranston, Melissa Kretschmer & Maya Lin, Zhang Yimou, Keith Reddin, Ira Silverberg & Amy Scholder, Jennie Livingston, and James Wines.