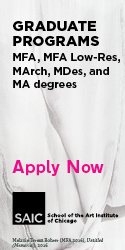 Another Conversion in These Times of Extreme Emptiness
Nothing came out of my body succinctly.
The bird reminded me of something else,
a wedding dress gone wild, flying in air.
For they continued to bring me back. My family,
that is. To the site of the injury, that kept the accident
quiet. Leaves have grown over, split into two or
more, rising toward sky. I toasted stars,
offered to marry glass. Two lights snapped on,
and their metal moved right through me.
Soon I'll be weightless, having discarded my major
organs, donated blood and skin. A makeshift body
leaned against a yellow chair in my kitchen,
refused all the latest propositions. For I have sown
my wild oats. I lied, told him that I would
keep in touch. But too much is frenzied,
doesn't stay put. My family believed that they
did the right thing. My wingspan is enormous. Moon
is restless, stars spewing out helter-skelter.
I can't ignore its terrible pull. There's too much
space between calamity and trees. I don't miss
my minor body parts, an ear, or that
silly part of the brain that says yes or no.
My husband didn't mean it. Death recollected our vows.
My thoughts fly around now, try harder.
Migrations
Yesterday was left undone; I believe that
someday I will fix it. Consider the pinball
uses of God, the stillness in the most dangerous
corners of my house. Take me back
there. A face appeared on my table,
my chair, a mirror. I had to clean. For nothing
stays mine for long. This lunatic light comes
and goes, gives me what it can, a kiss that smears
my cheek. Then I must follow it anywhere.
I can resolve them: the body that wants to fly;
the childhood scene that calls to me; the way
you could easily be family. Some days
I grow so small I could slip backwards, never
to be seen again. Yesterday I spent the afternoon
listening to my blood. It told me about a place
I barely remember, but when I arrive there we could
exchange a mouth, hips, hair. I could be a better
person. I could give you a hand, a nose, my leg.
I see how the wind deals with the past. Redoing it,
living hand to mouth and inviting everyone along.
The Enormity of It Took Him by Surprise
The mysteries. How long has he been here?
The man inside of me unfolding like a leg
troubling a pair of pants. He's so small
he's beautiful. Sitting in my palm,
I shoo him away. Storm on storm.
He's a rumination on sky, on waves claiming
the ocean's space, the argument of horizon.
There's inside and inside. It doesn't matter
what he calls himself. What is swallowed disappears.
Threshold, transgression, and time. It's decided.
Behind him a fence of bones, knees that fall.
Because what hurts me, hurts him.
The destruction of centuries accommodates
our gestures. Never mind. I have lived too long
in a dangerous house, observing eloquent cows
lingering on the grass, flies recounting their secrets.
He doesn't understand the question. I repeat it
again. He knows there will be a death. Hopefully
not someone he knows. The killing of
what we live with. I tell him that I am my own
invention, through which nothing can be discovered.
—Laurie Blauner is the author of four books of poetry, including Children of Gravity (Owl Creek Press, 1995) and Facing the Facts (Orchises Press, 2002), and one novel, Somebody (Black Heron Press, 2003). Her fifth book of poetry, All This Could Be Yours, is forthcoming from Turning Point Books, an imprint of WordTech press. Her poetry and fiction have appeared in the New Republic, The Nation, the Georgia Review, the Seattle Review, and Poetry, among other publications. Blauner lives in Seattle, Washington.e
Originally published in
Featuring interviews with Arturo Herrera and Josiah McElheny, Jennifer Bartlett and Elizabeth Murray, Lincoln Perry, Anthony Downey and Yinka Shonibare, Eliot Weinberger and Forrest Gander, Lionel Shriver, Noah Baumbach and Jonathan Lethem, George Lewis and Jeff Parker, and David Rabe and Evangeline Morphos.