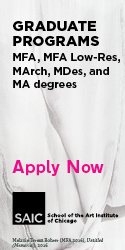 Sealed
A machine wheeled over me in blades
of wind, and I was winnowed,
my heart snipped from its case
and ticking, frantic
and brittle in the grass.
My heart lay beside me—
a white wind lashed me. The spurs
on its scaled heels pierced
my thighs, my hips, and left
their welted seal. He hunched, then rose
spread winged, quivering his breast-quills,
then milled his wings in backward cycles,
startling loose
a spray of metallic birds, shot forth
from the oak like arrows
into the corner of my eye.
And he had inscribed me:
I felt the cells
of my life stretch and branch into
a million barbed filaments
that unknit, then knit to each other again—
from that time
  I have been weaving
          wings from these strands of air.
The Pair
Today I walked on the river
    where it is so cold, where everything
        threatens   to explode
and just the heat of my steps
        loads the ice with shots—
        and there was one place
    the current had worn lidless.
        I heard
through that unblinking eye
the active substance
muttering to touch me. And then
    my own eye followed
        a bleak tapping, a flutter of white on white,
                 the fingers
                        of winter's deep coma:
I saw a pair of swans, their flight
           feathers yellowed
with the soil of starvation. Their porous,
wind-channelled bones showed
through splits in their skins.
How stiffened they were,
          more than the sueded
branches of the driftwood   they were tangled in.
The Painted Colt
Once we stood in a singed field
in August and you traced my body
with a piece of coal.
The thistles pushed fine pins
under our skin.
That was far
from this field where the young horse leans
his flank into the barbs
to let me trace the purple
aureola under the white fur
before the black-blue pigments end.
His clean eye cannot think of me; it just
reflects: a torso,
a shoulder, and a cheek
grow small inside him and refined. I have touched
such pliant, blood-warm veins in a neck,
and webbing
out from belly to groin.
They lift the copper powder on the horse's loin
off the graphite sheen of skin.
The dark oiled tip
pushes and tugs back
with his breathing. I have felt a flesh
on the inner thigh
be a little cool
beneath a bloody August sunset.
It was a long time ago.
I kneeled in the grit
and took it tense and tender in my hand, and it filled
until I could not hold it.
Karen Holmberg received an M.F.A from the University of California-Irvine. She has been published in Mudfish and The Nation, and was the recipient of the 1996 Discovery/The Nation prize.
Originally published in
Featuring interviews with Michael Ondaatje, Billy Bob Thornton, Hilton Als, Oumou Sangare, Emmet Gowin, Donald Antrim, Stuart Hall, Marjetica Portč, Miloš Foreman, and David Rabinowitch.