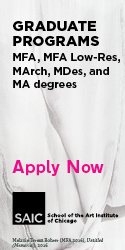 Coronary Artist (2)
Though what I live now is ordinary, I have lived through the glory of numbers. I have visited zero in the sense of absolute beginning to watch fate bleed uncontrollably through a vast chain of explanatory footnotes wound like a bandage over the simplest matter.
I have resisted the power of spelling and broken the spell of pronouns inventing continuity where persons and personalities change sides. I have peered through a keyhole into that narrow room, history, where it is happening to someone else upstairs overhead wearing heavy shoes.
Pathetic, awkward, overdoing it, thumping around breaking into static, fend off the eros to which we react, never initiate, grabbing instead what stales our everyday, our faded monotony. Who wouldn't kick in their sleep and wander off the path of managed impulse? Who wouldn't aspire to become an alien in their own language for a moment to lose the feeling of being both separated and crowded by their experience?
The flowers wear pink as if coming down with the fever. The first to let
go were the attributes losing hold of their objects. I was there on my tippy toes feeling thickness leave me, my palms turning into asterisks, my bent arms into commas.
A little display of excitement waved, produced in me the memory of companionship. I watched myself follow the wave and disappear over the crest of a hill in a stuttering laugh.
My back bristled with the urge to give chase, to demand a say, to reconfigure paradise with perfect weather and regular elections. But the distances confused me. Where I stand now, I shout out of my body armor. I whisper parts of the roar
Risk Signature
She likes to organize with her bare teeth.
Walking the wire with her baskets between
full and empty, she erects
scaffolding for her critiques
then isolates her objects with a deft
twitch of the knife.
There is a high tech cool
efficiency in what she achieves
what she is willing to store—
          the whopping calculations of the mutest reality
          where assertion is an omnivorous open
          bracket …
                            abstraction quantified and baked into muffins;
                            She stores the accidental in the breach between shame
                            and satisfaction, almost wordless demiseconds
                            of emotional itch noted faster than the hurry to
                             scratch it.
The entries list the blood counts,
pound in the head as warnings to the wary, little
deaths configured into road kill
specimens collected, dried snake
smashed turtle, white bird skull.
What about danger?
Danger is engaged
as much as possible.
Organization entails foresight.
She tries to see things coming.
Madame Narcissist
I have the power of simultaneous affect; it breaks off in a smile.
I adore the arbitrary embrace of you.
I light up the reader.
Even my dark side is worthy of study.
Every day my pennies turn a thought.
I see my ideas everywhere, on the brink of worldwide acceptance
and potential profit.
I believe my silence speaks volumes.
I have as many layers as any serial killer.
I'm in the moment.
I play that game when I'm bored.
I believe the story about the father who drove to work and left his child
in back in the carseat all day.
I believe in personal contact.
Nothing escapes my notice.
Everything around me is subject to decay.
I've lost count.
I teach these kids more than they need to know.
I have the same number of stitches.
I don't know how it happened, I was just standing here.
I know they are after me.
I know the author.
I already have a better angle on this.
I do not go out of my way so I am never out of the picture.
II
I am sentenced to think in lines running away and toward radical
detachment, where "I"s lock.
A tractor song imitating life (art) running down the rows, I think, of
selective flamboyance.
Phone calls preempt the buzzless space around me.
The trail gives out; vines cover it.
I sweep up the impulses of intangible dread, along with the prior generations' conviction that the rules of destiny entail implacable random betrayal, where no good deed goes unpunished. Others are mourning dead ironies. Which end is related?
I seek legibility.
I read clouds; continental doubt.
I tend to color the facts, unbinding private property so it multiplies.
I hold on to time; I summon the past. Still my gaze simulates connection.
In sleep the brain wills it, my fingers pick out the thread.
Erica Hunt's poetry has appeared in Boundary 2, In the American Tree, Pessimistic Labor, Vanishing Cab, Iowa Review, Poetics Journal and other publications. Arcade, a collaboration with the visual artist Alison Saar, was published in 1996 by Kelsey St. Press. Hunt lives in New York, where she works as a program officer for a social justice funder.
Originally published in
Featuring interviews with Michael Ondaatje, Billy Bob Thornton, Hilton Als, Oumou Sangare, Emmet Gowin, Donald Antrim, Stuart Hall, Marjetica Portč, Miloš Foreman, and David Rabinowitch.