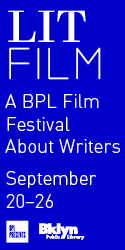 Dear Lucille Clifton, a Letter in Four Parts
1.
so blow out the candles
and kiss your breath
from mouth to mouth,
           this the suggestion
by a silk-clad woman
as November night lingered
outside the window
one great black blur
 
2.
his sight restored
by a hoodoo miracle
Oedipus returned
to the sphinx and declared
his love, coveting no
kingdom but the sand
between her claws
the firmament that is
eternal stone
 
3.
vulnerable and soft
as oleander's desperate green
it is the morning after
the morning after
the night where she
found God has no name
           save one
and it can't be spoken
only sung
 
4.
the secret antelope
graze forever
beneath a sky awakened
by no blistering sun
 
and left to themselves
among the sugar-spill
hills that leak shadows
in long, loving fingers
the antelope dream
not of hunger
or the wonder
of buttery starlight
but of lions
           the delicious chase
           such memories
           as they can trust
 
 
Dear Ha Jin, or the Astrological Sign for Mourning Is an Oyster
I mark each passing day
on my Western Sunsets
calendar with black Xs,
but have switched to red
when the neighbor man
taped a rubber hose
to the tailpipe of his
Lexus and attached it
to a plastic mask he wore
over his mouth. As I was
pruning the juniper bushes
one afternoon, this man
admitted quite suddenly
that he saw a fortune-teller
regularly, a butcher's daughter
who went to Peking
nineteen years ago
to become a master painter.
She had giant silk screens
in her house showing white veils
dancing in the seven winds—
it was so beautiful, my eyes
ached, he said. Now, twice
a week, she pokes at sheep
entrails, lets the blood linger
on her fingers while
she says things to him
such as "An oyster is
a rabbit's cow." Years ago,
I received an anonymous box
of chocolate truffles
with a tiny red card
which said: A wish
for health, wealth and
good fortune. And I
want to believe it's
that foolish neighbor,
gone seventeen days now,
who sent me that candy
as perhaps a pre-apology
for dropping stone-dead
on my just-mowed lawn.
Maybe he was acting
on the muddled advice
of a failed painter who
has eyes of silver water
and speaks in rusty, half-
forgotten words. Maybe
he wants me to think again
of him, chant now his secret
shadowy name to the live oak,
the wild plums, the junipers
that threaten each day to burst.
 
Dear Yusef Komunyakaa, or Sleeping in Foxholes With an M-60
In the land of Saigon tea,
there are mama-sans and
there are mama-sans, those
that mumble away afternoons
to the scatter of James Brown
and those that slow-sway to Aretha.
Stick close to the Perfume River
and love is anything but slamming
on the brakes at 60 mph, a moon-
faced corporal might say as jet
silhouettes cross paths with VC
shadows in the trails north of LZ Gator.
The sergeant major—you know
him, the one who speaks with
ghosts—warns you can always tell
an air raid's coming: the supply
thugs bury their opium satchels
outside the base and pay street
kids to guard it, the fear in their eyes
fizzing like tablets in soda water.
A quarter-mile away is a blast
that thunders like a nightmare sermon.
Every blast is a quarter-mile away,
everything is a quarter-mile away.
In the distance, two mama-sans
laugh, "GI lousy shot. GI go home."
And the charred air is thick with
gunpowder, ghosts and fear.
—Ryan G. Van Cleave has taught creative writing and literature at Florida State University, the University of Wisconsin-Madison, and the University of Wisconsin-Green Bay, as well as at community centers, prisons and urban at-risk youth facilities. His work has appeared in the Iowa Review, Ploughshares, TriQuarterly and the anthology Like Thunder: Poets Respond to Violence in America (University of Iowa Press, 2002). His most recent books include a poetry collection, Say Hello (Pecan Grove Press, 2001) and a creative writing textbook, Contemporary American Poetry: Behind the Scenes (Allyn & Bacon/Longman, 2003). He currently works as a freelance writer and editor in Green Bay, Wisconsin.
Originally published in
Featuring interviews with Marina Abramovic and Laurie Anderson, Paul McCarthy, Christian Marclay and Ben Neill, Jesse Reiser & Nanako Umemoto and Andrew Benjamin, Jimmy Santiago Baca and Adam Fuss, Aryeh Lev Stollman, Shari Springer Berman & Robert Pulciniby and Bette Gordon, and Elliott Sharp.