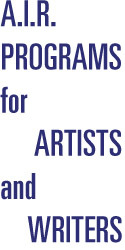 To start again in the candelabra
of branches, that is, always to begin
Waking, to feel the fur of trees
bending toward the calendar,
tomorrow. Our children are filthy
and we salute as we pass the evidence
of today's kitchen, happy
in our failures, awkwardly worrying
a key passage of Bach to death.
That chord of geese keeps thrumming
overhead, beating a runway to water.
We have not been kind
to our muscles, grouchy, anxious
to be touched another way.
We baked half a day on the unforgiven
beach. It's not smart to peel
your chest; it's too soon.
You swell in the night, banked
in hot folds, the sprawled children.
I'm itching to take off your skin
and touch you to see which I want more,
to be burned or to be the burning.
For isn't that what the old ones
have always called us, their dogs,
their sloppy mendicants? The imaginary
"we" who come behind, bewildered, bloodied,
swallowing what we're told: the earth's
a spitball hurdling through a lecture hall;
the topic—hermeneutics.
It's been hinted a small handful
of the living know the ropes, hand-fed
by harried experts. They worry
if I were the last man on earth
would I know enough to turn
the lights off when I'm done?
Who do they think they're kidding?
Where I come from we're used to it.
We do our best work in the dark.
Why do we stay here, sleeping on a dwarf
dream, the subtitles shaky, waking to fish
for loose change? I'd like to go inside now
where it's warm and you never know
what's next. Under the Big Top
of my mobile home, a survival kit's
included. It's a real time-saver, what's more,
it works—I'm spared the spectacle
of the chapped, you know, the portable
sky. Inside we have our own dome, sugar
doughnuts, and the outline of an escape.
I don't find that comforting. But it beats
sleeping on the knife. The meadowlark has
just one song. Clearly, we hear what we've
missed. I live here anyway, in a landscape
shaped like it's impossible to end.
—Mark Conway is a poet living in Avon, Minnesota. His work was featured in the Boston Review's "Poet Sampler" series and will appear in a forthcoming issue of Agni.
Originally published in
Featuring interviews with Robert Altman, Ida Applebroog, Chuck D, Alvaro Siza, Joseph Chaikin, Peter Campus, Robert Pinksky, and Maryse Conde.