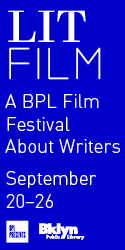 Subway
The IRT rattled the customed, ignored noises
The melting pot rocked and rolled like a dull
Behemoth, stuck in disparate desperations,
Blending into the molded plastic
And burnished metal, hunkered down,
A few squinting heaven-ward, reading,
Agog, MTV ads for over-priced Broadway,
Laser podiatrists, Poetry in Motion.
 
I confess a horrid contempt, wondering
Which of these tired carcasses might carry
My reader, my audience. They seem, slumped
Against the day's end, so weary, so beat.
 
As if in answer, as if from the machine,
A beggar thundered into the crowded car
Wailing, dropping to his knees, hands locked
In supplication. "I'm begging," he shouted
In a dark whisper, "on my hands and knees."
 
He had Socrates' stringy beard, and Jimmy
Dean's wind-breaker, and hands like mine—
Thick and worn and grasping.
 
I watched my audience stir, remembering
The times they'd begged, for mercy or love
Or time's patience or death's indifference.
 
Some grimaced and looked away.
Some smirked. Some gave the con-man
Credit and a coin of reward. Some believed,
And wished they lived elsewhere, othertime,
Where they could invite our jester home.
 
The beggar stood, still wailing his refrain,
And shuffled past, collecting his fee.
I could not meet his gaze. Here, I thought,
Was an image of my own dilemma.
To plead for, confidence, and accept
Whatever hand-out, however given.
Ghosts of Christmas Past
Old journals spread out, full
Ash tray and empty snifter at elbow,
I read tonight passages from my other
Life. Scrawled ambitions and cocky
Intentions; persistent—even then—fears;
And, of course, the same old litany
Of love's sneaky hurt and vanishing act.
 
My hand, I notice with a tick-like twitter,
Strikes me as eerily unchanged.
These patterns I make refuse, it seems,
Time's attrition, thickening knuckles,
Loosening skin, muscle's slow retreat.
 
I study this ancient self, relic of youth,
And shake. Actually tremble and quake
To think of it. To see that self, other self,
The one I did not answer well enough;
To know, heartsore, how disappointed
He would be could he see him now.
 
Wouldn't he lash out? Rant and rave?
Accuse me of ornery laziness? Curse me?
"Couldn't you just get over with it all already?"
I know, I know, I say to me, we had,
We did, such promise. "Oh, puh-leeze!"
He strides over and clocks me a good one.
"Aren't you tired enough yet? Geez!"
 
Hey, I say, you could've handled your part
Better, Buster. Don't come all sanctimonious
At this late date.
           He can't argue. He wavers.
He vanishes, slides back onto this blank
Page. Just on the other side
Of this ever hopeful hand.
Reading Keats in Rome
                  Who on his death bed
             in the bitterness of his heart
      at the Malicious power of his Enemies
                            Desired
These words be engraved upon his Tombstone
               Here lies one whose name
                      was writ in Water
 
I stood stunned before Keats's bitter grave,
My disappointments shadowed and calmed by his.
How pray to a dead poet? A god, frail and lost
Just like me.
 
A tabby, newly arrived among the ruins
Fed and pampered by a league of tourists
And rich women, watched as I backed away
And settled onto a ruin of my own
Ancient marble pebbling my thighs.
 
My new familiar rose and stretched and slinked
Over, marking my weary legs, and sat.
Still and entitled,
We watched Keats's stone together,
Both wishing it would move
Shake off the harsh inscription;
That Keats might rise and read on Time's ledger
How wrong were his enemies, how vanquished
And vanished.
 
Here was a ghost I wished would visit.
I wanted now to believe conjuring could work
Magic, call him back, shimmering from the other
Side to mine. He would reach down,
I was certain, and slowly stroke
Between the tabby's ears.
We could go for a coffee. We could have a meal.
I could catch Keats up on all the news.
 
But nothing happened. Except unanswered longing,
A silent wailing, heard only by the gray tabby
who blinked and yawned and settled to sleep
Entwined about my feet.
Guy Gallo is a displaced New Orleanian, produced playwright (Failing), screenwriter (Under the Volcano), sometime poet, and unpublished novelist. He's working on a new novel, Visiting History, and two plays, Antigone in Desire and The Shallow End.
Originally published in
Featuring interviews with Gregory Crewdson, Lorna Simpson, Allan Gurganus, Louis Auchincloss, Marie Howe, Rilla Askew, Rupert Graves, Andrew Blanco, and Paula Vogel.