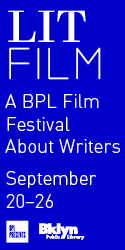 Big Feathered Hats
worn by women a century ago
would necessitate aligning the body in a threshold
just so. It's this just so
that intrigues Professor Iriki,
who has probed clumps of tissue
to uncover how cells and circuits
map the world around it
to the body's schema.
To sense that tight spot
whether concrete
or like the night her lover admitted
he'd had an affair with his own mother—
his word, affair—
and she knew in her bones
which was really her brain
that she should get the fuck out.
Those feathers. That exit.
Admission
Victor Hugo claimed that dreams
are the aquarium of the night
confirming for the tourist
the mysterious hush
when viewing the depths sealed behind plate glass.
Even more than dream, I wish
to name the various species;
to stare at or flee the one that sports a playmate's face
blinking back at me. Cathedral of science!
Cathedral of childhood! Of childhood nights!
Of adult—what? Of remorse as a hall
to which we pay admission?
 
Swinburne Island
for E
We collect what we collect with varying intent
from mammy dolls to gall wasps;
and for a fledgling ornithologist, cormorant vomit,
or what his advisor describes as
frantic ichthyology—a search for ear bones or other fragments
that could identify a certain species among the partially digested.
The handsome devil-birds that dive like penguins
and fly like ducks are drying their spread wings
when Colin climbs onto some rocks
just below the Verrazano-Narrows. On Swinburne Island,
once a quarantine for immigrants, now rubble,
the young man sees the birds flushed from thickets
and hears the dumping of stomach contents—
which they do to lighten for take off or signal, Get lost.
Or flaunt what's been consumed:
Grandma Ida's wienerschnitzel. Uncle Jack's Sunday comics.
Auntie Kimiye's pearls. Burying a tiny terrier up to its neck
but just for ten minutes. A little sister's blanket.
A thump, smelling of mummified fish remains
and prized by an ambitious graduate student
whose own gut is frantic with fortune, tangy and rotten.
This issue of First Proof is sponsored in part by the Bertha and Isaac Liberman Foundation.

Kimiko Hahn's forthcoming book, Toxic Flora (W. W. Norton), in which these poems will appear, is inspired by the science section of the New York Times. She teaches in the MFA Program in Creative Writing and Literary Translation, Queens College, The City University of New York.
Originally published in
Featuring interviews with Guy Ben-Ner, T.J Wilcox and Anne Collier, Sam Lipsyte and Christopher Sorrentino, Carlos Reygadas, Patricia Clarkson and Howard Altmann, David Sylvian and Keith Rowe, Edgar Arceneaux and Charles Gaines and Rick Lowe, Charles Bernstein.