Tell the story of pockmarked Martha,
tall and gawky, feet grounding space,
wing-tipped glasses and flat graying hair,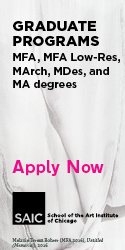 Martha Smith
Tell the story of pockmarked Martha,
tall and gawky, feet grounding space,
wing-tipped glasses and flat graying hair,
hardly a Madonna, but the shy, sly look
in blue eyes (even if impertinent)
beckons, as a little flirtatious
laugh rises from the saddles of flesh,
surfaces on the quiet face, composed
like a psalm in a bunch of red necks.
Who would have wanted to go
to the gravel pit that day—hotter
than 100? Some weed-twisted mind
called for bodies. Martha waltzed
on her long, stockinged legs into the pit.
She comes on into the sunshine
bold as a girl from out of state, newly
plucked from the basket, thrust into a vase,
wobbling head with two giant cheekbones
and the eyes of outer space. They—
                                              the boys—
rub up against each other and curse.
She lowers the fins of her craft
and weighs the deep-county hopeless
weather conditions. She is not fazed
by the surrounding territory:
a land of dinosaur contradictions,
her father could be out back, one of them.
She chooses a song and sings.
They think they hear sirens, then
they get angry and shoot guns into the dark
playing blindman's buff all over again.
Question
Question of time
beyond repair
no longer a mother
no longer a voice
eyes on the elevator floor
comfortable shoes
another cemetery
another day of sun but clouds seem near
hands on the thing that must be done
this is breath
that is life
the fountain has water today
children make an animal noise
playing in the park
loss beyond repair
age
no turning back
like birth: you have to go through with it
tears no longer fall
it is far too serious for that.
What Is Beautiful
First, what is visually beautiful?
Then to sleep, rising to snow
masking the first blooms of spring.
That was how she thought of beauty,
from the interior.
                                            About snow
he thought of what every child learns,
how every flake is distinct, but he
didn't feel admiration.
They made love standing up
before walking every inch of the woods,
before planning what to buy for dinner.
Later, pages turned down, she said,
"It is words." The most beautiful
thing in the world. "But they aren't visual."
"Yes, they are." Without meaning to
he slammed the book shut, started a fire.
They sat face to face.
                                            Over drinks
the snow went into its night cycle.
Quickly time changed, they slept,
they woke to an ice-melt of memory.
In the aftermath they shoveled what was left
aside, making new images of spring.
—Alice Rose George has published her poems in the Paris Review, the New Republic, Western Humanities Review, and Fence, among other publications. A collection titled,Ceiling of the World, was published in 1996 by Spuyten Duyvil. Originally from Mississippi, George lives and works in New York as a photography editor and curator.