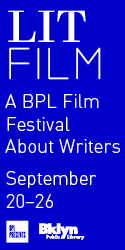 Drumming with the Moon
It is
the sacrificial night,
drums and
frenetic dancing,
calls to spirits.
A night of rum,
of secret rites
and powers from the beyond.
It is the hour
of black butterfly
and monkey's skull.
Now they will speak
to their people,
to those of them that know.
Twenty-Two Years
I was born between cacao
and song,
created beneath palms
and sky,
shackled to the landlord's earth,
birds pass
flying freely.
Sleep My Son
This is not Walpurgesnacht
when hundreds of witches climb onto their brooms
and fly to a date with the devil.
Tonight, the coffins of pale vampires will not arrive
to rob you of your sleep,
nor will ghouls in ghostly wagons,
not even the spectre of Arrechevalo on his horse,
that priest without his head,
riding through the cobbled streets—
do not worry my son,
10,000 revolutionary guards
will protect you while you dream.
Translated from the Spanish by Charles Tarzian.

Alejandro Bravo: poet and fiction writer is the vanguard representative for Region II in the new National Assembly in Nicaragua. He has been director of the University Press at León and served as a military lawyer on the front at the Honduran border. His books include Drumming with the Moon, 1980, El mambo es universal, 1982, and Playful Lights, 1978.
Originally published in
Cindy Sherman, Dario Fo, Bruce Weber, Lisa Fonssagrives-Penn, and Raymond Voinquel.