"If someone hands over their repertory theater group to you, what are you going to do with them?"
Perhaps the craziest thing about Thomas White's sole feature Who's Crazy?, a freewheeling 1966 film starring actors of the legendary New York experimental theater company The Living Theatre and set to a roiling, ecstatic original score by Ornette Coleman, is that a film with its pedigree was basically invisible for half a century. True, it was neither a commercial proposition in 1966 nor is it today: practically without dialogue, Who's Crazy? functions as a 73-minute assault on the senses and, especially, the viewer's interpretive faculties, with music and a sea of faces filling the screen from start to finish in an ever-playful progression from slapstick to ritual. The story features a gang of asylum inmates escaping from a bus in the Belgian countryside and retreating to an isolated farmhouse where they go about recreating society with White's camera apparently floating freely among them.
In its emphasis on the collective and its idea that madness is subjective (or universal), Who's Crazy? is clearly a product of the sixties. Some will find it arch, others will love its rejection of conventions and its constant formal inventiveness, but no one will deny that it is utterly unique. Yet this rare bird languished in writer-director Thomas White's garage for several decades until producer, director, and Ornette Coleman fan Vanessa McDonnell tracked down the print and arranged for it to be restored by Anthology Film Archives. Following a brief run at Anthology in 2016, the film is now being released by Kino Lorber Repertory, including a run at the Film Society of Lincoln Center, and its octogenarian director is gamely granting interviews in hopes that his film will finally find the theatrical audience it has long lacked. Thomas White spoke to me by phone from his home in Connecticut, with a resounding clock striking the quarter hours behind him.
Nicholas Elliott What was your background before you made Who's Crazy? It was your first feature I believe?
Thomas WhiteThe first and only! I don't risk repeating myself. My background is that I come from Santa Barbara, where I was born, and at age twenty-five I went to France and managed to stay for almost ten years. While there, opportunities came along to work on some film projects. I would get small parts as an actor or participate in productions. I worked for Roger Vadim as his assistant. They were making films in France at that time like The Sandpiper with Elizabeth Taylor and Richard Burton. I had a small part in that one, and it was just my interest at the time, until the Living Theatre arrived in Paris and provided an opportunity to make this film.
NE What was your original conception of this film, what was its root idea?
TW The root idea was: What to do with a gang of actors? If someone hands over their repertory theater group to you, what are you going to do with them? So, we took ourselves to this house in Belgium that the actors were given by their benefactor, and actually wrote the story around their situation. The loose script, about thirty-three pages, turned out to be pretty much the story the film became, with the actors improvising upon it.
NE They were in a tricky legal situation at the time, weren't they?
TW Yes, they were. The Living Theatre was a New York group led by a couple, Judith Malina and Julian Beck. They fell afoul of the tax laws in New York and resisted paying them. And they were also, apparently, disrespectful to the judge presiding at their trial, so he put them in jail. That meant that the theater, the actors, were at loose ends: their leadership was incarcerated for a period of time. So they took off and went to France, because it was no longer possible for them to have a theater in New York. The financial arrangement had collapsed, and the theater sort of imploded. They were offered this house in Belgium, so they went there to work on their repertoire. We intervened, got a crew together, and the actors liked the idea of the story we presented, so we did it over ten days. Who's Crazy? is the result of our effort to take advantage of this opportunity. It was opportunistic and it worked as well as it did. It was quite a far-out, across the wall movie as it turned out. Not easy to exploit commercially then. People said, "Ah well, it's ahead of its time." That was a kind way of putting it. It seems to be arousing a lot of interest in the current time frame though.
NE Indeed.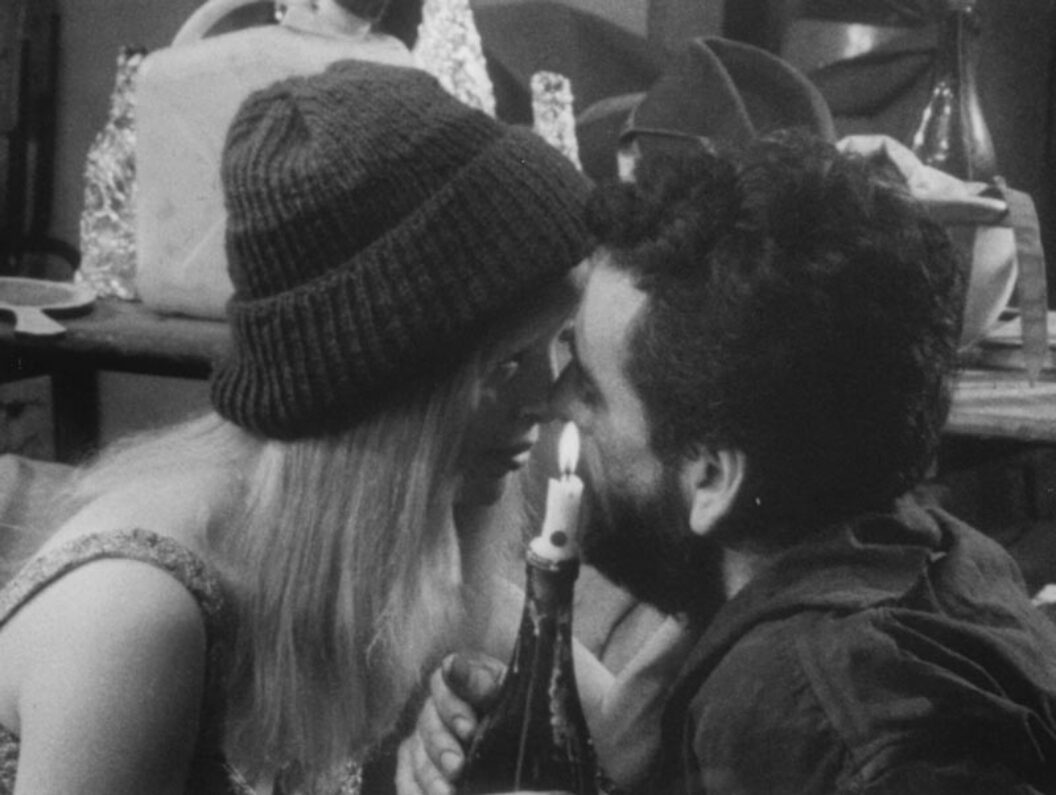 TW You saw it recently, so it's fresh in your mind. What did you think? Did you enjoy it?
NE I did. To be completely frank, part of the reason I wanted to talk with you is that I found it overwhelming. It's a barrage of information, with Ornette Coleman's music nearly constant. It made it difficult for me to process the experience.
TW It is a barrage!
NE I like it though because it feels like quite a unique cinematic experience.
TW Well, you seem to have appreciated the film's intention. In the past, I have been sort of overly praised with faint damnation, but now people are starting to realize there is a method to the madness—that we had something in mind when putting this together. Have you heard of Antonin Artaud?
NE Of course, he wrote The Theatre and its Double.
TW The Living Theatre liked his philosophy and the ideas of the surrealist movement. He didn't want a lot of dramatic dialogue, but he liked stage effects and mysterious primal expressions of sound, movement, and light. So, we were working with the Living Theatre to produce these kinds of effects, more than having a lot of talk, as movies normally do. The movies we were seeing back then were like The Sandpiper or Tender Is the Night, an F. Scott Fitzgerald adaptation, all with a lot of written-out, scripted speech. We tried to follow the path of the Living Theatre's preferences: less talk, more Surrealism.
NE The influences of experimental theater and Surrealism are clear in the film, but you also reference certain types of cinema: there are slapstick passages and you spoof Ingmar Berman. Were films also a positive influence on your work?
TW Well, we were immersed in art films of the time. And we were sort of in the new wave of cinema, the Nouvelle Vague, or direct cinema, and of course this was economic. None of us had the sort of money to make a film that was commercial, like with Hollywood budget. We were going around, taking shortcuts—like using wheelchairs for dolly shots and doing 16mm blow-ups to cut lab costs. It got down to a primitive level of being cost effective, affordable for us. But there was never quite enough to pay for it.
NE The title Who's Crazy? neatly encapsulates the core of the film—this question of madness and its relative value. Who is crazy? What was your view of mental illness when you made the film?
TW Metaphorically, Who's Crazy? is the perfect title because you have two opposite polarities. You're in an environment of authoritarianism, and all of sudden it's breeched by the fact that the incarcerated people who are in the bus escape and are suddenly free. Then along come the cops—essentially the Keystone Cops—to arrest them and bring them back to authoritarianism. You'll notice that the people that come to arrest them are the same people that are arrested, man for man, face to face. The self-same people. So you wonder whether the people in the house, thought to be beyond the pale, unable to live in this society, are really crazy? Have they been adjudicated crazy?
They seem to have fairly normal behaviors and interact in a harmless fashion. They have a fairly normal mock trial, according to what a trial would look like in a civilized world. And their wedding is done with the kind of ceremonial aplomb you'd expect. Then all of a sudden, in a great exaggeration of violence, arrive the policemen, where you have to wonder whether this is excessive force for approaching this problem of getting these rather innocent people back into a bus. The irony of it incites us to ask that question of who is crazy. There's a disambiguation that goes on; it's asking where craziness really belongs and suggesting maybe we're all subject to it.
NE Once the escaped inmates go into the farmhouse, they recreate the world in a kind of genesis, and eventually a ritual takes place. I associate the Living Theatre with ritualistic performance. Were ritual and spirituality significant to you?
TW Very. I only had little philosophy to put into the Living Theatre's mouth because they were full of it when we arrived, but there are certain things I really imposed upon them, as best I could, philosophizing in order to have a message in the film. You might notice the priest in the film advocates truth, health, and sanity. Those were my words for then, and for today, for anyone who will listen. I came up with the holy sticks—when you break the holy stick it ends all hate, or whatever list of maledictions. Also, the mixture of the fluids—the white being male, the red being the female element. This sequence of ideas ends up in a raucous feast that invites the one person in the house who hasn't spoken to finally say a single word: "Spa-ghe-tti!" And behind him is the motto on the wall, which says in French, "We will kill no man, we will kill no other human being." It makes this a rather significant pacifist atmosphere for them to be in.
NE How did Ornette Coleman get involved?
TW There's another, earlier version of the film without Ornette. He hadn't arrived on the scene yet, and when he came I just jumped at the chance for him to do music for the film. It really lit the fuse, set it on fire, made it glow and burn the way it does. Otherwise, it seemed rather sedate and wouldn't take off. I showed it at the Locarno Film Festival without his music and wasn't happy with the result.
I played the saxophone back then with a friend named Norman Mongan. One day he came by, knocked on the door, and said, "I want you to meet Ornette Coleman." I was delighted. I never thought I'd have the chance. When I was a kid I would go to 57th St in New York and listen to Charlie Parker, Stan Getz, Errol Garner, and Oscar Peterson. I'm a jazz buff at heart.
Ornette and I hit it off from the first day we met, and I hired him to do the music for the film. I put him in a screening room to study it. He took two weeks to write the themes, then we went into the studio and recorded it in a day or two. Mike Hodges and Dick Fontane where there with their cameras doing a film for the BBC and filmed our sessions. I also gave them a dupe negative of the last fifteen minutes of the film, which was shown in London at the time. It got some attention, but they didn't want the whole film, just the end, because the focus was on Ornette Coleman and not me. With this rediscovery, I'm hoping that the film can be appreciated as a whole.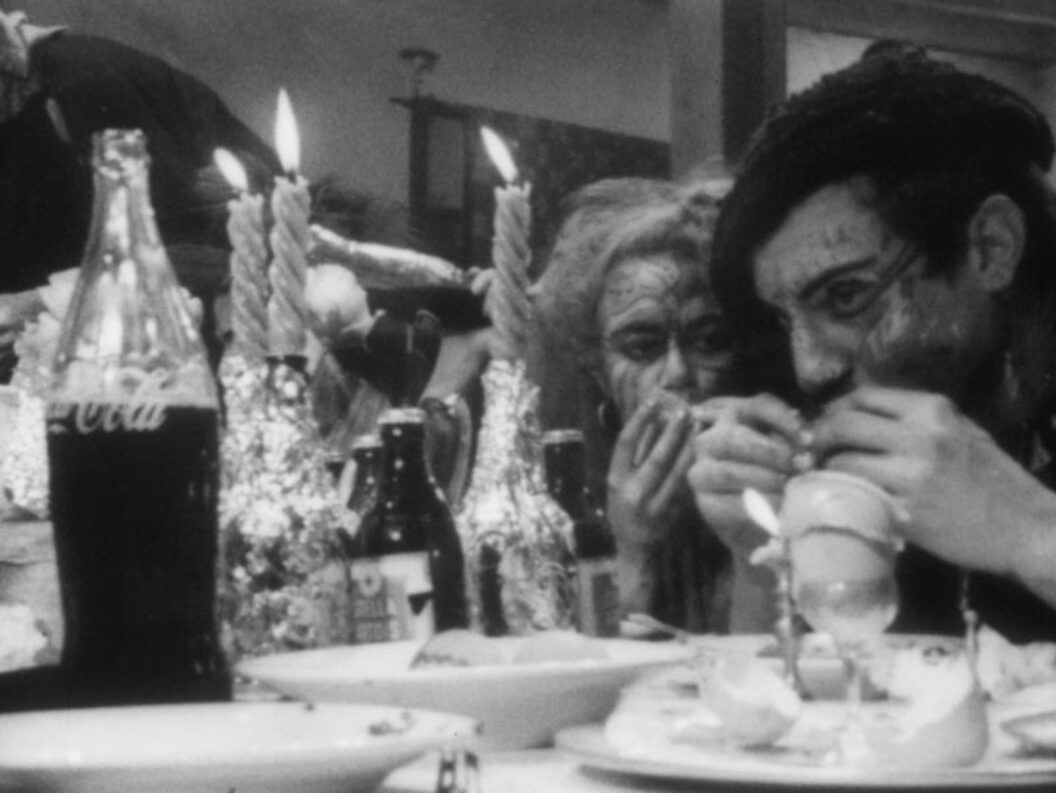 Of course, Ornette is not the only one whose music is used. Over the wedding, I had a very different type of music, more liturgical and less noisy. Ornette is very upbeat and noisy with his music—like in the kitchen scene when they are making the eggs, it's very uplifting, with all of them holding each other. That's the high point of the film for me. Ornette was a terrific genius, an interpretative genius. He impressed me beyond belief.
NE Tell me about your collaboration with the editor Denise de Casabianca, who is known for her work with Jacques Rivette and Jean Eustache. The editing of the film is so free and inventive.
TW We were very lucky to get her. We had ten hours of film to edit that down to an hour and twenty minutes or so. It took a while, and she was in the studio editing for many weeks. It's the opposite of a compilation film. You have to put together the best scenes and the best parts, and see how they fold together best when you come away from a shoot like that. It's a jumble until you have an editor that finds a way to put it together. She was remarkable.
NE What have you been doing since this film?
TW At the Cannes film festival, I was glad to meet Richard Lester, the director of the Beatles films. We talked about my film and he said it was the best jazz soundtrack on a film he had ever experienced, which I thought a nice accolade coming from someone like him. I said, "Well, what should I do with it?" He said, "It might be hard to sell, because it's not very commercial, but I'd like to see your next film." "So would I," I said. Anyway, he advised me not to whip a dead horse. I wasn't sure where I could go at that point with Who's Crazy? I did get a screening at the Cinémathèque in France, and that was okay, at least I got that out of Cannes, but nothing beyond that—no distributors, no big-time. Anyway, I came back to the US and made my living making industrial films and commercials. Eventually, I got a job with at a TV station in western New York and was a commercial producer for five years, making everything from Public Service announcements to commercials and short documentaries of local interest. I ended up working for 60 Minutes as a film editor. Then I came to Connecticut to breed horses, which is what I've done for the last twenty years.
Nicholas Elliott has been the New York correspondent for Cahiers du Cinéma since 2009 and is a contributing editor for film for BOMB. He recently joined the board of the Flaherty Seminar.