Discover MFA Programs in Art and Writing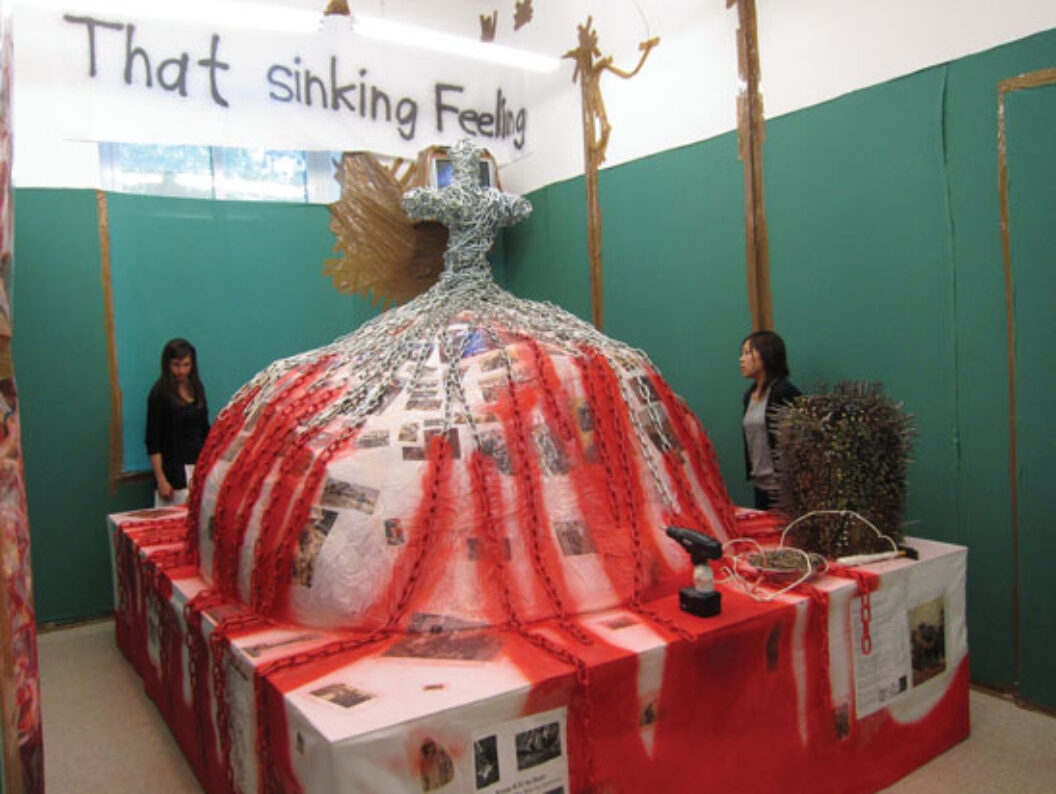 Dear Thomas,
I've just received your answers to my questions and your handwritten letter in an envelope at home. They surprised me in a good way. Thank you very much. When asked to write an introduction to the interview, I decided to answer you with an open letter instead.
I think I allowed myself to understand more about your work through "making" questions. When I was asked to participate in a dialogue with you, I gladly accepted, seeing it as an opportunity to think aloud about your work.
When we met some years ago, in 2003, I think, at Cantina Montejo in Mexico City, a block away from where I live, you invited me to visit you in your studio in Aubervilliers. I had imagined it as a place of labor, a place in which art making means the production of knowledge, of language, of emotions, not as a factory or a sweatshop for art, as it often happens these days worldwide. It turns out your studio was actually a former factory, which your activity totally transformed into a place full of creative energy.
When I visited you in France, on a snowy afternoon, in late 2005, Aubervilliers and its surroundings showed me a landscape and an environment that was very different from my idea of what being an artist in Paris was like. This densely populated industrial area on Paris's outskirts not only provides the city with labor, but also with culture: music, the sport of parkour, tecktonic dance, and verlan slang. From the entrance to your studio I saw the Stade de France, France's national stadium, Zinedine Zidane and Franck Ribéry's playground. You gave me and our dialogue several hours (and some tea); it is there that I learned, or perhaps understood, that I could be in a new situation, in a totally different environment and universe: Paris is alive.
Thank you, Thomas.
Un abrazo fuerte.
Abraham
Abraham Cruzvillegas Why live in Paris?
Thomas Hirschhorn Because living in Paris is beautiful. It makes sense for me as an artist and it's a challenge! I love ordinary, everyday life here and I love the people I've met who have become my friends. I stayed in Paris because of the Frenchwomen and Frenchmen that are living here. I like France with all its unresolved contradictions, in all its complexity. I really do love the motto: "Liberté, Egalité, Fraternité." I take it as something to fight for, at every moment. To live in Paris was never romantic to me. Coming from Switzerland, a very small country, it's been my effort to confront myself and find out my own measure. This is only possible in a large urban city. I am speaking about "Le Grand Paris" and it's clear to me that thinking of Paris includes all of its suburbs. To me, the interest and the beauty of working in this country and in this city come from the work of my friend Manuel Joseph, a French poet, but also from many other poets, writers, and philosophers living and working here today. They create a real dynamic. To me this makes Paris a special, powerful, rich, and graceful city of creation. I love to confront the very condensed, critical way of thinking—a sometimes fucking hypercritical thinking—that only the French can produce. I love it; it's excessive and not always justified, but is terrifically rebellious and crazily resistant. It's an intellectual pleasure and an artistic challenge to be confronted with such theories. There is also a real Republican, egalitarian tradition which I love. Living in Paris is stimulating and demanding, but I understand the economic pressure as an invitation to face reality. The possibility of being in touch with the sharp thinking of a Frenchman such as Manuel Joseph, without compromise and without reconciliation, gives meaning and reason for me to work here more than in any other city.
AC You worked and lived in Aubervilliers for a while. What does the banlieue mean for you?
TH I am still working in Aubervilliers, where my studio is located. Paris is not Paris without its suburbs. Aubervilliers is a part of Paris. What I need, as an artist, is to live in a space of truth, and this space of truth exists in Paris. As in almost every large city, the space of truth is its suburbs, their so-called banlieues. In Aubervilliers, as in other Parisian suburbs, one can touch the truth and be in contact with it. It's in the suburbs that there is vitality, deception, depression, energy, utopia, autonomy, craziness, creativity, destruction, ideas, young people, hope, fights to be fought, audaciousness, disagreements, problems, and dreams. It's in the suburbs that today's big issues are written on the building facades. It's in the suburbs that today's reality can be grasped, and it's in the suburbs that the pulse of vitality hurts. It's in the suburbs that there is necessity and urgency. It's the suburbs that will save the city center from a most certain death! This incredible energy has to be directed somewhere and be fruitful somehow, find a destiny and a response. This is the problem of "small" Paris. The "small" Paris turns its back to all this energy coming from the suburbs. That's why I am for "Le Grand Paris."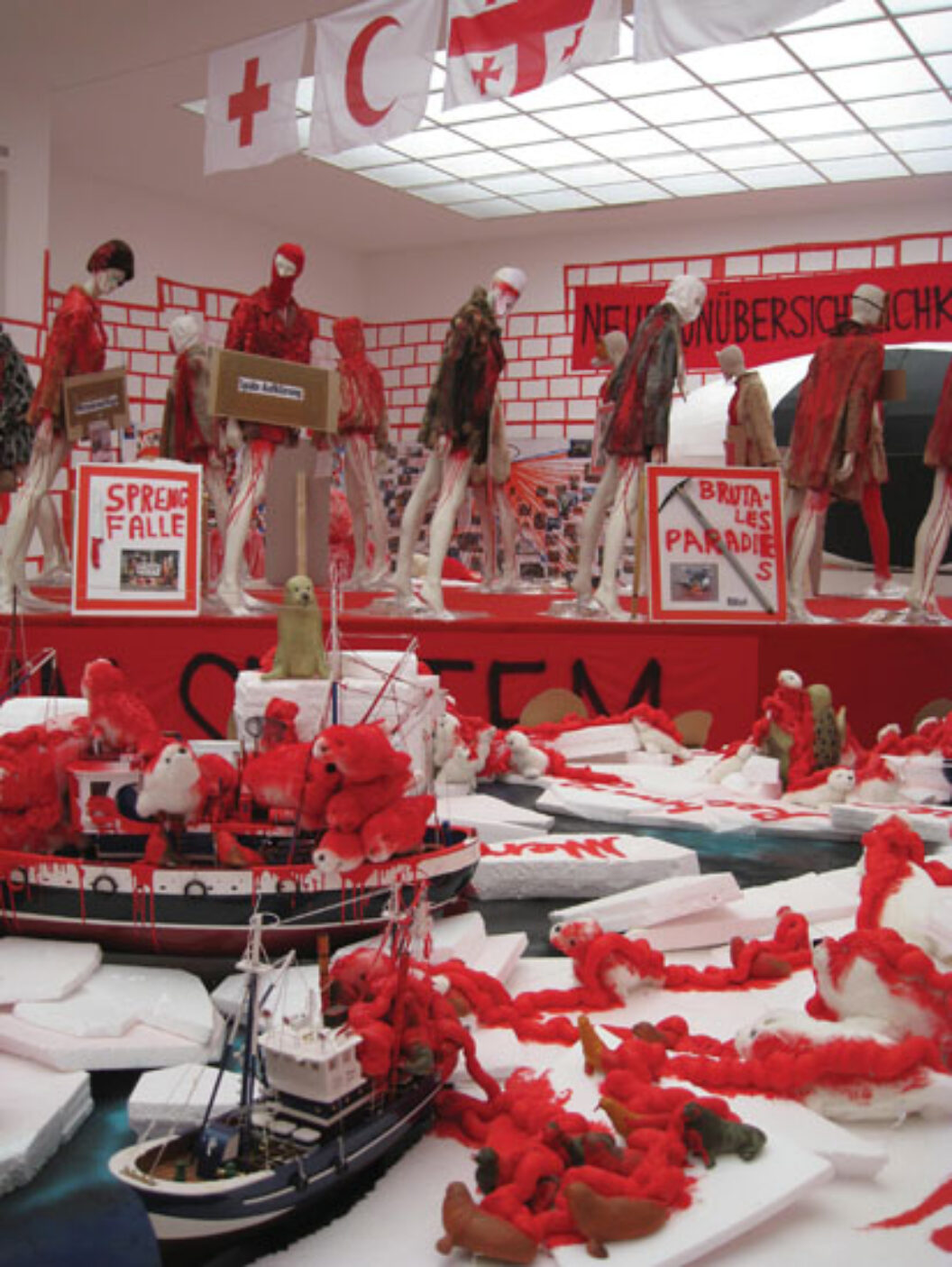 AC How do you deal with humor in everyday life and in your work?
TH I have a lot of humor. The problem is that others don't understand it—it's a pity! And it's the same thing with the humor in my work. People do not understand that there is humor in my work! More seriously, I think humor can be a path and an opening toward the other. But I do not "deal" with humor in my work, I just want to give it form as much as I can. What is certain is that I have a lot of fun doing my work, always and everywhere—in my studio and in public spaces too. To do my work is not glamorous, but it is a lot of fun. And to do my work is pleasure, it is full enjoyment.
AC Is disaster—famine, flooding, earthquake, forced migration, genocide, holocaust—a source of energy, creation, love?
TH Yes, because disaster is part of the world, our one and unique world! I agree with the world I am living in. It is only if I agree with it that I can have the power to change something. To agree does not mean to approve of everything or to support or to endure everything. To agree means to love—to love the world—beyond "respect," "empathy," "tolerance," "compassion," and "kitsch." Love is passion, desire, ecstasy, infinitude, and cruelty. As an artist, who is part of the world, I have to confront disaster, my own disaster first, but also all disasters. I have to love this world if I want to change its conditions, I have to love the fact that disaster and "the negative" are also part of it. The world is not the world without the negative. Even within the negative, I have love for art and for artists, love for philosophy and philosophers, love for poetry and poets. This love gives me the energy and the will to create despite all the negative and despite all the past, present, and future disasters. Love is stronger than disaster.
AC What happens to the obscene when we are able to see it?
TH I never use the word obscene or obscenity. I think we are living in a time where words like these are used to impose morality. I refuse this and I refuse the kind of "hypersensitivity" developed and encouraged these days—I am sensitive but no more than any other human being. The Western and Northern luxurious hypersensitivity is the attempt to avoid contact with reality and its hard core. Terms such as obscene are used swiftly in order to protect people from exposure to the truth. Truth needs to be paid for. For there to be truth you have to make a sacrifice. I mean truth—not fact, not opinion, and not information. We are living in a dictatorship of opinions, of facts, and of information. Opinions about what is "obscene," what is pornographic, and what should not be shown to children! As if everyone and everything should be neutralized by so-called morals or even ethics. There is no longer a single art exhibition without a warning about "obscenity" or "pornography!" But I, as an artist, want to see everything, know everything. I want to be emancipated and sovereign. I do not want to be neutralized. I do not want to be the one saying: "I can't see this! I don't want to see it!" I don't need to be told what to support or not. During the second Iraq war, the former American secretary of defense said: "Death has a tendency to encourage a depressing view of war." That's exactly the point: in order to discourage inhumanity, we need to see it! As an artist, I don't want to dream or escape reality.
I don't want to flee the hard core of reality.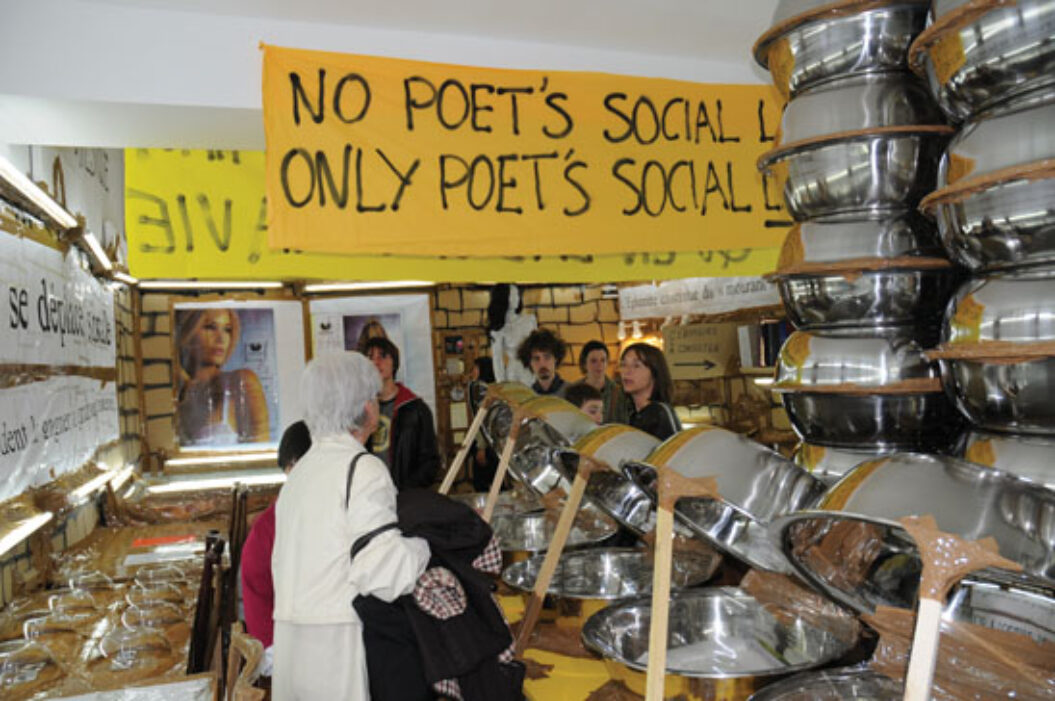 AC Can you imagine a noncapitalist way or environment for sex? Not efficient, not productive, not amusing, not serious?
TH Sex is apolitical. Sex exists—thank god!—beyond politics. I think the people in North Korea have sex also, don't they? Sex happens completely and forever beyond everything else. Sexiness is generosity, expenditure, non-economization, emancipation, infinitude, ecstasy, intensity, risk, self-authorization, pride, the absolute. Sex is not reality—sex is the real. And the real—because it is the real—stimulates, boosts, or even dopes and resists all environments and all contexts. And I refuse to fall—like a mouse—into the trap of "noncapitalist" sex!
AC Why collaborate?
TH I do not collaborate and I do not use this term collaboration. I want to work with friends, I want to work in friendship. Working in friendship, as I do with the German philosopher Marcus Steinweg or with the French poet Manuel Joseph, means to work in unshared responsibility. Unshared Responsibility is a new term we created in order to avoid collaboration. Unshared Responsibility means I am completely responsible for the work of my friend, and it means that my friend takes complete responsibility for my work. Unshared Responsibility does not mean discussion, argumentation, negotiation, or finding a compromise. Unshared Responsibility means to be absolutely committed to the work of the other, to take it for what makes its strength: a sovereign affirmation. To work in Unshared Responsibility means to take the responsibility for something I am not responsible for; it means to be generous and it means to have absolute confidence. Unshared Responsibility does not mean to control but to share the love of art, of philosophy, and of poetry. Unshared Responsibility is something I only do with someone and the work of someone I absolutely agree with.
AC Describe chaos.
TH Chaos is form. I want to give form to chaos. Chaos means complexity, inclusion, incommensurability, clarity, precision, exaggeration. Chaos is a tool and a weapon to confront the world, which is chaotic, but not in an attempt to make it more calculated, more disciplined, more educated, more moral, more satisfying, more exclusive, more ordered, more functionable, more stabilized, more simplified, or more reduced. No, chaos is the form to confront the chaotic world. I must specify the chaos, touch it, struggle with it, to finally be lost in it myself. Chaos is another word for ethics. Chaos is resistance, courage, and hope. In art, the question of form is the most important and essential question. I have to struggle with my will, I must give form in the chaos.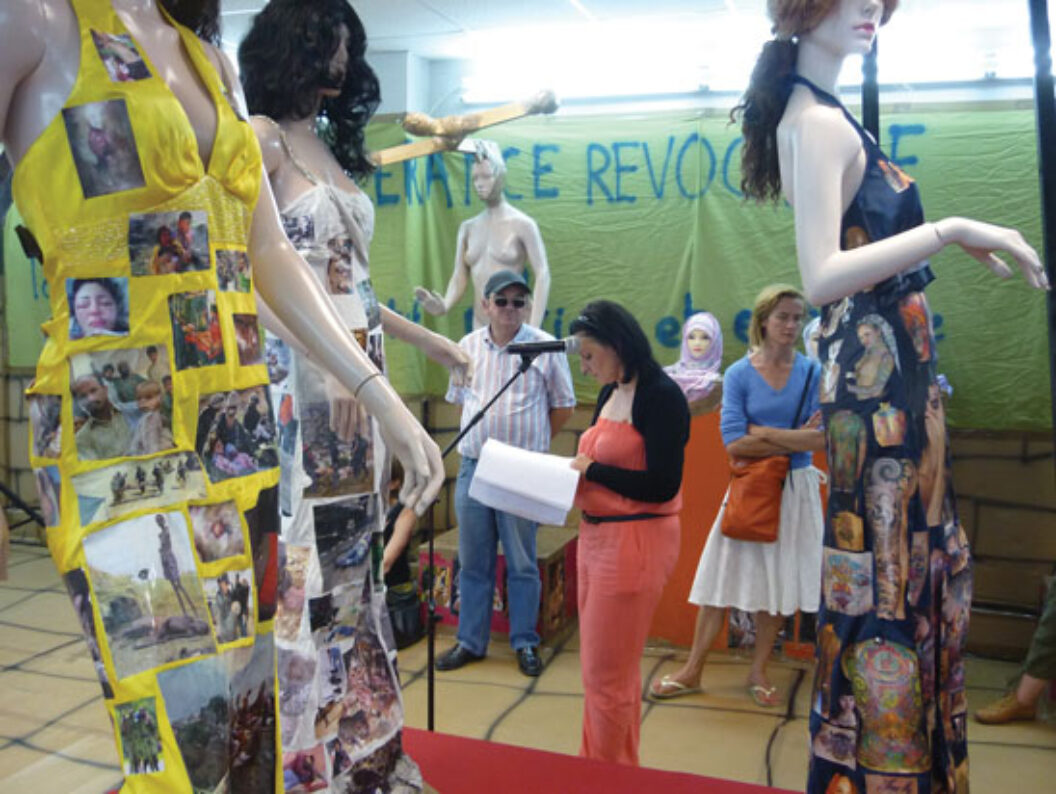 AC Sometimes while looking at your work, The Planets by Gustav Holst comes to my mind.
TH I do not know Gustav Holst. Should I know about him?
AC It's not necessary. What are you listening to recently?
TH I am listening to fado. I have three fado CDs: Maria Teresa, Katia Guerreiro, and Amália Rodrigues. My favorite one is the CD of Amália Rodrigues, Uma Casa Portuguesa. It's beautiful music and I like to play just one song on the repeat track mode and listen to it for hours. "Barco Negro" is one of those songs—it's sad, beautifully sad.
AC What's the meaning of labor in your work? Do you work with assistants?
TH I love to work and I love to do my work. I always liked to work a lot, and because I like it, it's easy for me to work and work a lot. Because I, the artist, am the art maker, I have to and want to do the work, to give it form and to work it out. I want to be overgiving in my work, I want to work with excess, and I want to be generous while working, I want to self-exploit myself! I like the fact that my work involves a lot of labor. Even when something is big, its big size is made with labor, it's not blown up industrially. The fact that people can actually see the labor is a way to include them in my work, to make an opening. This opening and including is precisely what I mean by working, or put differently self-erection. To me the term of work and labor are positive terms, terms of self-invention, of self-authorization, and of being mobilized. I am for production and I am for affirmation. To me production is related to dignity and pride. Sometimes people tell me: "Do less! Work much less!" They are wrong, I don't fall into this trap of nonproduction, into the trap of deception and cynicism. They don't understand that to work—besides the big pleasure it gives me—is a necessity. It's the necessity to give form; to assert and to defend my form. It's necessary to insist by working a lot and by producing a lot. For those who want to do less—it's fine with me—let them do less, let them produce less. But don't tell me I should do less! I want to do what I love: to have fun and, to me, to have fun means to do my work! Yes, I do work with assistants.
AC How do you choose materials to work with? Do you choose?
TH I love the materials I am working with. To use the materials I work with is more than a choice—it's a decision. Doing art politically means loving the material one works with. To love does not mean to be in love in a kitschy way or to fall in love with one's material or lose oneself in it. Rather, to love one's material means to place it above everything else, to work with it in awareness, and to be insistent with it. I love the material because I decided in favor of it, therefore I don't want to replace it, substitute it, or change it. The decision about the material is an extremely important one in art. I decided on the materials I am working with because they are everyday materials. Everyone knows about them, everyone uses them—to do things other than art. These materials surround me, are easily available, unintimidating, and nonartsy. They are universal, economic, inclusive, and don't bear any plus-value. That is the political, and because I made that decision, I cannot yield to wishes and demands for "something else" or "something new."
ACWhat are you reading these days?
TH "L'éthique, essai sur la conscience du mal" by Alain Badiou, and the exhibition catalogue from MAK Vienna, "Blumen für Kim Il Sung."
AC What are you working on now?
TH I am working on Too Too—Much Much. This is my next big work to be exhibited in the Museum Dhondt Dhaenens in Deurle, Belgium. In this work I want to give form to the logic of being overwhelmed by a situation and in assuming the consequences. I will work following my guidelines: Energy: Yes! Quality: No! I have the ambition of creating a new form, to give form to a kind of universal and conflictual hyperconsumption, a form which is the result of confronting three different overconsumptions: 1) The overconsumption of natural disasters; the consequences of being overwhelmed and alone in facing a natural disaster. 2) The overconsumption of the feeling that everything is burning everywhere and everywhere around me; and, 3) The overconsumption of personal and communal human disasters in our lives and their consequences. The question with Too Too—Much Much is: Am I able to give a form which goes beyond usual facts and criticism of consumption? Can I create in my new work some kind of desperate fun that will cut precarious breakthroughs into the hard core of reality?
Abraham Cruzvillegas's work has been shown in over 20 countries since 1987. The Mexican artist's most recent multimedia project, Autoconstrucción—for which he charted the makeshift evolution of his family's house and neighborhood and found the origins of his sculptural practice—was shown at REDCAT in Los Angeles and Kurimanzutto in Mexico City. He is currently based in Berlin, where he is a DAAD artist-in-residence.
Originally published in
Featuring interviews with Charline Von Heyl, Fred Tomaselli, Mika Rottenberg, Thomas Hirschhorn, Adam Phillips, Charlie Smith, David Toop, and Jan Lauwers.