Thom Andersen Tarnishes The Silver: Los Angeles Plays Itself by Peter Moysaenko
Thom Andersen's 2003 cine-essay is a dense and nearly unrelenting 169-minutes of footage culled from hundreds of different films which, set to pleasantly acerbic narration.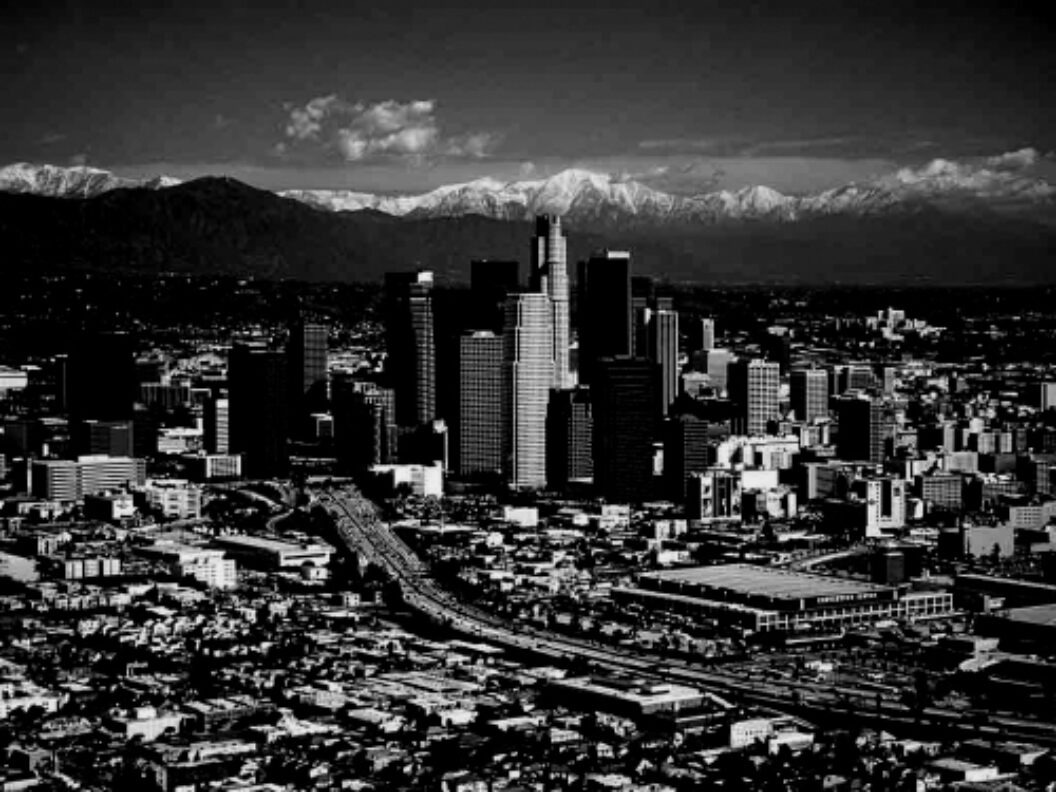 Just a couple of weeks ago I went to see Thom Andersen's 2003 cine-essay—a documentary, in other words—and failed to do so. The video is a dense and nearly unrelenting 169-minutes of footage culled from hundreds of different films which, set to pleasantly acerbic narration, exposes the more menacing illusions and distortions cultivated by the mainstream picture racket. Perhaps I need not mention that it has yet to secure DVD release or even be screened in many places—and the continuing risk of copyright suits and the limited fiscal resources of most interested or interesting distributors pretty well ensures we won't be seeing it on Amazon.com anytime soon. Perhaps it should have been no surprise, either, that the showing at Tribeca 92Y was sold out.
Imagine then my sublime bewilderment upon hearing that Los Angeles Plays Itself—which, by the way, borrows its title from an artfully gritty gay porno—was to be screened again shortly, this time courtesy of The Colloquium for Unpopular Culture, the NYU affiliate that has presented in the past such mind-blowing, hard-to-come-by offerings as the 9-hour Te Xi Qui: West of the Tracks. I got down Third Avenue just in time to help myself to some of the complimentary refreshments before author and editor Richard Porton kicked off the evening low-key, introducing Andersen's film as one in a tradition of solid essay docs—Mike Rappaport and Chris Marker among the directors named—that bring an overriding lyrical and political commitment to the nonetheless rigorous "treatment of actuality."
True enough, the inveterate style and intelligence of Los Angeles Plays Itself shines through almost immediately, the very first five minutes—excerpts from The Crimson Kimono, The Glimmer Man, They Live, Out of Bounds— prompting a few giggles among the small and enthusiastic audience. (I think we knew we were in for some serious fun.) Narrator Encke King prevents the sequence of film clips from becoming an indecipherable barrage, maintaining the pacing and tone of a conversation held over coffee. "It's what's up front that counts," he explains at the out-set, adding, conspiratorially, that "movies bury their traces." We are bidden to watch not as Hollywood expects us to, but with voluntary attention, getting past the expertly dressed leads and zeroing in on the more elemental concern of setting. After all, there's no story in a vacuum, and as the trumpeted notion of country, the notion of property over country, reminds daily, a life's nothing without a home. "Los Angeles is hard to get right," though, the narrator says, the slightest touch of contempt and hurt coloring the sentiment.
With the finesse of a personable human rights lawyer, Andersen rockets through the clustered wrongs of Hollywood. Pointing out early that most studios reside in Culver City, not in Hollywood, Los Angeles Plays Itself addresses "Hollywood" primarily as an idea, and one with a consistently shifting definition. It distances itself from L.A., though at the same time siphoning from its sprawl decades' worth of money-making—and Andersen interprets Hollywood's implementation of the unfortunate abbreviation as a strategy for diminution, tutelage. Los Angeles, Thom Andersen's hometown, has figured, it seems, for most of its existence, as a misunderstood mutant, a territory without definitive identity, despite now serving as residence to nearly four million people. A McDonald's restaurant in the City of Industry remains forever closed to the public, but functions exclusively as a set for commercials. The Bradbury Building has been cast as a Mandalay locale or as the headquarters of an East Coast newspaper. Frank Lloyd Wright's Ennis House has provided context for such varying visions as that of Bladerunner, The House on Haunted Hill (a cheesy Vincent Price joint), and a Ricky Martin music video. Hollywood refuses to take Los Angeles for what it is, Andersen insists, if the professionals that make up the movie machine have any clue about its essence to begin with. Hollywood denigrates what should represent the pride of Los Angeles's eclectic architectural scene, casting its Modernist and International style homes as dens of iniquity, the mansions of gangsters and drug lords, rather than centers for evolved living. Moreover "conventional ideology trumps personal conviction" just as geographic license provides a cover for lazy writing. Runaway rapscallions find shelter in Malibu beach houses—some kind of Reagan-era joke, no doubt—and landmarks are renamed, relocated to serve inept plot twists.
However Los Angeles Plays Itself ultimately positions its city's people, not property, as the disappeared casualties. The misrepresentation of municipality simply facilitates the erasure of genuine citizenry. Polanski—a foreigner then and now—is singled out as the first to take into regard Los Angeles as a subject, a controlling factor of narrative, not mere background filler or tertiary character. But Chinatown, too, is held at fault for construing public history—the stuff of news headlines, voting results—as a secret history. Chinatown teaches that "good intentions are futile," and it evinces a "history written by the victors…but written in crocodile tears." A more contemporary noir feature is likewise summed up: "cynicism has become the dominant myth of our times and L.A. Confidential preaches it." Both pics take liberty with historical fact, proposing that the respective swindles of water management and freeway development within Los Angeles occurred behind the backs of the working people. In fact, no such treachery was required in the non-fiction version, as both measures to reallocate benefit into the pockets of a marginal elite transpired in full view of a misled electorate.
Andersen pushes the issue of de-humanization, of symbolic genocide, further. A venture such as the Michael Douglas-fronted Falling Down presents the case of a white-collar, WASP-y male who, abiding no more of an interminable traffic jam, deserts his car and, trekking across Los Angeles, essentially loses his mind, though not his sense of entitlement. Yet the notion that no one rides public transportation in Los Angeles is as phony as the manipulated perception that everyone in the city floats around with stars in their eyes. Big-budget practitioners fail time and again to capture the vitality, the idiosyncrasy of Los Angeles, the essential constitution of the city's character, because they are—their friends are—on the whole, too privileged to have to confront it. They're only passing through. The Exiles and Killer of Sheep—El Norte, to a lesser extent—are granted special status by Andersen as those rare neo-realist views that offer insight into the conundrum of daily struggle, of functioning as individual originals amidst a terrain of stifling simulacra. In the end, Los Angeles Plays Itself proposes with wit, with panoramic insight, that the power of cinema—as with most art—lies in its corrective, its progressive tendency, the capacity to both preserve history and forge beyond it. The film proves its point with a vengeance, and that it cannot be accepted into the standard channels of cultural commerce only hammers home the lesson.