Things Fall Apart: Gabriela Salazar Interviewed by Louis Bury
Sculptures that investigate architectural forms.

Discover MFA Programs in Art and Writing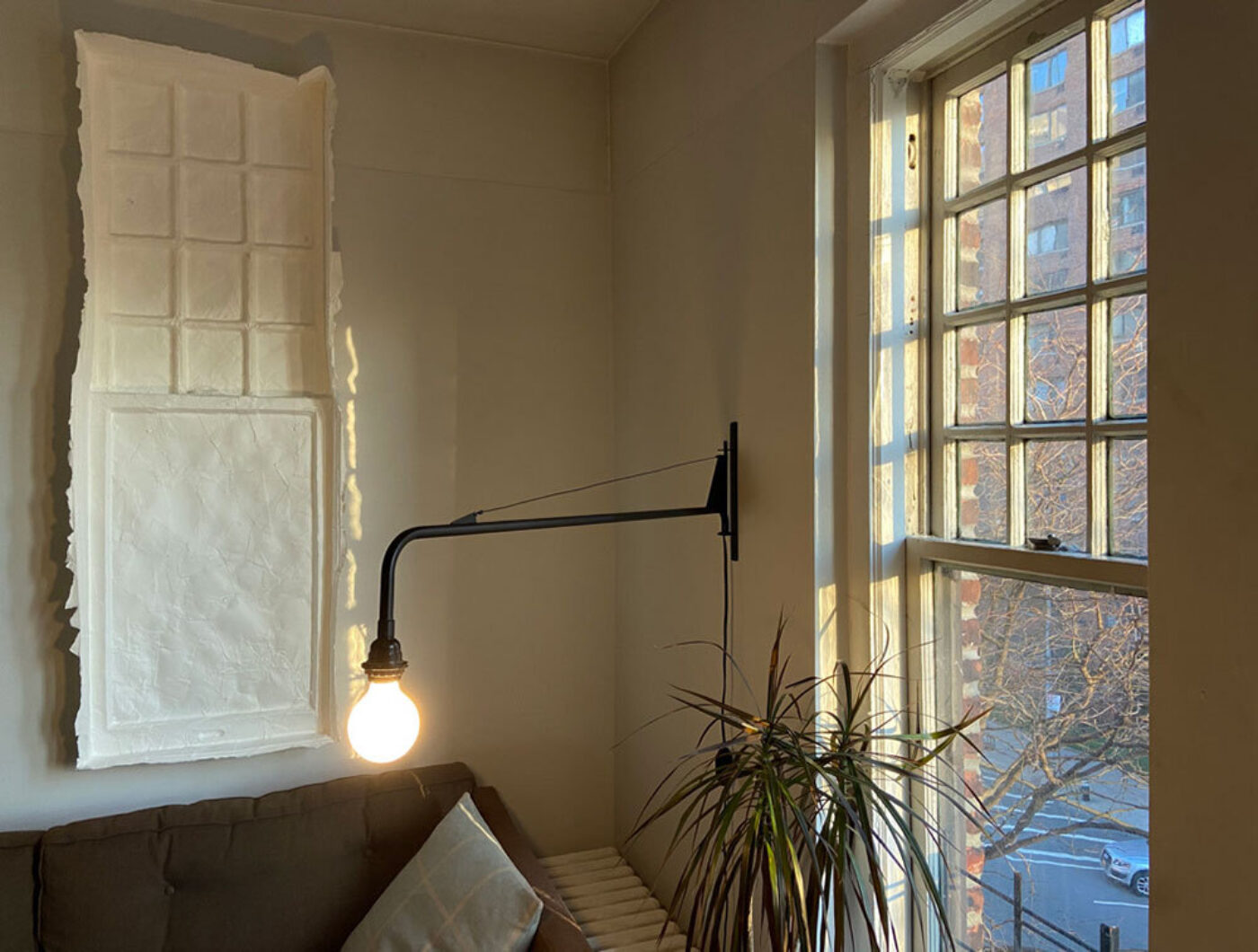 Gabriela Salazar's provisional, gently offbeat architectural installations reflect on how and why humans construct shelter to protect themselves from the elements. In Advance of a Storm (2014), for example, consisted of two room-sized slatted cubes, installed near the airport and ferry dock on Fishers Island, whose design specifications were determined through cryptic procedural interviews with Salazar's parents, both of whom are architects. Matters in Shelter (and Place, Puerto Rico) (2018), a makeshift folly whose sloped, blue tarp evoked disaster recovery efforts, likewise pointed up the necessity, as well as the precarity, of human-made structures in the face of perilous weather.
But Salazar's work is also elemental in the sense that its constituent parts call attention to the fundaments of architectural form. Throughout her oeuvre, common construction shapes and materials recur in uncommon ways: handrails that can't support human bodyweight; doors stacked into sculptural form; bricks and wedges designed to fall apart over the course of an exhibition. Such aesthetic gestures thwart utility on an intimate, decidedly human scale, hinting at the quotidian ways in which the built world both supports and betrays our bodies.
—Louis Bury
Louis Bury We're talking together in the Manhattan apartment in which you grew up?
Gabriela Salazar Yes! My parents moved to New York in 1979 after studying architecture in Puerto Rico. They came to do a secondary, one-year, BArch degree at City College; but when I was born, they stayed. They bought this apartment in 1982 in bad shape. They renovated it, and I grew up here. Recently, they'd been subletting it, but the subletter happened to break their lease right before I was due to have my own child, and here we are.
LB Your project, Low Relief for High Water (2020–21), commissioned by the Climate Museum, consists of paper casts of this apartment's windows.
GS Yes, the casts are made with water-soluble paper and will be assembled into banks of three windows arranged into a square like a room. It will exist as a one-day event in Washington Square Park; over the course of the day, I'll tear the casts apart and give the pieces away. It was a challenge to conceptualize such a brief installation and not have it feel inconsequential. I wanted to share something personal, something vulnerable, to literally bring home the effects of climate change. When the pandemic postponed the installation from 2020 until 2021 and everybody began to shelter in place, the work took on additional meaning.
LB Why is it that your work emphasizes isolated architectural forms such as windows, wedges, and handrails?
GS I try to find forms about which people have subconscious, often bodily associations and then play with those expectations. The form's recognizability triggers a sense of uncanniness when it's been placed in an uncommon position or made from atypical materials. For example, I've had viewers lean on and even break my handrail-based sculptures, because they're conditioned to grab them and expect support.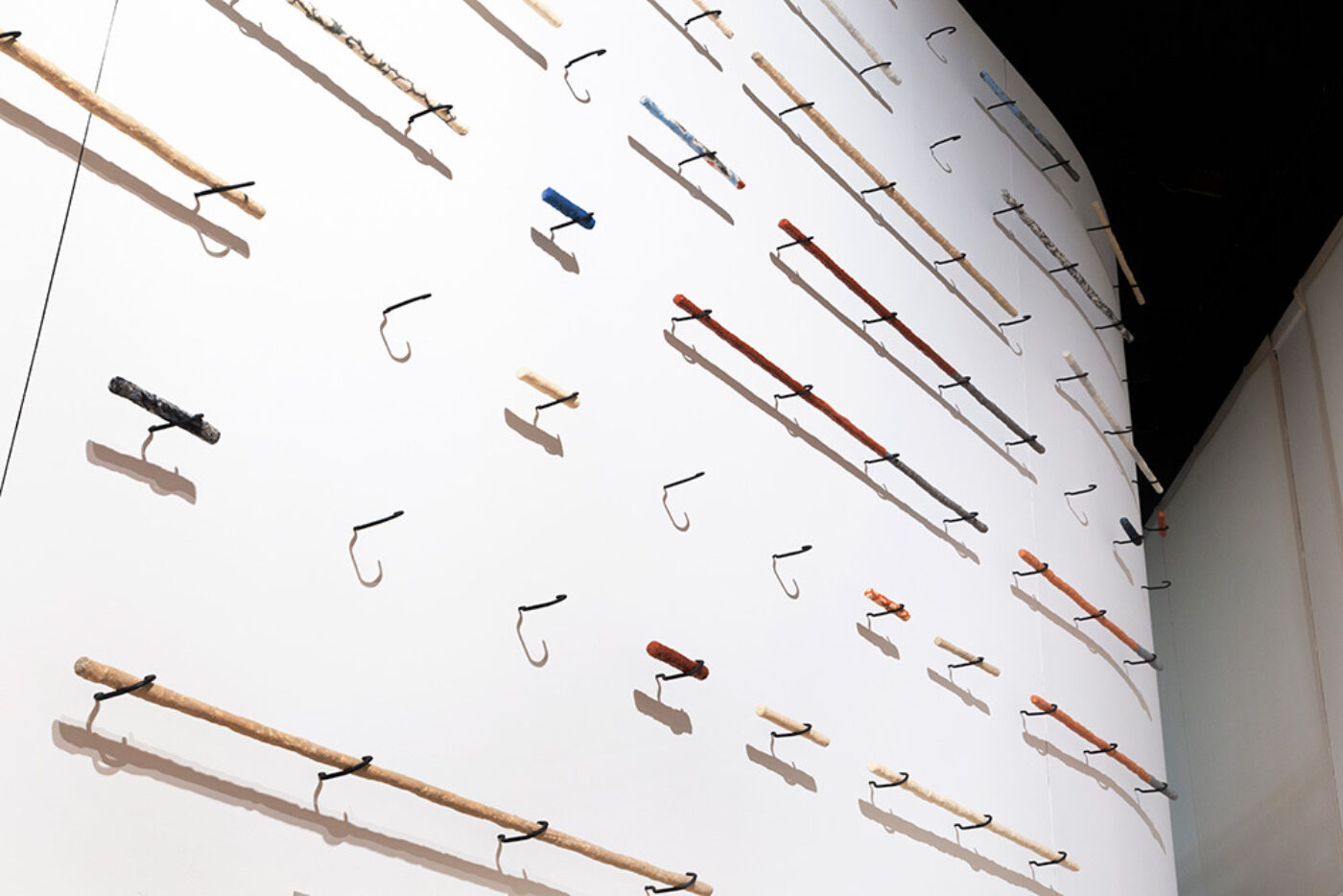 LB What sort of considerations arise when integrating a particular form into a larger installation?
GS Broadly, I've taken two approaches. One is amassing together a library of possibilities for one particular shape, such as the fifty-eight handrail-bar shapes I installed at the Queens Museum (Hook Crook, Fair Foul [2017–18]). The other is more site-specific, playing off or using aspects of the site itself. For instance, one element in Holding Patterns (2021), currently at the Al Held Foundation, is a graphite-powder wall drawing that maps out the negative image of all the support structures behind the studio walls.
LB Architects typically work within numerous site-based parameters.
GS One strong influence from my parents is that I tend to process through a project mentality in which I'm always looking for limits. Pieces exist in context rather than complete in-and-of themselves. In architecture, there's always a client, always a code, even if many of those forces aren't visible to the end-user.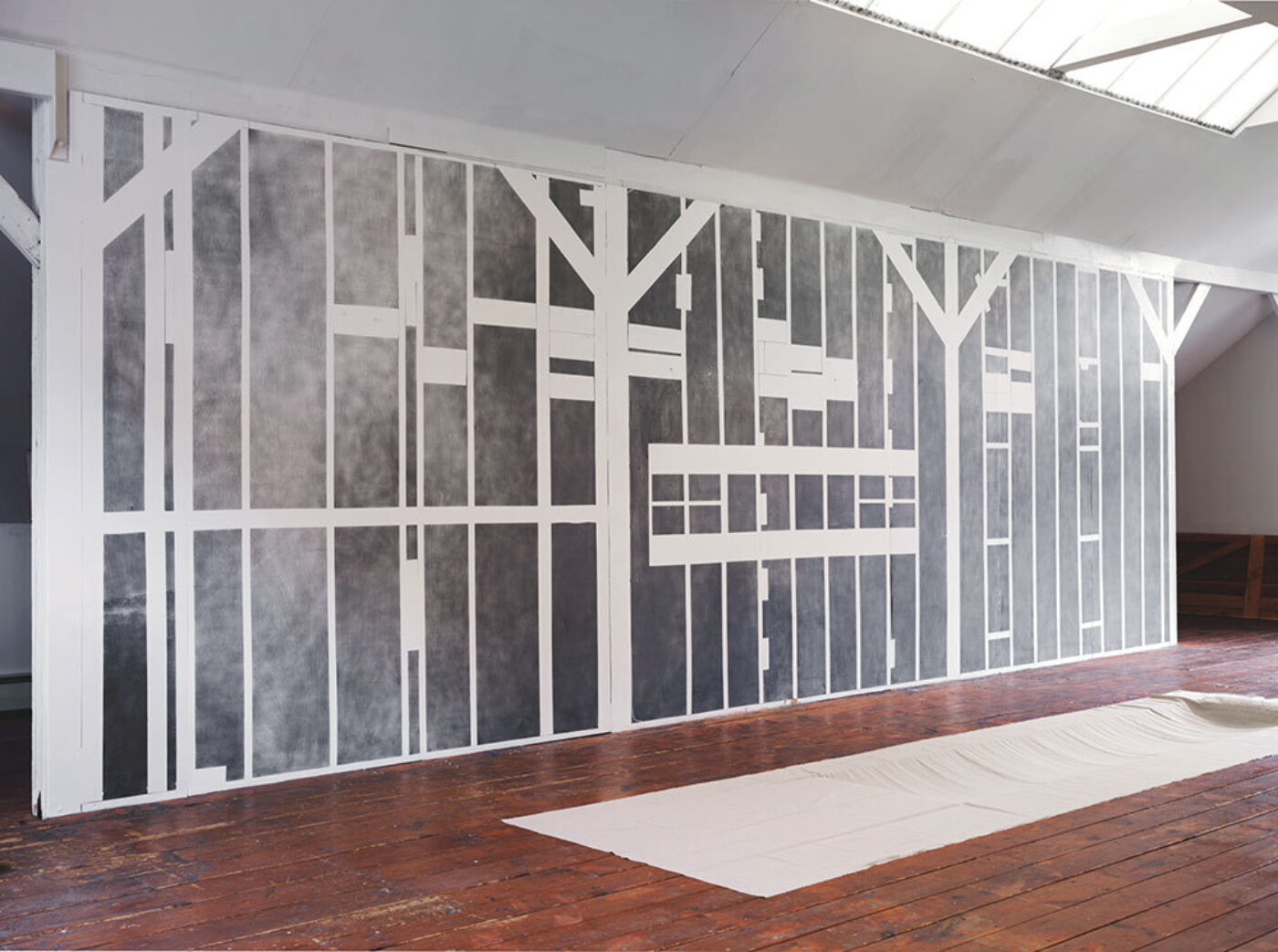 LB What are the differences working in a fine-art context rather than an architectural one?
GS Well, the work isn't subject to engineering review! Actually, I did consult engineers for the second iteration of For Closure (Outdoors, the Bronx) (2012)—a thirty-foot high, house-of-cards-like arrangement of found doors—so it could withstand thirty-mile-per-hour winds. The first, indoor iteration that I built myself was much more precarious. This is one of the things that art affords and architecture doesn't: I'm allowed, sometimes forced, to devise questionable solutions, and there's a pleasure in that.
LB What about when an art project doesn't have many pre-set limits?
GS There are always parameters, but sometimes they have to be found or articulated. For my Lighthouse Works installation, In Advance of a Storm, I interviewed both my parents using the Cube Game, which is from a 1990s Japanese pop-psychology fad called Kokology, then built two structures based on their answers. My parents were a bit confused by the process because I didn't tell them what it was for, but working that way felt like it might allow them to share something about themselves with me that they otherwise wouldn't have been able to access.
LB That's interesting because there are a number of contemporary artists who make work about climate change by incorporating personal elements into the work in an oblique, indirect way.
GS The scale of the climate crisis can make it hard to keep sight of how it impacts your day-to-day life: your body, your family, your environment. Nowadays, there's a lot of artwork spoken about in relation to climate that didn't used to be. It isn't that the connection never existed but that our viewpoint has changed. I see it in artists' incorporation of personally meaningful materials—from the natural world and from their lives—to tell powerful stories of survival. Participating in Indicators, at Storm King, helped me understand this dynamic in my own work.
LB That's such a smart, important point. What motivated your incorporation of coffee grounds in your Indicators installation, Matters in Shelter (and Place, Puerto Rico)?
GS I was invited to make work for that show on the heels of Hurricane Maria. I was reeling from the devastation in Puerto Rico, but I wanted to make art about it. I started with coffee grounds, which I'd worked with in My Lands are Islands (2015) at NURTUREart to point to larger conversations about capitalism, colonialism, and the body, as well as my own family's history.
LB For My Lands, you sculpted coffee grounds into self-destructing wedges, displayed atop glazed brick pedestals.
GS My first attempts at sculpting with coffee-clay exploded, which got me thinking about material instability. Glazed white bricks were used to make gleaming Minimalist buildings in the 1950s and '60s, but the bricks compromised the facade's integrity by retaining water—and showing dirt much faster! Juxtaposing my own falling-apart clay wedges with the bricks became a way to conflate time and narratives. For Matters in Shelter, I pivoted to concrete as a material base because it's ubiquitous in the Caribbean and also because I discovered that concrete production contributes enormously to global CO2 production. Concrete is needed to build shelter that can withstand extreme weather, yet its production causes the weather to grow increasingly extreme.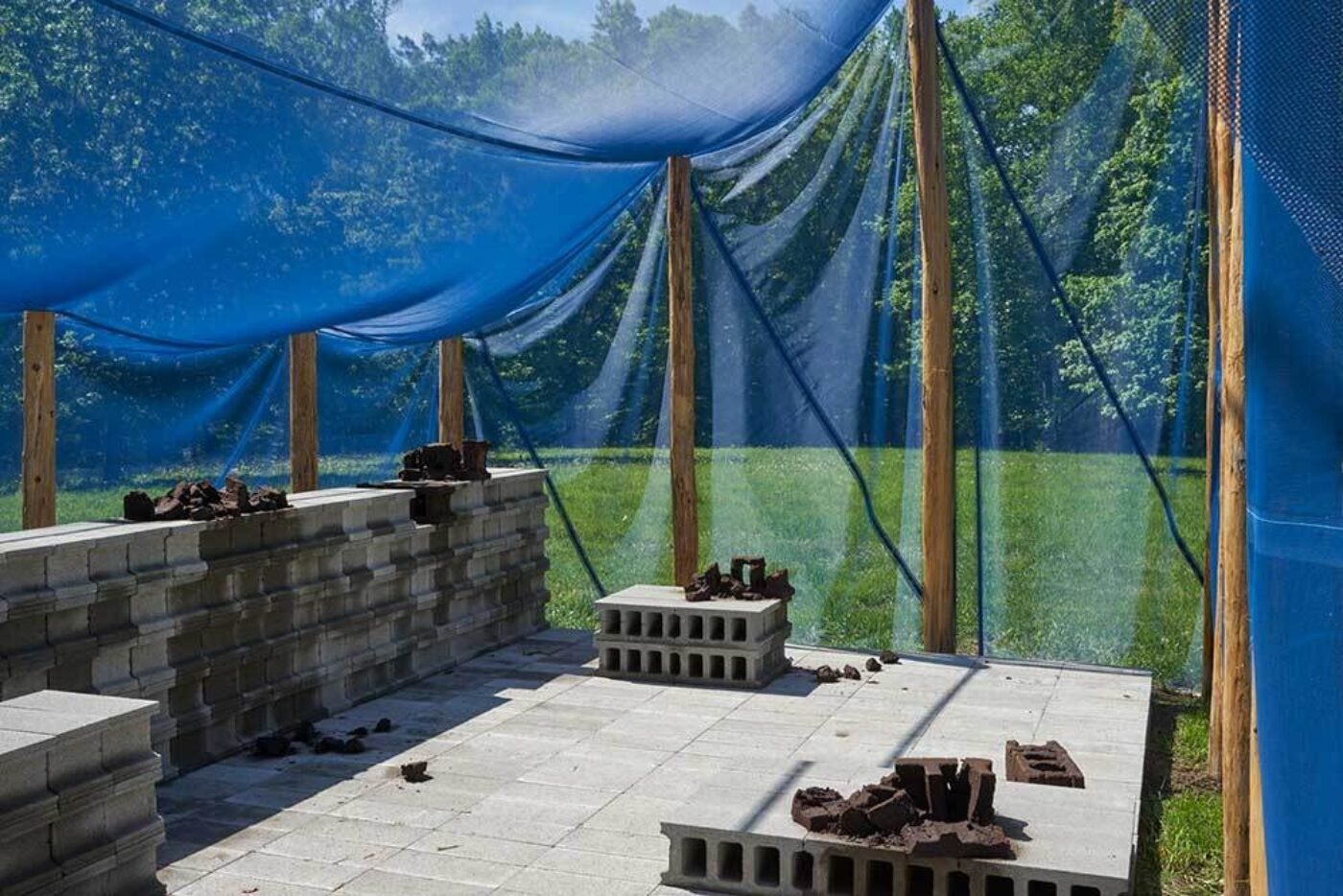 LB Your attunement to material vulnerability and decay reminds me of a line in Allison Cobb's 2016 poetry book, After We All Died, in which she quotes a permaculture guru who describes houses as slow-release fertilizer.
GS To bring this full circle, that's been the experience of being back in this apartment. Living here on and off for almost forty years has given me an intimate relationship to this place, to how it's been altered by human use and vice versa. Sometimes material changes occur at recognizable speeds, but other times they occur because you've lived in one place long enough to witness them.
LB What's your own work pace?
GS I've benefited from having a teaching job that has afforded me space from needing to make money through art. But I've also been fortunate to make work in a lot of nontraditional and nonprofit art spaces. Even the pieces I've sold don't feel like monolithic masterpieces. They're parts of something bigger than themselves and make a more modest claim, individually. The work that's ephemeral, or built to fall apart, has a similar energy. It's not concerned with posterity, which allows it to behave badly as a fine-art object.
LB How do you view this tendency in your work in relation to art history?
GS I've always been seduced by Minimalism. Its clean, satisfying logic impacts the viewer's physiological experience of the work, making it feel almost fated. But as I've gotten older, that logic also feels like a cheat. It removes too much of the lived experience: the mess, the problems, the cracks. It feels like very good acting, but it leaves out a lot of what happens backstage.
Gabriela Salazar: Holding Patterns, organized by the River Arts Collective, is on view at the Al Held Foundation in Boiceville, New York, until October 10; Low Relief for High Water is produced by the Climate Museum and will be presented at Washington Square Park in New York City on October 10.
Louis Bury is the author of Exercises in Criticism (Dalkey Archive Press, 2015) and is Associate Professor of English at Hostos Community College, CUNY. He contributes regularly to Hyperallergic, and has published art writing in the Brooklyn Rail and Art in America, as well as creative writing in Boston Review and The Believer.