This First Proof contains the story "Theta" by Carolina Lozada, translated by Katherine Silver.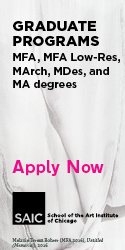 I like her tits, her small black eyes, her hands, but more than anything else, I like her tits. We were sitting facing each other at a small table in a cafeteria; it was Sunday, and it was so hot we had to sit in a corner near the fountain. It was probably because of the heat that she was wearing the lowest-cut blouse in her closet. The blouse was green, decorated with tiny mirrors that reflected my face that was so entranced by her bosom. She talked, I listened. She mentioned Ingrid Bergman, and I thought about Casablanca. She said she liked road movies, that she wanted to be Thelma with Louise. She asked me to take her to fly kites and visit villages along the coast. I said yes to everything. She smiled happily as do all women who have men at their feet.
I don't know whether it was the heat that made me sweat or the tension of having those breasts pointing at me. Sweat glistened on my face like rain on a car window. I was constantly wiping it off with my handkerchief and then those annoying drops would reappear. She wasn't sweating, at least not on her face. Maybe the spot between her breasts was getting moist with transparent, salty drops; how I would have liked to wipe them away with my tongue, or at least my hands.
Her face. Those little eyes, bright; that chiseled turned-up nose. Her scent. In spite of the heat, she smelled delicious. Her skin gave off the aromas of afternoons and peaches. Her skin smelled so sweet it was asking to be torn off, stored in a little box, and hidden in a room so I could smell her every night.
She kept talking; I paid almost no attention to her words, I was thinking only about her breasts and my hands touching them. She moved her hands as she spoke and her chest moved with them, as if seconding everything she was saying. Several times she moved toward me flirtatiously so she could whisper something in my ear. When she did that, the neckline of her blouse dropped even lower and my hands longed to attack those breasts, so tender, so beloved, so faraway from mine. When she sighed, my hands trembled, I had to keep them still by stuffing them into my pockets.
The mirrors on her blouse reflected the sun's afternoon rays. Points of light slipping along the walls, bouncing off my gaze. From time to time she turned her head to glance at the people at neighboring tables, those coming and those going. I took advantage of her curiosity to get a look at her little moons, so small, so white, so round. She wasn't a Playboy-bunny type; on the contrary, she looked like a typical intellectual. Thin, with her dark hair unkempt, regular features, average ass, dark circles under her eyes from insomnia and nocturnal deliberations. But I didn't care about her hair, about her curls that weren't curls but rather tangles of unbrushed hair, nor did I care about her type, nor her opinions on the writings of Francisco Massiani. I cared even less whether Nietzsche wanted love or whatever else it was Nietzsche wanted. The only thing I wanted when I had her there facing me was for her tits to slip out of her blouse once and for all and stand naked before my eyes, offering up to me the spectacle of their modest smile. Or at least one of them, including the nipple, perhaps the left one, the more restless one, the one over her heart; and for her to let me see her without clothes on, dressed only in skin. But no, madam, owner of those tits, kept talking, demanding that I engage in philosophical discourse, logical derivations, and mathematical postulates. And at that moment I couldn't care less about mathematics and its parent disciplines.
And those poor prisoners were still trapped under her blouse, only able to peek out around the edges, as if they were being punished, hidden away like ugly little girls. They shook shyly when madam, their owner, laughed louder in response to something stupid I said—because women like men who have a good sense of humor.
It was too hot to drink coffee, so we decided to have ice cream. We ordered two bowls of vanilla ice cream. She stayed at the table while I went to get them. She looked at what was going on around her, and I spied on her while standing next to the register, waiting to pay. Her tits stayed there with her. Captives, locked up under the corset, the brassiere, the fastener; poor prisoners boiling from the heat, begging for freedom; and me, unable to do anything more than sneak a look at them each time that woman wasn't paying attention.
With the servile smile of all enamored idiots, I brought two cold bowls to the table and received her captivating smile in return. I sat back down in front of her but not before I tripped over the chair. What an idiot; I almost dropped the ice cream on her body. Though, to tell the truth, it would have been a good idea, the scoops of ice cream sliding down her chest and my cleaning them up with my eager hands and hopeful eyes.
She took a bite of the ice cream, tasted it, ran her tongue along the edges of her lips. She liked it, or so her sexy mouth devouring the vanilla ice cream led me to believe. I smiled at her. Not at her, at her tits. She kept eating and didn't stop. I licked the ice cream scoops with my tongue as if they were her tender breasts. Each bite I put in my mouth was a little piece of her nipple. Creamy, sweet, smooth. She wasn't savoring it. She swallowed and talked, swallowed and talked, without even suspecting my game of pretending her creamy breasts were melting in my mouth. Fool! She didn't deserve to have such beautiful breasts, so tender they made me want to adopt them, rescue them from the cold, fan them in the heat, protect them from the evil eye, rock them in my hands, and watch them sleep without making any noise that would wake them. They were so beautiful they made me want to cry.
Between licks and bites and sucks, the ice cream was finished. The heat abated, but I was still sweating. Because those bewitching eyes kept looking at me from her breasts.
Night came. I took the risk of making a fool of myself and invited her to my house. They looked at me for a few moments, she and her breasts. A cold sweat broke out on my face at the thought of a possible rejection. I was relieved to get an immodest smile of approval. She agreed: it never fails; they are always craving sex.
We took the subway; the car was full of people. We stood, face-to-face. I was, happily, just a few inches away from her tits, so close I could almost hear them. She looked at me and smiled with mischievous complicity. I saw her little ones peering out from under the neckline of her blouse with the tiny mirrors. I spoke silently to them; I promised them they would be set free, that it was only a matter of minutes, a few more stations to go.
We got to the house. Between kisses, licks, and sucks, we went to bed. I threw her blouse on the floor, unfastened her black-lace bra, and finally set the little ones free. Rosy, erect, happy, mine. I threw the bra out the window, she rebuked me through muffled laughter. I told her she would never need to wear a bra again. Then I lay her down with her torso naked; I didn't notice when nor how she took off the rest of her clothes.
Naked, completely naked in my bed. I played with her hair and her smile. I spoke in whispers, in caresses, words confounded by sighs. I had no ears to hear her, only eyes for her white moons. She caressed my hair, bit my neck, licked my ears, scratched my back; she wanted me to possess her, I, who barely remembered her black eyes. Finally, I could put her to sleep, silence her, cool her off, cadaverize her. Finally, I could be alone with her tits, so tender, so quiet, so beautiful.
Translated by Katherine Silver.
First Proof is sponsored in part by the Bertha and Isaac Liberman Foundation.
Katherine Silver is a translator of Spanish and Latin American literature. Her most recent translations include works by Horacio Castellanos Moya, César Aira, Antonio Skármeta, and Jorge Franco. She has received two NEA fellowships, a PEN Translation Fund grant, the 2008 NCBA Translation Award, and the 2009 Colombian Ministry of Culture's Translation Award for her translation of Antonio Ungar's The Ears of the Wolf. Her collection of modern and contemporary Chilean fiction, Chile, A Traveler's Literary Companion, was published in 2003.
Carolina Lozada is the author of the short-story collections Historias de mujeres y ciudades (Stories of women and cities) and Memorias de azotea (Rooftop memories). Her third short-story book, Los cuentos de Natalia (Natalia's stories), is forthcoming from Monte Ávila Editores in Caracas. She maintains two personal blogs, Tejados sin gatos and Cine Fedora, and, with Luis Moreno Villamediana, administers and contributes to the literary-reviews blog 500 ejemplares. "Theta" belongs in the unpublished book Adictos y transeúntes (Addicts and passers-by), which received the National Solar Fiction Prize in Mérida, Venezuela, in 2007.
Originally published in
Featuring interviews with Antonio Caro and Victor Manuel Rodriquez, Ducle Gomez, Ana Teresa Torres and Carmen Boullosa, Evelio Rosero, Juan Gabriel Vasquez and Silvana Paternostro, Javier Tellez, Mario Galeano Toro and Marc Nasdor, Sergio Fajardo, and Carlos Cruz-Diez.