There Is Life and Death in the Power of the Tongue: Vanessa German Interviewed by Jessica Lanay
"I gave myself this education on my own eye and on my own instincts. I was trying to find a place of resonance."

Discover MFA Programs in Art and Writing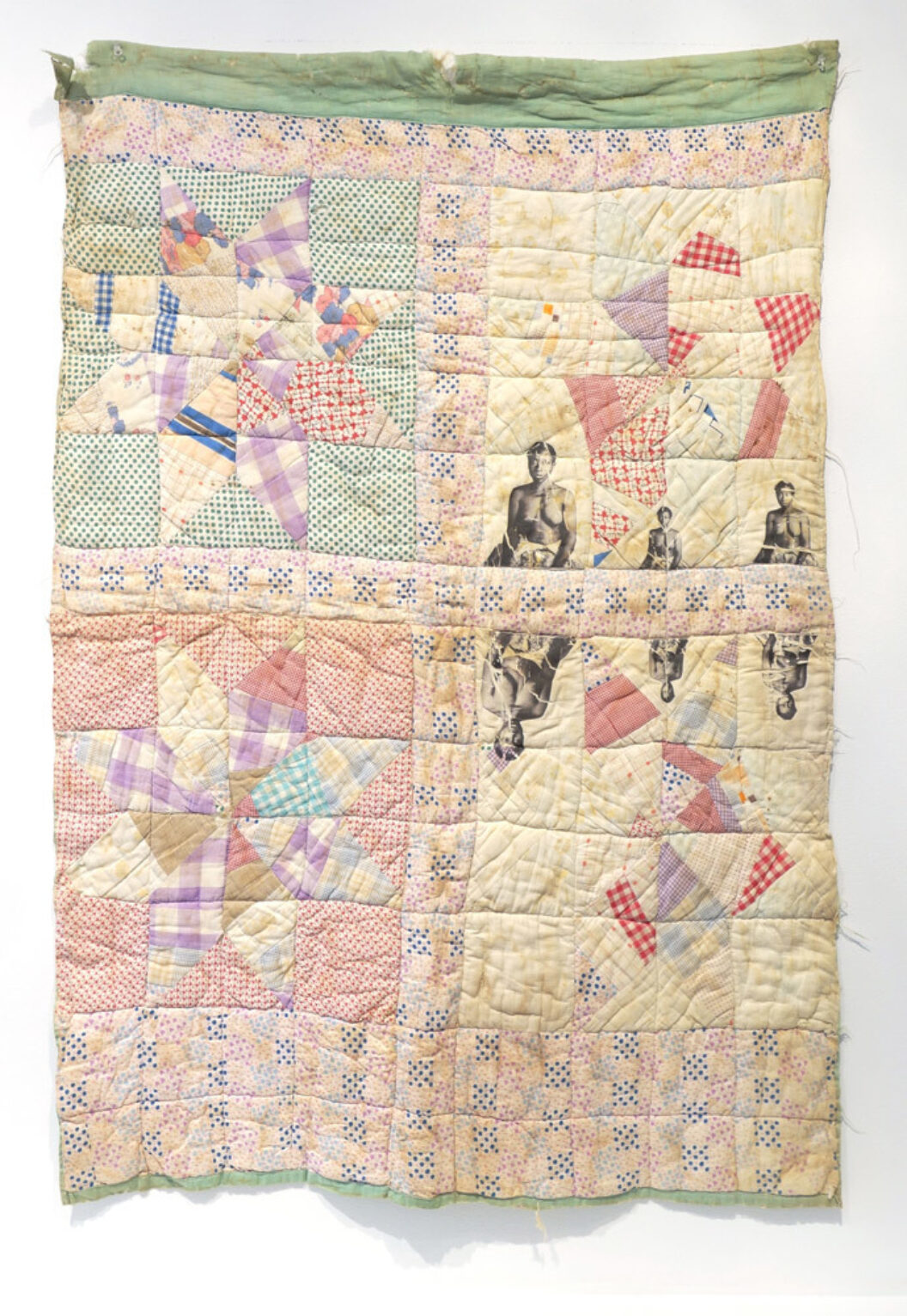 When interdisciplinary artist Vanessa German talks about infusing loving-power into her artwork, she uses a language of dispersal. Her metamorphic power figures are vehicles and sculptural activists in the world, charged with intention. For German, creativity is an act of self-love that is meant to make viewers complicit, through looking and hearing, in questioning what is possible. German's work was recently featured in the exhibition New Installations at the Mattress Factory in Pittsburgh and is currently on view at Pavel Zoubok Gallery as part of the group show Piecework. In the interview that follows, German attests to the artistic process of self-exploration through attending to one's own ideas and imaginative world. She asks: What would we do if we could do anything? What if we only tried?
—Jessica Lanay
Jessica Lanay If you could speak a brief manifesto for being a citizen-artist, what would you say?
Vanessa German
First is to stand outside the jar of racism and to breath in the authority of your human citizenship, that you are an earthling—carbon, literally star shine. Then, living in active communication with nature, because you are nature. A citizen-artist is, for me, that I center the idea that I believe that all human beings deserve and have the right to be as dimensionally, safely human as they can dare to be. Standing at the center of that and turning dimensionally in the sphere to say: I have one life; I will die; and what is the best way, the most thorough way, the most selfishly compassionate way—because compassion is a circle—that I can inhabit the living actions I believe all humans deserve?
JL
What do you hope to exchange between yourself, your art, and the community?
VG
Before I answer the question about giving to other people, I am selfish. I want to be with my ideas; I want to do whatever I want to do. I center myself. I center my joy. I enjoy people. I ask people: What would you do if you could do whatever you want to do? They might say they would spend their first three days sleeping in. But what after that? What would you do with your legs? What would you do with your ideas? That's actually something I think is a matter of survival. To really start asking human beings—"If you could design your life and your day, what would you do?"—it probably just sounds crazy, elitist, and full of shit for an artist like me to ask this. But I think it is important to connect to that earthling and human place on behalf of the earth. What is possible? We have repeated old, violent ideas for a long time. We could do different things.
JL
What is the connection between your creative practice and your will to live?
VG
I feel like it is hard to be alive sometimes. It is hard to feel things. I found that it behooves me to center the things I love and that bring me joy. This is a good way to be alive—to live with deep nourishment from the substance of your own ideas. I wish I could live for two hundred years and do that. Creativity and the will to live is the space of being in communication with the mysteries of my own humanity, the mystery of dreaming. I have been in mental health situations when they ask those questions: "Do you think of harming yourself? Do you see things?" I wanted to see what happens, so I said, "Yeah, I see things." Everything just stopped. And she says, "What do you see?" And I said, "Sometimes I see a sculpture I am supposed to make crossing the street or in the shadow of a place." And she says, "And you make it?" And I said, "Yeah, I make it." Then she goes, "But you know that's not real, right?" And I felt bad for her. I was like, I pity this human. It is so interesting to me, listening to my ideas, and calling on my ancestors, and trusting my instincts—that's so fascinating. If I have to pretend like I have it all together—then I don't ever want to have it together.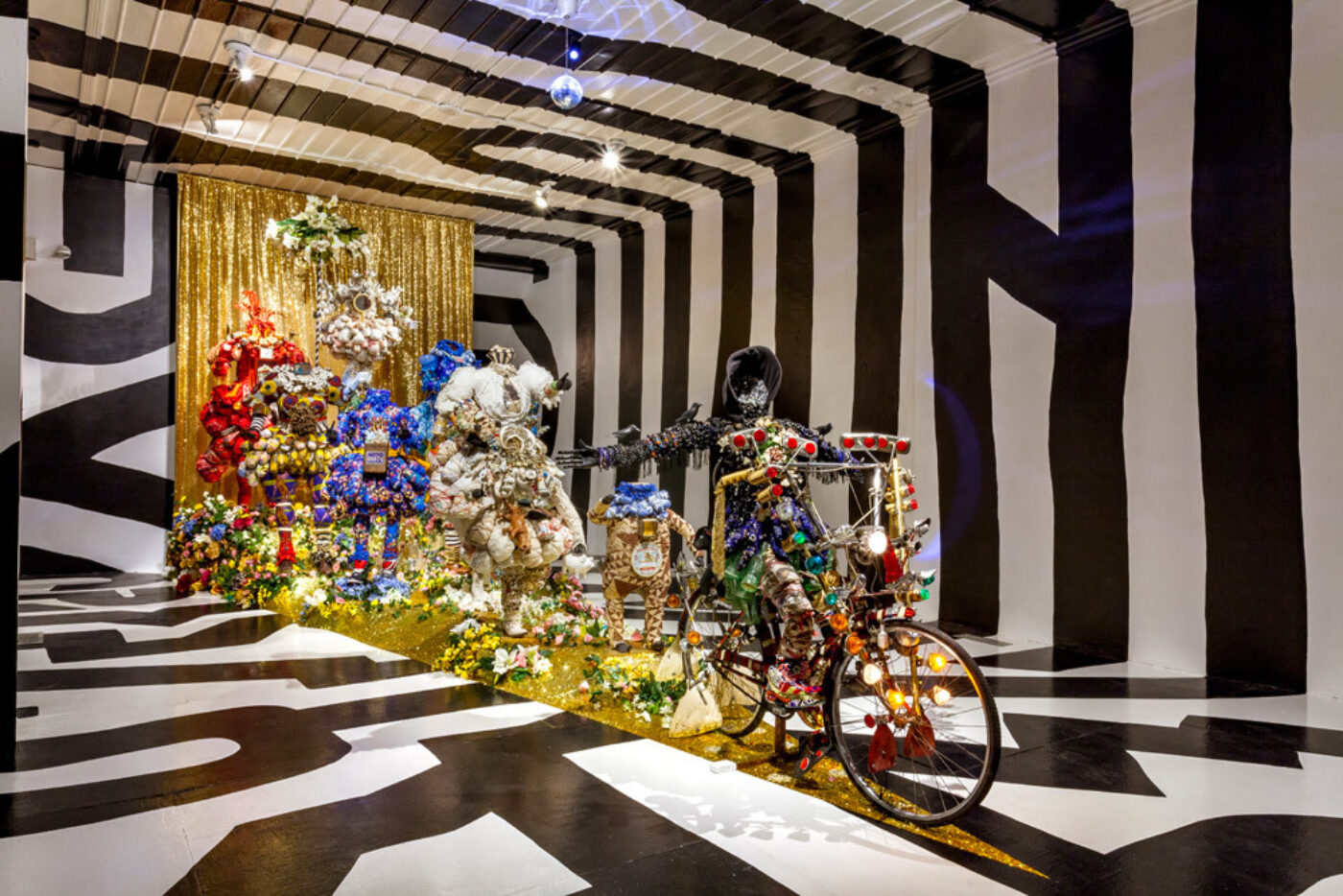 JL 
I listened to a poem of yours where you talk a lot about making listeners complicit in healing. Can you talk about that?
VG
I do that in my sculptures, too. I had this experience where I very quickly learned that you could set intention inside of the act itself: complicity in listening and complicity in sight; looking at art and being complicit in whatever secret purpose or riddle is inside of it just by sight. I wrote the poem experiencing how much love I could put into this poem. How do I know it is love? Just thinking about all of the different cultures and civilizations and the writers and the poets who have had a phrase for the idea that there is life and death in the power of the tongue. I thought, let me see if there is life in it. I started to think about the field of sound, how sound is physical, how sound waves touch, how certain frequencies of sound do things. I thought to myself that this sound with this intention coming through my biology and touching the skin of people who are listening will cause this intention to ride the sound wave. It touches the skin, and the skin is an organ, and it is going to do this to the brain, and everybody in this room is making the same prayer with me.
JL
Can you tell me more about your power figures?
VG
Most of the time now I am not working at a small scale. I am not working at a doll-size scale. I am constructing with building materials: concrete, plaster. I am making hands. All the faces are made by hand. People see how productive I am, and they think I have a factory. They are all hand-fashioned; there is a space-saver behind it made of Styrofoam or a ball of taped-up newspaper from which I build out. One of the things that shifts is when the work shows in different spaces. I had to learn to make things modularly to get them out of the house. Making heads and making features are very important to me; I feel like I am making somebody's face.
JL
When I look at the power figures I see Gelede masks, I see Congolese nkisi, I see Malian animal headdress, I see all of these influences. How intentional are these inclusions?
VG
I feel like it was Sam Black—it might have been Sam—who said: "You are doing that thing they do in the Congo, this thing with these nails"; and I responded that I had no idea what he meant. And I remember him saying that I needed to do research. He was saying that it is a part of me. I did a little bit of research, and I started looking at pictures of tribal art. I met Renee Stout, and I saw her work, and I showed her what I was creating. She said that a lot of women are afraid to make things that aren't pretty—don't ever be afraid of that. I understood that it doesn't have to be pretty; I don't have to render the Black figure like a Black Barbie doll, like a Black plastic poured into a White mold. I don't have to do that; I am going to do whatever I want to do. That's when I said that I am going to give myself permission to trust the feeling of yes; this is going to get me closer to that place that is the source of these ideas, these remnants of ancient things—I want to be in connection with that place. I would just look at pictures, and I would look through them fast. I wanted to turn the volume up on that feeling of rightness. I gave myself this education on my own eye and on my own instincts. I was trying to find a place of resonance.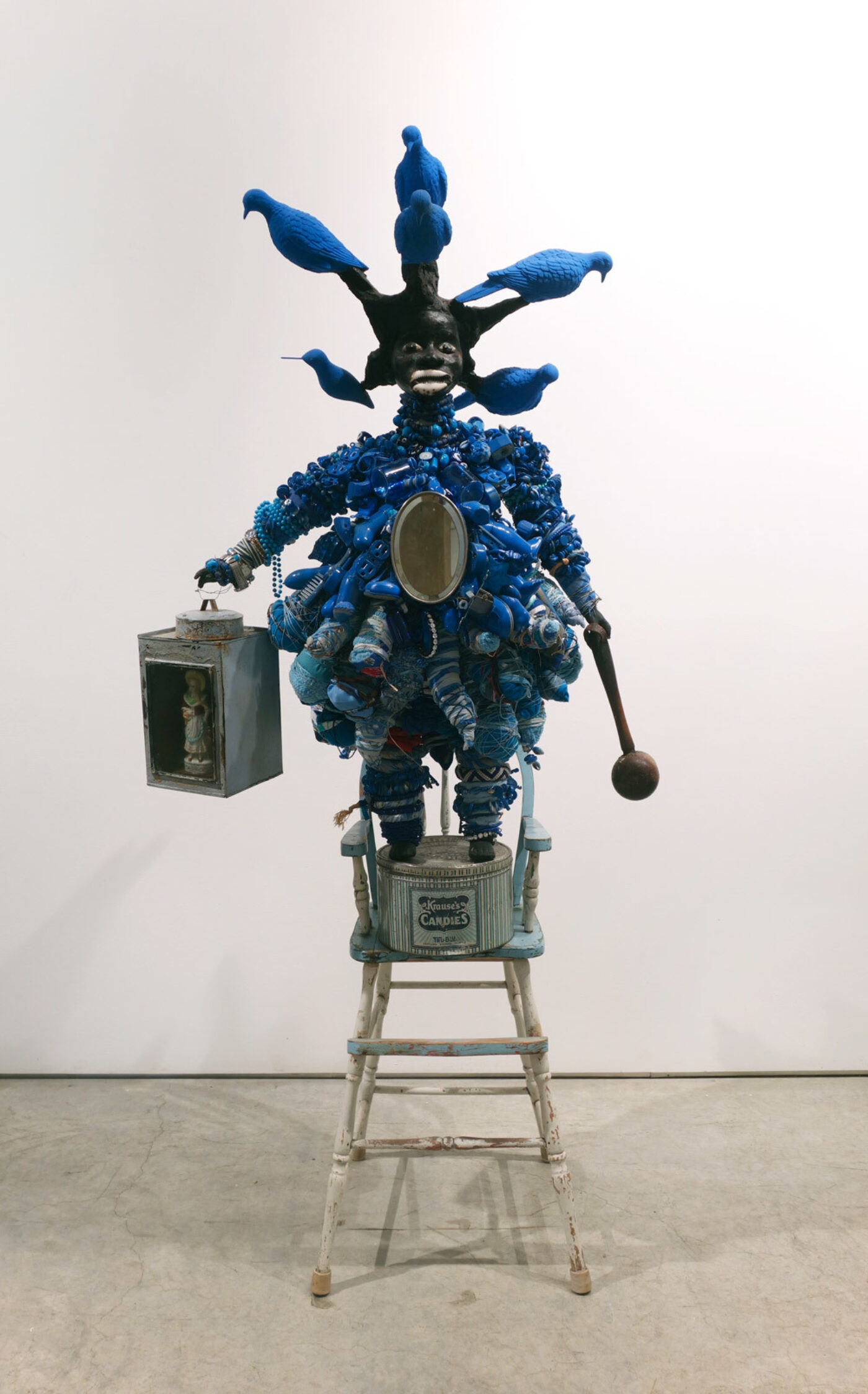 JL 
You are a photographer, a performer, a sculptor, a painter, a collagist; you do assemblage. How did you come to recognize and then use all of your capacities?
VG
Because on the other side of it was death—that's how. When you're faced with that, oh, it is not forever. I want to be with my ideas, and I want to do these things, and I can't afford to go to school and have somebody teach me stuff. So, I am going to put myself in close proximity to the people that are doing it; I am going to ask questions, ask if I can help; I am going to ask what your tricks are; and I am going to listen to your stories. That's how I want to be alive. It really came down to how I want to be alive. It came down to: Do I want to be alive? It felt like it hurt to wake up and step out into the world. Then it was like—this is a way to make a life. What is hard is that the world is telling you who can make a life this way and how they can make a life as an artist. Oh, they spent $600,000 at Yale to do that? So, you see these veins of possibility, and you ask if you fit into it.
JL
Do you consider your practice of creation to be a form of worship? Is there a spiritual connection?
VG 
It is very spiritual. My studio is an intellectual and a spiritual space. There is balance to that. I find that there is a diminishing to spiritual places. I visited an MFA crit class at Carnegie Mellon University, and when the students would ask me to respond to their work, I would begin with the phrase: I feel. One of the students asked me, why are you telling us what you feel? I realized that this is not something they are being trained to recognize is valuable—to be in conversation with I think, I see, I feel. There is a devaluing of this mysterious place and this place of emotional urgency. There is a devaluing of something deeply powerful that happens to the human body during the act of creation—it is really potent. I center a different way of thinking about what an artist is and what an artist can be in the places where artists are making and the proximity that the artist has to the people. Making transforms.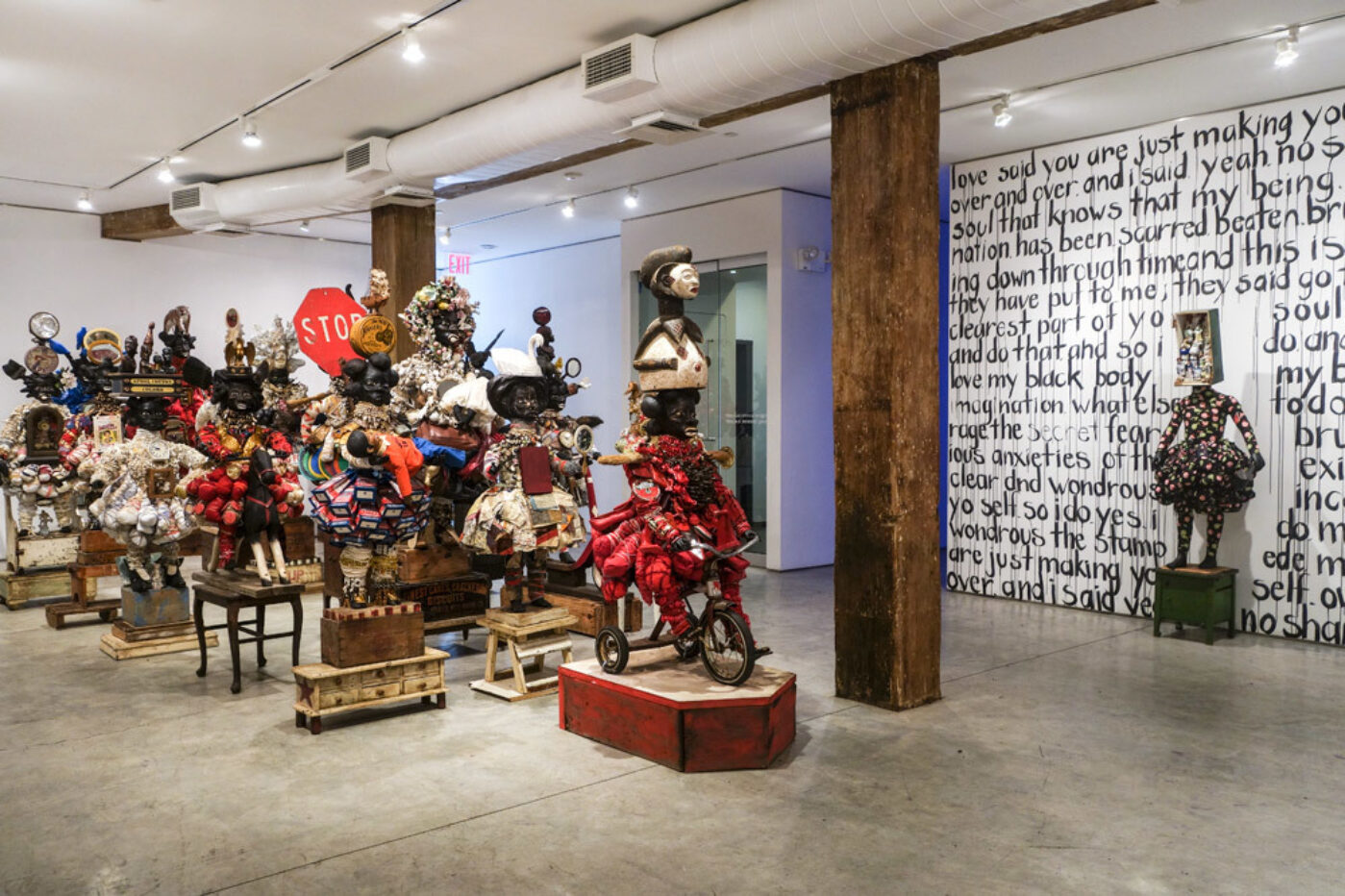 JL
If you could say anything to anyone right now about your work, what is it?
VG
I would like to say to Barack and Michelle that as you are preparing the new library I have several works that would just—I am sure as the architecture is coming together—can be just stellar additions to the building and to the spirit and to the spirit of human community and connection that you are working with. I am sustained by my art, but whatever you want you can have—it would be an honor to have work in either the foundation building or the library. Barack and Michelle Obama—thank you.
Vanessa German's work appears in the group show Piecework at Pavel Zoubok Gallery in New York City until April 21. She will have a solo exhibition at the Taft Museum of Art in Cincinnati from July 13–October 21, 2018.
Jessica Lanay is a poet, short fiction, and art writer. Her work focuses on architectures of interiority, escapism, history of psychoanalysis, and southern culture. Her poetry has appeared in Sugar House Review, Fugue, A Bad Penny Review, The COMMON, and others. She has work forthcoming in Prairie Schooner and Indiana Review. Her short fiction was most recently published in Tahoma Literary Review and Black Candies. A short autobiographical essay was published in Salt Hill Journal. Her art writing can be found in BOMB and ArtSlant. She is a Callaloo, Cave Canem, and Kimbilio Fellow. Lanay is also a 2018 recipient of a Millay Colony Residency.