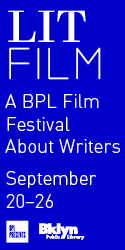 The first time she heard Martha Argerich live had been an evening at the Metropolitan Museum of Art. Twenty years had fled since then. At least.
In a row behind her—she could see the evening as if it were yesterday—she is blessed with a photographic memory—sat a man of about 50 and his much younger companion. The younger man was holding forth, expressing in emphatic tones arcane facts to do with the history of tea. She found she could still hear his voice and wondered why.
The spaces around her filled as people filed in, found their places, rustled, settled.
The young man spoke of tea bricks— "embossed with courtesans and dragons, all bound feet and firestorms"—used as currency during the years of the China Trade. He'd learned all this— "and much more; I fear I'm a dreadful cliché"—as a boy sailor in Her Majesty's navy.
"Shades of Madame Butterfly," the older man said.
"Hong Kong was ever so hectic."
The woman had to smile.
The pianist entered and the former boy sailor fell silent.
Other details came back as the evening took shape in her mind.
She recalled the stage as carpeted in red. Could that have been. No, she was remembering Bergman's production of Hedda Gabler, in London: before or after. She was certain that above the piano had been hung a painting from the museum's permanent collection. One of those paintings to which she returned again and again. Courbet's Woman with a Parrot. Auburn hair, elongated body not unlike her own. The model had been Whistler's mistress on loan to Courbet. Like the boy sailor she has her own store of knowledge on which she depends.
Argerich, black hair streaming, attacked the piano. Chopin, as the woman recalled.
That was then.
Now she was at another concert hall and the pianist, Argerich again, was playing something by Brahms. This time she was backed by a full orchestra.
The woman was again alone.
A man was seated next to her, on her right. On his right, as she glanced down the row, sat a woman in a sable coat even though it was a warm Indian summer evening. The man had a Fedex envelope in his lap and was sliding some papers from it. He shone a silver penlight across the papers. He tidied the papers into a stack and took a silver pen from his breastpocket. She glanced down and noticed there was a drawing on the top page. Unmistakable. The interior of a female. Laid bare. Orderly. Precise. One size fits all.
She'd never peered inside herself. She didn't want to.
The man took his pen and made a correction in the caption which ran underneath the drawing. Then drew an arrow from the caption to the likeness of the womb. His pen moved fluidly, making only the slightest scratching noise, across the galley proof. Acoustically above, or below, the Brahms.
She began in her irritation to invent a scenario. The sable woman, doctor's wife no doubt, greets her husband at the door of their apartment, overlooking—something—the Park, the River—and reminds him that they have tickets to a concert that evening. It's almost a coup to get to hear Argerich live since she's notoriously difficult to book. The wife speaks with Peopleauthority. The doctor reminds his wife that his publisher needs the proofs sent back almost immediately. They strike one of those bargains. She will have her evening out; he uses the word "recital" to get her goat. He will bring his galleys. He often works with music in the background.
The woman tries to turn her attention to the music but too much intrudes.
"Do you have a record player?" She thought it an odd question then what it implied came clear to her and she was frightened. He was the friend of a friend; they were meeting for the first time. He was in his final year of medical school and would not be able to give her anything he said for fear of getting into trouble should anything go wrong. Of course he said what he'd agreed to would get him into plenty of trouble should anyone find out. No fear, she said; she wasn't talking. If she did he could kiss his future goodbye. She wouldn't. If anything went wrong he could be arrested. She did understand, didn't she? If anything went wrong—there it was again. She didn't want to think about it. Just let it be over. But without anesthesia he said then anyone could be responsible, even her. It happened all the time. Okay? Okay. She really had no choice; he was doing her a favor.
In her one-room graduate student digs at the top of a triple-decker house she set up the portable stereo close by her bed. She could not for the life of her remember what music she'd chosen that evening. She made the bed with white muslin sheets, making the surface as smooth, as tight as possible. She did remember the volume of the record player turned up and her being afraid the landlady would complain. Then she remembered it was the landlady's BINGO night and that the house would be quiet. She was the only tenant.
She was lying naked under a top sheet, also pristine, her legs drawn up and spread. She thought of Courbet's nude and tried to remember the composition of the painting, but her store of knowledge failed her. The painting fell away. Its brilliant sensuality dissolved.
As he worked her muscles began to cramp and tighten. Relax, he said. She felt a bruising and thought she could see inside herself. And saw herself purple, a hurricane sky. I'm almost there, he said. He scraped and hollowed her.
There was a rush and she liquefied and poured out of her body, rushing onto the sheets.
Could her voice be heard above the music? She did not know.

—Michelle Cliff's most recent book is The Store of a Million Items, a collection of short fiction published by Houghton Mifflin.
Originally published in
Featuring interviews with James Hyde, Mary Heilmann, Alan Warner, Scott Spencer, Catherine Gund-Saalfield, Cassandra Wilson, Revenge Effect, Elevator Repair Service, Zoe Wanamaker, and A Day in Brasilia.