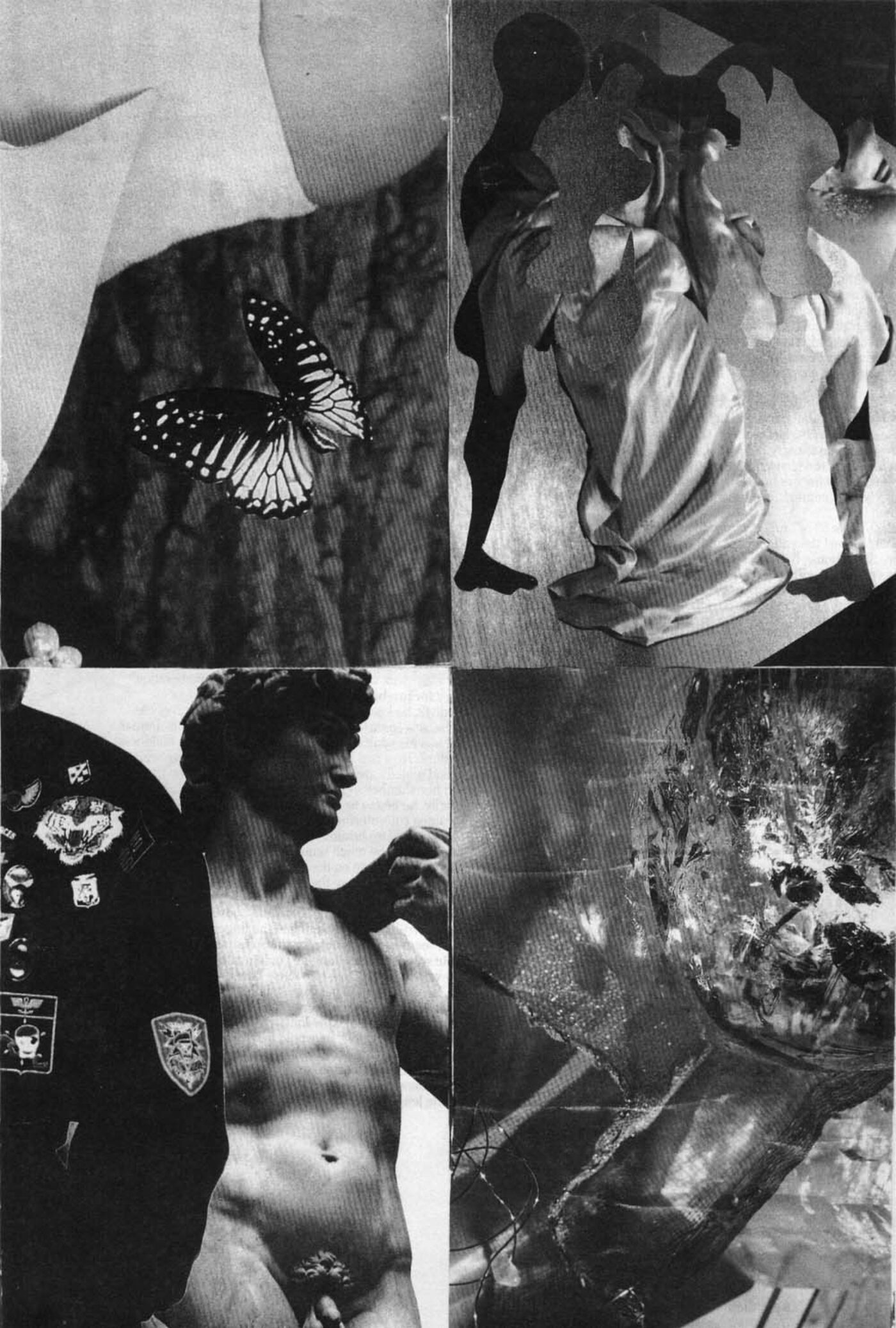 The white butterfly I saw chase the pale yellow one,
just the two of them
back and forth over the hillside,
stayed put, having lit down
on a bright green and gold
I guess it was a maple leaf
whose veins were deeper blue;
to the mind's eye, a triple rhyme.
In October 1990
on a beach beneath a Moorish fortress
outside Málaga, I fished up
a little square of green and white tile
amidst what Vicente Aleixandre, clairvoyant in exile,
saw fit to style
"the yellow glory of late afternoon."
Fixed in an as-if-perfect
motionlessness emblematic of an incandescence
gushing out of blackness,
white-wing stood for yet another of the
holes that Geo dreamt of,
White Holes being the title of a book
he lent me the last time I ever
stepped into a Manhattan-bound car
outside the house in Brooklyn Heights
where he kept a collection of
17th-century philosophic toys, with sundry
pamphlets, instruments and communications
to the Royal Society, along with his
Patagonia library and a box
containing an assortment of
hundred-year-old carpenter's planes and
woodworking tools, as well as
several cabinets filled with works on
celestial navigation and writings
both popular and learned
treating of megaliths, Stonehenge,
Glastonbury Tor and the old straight track
upon which he departed
in 1984, to be reported
missing and never seen again,
His brother Peter grieved
in the last half-dozen of seventy
soft-leatherbound notebooks
during the short remainder of his
life: "Apart from Fran my wife
Geo is the only human being that I love."
The disconnected fridge a liquor cabinet with
copious stores of Chilean plonk,
and, to commemorate Boswell and Johnson
in the Hebrides, Laphroigh,
the butterfly hinted at a luminous hiatus.
Six foot seven, built like a guardsman
in Fredrick's elite corps,
Geo slept on a massive oak plank
under an olive-drab blanket
from the Army Navy Store.
They were three.
The eldest Ruthven's godfather being none other than
T. E. Lawrence, godparents for Peter
were the Coopers, Duff and Diana
(vide Harold Nicholson and the Chips Channon Diaries).
The identity of Geo's
I do not recall
but Crowley would come as no surprise.
Thinking, Heidegger wrote, requires a goal
as much as a path.
White butterflies issue from the mouths
not of babes but telepathically
coversin' persons in the
Maya Codices, where a given winged individual
stands for any of a number of possible
thought-units, each impulse of which can ignite
a great ball
not of combustion
but of clarity wherein
the moving figures continually
beam forth their unencompassable
ever-shining round.
David Rattray (1936–1993) a writer, poet, and black belt in judo, lived and worked in New York City. His translation of Antonin Artaud, in the Artaud Anthology, drew international recognition when it was published in 1965. How I Became One of the Invisible, a poetic autobiography, is available, published by Semiotexte. Opening the Eyelid, his collection of poetry, was published in 1990.
Originally published in
Featuring interviews with Sally Gall & April Gornik, Roseanne Cash, Walter Mosley, Sally Potter, Luciano Perna, Melanie Rae Thon, Sadie Benning, David Baerwald, Pae White, Bruce Wagner, Darrel Larson, and Buzz Spector.