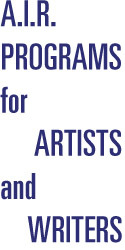 April 1995 I was among 100 artists from around the world invited to participate in a three week long exhibition to honor lsrael's "Year of Peace." Construction in Process—Coexistence took place in and around Mitzpe-Ramon, a small desert town on the edge of the world's largest crater.
After a long search, I decided to locate my performance in an abandoned quarry set a half hour's walk into the desert. It seemed an appropriate backdrop, a man-made scar in the midst of a breathtakingly beautiful but politically turbulent environment. My assistant, Yoav Hendel, and I drilled a rectangular hole into solid rock at the lowest point in the quarry and painted the inside with a natural reddish pigment I found nearby. My plan was to sit in this hole for a whole day, entering before sunrise and exiting after sunset, while knitting a sheet from transparent mylar and interacting with the public. The diary, of which excerpts are printed here, was not planned. It happened in part because I naively underestimated the loneliness and potential danger of being alone in the desert, but also because of an organizational mistake which left me, initially, without visitors.
6 a.m. I sense the sun is rising. I can't see it but the sky is turning orange/yellow. The moon is still crisp and clear. It is cold and there is no sound.
8 a.m. I forgot to bring fresh water but luckily found a bottle of old tap water that I must have forgotten here days ago when I painted the hole. I drink my first very skeptical sip. It is the first thing I will ask for if someone drives out here: to bring me fresh water. Boy am I hungry.
8:15 a.m. It is so strange to sit in this hole. No view, nothing, except the light changing. I start looking at cracks and flaking paint. Isn't there a little anecdote about Leonardo, who found inspiration in staring at a wall? He would see strange shapes and figures in tiny cracks and stains. Well, I can't say that for myself. The sky is so blue. I hear the noise of army jets; they sound close. Other than that, just one bird and a mule in the distance.
8:20 a.m. A frightening sound, like a hollow howl. I've never heard anything like it. I hope it is related to the planes. It could be a distortion of their sounds created by the various echoes in the quarry and in my hole. The sound is terrible and I don't know what it is.
8:25 a.m. The tip of my head is now hit by the sun light. I can see the shadow of my hair against the wall. It is freezing cold down here.
8:30 a.m. Second sip of water.
9:45 a.m. This is definitely a place to expand from within and train the senses. The blue of the sky turns lighter and that's all the news there is.
9:50 a.m. I start to enjoy the knitting since it's the only thing to do. I can hear a helicopter to my right. It seems to come closer. I have to cover my head with a scarf because the sun is too strong. My body is still cold.
11 a.m. Yoav brings me breakfast and Richard is with him. The first two people out here. Yoav overslept (while I was starving). They can't tell me whether my performance was announced, and I am growing a little concerned. A map of my location was to be distributed. Without a map nobody will ever find me. Today and tomorrow are our big opening days when the public and the people involved in the project have a chance to see all the work being done. Since I plan to see the other artists' work tomorrow I arranged to do my performance today.
Yoav scooped up the remains of what was left of breakfast and turned it into a strange sandwich: Two layers of broken matzo-bread filled with some yogurt, strawberry jam, and three green olives. I eat it voraciously. The sun is very strong now but I feel strengthened. Yoav also brought me some water.
11:15 a.m. I start to enjoy being alone. I guess this morning I had a slight sense of panic that I wouldn't get anything to eat and drink. Being all alone out here at 6 am was really quite spooky. What if a snake crawls into the hole? There are plenty of animals in this desert: leopards, hyenas and wolves. The problem is that I can't see anything from down here. I have to rely on my hearing. But that sense of vulnerability is exactly what interests me now.
12:30 p.m. I receive four visitors who are very frustrated that they found me only by coincidence. So am I. A dragon-fly also just visited. These people had come all the way from Tel Aviv to see art but found nobody to talk to, no map to guide them. I explain my piece and they share their lunch with me: a special Arabic hummus, pita-bread (it is still Passover and although I am not Jewish, it feels like a sin; but of course I eat it), and yes, an ice cold beer. I think it is a bad idea to drink beer at this time of the day, with the desert sun pounding on my head. But I feel like I can't refuse such generosity. I also have to admit that sitting alone in a hole in the desert knitting, apparently without anybody knowing about it, can't be jeopardized by a beer. The brightness of the sky starts to hurt my eyes. I squint a lot and find looking at the ground soothing.
1 p.m. I am in a strange state of suspense: not able to escape too far into any fantasy. Nor needing (or wanting) to concentrate too much on the knitting. Which leaves me exactly where I physically am, in a hot hole with reddish walls, an ever changing blue rectangle over me. Still almost no sound. I can't stare at the walls any longer; I look to the sky for something to happen. I imagine someone appearing to talk to me.
1:10 p.m. A bird flies into my hole from behind. I almost have a heart attack. Its wings must be millimeters away from my face. I feel the push of the air as its wings stir. We are mutually terrified and it confirms my fears that I really am potential prey. If a bird, of all things, flies into a hole in the ground, then it is reasonable to imagine a snake or another animal accidentally finding its way down here. I drink a lot of water. Nobody is coming by. I start to feel very frustrated. It is talking with people from this hole that activates the performance. To look down at me, walk around me, stir up dirt that will blow into my face; and me below, vulnerable, looking up and only seeing what is framed through the blue rectangle above. When I conceived this hole I thought (among other things) of some graffiti on the New York pavements that showed a pink triangle with the following words: Don't tread on me.
I start to really dislike it in here. The blue begins to annoy me. It is not the endless, open sky, it is the lid to the box I sit in. I look at my knitting and that is the only thing I find soothing. Being down here is actually a real struggle, much more so than I imagined. There are none of the zen-like thoughts that I somehow expected in such a deliberately meditative setting. Instead, all I think about are food and snakes and whether my performance was announced.
2 p.m. I have just had half an hour of completely uninterrupted knitting, no real thoughts, no anxieties, and I feel a lot better for it. It was all very simple and pure and close to what I hoped it would be: a meditation on light as a metaphor for the duration of a life. I knit and that establishes a certain beautiful rhythm, which makes the situation of me knitting in here seem perfectly natural and in tune with my surroundings. I will name the performance "Framed by Darkness." I enter in darkness, exit in darkness, and concentrate on the day in between. There is nothing but light and whatever comes to my mind, which is not much. It is fascinating to experience life from this perspective. It is a confusing location, a dislocation really. This hole mixes into the blue rectangle a whole layer of unpredictable realness.
2:10 p.m. I've had it. I can sit here until I fry. Nobody is coming because nobody knows. I need more water. I need more food. This performance was supposed to be shared with an audience. Knitting in claustrophobic isolation is what I do all day in Brooklyn. Every concept has its limits and this is it for me. I will interrupt the performance, get some people here, buy some food and water and continue in a few hours.
2:15 p.m. This is life. Just as I leave my hole in despair, four people miraculously turn up: Wendy Shafir, Jack Sal, David Pagel and David Wackstein. They finally confirm that nothing was announced and no map was circulated. I climb back into the hole and give them a taste of what I had envisioned would happen all day—talking to people from this strange perspective. We have an interesting talk and I decide to go back with them in order to get more people here. The little talk also reconfirms my notion that this performance is incomplete without other people. I am frustrated that I have to compromise my work because of some organizational fuck-up.
3:45 p.m. After a one and a half hour intermission I am back in the hole. It is so hot in here. I brought some TV people with me.
4:30 p.m. The film people are packing up. During the interview a Bedouin who I have seen for days watching me work from a distance finally overcomes his shyness and approaches. The young cameraman, an Israeli, waves him closer and although the Bedouin doesn't speak any of our languages the most amazing thing happens. We make coffee, Arabic coffee with freshly ground cardamom sprinkled into the brew, and I can say with absolute certainty that it is the best coffee I have ever had. We just sit there and smile to each other and drink coffee. The Bedouin takes charge of the cardamom, the young cameraman pours the coffee and the other film guy and I just enjoy.
4:45 p.m. Most of the sun has left the hole. Only the tip of the edge is still lit, and it is turning once again chilly. I might leave with the film crew since nobody is going to come out here at this time. To my dismay I will have to repeat the performance tomorrow. I will get up again at a quarter to five and walk for almost an hour in semi-darkness.
Originally published in
Featuring interviews with Patti Smith, Peter Carey, Mike Figgis, Lawrence Weiner, Sharon Olds, Kiki Smith, Ridge Theater, Oliver Herring, Adrienne Kennedy, and Shu Lea Cheang.