The Un-Heroic Act: Monika Fabijańska Interviewed by Alissa Valles
Twenty artists spanning three generations depict rape and its effects. 

Discover MFA Programs in Art and Writing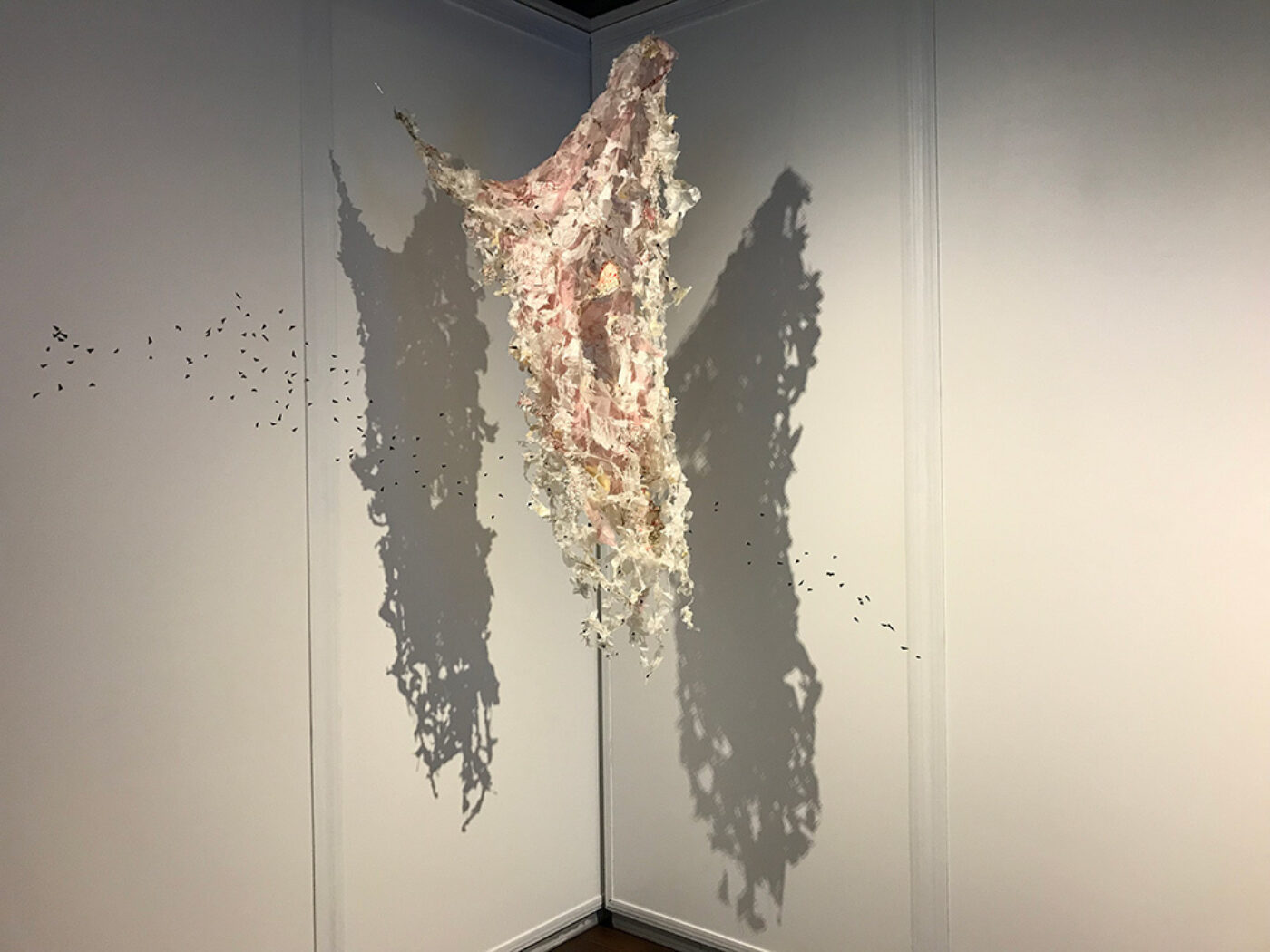 The Unheroic Act: Representations of Rape in Contemporary Women's Art in the US encompasses works by twenty women artists and collectives across three generations—Yoko One, Ana Mendieta, Senga Nengudi, Suzanne Lacy, Lynn Hershman Leeson, Carolee Thea, Jenny Holzer, Kathleen Gilje, Angela Fraleigh, Natalie Frank, Jennifer Karady, Sonya Kelliher-Combs, Andrea Bowers, Ada Trillo, Kara Walker, Roya Amigh, Naima Ramos-Chapman, Bang Geul Han, Guerilla Girls, and Guerilla Girls Broadband—in a wide variety of genres including film, photography, sculpture, painting, drawing, generative animation, among others. Curated by Monika Fabijańska, the exhibition aims at no less than a comprehensive view of the iconography of rape as it has existed in American life both in the domestic and public arena, in myths and fairy tales, in systematized and commercialized forms, and in eruptions of apparently random violence often inflected by social class, gender, and race. There could not be a timelier moment for this show, which is obviously a call to action both for artists, critics, gallery owners, museum curators, and society at large: to rethink how this most unheroic act acts within ourselves, our imaginations, and our culture.
—Alissa Valles
Alissa Valles In the introduction you gave to the symposium accompanying the show, you said that the project— which is extraordinary in its scope and ambition—began from a sense of "being overwhelmed." That is an interesting phrase to use in the context of representations of rape. Can you say a bit more about this, and about your methodology?
Monika Fabijańska In December 2014, when I saw a slide of Carolee Thea's life-size installation depicting a gang-rape scene, I paused and asked where she showed it. A Sabine Woman (1991) was never shown publicly. I was wondering why I have never seen an artwork like this. Were there other works by women that show rape—maybe also not shown? I did a simple search the same night. I was overwhelmed by what I found in just a few hours: almost every famous woman artist addressed the subject.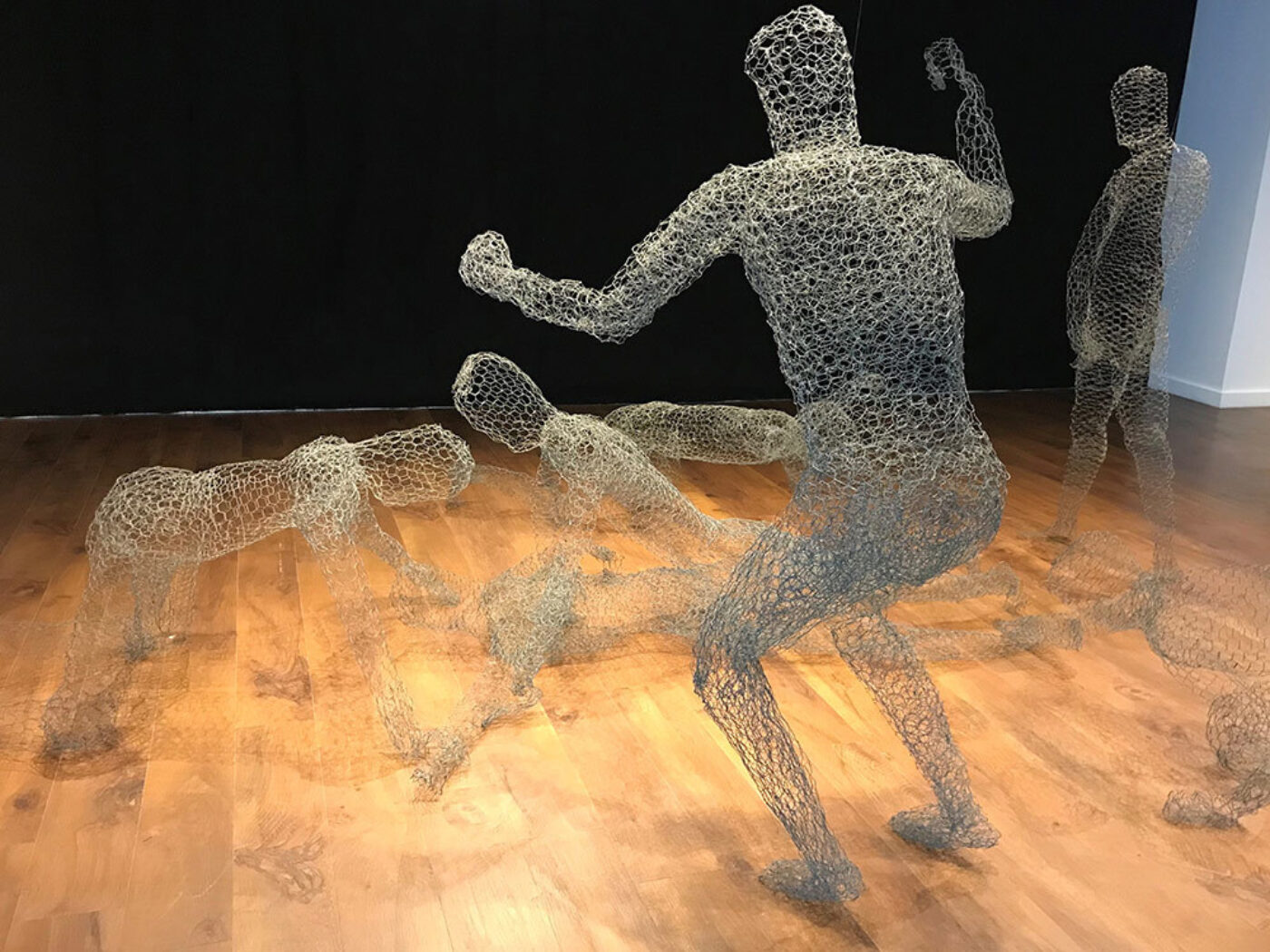 I was thinking of how we were taught art history: all these Madonnas and women saints and their codified iconography, and then of the iconography of rape but as painted or sculpted by men and showing voluptuous women being conquered—Persephones, Sabines, Susannas.… I reflected on our collective conditioning to look at women "heroically" captured but not brutally raped. Soon, I had a more serious research project underway, and I found hundreds of representations of rape by women, across cultures. I was overwhelmed by the breach between the silence (back in 2014/2015 people were reluctant to even use the term "rape" in a conversation) and statistics, as well as by the dissonance between the official record of art history and the number and quality of artworks I found.
The methodology arose from feeling overwhelmed. Seeing how vast a subject it is, how many different forms and languages of expression the artists employ, and how many issues they cover, I decided that the only approach capable of demonstrating that rape constitutes one of the central themes in women's art is an analysis of its iconography. The curatorial methodology took the following into consideration: perspectives spanning three generations of artists; ethnic diversity (artists of Native American, African American, Latin American, and Asian origins); all art forms, from drawing to social practice; issues that inspired artists to address rape; and the varied visual languages they chose to tackle such sensitive subject, from symbolism to performative re-enactment.
Crucially, The Un-Heroic Act explores various issues that inspired artists to treat the subject of rape: domestic violence, child abuse, college rape culture, rape in the military, rape as a war crime, slavery, rape epidemic on Native American reservations, trafficking in women, rape in public and political discourse, the role of media, criminal trials, and visual and literary tradition, especially art history and fairy tales.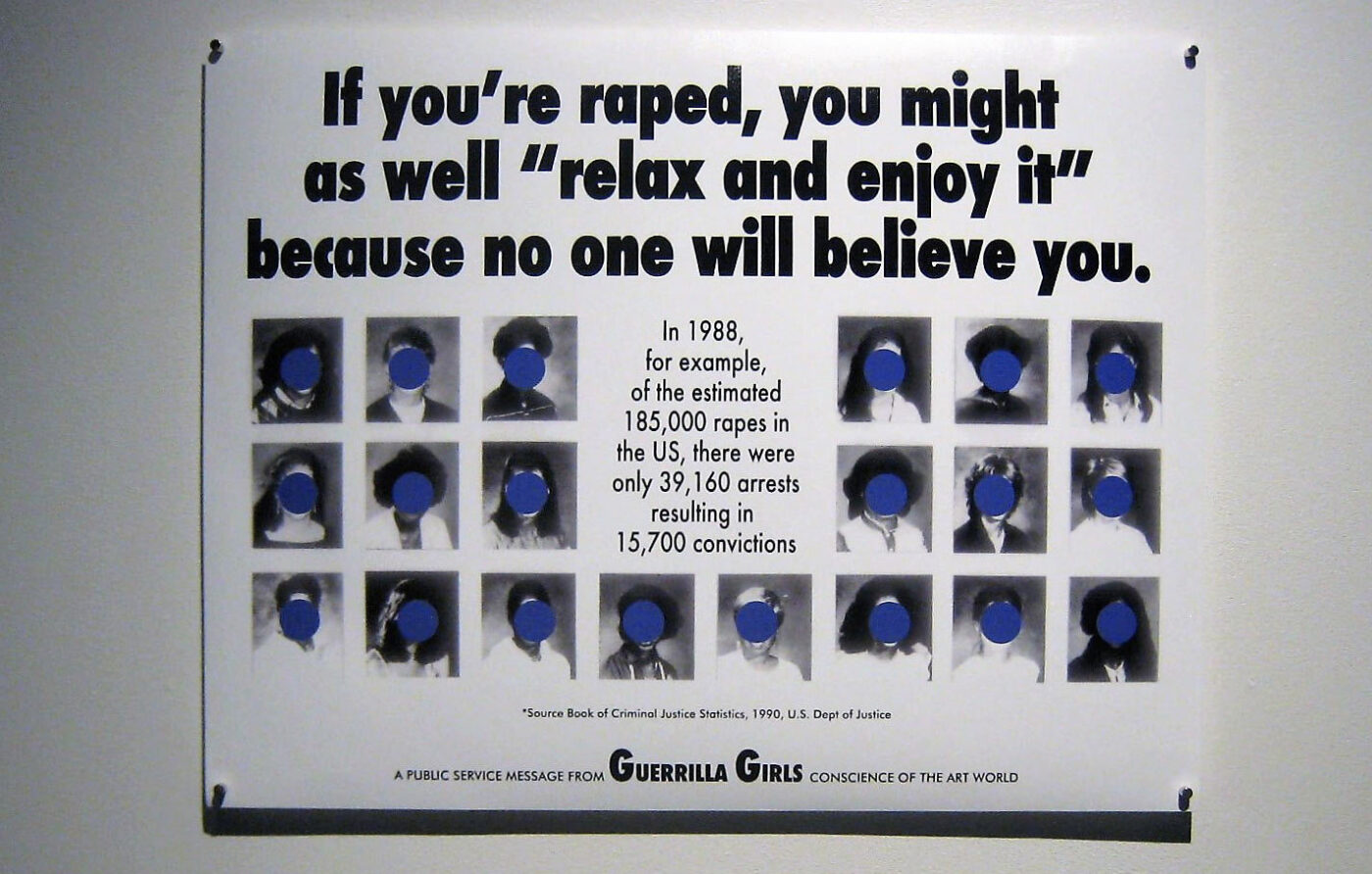 AVThe show sets up a powerful parallel between the invisibility of rape in society (the underreporting, the low conviction rate) and the invisibility of rape in art (the underrepresentation of art on this subject in galleries and museums). Do you think that more art about rape in public shows can have the effect of making it more possible for women to report assaults?
MF I hope that learning about the abundance of this material will be a revelation for both art audiences and society at large. It is only one more proof of the pervasiveness of rape, and the censorship of its serious discussion until very recently. My view of the world has forever been changed by these works and interviews with artists. We can learn that what makes works about rape by women radically different from those by men is the focus not on the action or drama, but on the lasting psychological devastation of the victim: her suffering, shame, silence, and loneliness. It is a journey of discovery to trace the subjects that women artists so passionately and cleverly dissect in their artworks. The topics include the question of the anonymity of the victim versus the visibility of the rapist (works by Andrea Bowers and Guerrilla Girls), the language used by the media and politicians (Suzanne Lacy and Bang Geul Han), the role of "a witness" or "a bystander" (Jenny Holzer and Bowers), and many more aspects of rape. Lacy and the Guerrilla Girls directly advocate reporting rapes. Hopefully, women will find solace and empowerment realizing that they are not alone in their suffering. If we cannot change the culture of rape easily, I believe we can at least change the culture of shame.
AV In my experience of this extremely complex and rich show, I found that my responses to the very different works moved from an immediate emotional response to the pieces that could be described as more metaphorical or abstract, like Roya Amigh, Senga Nengudi, and Sonya Kelliher-Combs, to a slower, more gradual response to the more direct or literal depictions, as in Ana Mendieta, Kara Walker, or Ada Trillo. How do you yourself experience that extreme range of visual languages?
MF Showing such variety is my purpose—and it is mind-blowing. I showed that art on rape defies stereotypes. Those who were shocked hearing about the project three years ago thought that art on rape would be drastically literal. Certainly there are such works, too. But many artists make a conscious effort not to re-victimize the female body. To avoid showing its vulnerability, they reach out for symbolism, abstraction, or text. Text is an especially important mode of expression here; by employing it, feminist artists consciously reclaim the dominant cultural narrative. The remarkably varied visual languages artists use depend on their purpose, from shocking the audience, evoking empathy, to healing. They also show differences between generations: while Mendieta wanted to shock her audience and re-performed a scene of brutal rape and murder (Rape Scene, 1973), Naima Ramos-Chapman in her film re-performs what happens to a person who was raped (And Nothing Happened, 2016). Artists of the youngest generation would rather not show the vulnerability of the body, but focus on reclaiming control over it. I don't know another work that so powerfully makes you comprehend what rape does to psyche and sexuality. It does this by being almost quiet, definitely minimalist and private.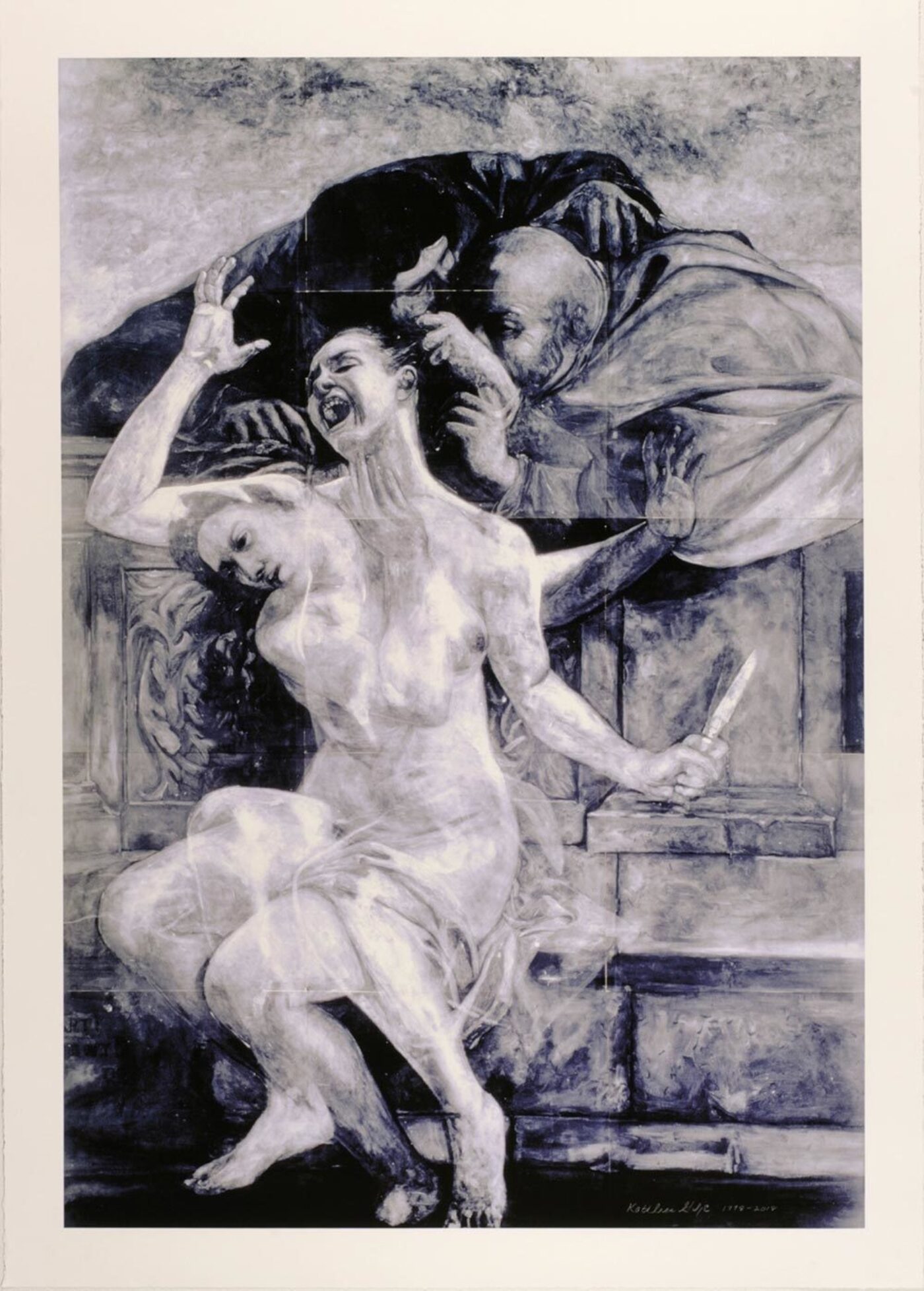 AVIt seems to me that The Unheroic Act show shares in a problem common to all art portraying violence, that is, how to show violence without either glamorizing its sheer drama or allegorizing it out of existence, detaching it from the senses and from felt reality. Two works in the show that clearly deal with this are Ramos-Chapman's digital film And Nothing Happened portraying an aftermath, and Kathleen Gilje's double take on Artemisia Gentileschi's Susanna and the Elders (1998/2018).
Gilje, showing two possible versions of the reality of assault, suggests that the truth of the experience embraces both the violence and the cover-up, the pressure to transform it into something "presentable." Do you think this is a uniquely female take on violence?
MF
Although the numbers are different—1 in 6 American women and 1 in 33 men is raped—rape is not an exclusively female experience, and art on rape is not only made by women. The taboo for men is greater, and I think the works by men referring to the subject are more encrypted than these by women.
As for women, I wouldn't say there is pressure to make art on rape presentable in terms of self-censorship. I'd risk saying that most was created without regard of any chance to show (especially because until recently women artists almost didn't show at all). For example, Mendieta doesn't censor her impulse. It really is difficult to look at the photographs of her performance, especially remembering that she invited an unsuspecting audience to her apartment to come upon this horrific scene. And there were consequences: the work would not be shown as part of the artist's U.S. retrospectives until 2004 (it was shown in Europe from 1996 onward).
Among younger artists the focus is on not presenting the woman's ravaged body, not because of censorship, but because their intention is to heal, empower, express solidarity, or to encourage victims to speak up. The effort to encrypt was certainly artists' intention in the past. I am not sure if we shall ever find any historical artwork by a woman about rape except for Gentileschi's. And, yes, she could only code her experience in the biblical story of Susanna and the Elders; Gilje brilliantly addressed this "self-censorship," painting beneath her copy of the Gentileschi's Susanna a more contemporary expression, and then X-raying the copy. But then, between Gentileschi's 1610 Susanna and the Elders and Käthe Kollwitz's 1907 engraving Rape, there are three hundred years of silencing women and women artists. This exhibition speaks to this silence.
The Unheroic Act: Representations of Rape in Contemporary Women's Art in the U.S. is on view at the Anya and Andrew Shiva Gallery in New York until November 3.
Alissa Valles is the author of the poetry book Orphan Fire (2008) and Anastylosis, a book-length poem published in a thermal paper edition for an exhibition at the Whitechapel Art Gallery in London in 2014. She is editor and co-translator of Polish poet Zbigniew Herbert's Collected Poems and Collected Prose (Ecco) and has translated work by Miron Białoszewski and Józef Czapski forthcoming from the New York Review Books, and she is at work on translations of the poetry of Zuzanna Ginczanka and Aleksander Wat, as well as a theater project involving Aeschylus's drama Suppliants. The recipient of fellowships from Poetry and the National Endowment for the Arts, she is a member of PEN America and the editorial board of the Akron Series for Contemporary Poetics. Her next collection of poems Hospitality is forthcoming in March 2019.