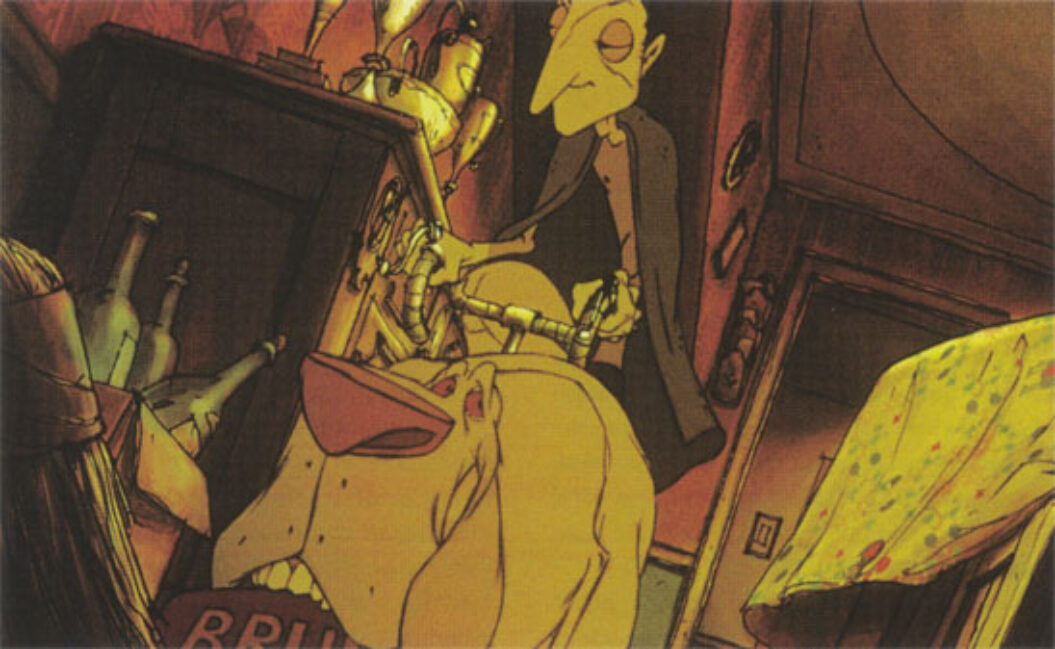 There are about ten words spoken in Sylvain Chomet's first feature-length animated film, including the drawn-out, lilting sounds that the characters occasionally make, as if communicating were an act of hopefully humming almost-words while gesturing with hands and head and pointedly rolling one's eyes. This approach permits a truly bilingual production (Chomet is French, the film Canadian, the setting a Montreal–Paris–New York hybrid) and a plausible canine costar. The plot is as surprising as the dialogue. Briefly, Champion, a melancholy boy who loves his grandmother, his dog, and his bicycle, grows up to race in the Tour de France. When he is kidnapped by the French mafia on the slopes of Mount Ventoux, Madame Souza and faithful Bruno follow his scent across the ocean to the grand, depraved city of Belleville, where they fall in with the Triplettes, a once-famous dancing and singing trio. From there the tour really begins.
The film is mesmerizing, and moves as slowly as Champion's ill-fated ascent. Chomet takes full advantage of his medium: his characters are either hugely obese (the Americans) or thin and elastic (the French); the mafiosi's heads jut frontways out of tall black-box shoulders. Wasp-waisted Champion is cruelly outfitted with outrageous exaggerations of a Gallic nose and the bulging quads and split calves of the professional cyclist. Chomet is as fond of early jazz and sepia-toned "simpler times" as he is disdainful of modern life—glittering Belleville boasts a power plant that poisons the river and a fleshy Statue of Liberty hoisting a burger and Coke. But his old world is brilliantly dystopic too: Champion's clubfooted grandma is a tyrannical trainer, complete with whistle and eggbeater (for massages); the once-sexy Triplettes are revolting, particularly over mutated-frog dinner. Even the venerable Tour has become a roadside spectacle for trashy French picnickers and a lucrative business for the mafia. The music is unforgettable: the Triplettes play a refrigerator rack, a newspaper, and a Hoover, and Madame Souza teases Mozart's Requiem from a bike wheel's spokes. The tremendous car-chase scene at the end, which incorporates 3-D animation, is a bit conventional, plot-wise, but in every other regard one senses a unique and powerful creative team at play.
The Triplets of Belleville will be released in the US by Sony Pictures Classics in November.
Originally published in
Featuring interviews with Sol Lewitt, Vera Lutter and Peter Wollen, Rikki Ducornet and Laura Mullen, Edward St. Aubyn and Patrick McGrath & Maria Aitken, Jon Robin Baitz and Stephen Gaghan, Gina Gershon and Dave Stewart, EL-P and Matthew Shipp, and Suzanne Farrell.