The Temporary Nature of Ideas: Melissa Webb by Jackie Wang
Melissa Webb's interactive installation The Temporary Nature of Ideas at School 33 Art Center in Baltimore had strangers creating side by side, contently and contemplatively. Provided with various materials and directed to pay homage to a fleeting, unrealized idea, Webb's participants played out a paradox in fruition. Webb elevates the unfinished and never-realized in this conversation with Jackie Wang.

Discover MFA Programs in Art and Writing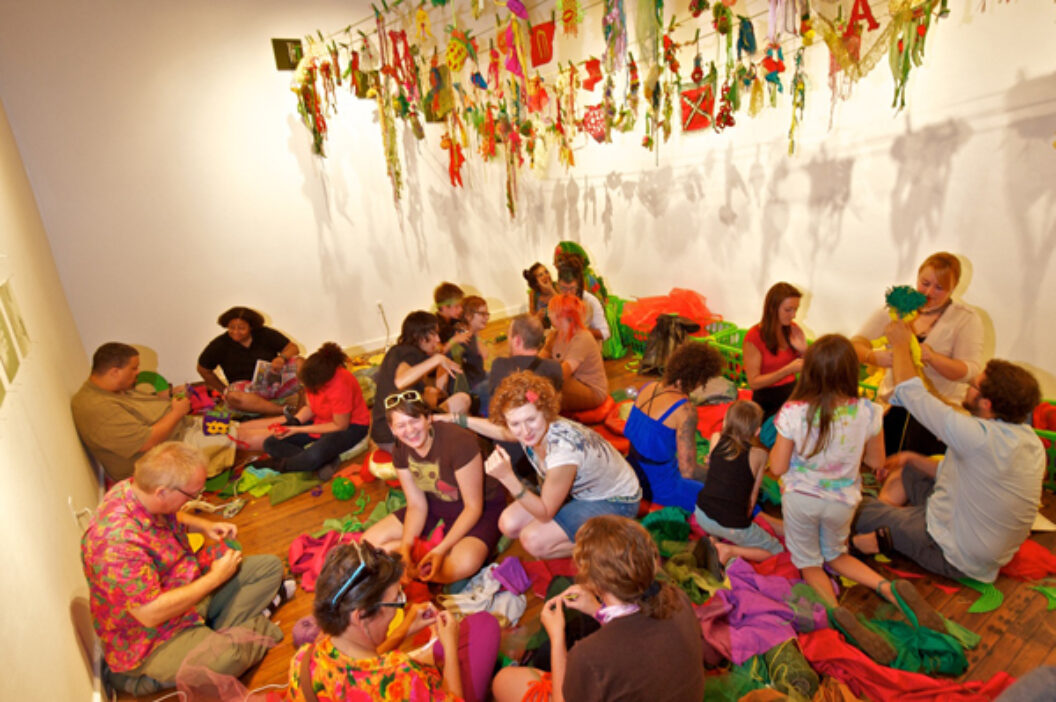 I arrived at the School 33 Art Center early in the evening to Melissa Webb's interactive performance installation The Temporary Nature of Ideas. In this "living" installation, gallery visitors were invited to manufacture their own objects to contribute to the installation's growth. The objects were then hung on the costumes of performers and on rope pulley systems that were hung across the gallery. When I arrived, the gallery was relatively empty and few people had made objects to contribute to the installation. The sculptural pieces created by Webb that made up the lush, forest-like environment stood on their own as art objects to be apprehended by observation. There were ladders made of wood, branches that were carved into enormous pieces of grass, and earth-toned textile creations draped on the walls. But as people began to flood the gallery, the meaning of the work began to unfold. The real locus of the art emerged at the center of the relations formed between the participants and their environment.
All kinds of people came to the show: young artist types, children, members of the surrounding community, elderly people. They crouched down side-by-side in a room lined with green buckets full of fabric, scissors, glue, and other textile materials. The directions posted on the wall indicated that participants were encouraged to create an object to pay homage to a fleeting, unrealized idea. My friend made a booklet out of purple fabric that had the title "Thesis" glued onto it in bright green fabric, as a tribute to the James Joyce thesis she left uncompleted when she dropped out of school. She hung her object on the poofy skirt of a stilt-mounted and lavishly dressed performer. The performers walked around the gallery interacting with the participants. The interactions were unscripted, but the performers generally responded with glee and excitement whenever a new object was added to the installation. I watched a baby repeatedly hand clothespins (that were used to hang the objects participants made) to a performer before eventually dumping the whole bucket out on the gallery floor. While contemporary art is often derided by non-art appreciators for being elitist, exclusionary, and inaccessible, here was an art show that even babies could "get" because it incorporated elements of play and participation. I asked the artist Melissa Webb—who often goes by Missy—about her feelings regarding the show and the nature of art in Baltimore.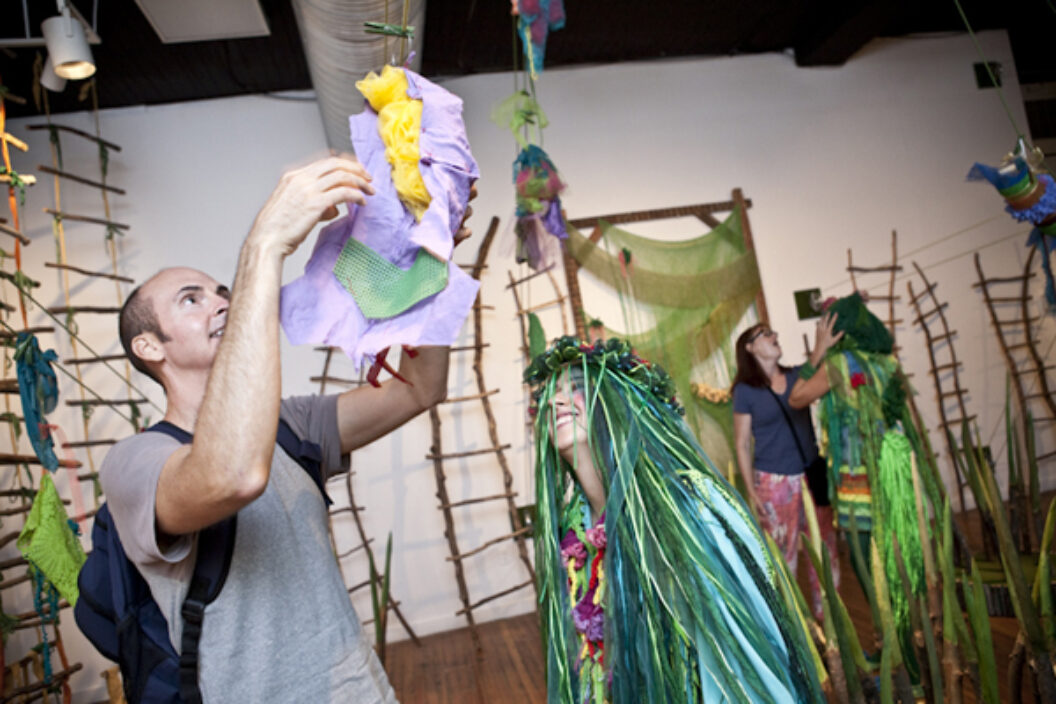 Jackie Wang What is your background? What brought you to Baltimore and what keeps you here? What makes the art community here distinct?
Melissa Webb I grew up out in the country—Westminster, Maryland—and started coming to Baltimore as much as I possibly could, starting when I was 14, mostly to enjoy the local band scene. I was accepted into The Maryland Institute College of Art, and there I focused on sculpture, eventually morphing into installation and performance work, and received a BFA in Fiber Arts. Once I graduated, I stayed here and established the Whole Gallery at the H&H building along with several other artists. I worked collaboratively with a few local performance groups, and whole-heartedly with aminibigcircus, with which I created performances and film for upwards of 12 years. Nothing pulled me away from Baltimore. It was and is my community, and things here keep getting better and better…there is just no good reason to leave, and every good reason to stay.
Baltimore is a very special place to create. For one thing, this is not a money-driven arts community. People don't buy a ton of artwork here, so many artists are not as motivated by making money. This lack of consumerism can free artists up to experiment in such a wonderful way…to think of their own goals with the work rather than what would sell, and furthermore to make work that could not possibly be sold in the first place. I think that fact helps to put Baltimore on the cutting edge creatively…we are helping to expand the definition of art, and the context in which it is presented. Collaboration is really big here, and I love that. Being involved in collaborations over the years has really fed my work and has made me who I am as an artist.
JW How did the concept for the exhibition The Temporary Nature of Ideas come into being? Since the exhibit explores "unrealized" ideas, what was it like trying to execute this show in light of that concept? Did the process of putting on the show mirror the concept at all?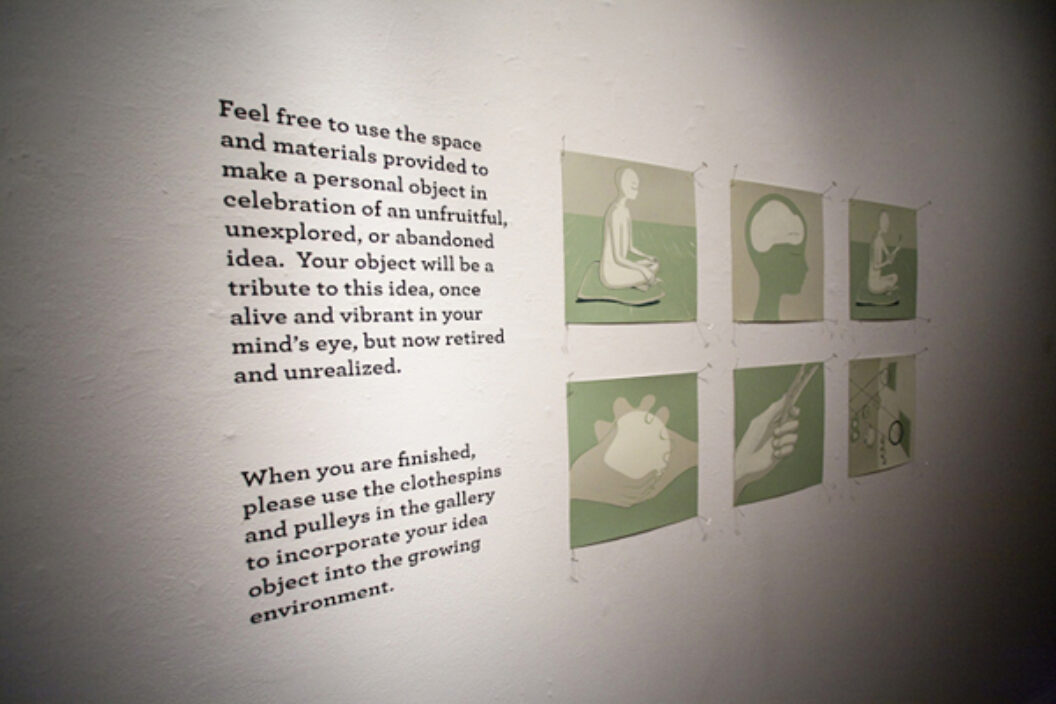 MW I always wanted to make an installation in the four-story light well at the H&H building. When I lived there I used to stare out the window and dream of transforming that space. I decided that I would finally do this for the 2009 Transmodern Festival, and the organizers were willing to let me.
I have often worked intuitively, preferring this to the straightforward, planned execution of a piece. I like to allow circumstance, happenstance, space, and available materials to guide my process. This discovery in the moment is much more exciting to me than having a plan and following it squarely through. There are so many ideas that I've had that are already finished in my brain…they might look good in real space somewhere out there in the world, but my question to myself is always, why? I know what it looks like already, there will be no mystery or suspense involved…so in my head the idea remains. The process of creating The Temporary Nature of Ideas was an exploration of my own stream of consciousness sculpturally, as well as a tribute to the value of "the idea." If someone has a great idea, even if it is not actually executed, it can still remain valid as an entity unto itself, and should be celebrated as such.
JW What are your overall feelings about the opening? What things did you notice? How did the night unravel?
MW The opening was so very grand…At one point I looked around and there were not so many folks in the main gallery and I said to myself, Where is everyone? Then I looked into the making room and there they all were…it was a virtual sea of bodies…friends and complete strangers literally sitting on top of one another with no regard for personal space, reaching across each other to grab a piece of fabric or a glue-gun…everyone with huge smiles, and many with intent, intense looks on their faces while they created their idea objects. Some folks spent the whole night on their creations, and the pulleys in the gallery filled up…slowly at first and by the end of the evening the installation was saturated with people's contributions.
JW How did this one compare to the last time you did the The Temporary Nature of Ideas show?
MW At Transmodern people made their objects on the third floor and lowered them down on pulleys to the performers, who incorporated the objects into the environment. Participants were not allowed to enter the space, which was on a rooftop, and it was decided, reasonably so, that it would be dangerous, or damaging to the roof to let multiple people down there. At School 33, participants can immerse themselves physically into the space and choose the placement of their objects. There is also a longer time frame so folks can spend as much time as they like in the space and contribute multiple times.
MW Both incarnations had/have their own individual feel to them—I loved the site-specific nature of the first one, the fact that it was originally a kind of grimy and gloomy looking space that was so drastically transformed by the installation and the objects people contributed. There was a certain drama and sense of danger of looking down from a sixth-story window into the space. It took place at night, and lighting which created giant shadows was a huge element in the overall look. I see the two as distinct scenarios, but at the same time, the sculptural elements of Temporary Nature are componential, and could work in many different types of settings.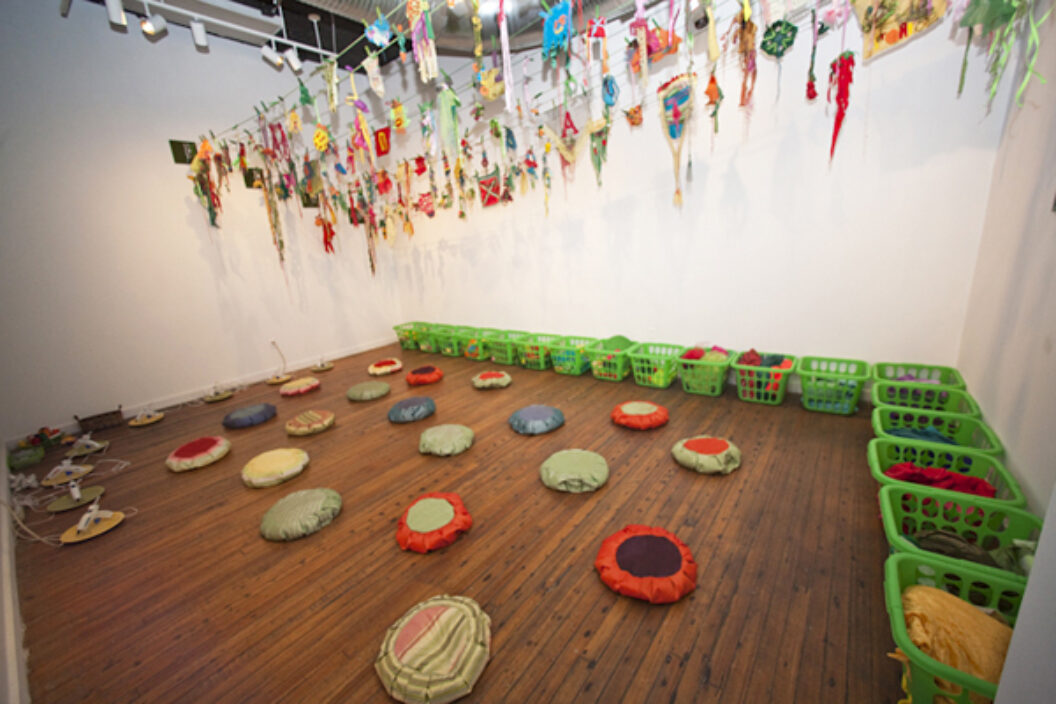 JW I noticed at the opening that this show gained momentum as more people arrived, which altered the energy of the show dramatically. In many ways, the show was not about exhibiting a body of work by an individual artist; it was about what happens when a bunch of people get together in a specific place, at a specific time, with the goal of making something together. Is participation an essential element in your work? Is your work generally interactive?
MW Participation and interactivity are essential elements. This could change of course at some point, but right now that is really important to me. I see participatory work as collaboration with the audience. I feel that collaboration and intuitive processes go hand and hand because what another individual or in this case, many individuals, can bring to a piece is yet another unknown element, another layer of mystery to unfold. In this way the process continues throughout the life of the work.